Liverpool moved up to second in the Premier League table with a 4-1 victory over David Moyes' West Ham at Anfield on Saturday afternoon.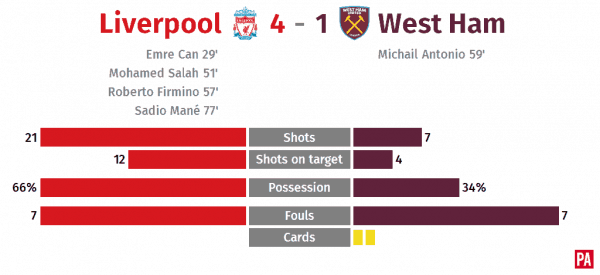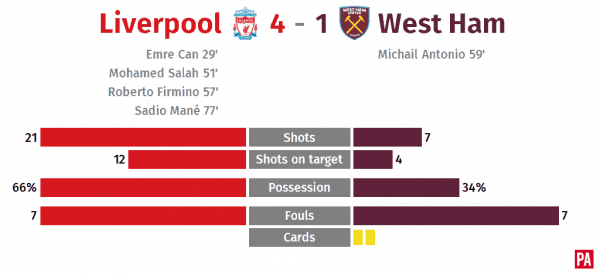 Mohammed Salah and Marko Arnautovic both hit the woodwork in an intense opening half before Emre Can headed in Liverpool's 100th goal of the season from a corner.
It didn't take long in the second half for Salah to make his mark as he doubled the Reds' lead in the 51st minute following a great run from Alex Oxlade-Chamberlain.
Roberto Firmino made it 3-0 but West Ham were handed a lifeline when Michail Antonio went through on goal to score for West Ham just seconds afterwards.
Sadio Mane hit the post but scored moments later following an inch-perfect cross from Andy Robertson as Liverpool went on to win 4-1.
Here are all the reactions from supporters on social media…
Fans were pleased with Robertson and Alexander-Arnold's impact…
Robertson and Alexander-Arnold providing a real threat down the flanks for Liverpool thus far. Bags of energy coupled with incisive deliveries.

— Leanne Prescott (@_lfcleanne) February 24, 2018
Andy Robertson is such a great signing. Klopp's bought a hell of a player there.

— Henry Jackson (@HenryJackson87) February 24, 2018
Robertson being deadly with those balls into the box. Absolutely love him!

— LFC Boston (@LFCBoston) February 24, 2018
Oxlade-Chamberlain received praise for his assist for Salah's goal but it was all about Firmino's no-look finish…
Very good performance from @LFC & the front 3 scored AGAIN! Thought OX & Robbo were ?? #LIVWHU

— Jamie Carragher (@Carra23) February 24, 2018
Amazing work from Oxlade-Chamberlain

— Neil (@Neil_LFC) February 24, 2018
https://twitter.com/CallumAJH/status/967431236322021376
Another no-look finish from Bobby. ?

— Jack Lusby (@jacklusby_) February 24, 2018
Bobby Firmino doing Bobby Firmino things. Another no look finish.

— Sam McGuire (@SamMcGuire90) February 24, 2018
Roberto Firmino is looking better by the game. Yet another no-look finish today. No wonder he's a fan favourite. What a character. #LFC

— David Comerford ??? (@Dave_Comerford) February 24, 2018
Mane cutting and pasting Firmino's celebration like an award-winning LFC news account.

— Zo (@NTXZO) February 24, 2018
And at full-time supporters were delighted with another comfortable win…
Imagine not wanting to be part of their gang. pic.twitter.com/MjQSLcHIVp

— Sam McGuire (@SamMcGuire90) February 24, 2018
Pogba – goal scored in all competitions: 3
Firmino – goals scored without looking: 3

— Dinesh Kumar (@DHardayal) February 24, 2018
Not even Lallana's terrible new haircut can take the shine off that performance. Outstanding.

— The Liverpool Way ??? (@theliverpoolway) February 24, 2018
Andy Robertson is an unbelievable signing.

— Adam Rowe (@adamrowecomedy) February 24, 2018
Cracking result, we go forward?? #lfc

— ?îll (@AnfieldMagic) February 24, 2018
https://twitter.com/Kloppholic/status/967442160483209217
"Give Mane, Salah & Firmino lifetime contracts. Pay them all whatever they want. I don't care how just do it!"

– Imran Khan on Facebook.
Very good performance. We were at it from the off. Got the goals. Should've been more – way more. Robertson was excellent today. Second in the league. All the front 3 on the score sheet. Now I can just relax as the chasing pack feel the pressure.

— ? Backseat Liver FC ? (@BackseatLiverFC) February 24, 2018
Important win for us today with the Mancs & rent boys playing tomorrow. Pass the pressure over? #LFC #YNWA

— Shane Scullion (@shaney_bo123) February 24, 2018
"Confirmed, We have the best front 3 in europe."

– foyasing on the forums.
Massive 3 points for #LFC today keeping the pressure on the rest for top four

— Steven Trott (@steven_1983) February 24, 2018
"Great performance. Second in the table. Can enjoy the manure game tommorow. Hopefully conte can teach them a lesson."

– Kusanagi on the forums.
This was such an important win ahgainst a team that came to purely defend as well as when Chelasea are playing United. #LFC

— George Photiou (@Fotakis85) February 24, 2018
Great result, completely controlled the game, well done redmen ??? #LFC #YNWA #JFT96

— ??Anfield is my church ???? (@ShortnsweetLFC) February 24, 2018
"Liverpool in their typical demolition mode. Could of been more as always .Robertson is been a steal at 8M while city paid 52 for Mendy."

– Russle Liverpool nyc on Facebook.
No complaints or criticisms from me today. Great result. Lot of possession, chances & no injuries. Keep this momentum going. #LFC

— Sham (@LFC_RedBlooded) February 24, 2018
It's beginning to look a bit rosey!! #LFC These great performances and wins just keep coming ???? long may they continue #mightyreds

— Brown Eyed Girl ?#JFT96 (@loltom29) February 24, 2018
"That was class. Easily could have been 7-1."

– Pandle on the forums.
Race for the top four. A good win for Liverpool today, but this weekend's big match is tomorrow. pic.twitter.com/GR28rRCaGO

— Andrew Beasley (@BassTunedToRed) February 24, 2018