Jurgen Klopp has spoken about his approach to football management, with a togetherness in all facets of the club being vital to success.
Klopp has now been in charge of Liverpool for 28 months, and the team has made giant strides since the dark final days of Brendan Rodgers' reign.
It hasn't all been perfect under the German, with certain creases still in need of being ironed out; but two cup finals, Champions League qualification and fantastic attacking football have all come to the fore.
Sunday's 2-0 win at Southampton took the Reds into third place in the Premier League, and they have Champions League last-16 clash with Porto to look forward to this week.
In a fascinating interview for Goal with renowned German football journalist Raphael Honigstein, Klopp discussed how he believes success is achieved.
"To create a situation where everybody feels important, enjoys themselves, knows their jobs, feels respected and feels needed – that's how life should be," Klopp told Honigstein, who himself referred to this ideology as 'Gesamtkunstwerk – a highly flammable concoction made up of thrilling attacking football, a special bond in the dressing room and supporters screaming their hearts out.'
"That's how the time you've had at a football club should be remembered. I understand life as a collection of experiences, bad and good. I get goosebumps thinking about the good ones. That's really cool.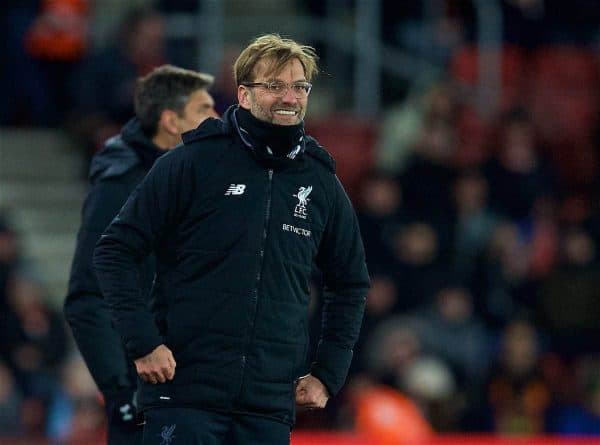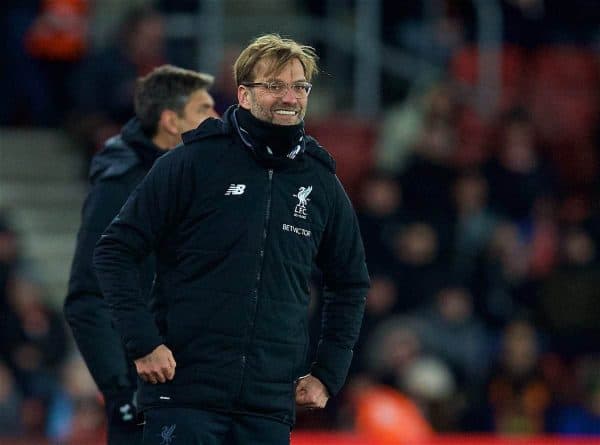 "Maybe that's a kind of survival skill. If others feel the same, then we are on a big journey together, and looking back, we can't avoid having a smile on our faces.
"That's why you need to give everybody chance to feel really part of the project. It's easy for me because I know [the supporters] are very important."
Klopp's man management skills have often been noted as among the best in Europe, with team spirit and togetherness crucial to him.
He says that going overboard with both praise and criticism on a game-by-game basis is no use to anybody, as well as being generally level-headed.
"The business part of football isn't nice [for players] every single day," he explained.
— Raphael Honigstein (@honigstein) February 12, 2018
"If you feel like a number, that you're only liked when you're at your best, it doesn't feel good. That's why I try to make them independent of criticism from outside.
"Criticism is important. But it has a tendency of being either too negative or too positive. You score three times, and everybody says, 'Fantastic! How did it feel?' and so on. Nobody is interested in the guy who played the pass or made the goal.
"I, as a manager, already know that player won't score three goals again in the next game. You have to deal with that.
"That's why helping them to be an independent, confident person is a really important part [of working] with my team during the day."
Given the impatient nature that exists within modern football, it is sometimes easy to take Klopp for granted, especially when the odd negative result comes Liverpool's way.
He is gradually leading the Reds to great things, however – their current points tally (54) is Liverpool's third-best in the Premier League era at this stage, after 2008/09 (55) and 2013/14 (56) – and once he gets a first piece of silverware under his belt, numerous trophies will be won during his tenure.
You can read the interview in full here.