Liverpool's club-record signing Virgil van Dijk believes Harry Kane dived to win a penalty in the 2-2 draw at Anfield.
Referee Jon Moss ruled Tottenham's England international had been brought down after the slightest of touches from goalkeeper Loris Karius after being controversially allowed to play on despite being in an offside position.
Kane missed the penalty but redeemed himself from the spot deep into added time after Van Dijk was adjudged to have fouled Erik Lamela—the striker's 100th Premier League goal.
However, the world's most expensive defender thinks Kane was lucky to get the first award, especially after Dele Alli had been booked for diving in the box moments earlier—his third such transgression since his debut in 2015/16.
"I think it is a dive. You see [Kane] diving clearly and no-one is talking about it but I think it is a dive," said Van Dijk.
"There is a lot of discussion about whether it is offside, yes or no, but I think it was offside as well.
"You could just see him making that dive. The referee made his decision together with the linesman. It was good for us that it got saved."
Asked whether he thought Kane should be retrospectively punished the Holland international added: "That is not something for me.
"I thought it was a dive that is my opinion and the referee thought it was no offside and no dive and he gave a pen. Good for us that we saved it."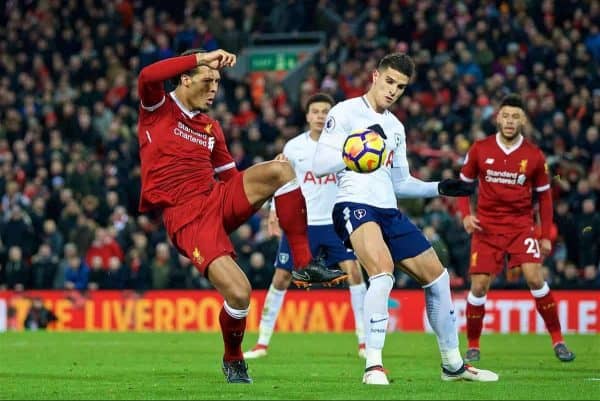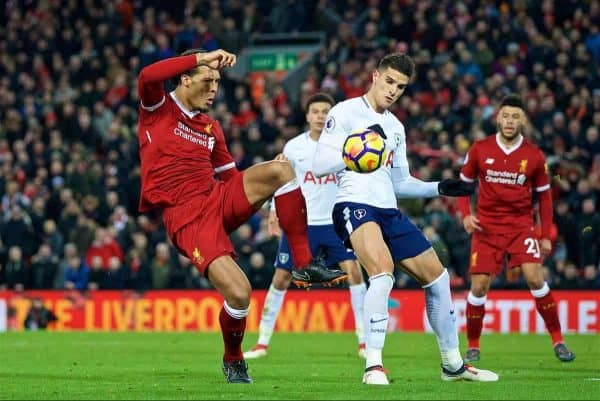 Van Dijk was also unhappy with the award of the second penalty when Lamela went down as the Dutchman tried to clear the ball.
"I saw him coming in the end and I try and hold my leg in, he just pulled his body in front of the ball and he goes down," he said.
"The ref said play on and I was very disappointed that the linesman said otherwise.
"I don't think that is a penalty, same with the first one. That is also clearly not a penalty."
The match was an entertaining one for the neutrals with Mohamed Salah's brilliant second of the match, a twisting, turning effort past three defenders, matched by the power of substitute Victor Wanyama's piledriver which made it 1-1 at the time.
"It was a good game for the fans to watch. For us obviously we are disappointed that we didn't get the win in the end," said Van Dijk.
"There were loads of things going on. I think the most annoying feeling at the moment is we should have won and kept the 1-0.
"It was a good goal from Victor and unlucky that we didn't win.
"[Salah's] was a fantastic goal and to get a penalty [given against] in the last second of the game was not good.
"Everybody should talk about Mo's goal any way. Everyone can see how good he is and he showed that today as well."