Alex Oxlade-Chamberlain has taken up a long-awaited midfield role at Liverpool, and he has revealed the challenges in adapting to the duties.
Before his £35 million move from Arsenal, Oxlade-Chamberlain revealed how he had "always wanted to be Steven Gerrard," aspiring to take up a regular berth in central midfield.
Initially the 24-year-old operated as a winger under Jurgen Klopp, but is now more often than not stationed in the middle of the park.
Most recently, this saw him produce an excellent display in the Reds' 4-1 victory over West Ham at Anfield, laying on his fifth assist of the season for Mohamed Salah.
With Arsenal floundering outside of the top-four battle at this crucial stage of the season, few could question why Oxlade-Chamberlain sought to leave based on ambition.
But speaking to LiverpoolFC.com this week, he expressed his happiness at taking up the role, and how he is learning to adapt.
"I am really liking it. It's somewhere that I wanted to keep developing my game," he said.
"I am always learning and trying to find ways of doing things differently.
"Sometimes there'll be teams that close off the midfield a little bit more, so you've got to find other ways of finding space in there.
"I am more on the right side, so I work with Mo and we change positions—so sometimes I end up out wide and he's more inside.
"I am always learning on how to develop my game in that position, both attacking-wise and defensively as well.
"We've got great players who can play in midfield here who all bring different attributes, so I learn from everyone."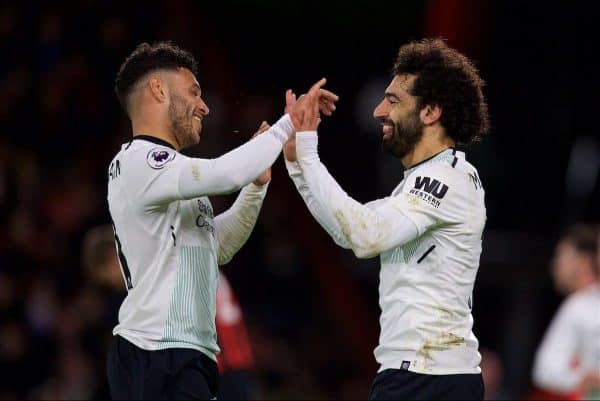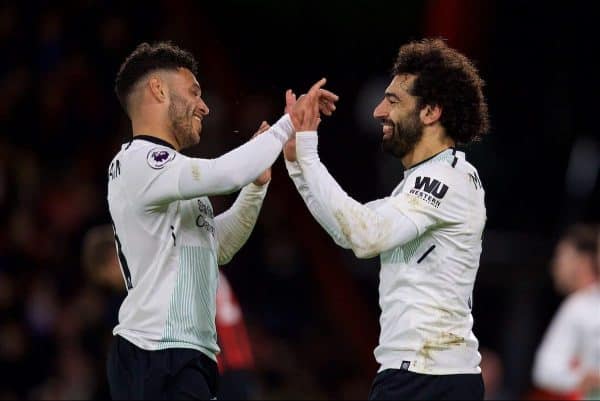 It can be argued that there are still question marks over Oxlade-Chamberlain's end product, having scored four and assisted five in 32 games for the Reds so far.
But he is also creating the joint-most chances per 90 minutes (two) in the Premier League of any Liverpool player to feature regularly this season, level with Sadio Mane and Roberto Firmino.
Only Salah (2.7) averages more successful dribbles than Oxlade-Chamberlain (2.2), who is again equal to Mane.
He also averages significantly more tackles (1.7) than Georginio Wijnaldum (one), who is arguably his closest competition for a place in Klopp's midfield.
And he has averaged more interceptions (1.4) than any player outside of Liverpool's defensive ranks, highlighting his ability to influence the game both on and off the ball.
For the England international, this is crucial, as he went on to explain how he aims to "affect the game as much—and as often—as possible from [midfield]."