Liverpool wilted at Old Trafford in a game which may have a big say on who finishes in second place in the Premier League, losing 2-1 to Man United.
The game was built up as a battle between two opposing styles: if the match was entertaining, Liverpool would triumph; if the game was dull, United would win (or draw).
In the end, United were victorious in what was one of the most entertaining versions of this fixture for a while. So how were they able to do it?
Opposition Analysis
Jose Mourinho took his first steps as a tactical manager under Sir Bobby Robson.
He initially acted as a translator for the Englishman at Portuguese sides Sporting and Porto, but as the pair spent more time discussing tactics Robson gave Mourinho more responsibility.
These extra tasks included work on the training ground, but focused a lot on analysing opposition weaknesses and how they could be exploited.
"The Special One's strength as a tactician centres on nullifying the opponent," wrote Thore Haugstad in 2013.
"Nobody studies, prepares and analyses the opposition so thoroughly."
Meticulous though he is, it didn't take a tactical genius to spot Liverpool's weakness once their lineup had been released.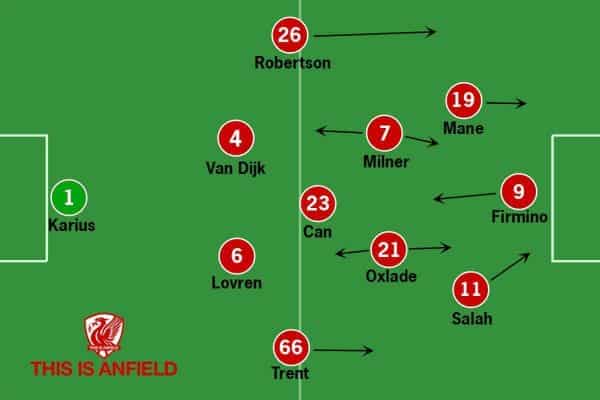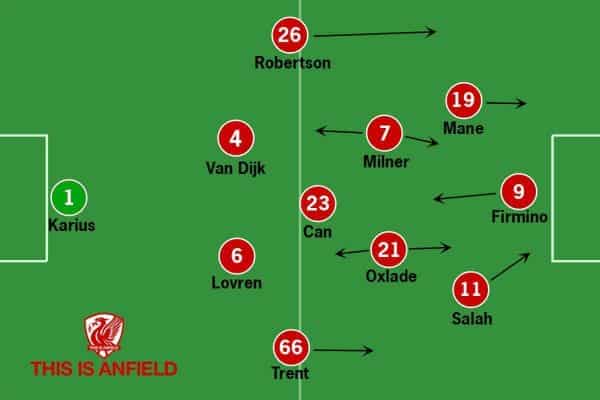 Preying On Mistakes
Dejan Lovren was overdue a stinker, and Trent Alexander-Arnold was likely to have little help from anyone but Lovren.
Lovren's 100% heading the same way as Mignolet. No way Klopp trusts him long-term, and an upgrade will come in.

Can be a perfectly good defender at times, but an appalling performance is never far away.

— Henry Jackson (@HenryJackson87) March 10, 2018
With 'right winger' Mohamed Salah effectively operating as a striker this season, and right-sided attacking midfielder Alex Oxlade-Chamberlain regularly joining the attack, Trent was isolated.
In an article from October, Jonathan Wilson detailed, via Jose Torres' Mourinho biography, the United manager's seven-point plan for winning big games.
At risk of turning this into an article about Mourinho on a Liverpool fan-site, it's important to list all seven when it comes to understanding his tactical mindset and how this translates to what happened in Liverpool's 2-1 defeat at Old Trafford.
The game is won by the team who commits fewer errors.
Football favours whoever provokes more errors in the opposition.
Away from home, instead of trying to be superior to the opposition, it's better to encourage their mistakes.
Whoever has the ball is more likely to make a mistake.
Whoever renounces possession reduces the possibility of making a mistake.
Whoever has the ball has fear.
Whoever does not have it is thereby stronger.
Target Man Lukaku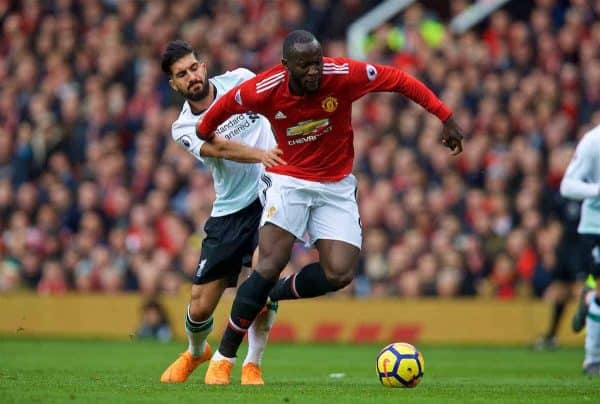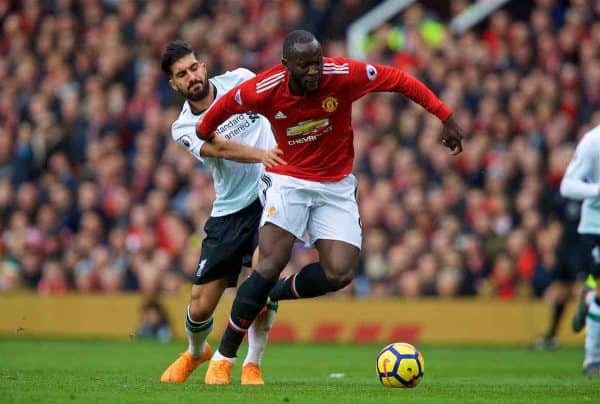 The Portuguese has regularly used unorthodox target man play when facing Liverpool.
The most notable example of this was the 0-0 draw at Anfield in 2016, when Zlatan Ibrahimovic (No. 9), Paul Pogba (No. 6) and Marouane Fellaini (No. 27) were all used as target men as United looked to counter Liverpool's counter-pressing.
This triple threat is shown in their average positions from that match, via WhoScored:

They lumped long balls from the back to a group of three players who would win the ball in the air and allow their side to move the ball away from those prime counter-pressing zones Klopp's side prey on.
This time around they had a shiny new target man threat in the shape of Romelu Lukaku.
The Belgian's power, intelligence, and all-round centre-forward play meant only one target man was needed on this occasion, and Mourinho could add other threats elsewhere in his side.
This was what made them appear more attacking than usual.
Marcus Rashford and Alexis Sanchez lurked near Lukaku, looking to turn scraps into goals, and that was exactly what Rashford did.
One long punt forward from David de Gea was all it needed. Lukaku drew Lovren out of the back line as he dropped into midfield to win a header which fell to Rashford, who was now one-on-one with Trent.
The heat map below, from Squawka, shows the warmest point lies at the boot of De Gea, who attempted a whopping 28 long balls, finding his intended target with seven of them:

Lovren and Liverpool should have learned from this, but no tactical changes were made and Lovren repeated his error for the second goal which was almost identical.
The Croatian repeats errors from game to game, and here he made the same mistake within the space of 10 minutes.
Alone + Easy Target
United's attacks were heavily focused down the left side, targeting Trent and Lovren on the ground as well as in the air.

As well as the long ball from De Gea to Lukaku, their average positions and pass map are heavily weighted down Rashford's wing.
This graphic from @11tegen11 on Twitter (a must follow), shows this perfectly. In terms of attacking touches their formation is effectively a left-leaning 4-2-2-2:

It also shows how heavily involved Ashley Young was in the game, and he had more touches of the ball than any other United player, with 63.
Though Trent could have been savvier, especially for the first goal where he shouldn't have allowed Rashford onto his stronger right foot with such ease, he was left in a difficult situation.
The 19-year-old had little in the way of help and support from the more experienced players around him, but will no doubt learn from the experience, unlike others.
It was also an excellent piece of attacking play from the young Mancunian, something which Liverpool's attacking stars struggled to replicate against solid defending by Young, Eric Bailly and Antonio Valencia.
Unexpected Goals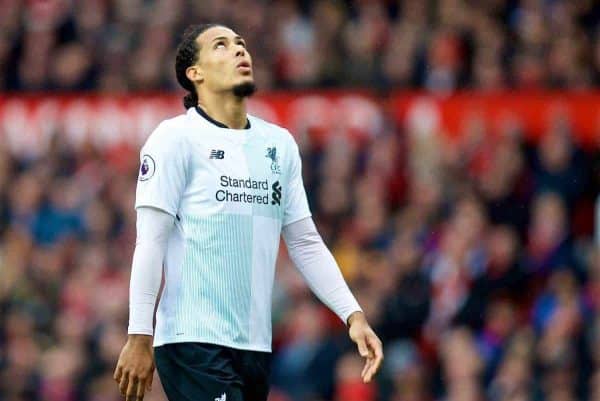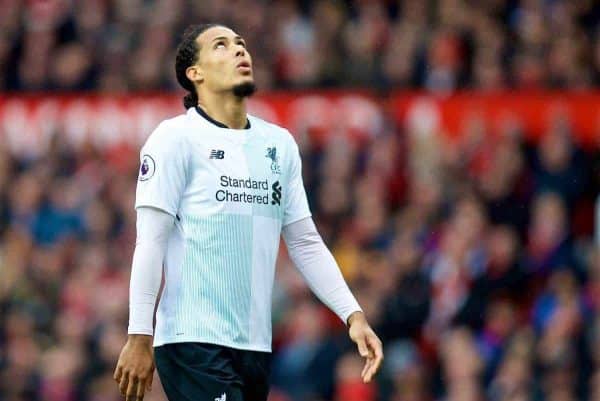 Even though Liverpool had 68 percent possession, they were unable to turn this into chances.
At times it appeared that the Reds were on top, but they still came out second best in terms of expected goals.
Understat have it down as 0.85-0.78 in United's favour, shown below, and Caley Graphics produced an xG result of 1-0.8.

There were only two big chances in the game, and neither resulted in goals.
Virgil van Dijk was involved in both, missing with a free header from a corner at one end, and leaving Juan Mata free to miss an easy chance of his own at the other.
Liverpool had more than twice as many shots as their opponents (16-7), but each side only had two on target.
The majority of efforts from the team playing in white were blocked around the edge of the area, as shown by the WhoScored shot graphic below: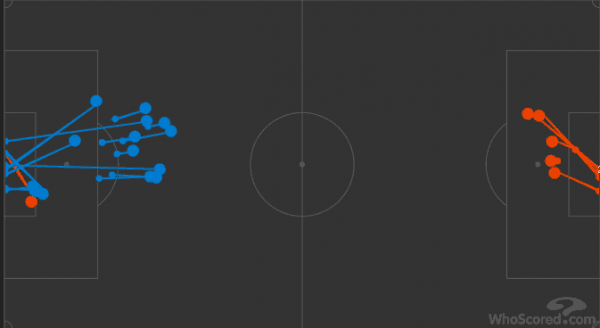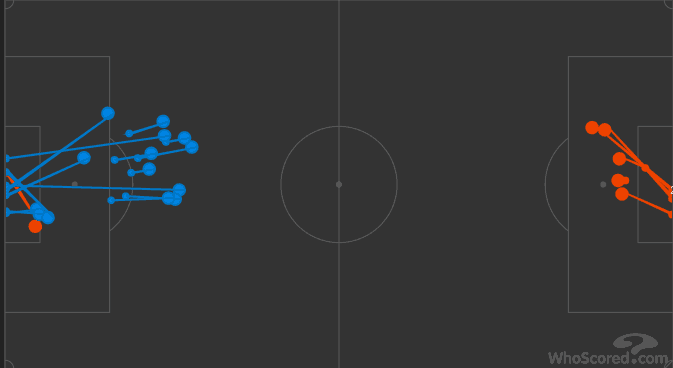 Solutions
This was the game where those "LIVERPOOL ARE MISSING COUTINHO" articles, which have lay dormant as drafts since the Brazilian's departure, may now be being considered for publication.
A creative player who isn't a typical counter-presser would have tried a few different keys when attempting to unlock a United defence which allowed Liverpool the ball, but had no interest in keeping it themselves in their own half.
United's pass map (long balls shown below via Squawka) was a sea of long balls, which countered the counter-pressing:

This meant a creative or dynamic midfielder was needed, and the closest Liverpool had to this was Oxlade-Chamberlain who was replaced, much to his own disappointment, by the ineffective Adam Lallana, just as he appeared to be coming into the game.
A more defensive solution would have been to place Emre Can on Lukaku early on, especially once Lovren's incompetence was realised.
Though Lucas Leiva had his faults towards the end of his time at Liverpool, winning aerial duels in front of the back four was something he excelled in and it may be something the side now miss.
Can should be able to do this job, though, but either wasn't asked to or focused too much on the attacking side of the game.
Aftermath-matics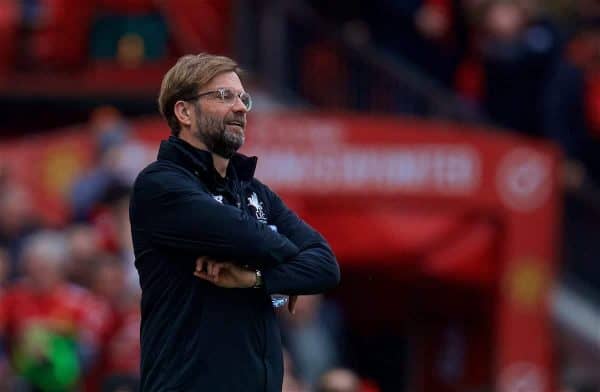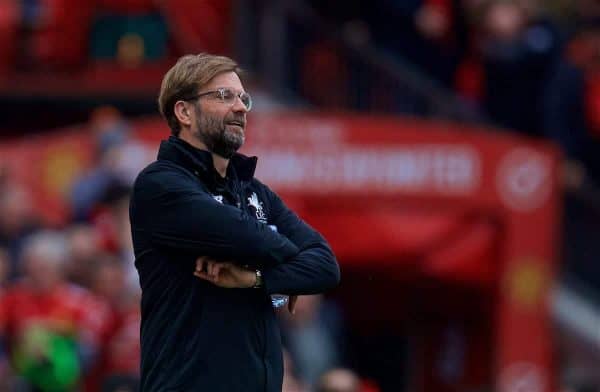 So Liverpool could do with players like, say, Nemanja Matic and Juan Mata. A defensive midfielder and a wily creator to help them defeat the other teams in the Premier League who won't allow for heavy-metal counter-pressing.
"It's not a battle of systems or philosophies," Klopp had said before the game, but in the end it was an exercise in countering his own philosophy.
The Liverpool manager did predict one thing, though…
Jürgen Klopp pre-match: "Rashford's speed on the wing changes the game a little bit. Lukaku is always a threat. We have to be really strong with and without the ball."

Well…

— Melissa Reddy (@MelissaReddy_) March 10, 2018
But Mourinho's system is just whatever the opposition's isn't, and his point about instilling fear into the opposition in order to riddle them with errors also extended to the referee, Craig Pawson.
If Sadio Mane gets his penalty from Fellaini's foul the game state is changed in Liverpool's favour.
But regardless of the decisions which may have gone against them, Klopp's team would be foolish not to learn from the errors which showed themselves in Manchester.