Concluding his series of Liverpool's legendary Scouse captains, Jeff Goulding takes in the career of Steven Gerrard, Merseyside's greatest player.
In comparing Liverpool captains, Gerrard is undoubtedly the boss of bosses, the Capo dei Capi.
Among the nine who rose from the banks of the Mersey to wear the armband for the Reds he is undoubtedly the greatest. Even ranked alongside the other 46 men who have captained Liverpool, Gerrard is peerless.
Gerrard, having led Liverpool as captain for 12 years, playing 710 games, scoring 186 times, including goals in every major cup final, as well as managing to score in 16 consecutive seasons and amassing 11 trophies, is clearly out in a league of his own.
Only Alex Raisbeck and Ron Yeats come close to Steven's record of a dozen consecutive seasons as captain, with nine years each.
Gerrard's performances and his connection to the city also place him in the same category as Billy Liddell and Kenny Dalglish.
He is, like them, a player who, during his era, not only represented the club with distinction, but who came to define it.
However, such is Gerrard's greatness his influence and achievements go beyond the narrow confines of Anfield history. There is now a question as to whether he can legitimately lay claim to being the greatest Merseyside player of all time.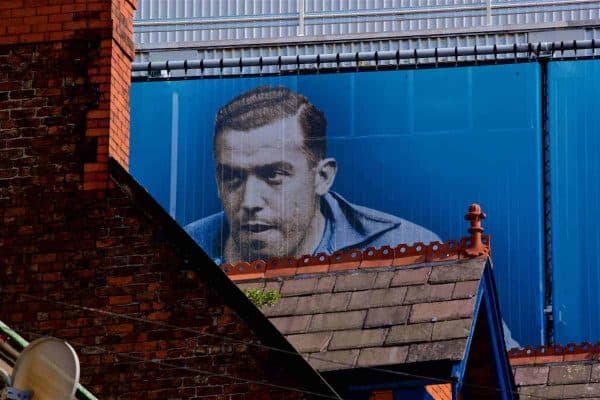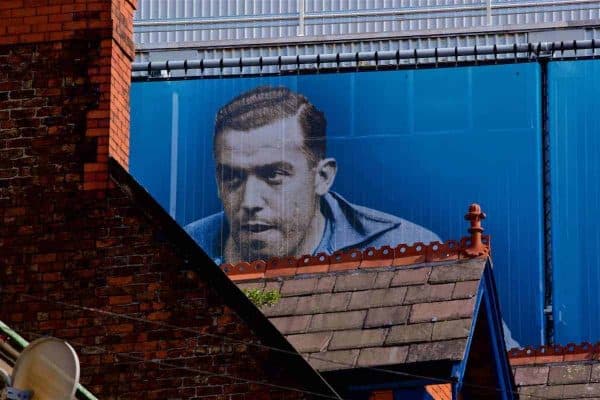 For that title, he has only one rival—the great Dixie Dean.
William Ralph 'Dixie' Dean was an exceptional player who wore the blue of Everton from 1925 to 1937.
His remarkable 349 goals in 399 appearances for Everton, over a 12-year period is truly astonishing and will never be beaten. When you add those to the 18 goals he plundered for England, in just 16 appearances, you see that this was a truly remarkable sportsman.
Dean was born on the Wirral and initially plied his trade for Tranmere, where he managed an incredible 27 goals in 30 games.
This was a man who went on to become Everton's greatest player, and would end his days on earth at his beloved Goodison Park in 1980.
Even the most fanatical of Reds has to acknowledge Dean's brilliance. Like Gerrard, Dean elevated the team around him, and through his individual gifts led his team-mates to glory.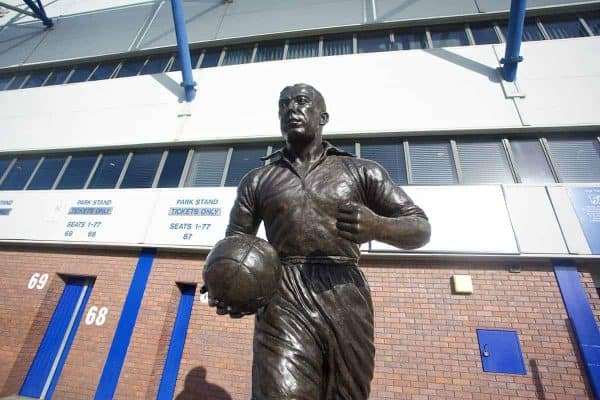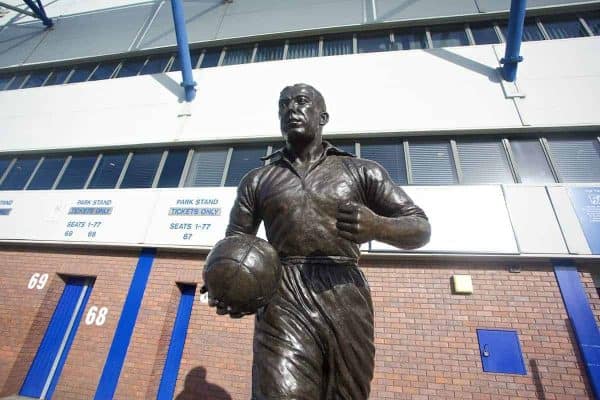 In 1928, his 67 goals in 46 appearances won Everton the title, and he did the same again in 1932, striking 47 times.
In 1931 Dean's 41 goals earned his side promotion from the Second Division, and his five goals in six appearances in the 1933 FA Cup run, including one in the final, secured the trophy for Everton.
This was clearly a man who had huge influence in his team and who went on to become a legend and an icon for his club. His status is rightly rewarded with a statue outside Everton's ground.
Until the emergence of Steven Gerrard, Dixie Dean was, in my view, without question the greatest Merseyside born footballer of all time.
There have been many truly incredible Merseyside footballers over the years. A significant number have worn the red of Liverpool.
Those we have profiled in this series have clearly served the club with honour.
Added to them are other Liverpool born legends like Ian Callaghan, Chris Lawler, Steve Heighway, Terry McDermott, John Aldridge, Steve McMahon and Steve McManaman to name a few.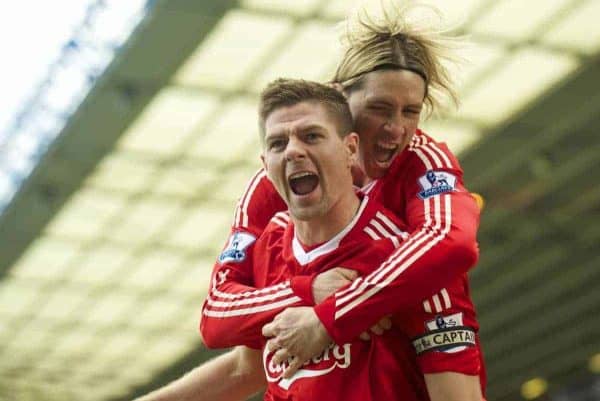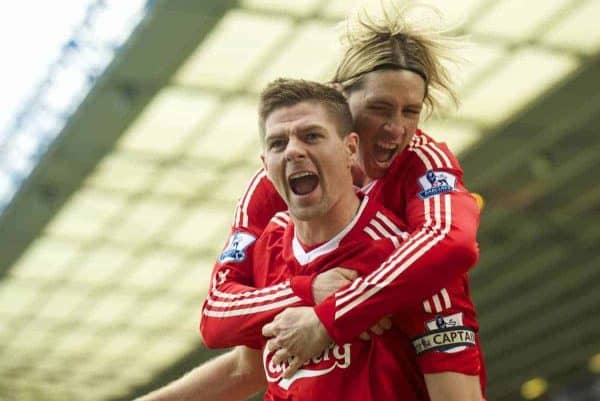 All have been tremendous talents in their own right, but none could claim to have carried the team and city they represented, in the same way that Dean's brilliance carried Everton, or in the way that Gerrard's would lift Liverpool.
Steven Gerrard's story has been so well documented that it's hard to find words to express his importance to Liverpool FC that haven't already been said or written.
His rise to prominence has also happened before our eyes. He is a living legend.
In years to come we will undoubtedly regard ourselves as blessed to have seen him play in the flesh. Future grandchildren will be bored to tears about the many tales of Stevie's feats of superhuman ability, and how in our hour of darkness he came to the rescue time and again.
Unusually though, in the case of Gerrard, the legend matches the reality. We can say that because we bore witness to it.
Time and again Gerrard pulled victory from the ashes of defeat for Liverpool. Not just in Istanbul, but at Anfield, against Olympiakos before it. The list of his heroics is endless.
At football grounds the length and breadth of England and on the continent, supporters of all clubs have witnessed his brilliance and seen their teams succumb to it.
The fact English fans still sing of the one and only time his powers eluded him is perhaps the greatest backhanded compliment they can pay him.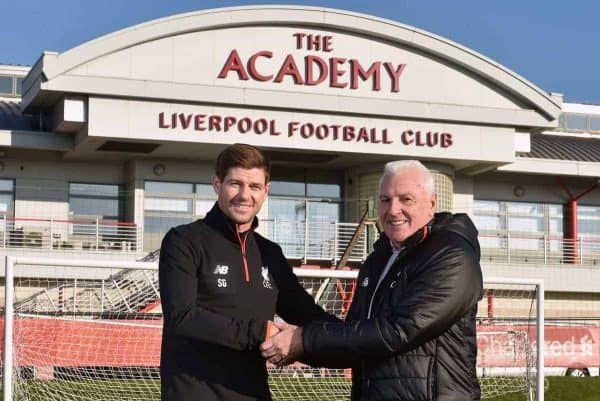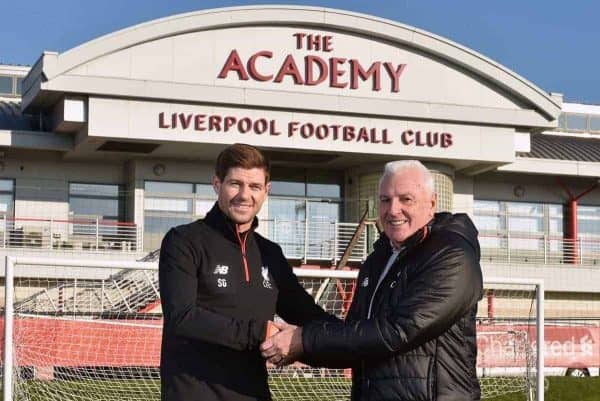 They say success has many fathers. That is certainly true of Gerrard's. Many can claim, with justification, to have helped him along the way.
Hughie McCauley and Steve Heighway spotted his genius when he was just 12 years old and pledged to do all they could to give him every chance of success.
Gerard Houllier would arrive at Anfield in 1999 only to be told by club secretary, Peter Robinson, that he didn't need to go out and buy a world-class midfielder, there was one already sitting in the youth ranks.
It was of course Steven Gerrard, and it would be the Frenchman who would pluck him from relative obscurity and launch his career on the European stage.
Then along came Rafa, with whom Stevie had an at-times-difficult relationship. Benitez's role was to push Gerrard to ever greater heights.
The player would be frustrated with this, but ultimately realised that it was Rafa's obsession with correcting the very minor faults in his game that would drive him to greatness.
However, the one thing all these men had in common was the recognition that they were dealing with a prodigious talent.
They each understood that all they could do was nurture and coax out what was already there.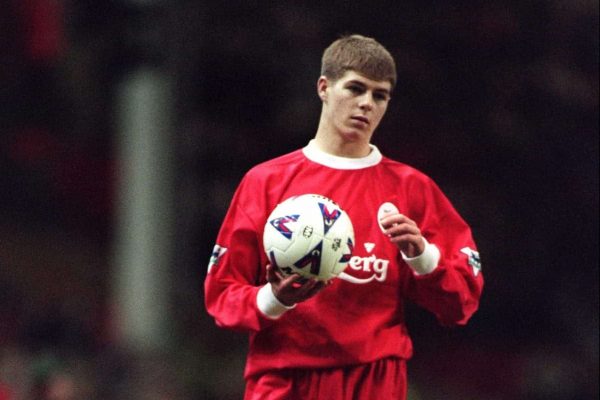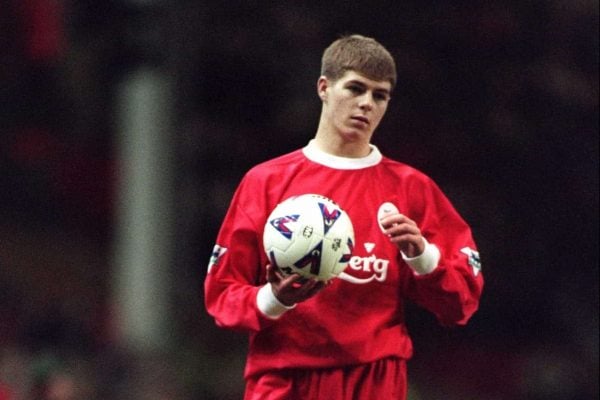 Steven Gerrard's genius was innate, but what set him aside from his peers was a relentless and insatiable desire.
In his autobiography Stevie talks about the lifestyle of players today.
He acknowledged the trappings of flash cars and bank accounts bursting with cash, but he also points to the sacrifice he made as a youngster growing up in Liverpool.
Joining the club at a mere eight years of age, Gerrard's life has been about football and nothing else. While his schoolmates were off partying, Steven was training, watching and playing football, and all the while becoming great.
Yes, the rewards for him have been huge, but so too were the consequences of failure.
This quote perhaps sums up how devastating it would have been for Gerrard had his dreams not been realised:
"I whispered to Robbie [Fowler] that I could picture perfectly the days I stood on the Kop, and literally got carried 20 or 30 yards as the crowd surged forward when he scored a goal. God it was incredible.

"I would watch the likes of Ian Rush and Aldo, then as I got older John Barnes, Jamie Redknapp and Robbie, and hope and pray and dream like mad that it would be me one day.

"I never even bothered dreaming that I would ever be captain—that would be too mad—just that I would set foot out on that pitch, just the once.

"And d'ya know what, even now, I can't put into words what it feels like to be living that dream."
In today's game, mere talent is not enough. The lower leagues of English football are littered with talented players.
What separates them from the truly elite is the hunger, passion and drive summed up in the above quote. You can be sure that those under Gerrard's wing today, at the Academy, will have that drummed into them every time they enter the dressing room.
"You have to be obsessed," said Gerrard, when asked what message he would impart to any youngster who wanted to follow in his footsteps.
There have surely been few players at Anfield in my lifetime more obsessed with being the best than Steven Gerrard.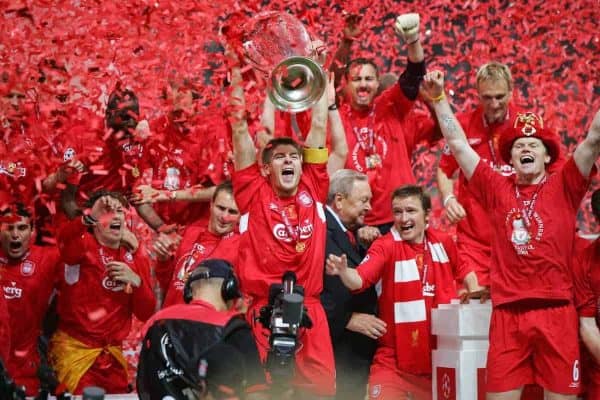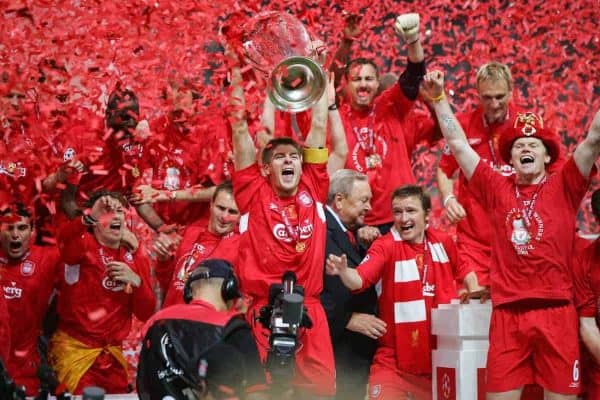 In ending this profile of Liverpool's most recent Scouse captain, I'm going to argue he is the greatest.
I could even argue he is the greatest Scouser to wear a Liver Bird upon his chest and there would be little dispute.
However, I am going to go further and say that in more than a century of football played on Merseyside, during which a pantheon of greats have trod the grass at Anfield and Goodison, only two men have a legitimate claim to being the greatest Merseyside footballer of all time, and Steven Gerrard is one of them.
He may even be the greatest.
---
Jeff Goulding is the author of Red Odyssey: Liverpool F.C. 1892-2017. Pre-order here.