Heading into the season's decisive run-in in March, April and May, Alex Malone believes Liverpool may have stepped up to the next level in February.
February 2018 might just turn out to be a very important month for Liverpool Football Club.
The month where a team with potential, but too often hindered by defensive flaws, came of age in terms of maturity, solidity and game management.
It can be no mere coincidence that Liverpool's best defensive stats for years have occurred at the same time as the removal of Simon Mignolet and the introduction of Loris Karius and Virgil van Dijk, while at the same time having two first-choice full-backs seemingly cementing (if that's possible under Jurgen Klopp) their respective positions in the team.
Andrew Robertson is an ever-present, and Trent Alexander-Arnold has now started each of the last four games.
With just the first-choice partner for Van Dijk to be confirmed, this is the closest we have had to a settled back five since Klopp arrived at the club—and the first time we've had a back five of genuine quality for many years prior to that.
Trent and Robertson have excelled. Their technical quality, attitude and ability to whip in crosses at speed is the likes we haven't seen for donkey's years.
I've watched Liverpool for decades and I honestly can't remember having two full-backs at the same time being able to cross a ball at pace as consistently as these two.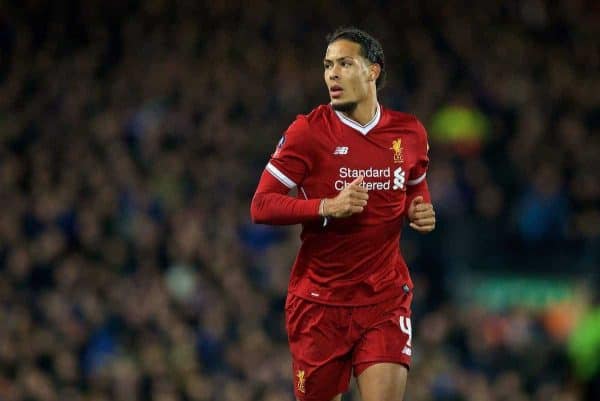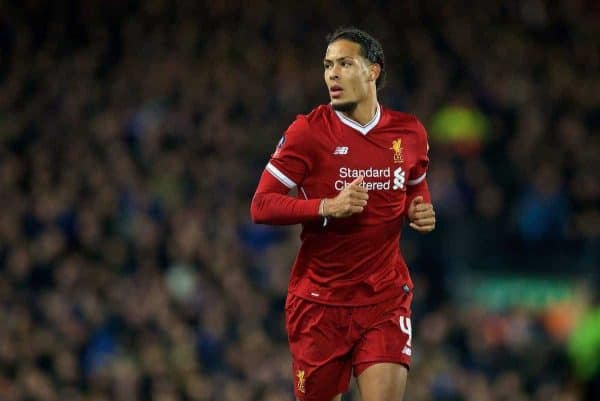 Van Dijk has added an air of confidence to the entire defensive unit with his commanding presence and calm demeanour, none more so than with Dejan Lovren.
Behind the back four, there is no doubt that while still in the 'yet to totally convince' camp, Karius has proven to be an upgrade to Mignolet.
He's still mixing moments of brilliance with moments of blunder, but with each game he seems to be growing in confidence, excellent moments are increasing and mistakes are lessening. He's actually saved several shots on target too!
It's too early to say he's the definitive answer back there, but for the first time in his Liverpool career, I think we can file him under 'very encouraging'.
It is fact, rather than opinion, that a high quality and settled back four is the foundation for success. We're getting close to achieving it.
In hindsight, there is always a key moment when you can pinpoint as the start of a special period for any club. Ours may turn out to be the Southampton game on February 11.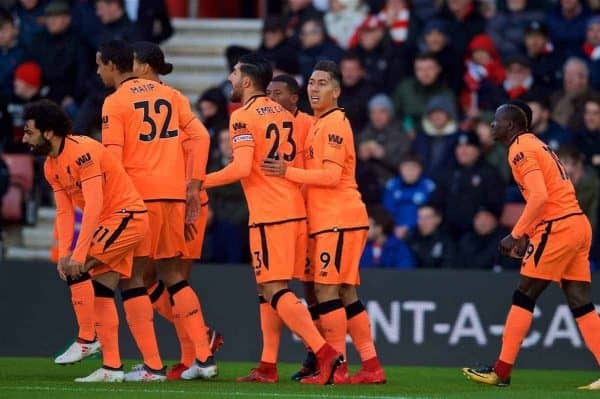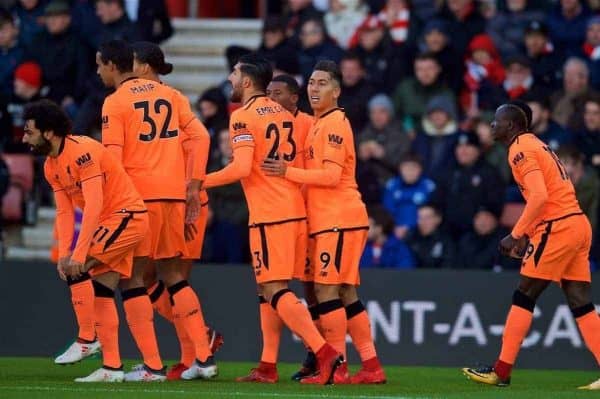 There was a strange, overriding sense of control and calmness throughout that game that I'm, well, not accustomed to. No drama, no self-imposed foot wounds, no heart palpitations from fearing an implosion in the final 10 minutes.
I remember when the final whistle went, thinking: "Wow…that was close to a complete team performance." My heart rate measured 'normal', my mouth wasn't dry and I'd retained my fingernails.
But this is Liverpool, and it was only Southampton after all, so being the 'overly cautious, expecting the worst' type that recent history has insisted I become, I awaited Porto—our first foray into the Champions League knockout stages for close to a decade—with bated breath…
It was even better.
Against a team with a quite fantastic home record and undefeated in any league game all season, we took our game to a whole new level.
If Southampton was the springboard, Porto was the two-and-a-half reverse somersaults with three twists. It was quite simply a world-class performance against a very good team.
Just to put it into perspective, Porto have played three times since that 5-0 thrashing. They've won 5-0, 3-1 and 5-0 in those games.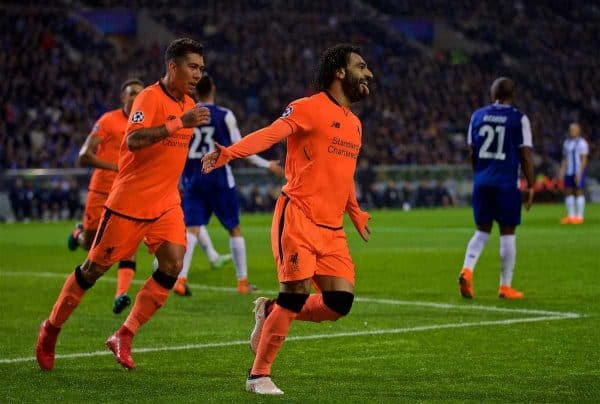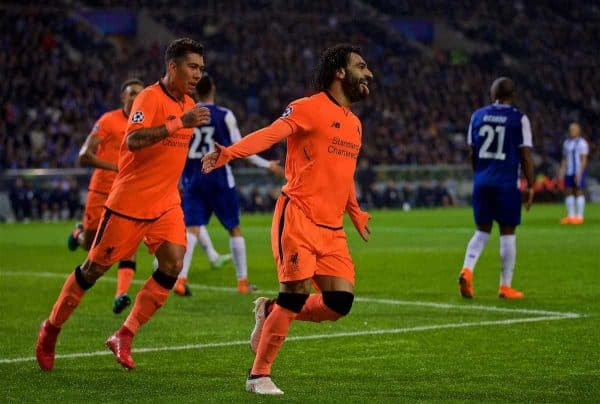 In their 24 league games this season, they've won 20 and drawn four. They've scored 66 and conceded just 12.
We inflicted their worst-ever European home defeat in their history.
As with Southampton, the performance was that of a highly functioning complete unit, rather than a reliance on the exceptional front three; all 11 players knowing their role, operating like a highly tuned sports car with no dodgy parts. German engineering?
A somewhat overlooked part of that performance was the defensive efforts of the front three. After a goal-fest in a European away leg in which the fantastic trio scored all five, the focus was very much on their goalscoring exploits.
But their contribution to the defensive solidity throughout the night was just as impressive. If you have the game handy, watch it again focusing on the work of the front three all over the pitch.
They're often given credit for defending from the front. The reality is they defend all over the pitch.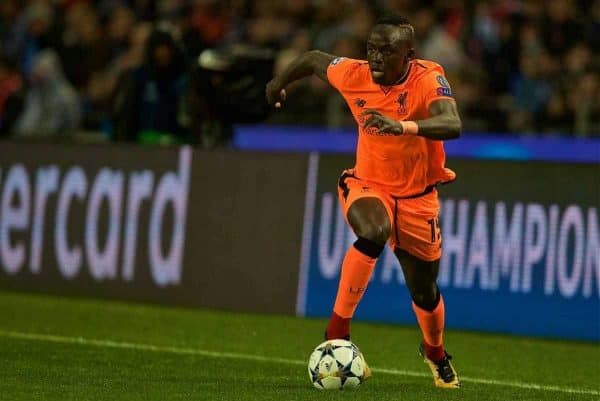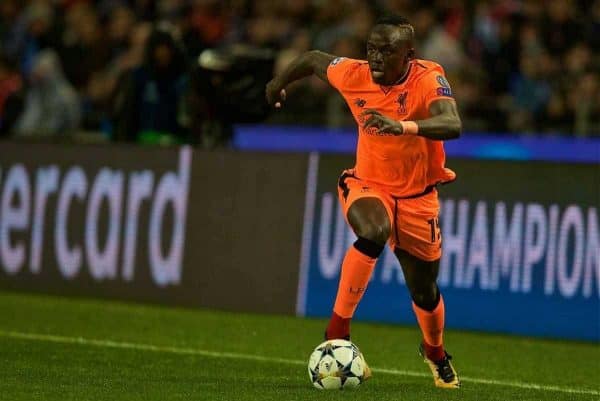 Seconds before Sadio Mane was firing in our third goal, at precisely 52:19, Mo Salah was helping to defend inside the Liverpool 18-yard box. When the ball broke to him five seconds later at 53:24, he was 75 yards from goal.
At 52:29, a mere 10 seconds after Salah was defending in his own box, he was releasing Roberto Firmino to shoot and Mane was tapping the rebound home.
In the 84th minute, when Mane was hammering home the fifth, who was his outlet to the right storming into the Porto box? Our right-back, Trent.
At 86:30, when Porto fired a shot hopelessly over the bar, Mane had tracked back to just outside the Liverpool box.
At 87:44, he's back there again, pointing at Robertson to cover the overlapping player while tracking the Porto player with the ball.
At 88:54, he's charging at the Porto right-back, forcing him to pass back to his 'keeper as they tried to play out from the back.
At 89:33, Firmino wins the ball off the Porto midfielder, 10 yards inside the Liverpool half. And there are many, many more examples…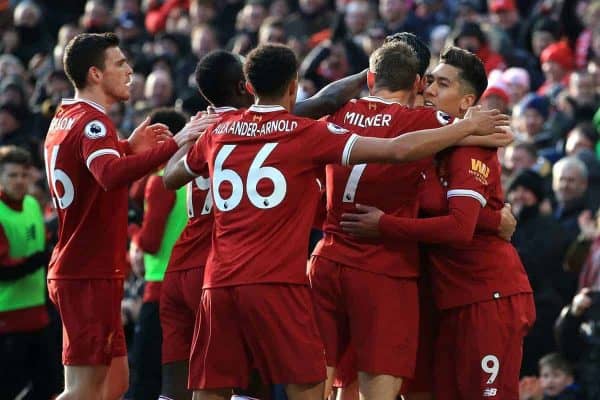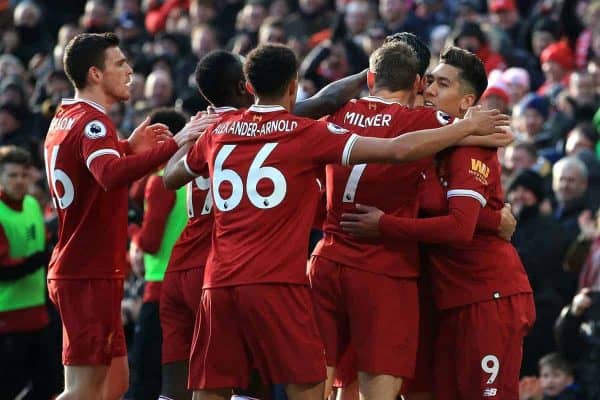 In other words, a complete performance: the whole team defending, the whole team contributing to the attack. A fully functioning, highly tuned unit to which the opposition had no answers.
Against West Ham, it was more of the same. Another four goals, the front three on target again, Van Dijk, Robertson and Trent exceptional again, James Milner looking 22 rather than 32, and Karius pulling off a couple of cracking saves.
A fully functioning team maintaining the blueprint of the Southampton and Porto games, even with a couple of replacement parts drafted into midfield and central defence.
I have, in the past, been critical (to varying degrees) of Milner, Georginio Wijnaldum, Emre Can and Jordan Henderson in midfield.
Well, fair's fair, and recently they've really stepped up, with Alex Oxlade-Chamberlain also looking far more a player than he ever did at Arsenal. His decision-making, still questionable at times, is already far better than it was.
The midfielders—like the defence—seem to have a new-found confidence, and a thorough understanding of their role in the team. Rather than be hindered by any individual or collective weaknesses, they're now playing to their strengths.
The upcoming addition of Naby Keita will strengthen it further.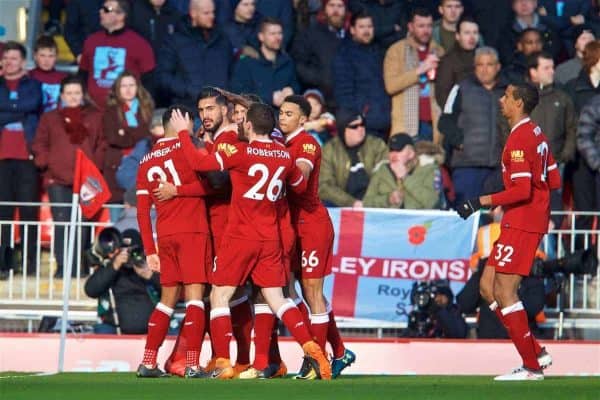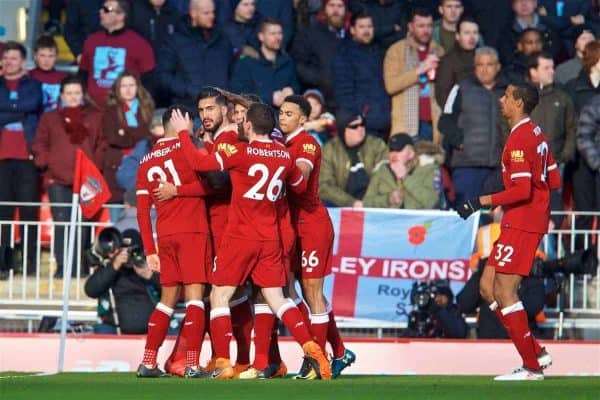 The last three performances were collectively at a new level of excellence, team understanding, balance and effectiveness. Defence, midfield and attack functioning symbiotically as one.
In totality, these 270 minutes are possibly the most impressive consecutive three performances in recent times.
Not because we scored a lot of goals and conceded just one—we've done that before—but in the manner of the individual and team performances and 'how' the results were achieved.
Too often, we have relied on a world-class attack to bail out a sometimes pedestrian midfield and an often porous defence.
Even then, such as Sevilla and Arsenal away, their goalscoring heroics (three in each game) proved not to be enough.
For the first time in a long time, I have confidence those performances, these kinds of capitulations, can be consigned to the past.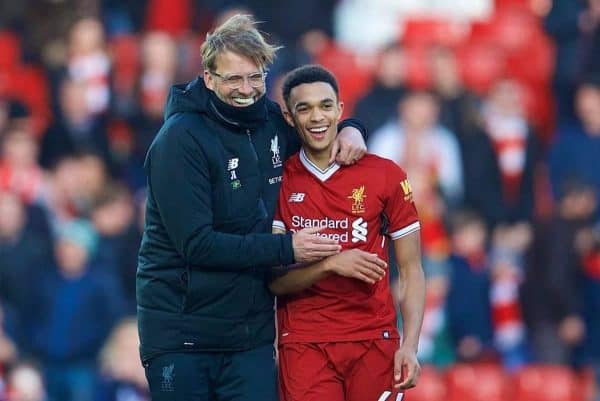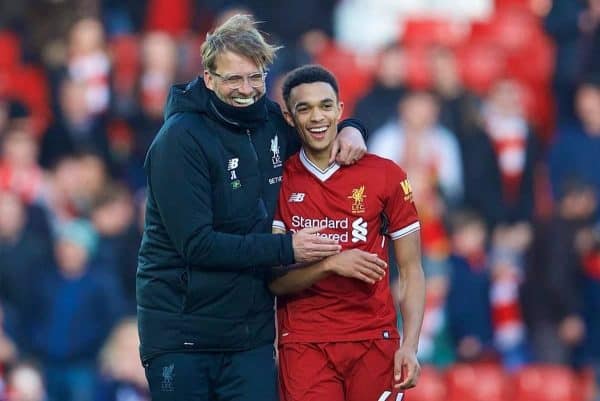 Klopp is getting closer to the style, tactics and type of football that is his trademark.
To do so, he had to slowly but surely put the fundamentals in place, while simultaneously upgrading the squad. In just two years, he has taken this squad to a whole new level of performance.
Imagine where two more years could take us.