Jurgen Klopp has dealt extremely well so far with every squad dilemma he has been faced with, but choosing a midfield trio could now prove trickiest of all.
It seems that the past couple of seasons has at times been a juggling act for the manager, with form and fitness dictating Liverpool's regular lineup more than anything else.
There has been the long-running goalkeeper saga, finally ended now by Loris Karius' re-emergence, and a period of trial and error at both left-back and centre-back.
Both those positions now benefit from depth and competition for places as well as increased quality.
In attack, for a time it was Sadio Mane or nobody; then it was the awesome foursome, now it's perhaps the most feared attacking trio in the Premier League.
Klopp has spun and weaved his will in the transfer market, making a team out of a collection of inconsistent souls, and just one big area remains to be adjusted, rather than added to, this coming summer: the centre of midfield.
Naby Keita will come in, another may do so as well, while Emre Can's future remains uncertain. But that's for summer; before then, there's two vital fronts to fight on, and Klopp has a difficult and important selection choice to make.
Phil, Ox and striking a balance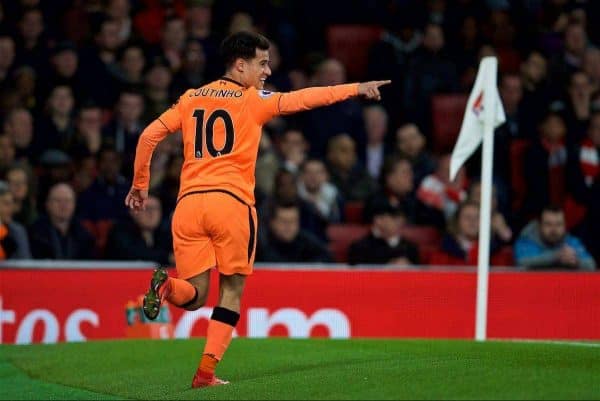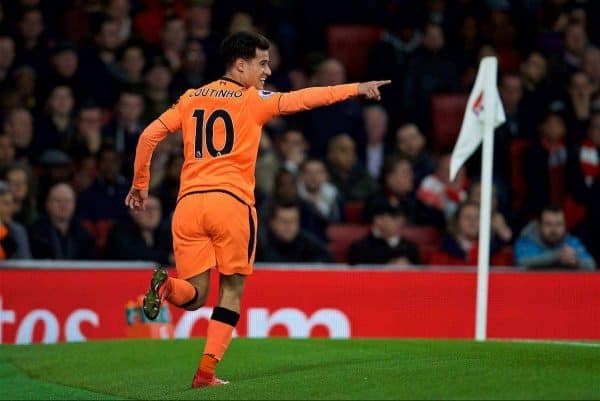 The first half of 2017/18 saw Brazilian schemer Philippe Coutinho regularly take centre stage, the most advanced and free-to-roam of the Reds' three-man midfield.
In theory it was perfect, and in practice it worked well too…at times. But there wasn't really a settled run where Coutinho played as the No. 8 with a regular partner and with a settled No. 6 providing the platform behind them.
There's no blame-placing on Coutinho here; Liverpool have naturally gotten better as the season has gone on and his talent was disappointing to wave goodbye to, whatever the circumstances.
But there's undeniably more of a balance in the engine room over the past few months.
While the deepest midfielder has changed from week to week according to need, the axis ahead of either Can or Jordan Henderson has gradually grown in influence.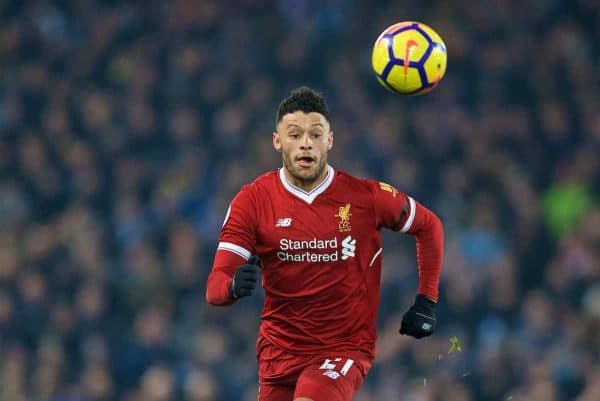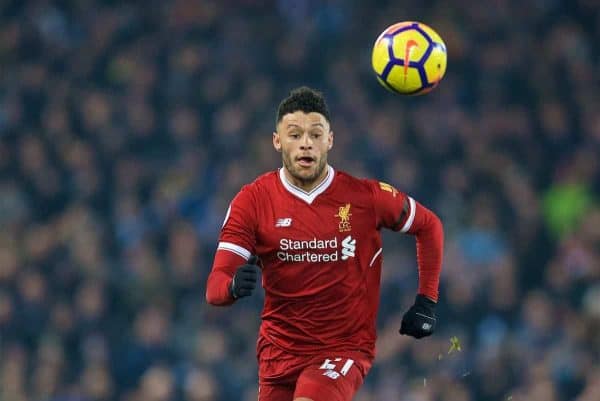 Lining up with two of Gini Wijnaldum, James Milner or Alex Oxlade-Chamberlain might not look the most threatening or creative midfield in the league, and indeed for a few weeks there were fears that it was far more industrious than adventurous.
But given the pace, guile and movement of those in the attacking line, it has proven to be no bad thing to have a little more solidity behind them.
Oxlade-Chamberlain in particular has offered a glimpse of vital penetration, ability to break lines on the run and a finishing touch in the final third.
The former Arsenal man still lacks a little consistency at times, but having both he and Can together at times gives Liverpool an irresistable mix of power and panache, daring and drive.
Milner's renaissance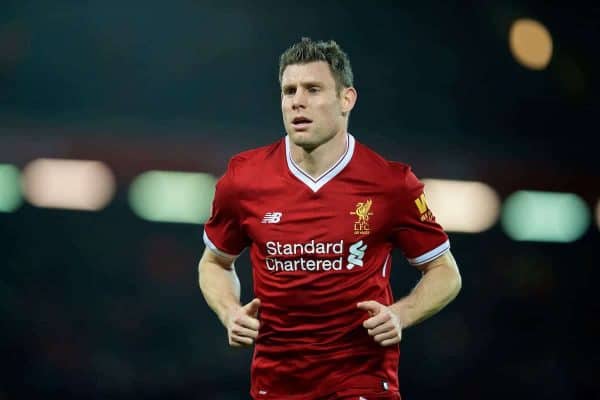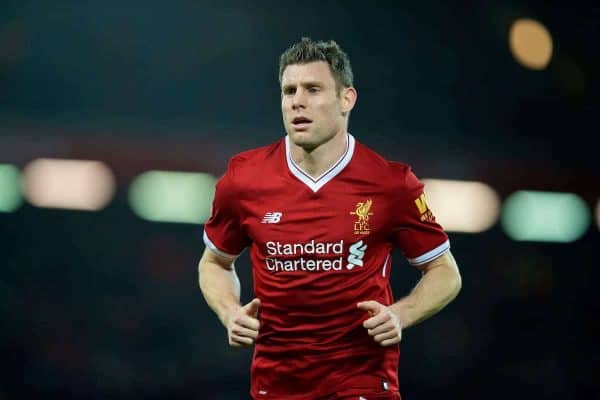 While the new expensive signing has impressed domestically at times, in Europe it is the veteran free transfer who has stood out for the Reds.
Milner might not be the most technically gifted playmaker or a fast-paced winger, but he has played at the top for years. His experience, determination and know-how have proven every bit as important as Roberto Firmino's goals and Mohamed Salah's speed.
It is probable that Milner has done enough by this stage to remain a starter in the Reds' Champions League campaign, however long that lasts for.
Intelligent in winning the ball back quickly and surging forward to join the attack, he has been a critical link player between midfield and attack, vital in transitions where the Reds were so devastating against Porto.
Perhaps Milner won't be an every-week Premier League starter, but he'll get more than enough minutes between now and the end of the season.
Most importantly, his form is justifying his inclusion and it wouldn't be a huge surprise to see him as a regular starter in the biggest of games—including at Old Trafford against Man United.
The fall guys?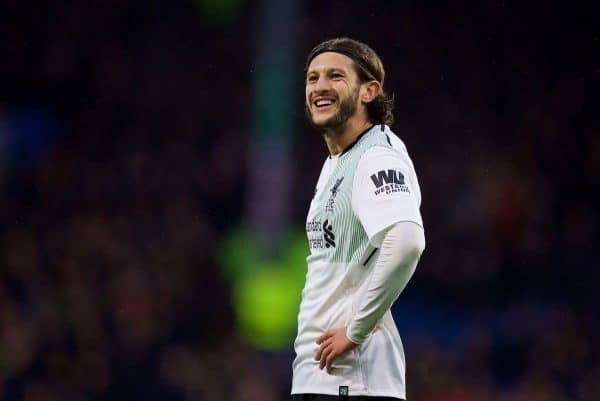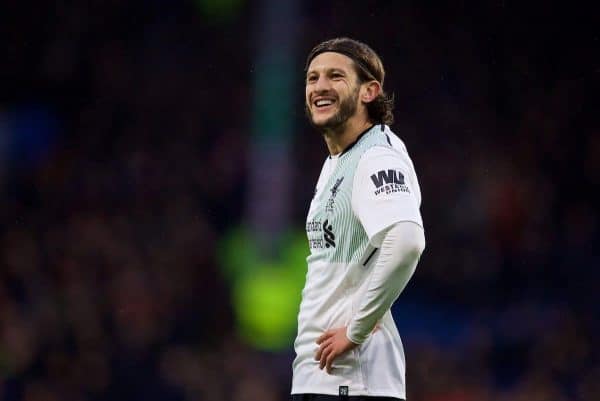 Where some shine, it naturally means others have to wait in the background. For Adam Lallana, it has been a season of struggle and frustration, one which shows no sign of a quick ending.
From a long-term injury to his ridiculous red card for the U23s, the versatile performer simply hasn't gotten started this term.
He played a key role for Klopp's first couple of campaigns, but the Reds look far more assured and fast-paced in build-up without Lallana on the pitch at present.
A lack of sharpness might be part of it, but his style just isn't as aggressive, direct or—to be brutally honest—clinical in the final pass or shot as Milner or Oxlade-Chamberlain.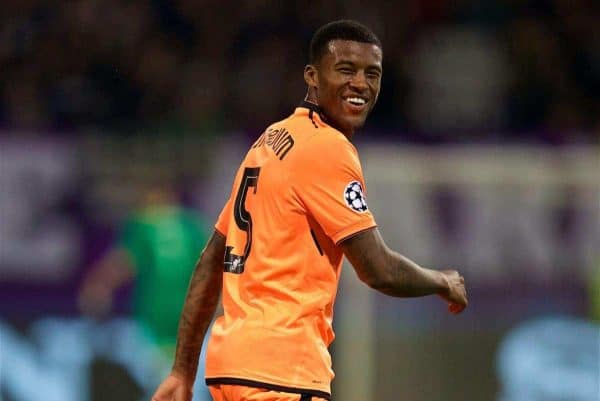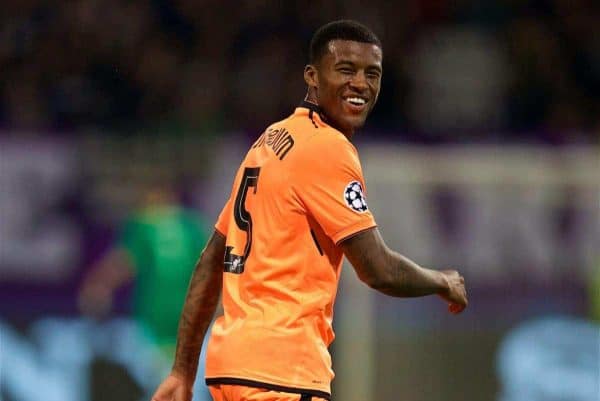 Wijnaldum has also fallen down the order of importance somewhat; still a dependable performer, but not a game-changer, not someone who must be in the team no matter what.
It's an outside bet, but would the Dutch international be on most fans' team sheet for a semi-final, or final? Or Klopp's at this point?
And if not, is he a player who will hang around in the summer if another new midfielder or two arrive?
Regeneration

Liverpool don't need three starting central midfielders, they need around five.
Five of a similar class and quality, able to come in and play in tandem with others as needed.
The idea is to not let an absence affect the overall level of the team—as is now the case at right-back, if a wide forward is missing, and if Henderson or Can are playing as the holding midfielder.
Keita coming in raises the bar somewhat, and it can be assumed that at least two of the current quartet of No. 8s—Milner, Wijnaldum, Oxlade-Chamberlain, Lallana—will remain. Add in one of the 6s and it's more than probable that there has to be a sale in that department this summer.
Then there are the youngsters to think about: Marko Grujic, Ovie Ejaria, maybe even a change of role at times for Trent Alexander-Arnold.
It's a key few months for the heart of the Liverpool team, and a vital piece of the spine of Klopp's side.
Karius, Virgil van Dijk, Firmino and Salah are set in stone. Keita will be added, but there's room for another in midfield to make themselves indispensable.
The coming months will see Klopp have two critical choices to make, and a big clue as to the direction he'll take could come in the upcoming games as the Reds hunt down a big ending to the season.