Though his performances will lead to prolonged speculation over a move elsewhere, Mohamed Salah is showing no sign of wanting to leave Liverpool.
Salah has now scored more goals than any other Reds player in their debut season for the club, surpassing Fernando Torres by bringing his tally up to 36 on Saturday.
Netting four times in the 5-0 mauling of Watford at Anfield, Salah became only the fourth player to score four goals for Liverpool in a Premier League game.
Two of those players, Michael Owen and Luis Suarez, ultimately had their heads turned by Spanish clubs, joining Real Madrid in 2004 and Barcelona in 2014 respectively.
But while Salah has been linked with a move to Real in recent months, speaking to ESPN Brasil before Liverpool's latest win he pledged his future to the club.
"I said to all my friends, I think I said it in many interviews as well, that I wanted to come back," he explained.
"I like the Premier League I lot. I feel it has my style of football. I like to play [in] the Premier League.
"I said since day one here that I'm happy here at Liverpool and I want to show my football here.
"If you look at me now and five years ago, everything has changed—mentally, physically…everything."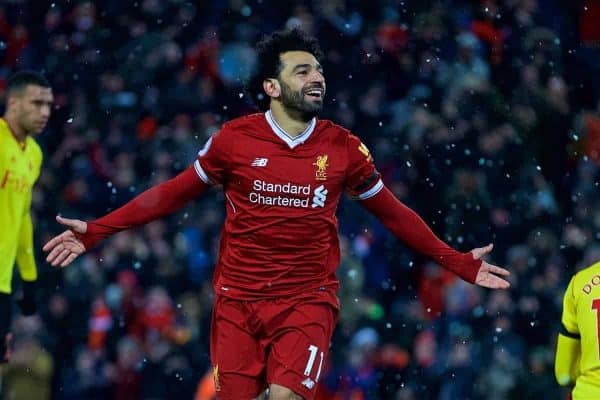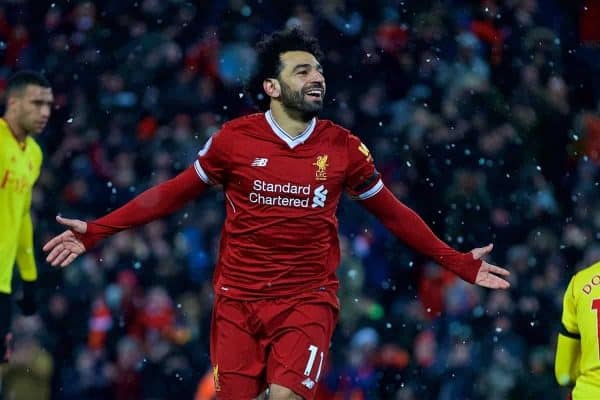 Salah's performance against the Hornets at Anfield encapsulated his brilliance perfectly: scoring, creating and working hard on and off the ball.
He is an elite talent, and one every side in Europe will covet, but after his redemption act at Liverpool, following a failed stint at Chelsea earlier in the decade, he is eyeing silverware.
"It's a dream to win the Premier League here after a long time, a club that hasn't won it for a long time," he added.
"It's my dream—honestly. I want to win it with this club."
Proclamations of loyalty can no longer be considered guarantee of a player staying at the club, particularly given Philippe Coutinho's embarrassing claims a year ago, but this seems different.
Having seen a previous attempt at joining Liverpool fall flat in 2014, Salah is now thriving on Merseyside, and under Jurgen Klopp they are arguably closer to winning the title than ever before.
If Klopp can continue to build around his new attacking star, and keep the likes of Roberto Firmino and Sadio Mane at the club too, Salah's dream could well become a reality.