Jurgen Klopp says Liverpool "will give it everything" against Man City next month, after the two sides were drawn against each other in the Champions League quarter-finals.
Friday's hotly-anticipated draw saw the Reds pitted against tournament frontrunners City, with supporters reacting in mixed fashion afterwards.
Pep Guardiola's side are the clear favourites going into the tie, which takes place on April 4 (Anfield) and April 10 (Etihad Stadium), as they close in on one of the most one-sided Premier League title wins in history.
Despite this, Klopp was typically relaxed about the draw, telling Liverpoolfc.com that his players won't leave anything out there on the pitch over the two matches:
"It is exactly like it was before – we take what we've got. Now it's Manchester City, let's go.

"We've lost once and we've won once against them in the league – and I don't think they thought before the best draw they could have got is Liverpool. That's a sign for us and how strong we can be.

"We are for sure not the favourites in this round, but in the last eight there are not a lot of favourites – maybe two of them, Bayern and Barcelona – but thank God it's football and nothing is decided.

"We have a few games to play until then, but I am really looking forward to it and we will give it everything."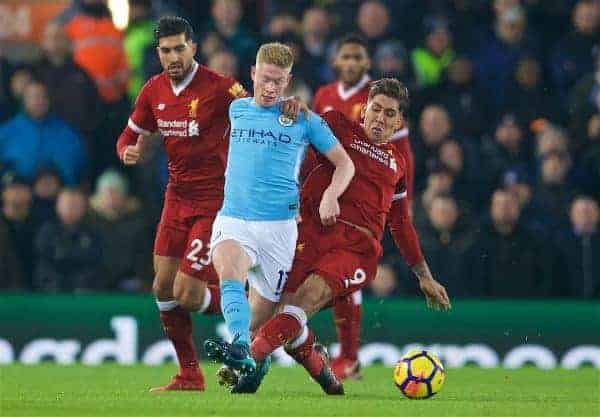 Speaking about the second leg not taking place at Anfield, Klopp said: "In this case, it's not too important. For us, it's completely normal. We can get a result at home for sure, but it's obviously a difficult game."
The boss also spoke about the positive impact Liverpool's world-renowned support can have during the tie, both at home and away:
"We are already looking forward to that. And it's a nice, short trip for our supporters when we go to City.

"I know our away fans are fantastic, so that will be a great atmosphere as well. They are two really good games and a big challenge for both sides – but, that's like it should be."
It promises to be a nerve-shredding couple of games, but for the footballing purists, a classic encounter could be set to take place.
Both Klopp and Guardiola approach the game in a refreshingly attacking manner, and as both league meetings this season have proved, the goals should flow.
Liverpool are the clear underdogs to make it to the semi-finals, but they were also unfancied against the best team in England in 2005, and look how that panned out.