The media were in awe of the power of Anfield and Liverpool's collective performance as the Reds took a stunning 3-0 first-leg lead over Man City.
The power of Anfield shone as Jurgen Klopp's side took control of the quarter-final tie with a breath-taking team performance.
The Reds roared into a 3-0 lead in a blistering opening 30 minutes, courtesy of Mohamed Salah's cool finish, Alex Oxlade-Chamberlain's thunderbolt and Sadio Mane's header.
And after the break, Klopp's side dug deep with a heroic defensive display to preserve the three-goal lead and add another special European night to Anfield's collection.
It was an incredible night which will have made the whole football world sit up and take notice of this fantastic Reds side.
Here's how the media assessed a memorable display.
Reporters reflected on another special Anfield European night and a statement victory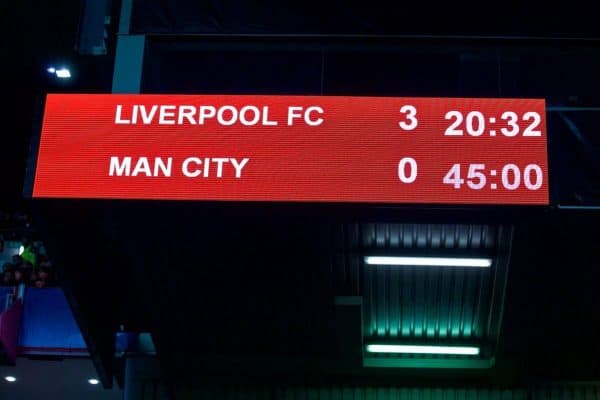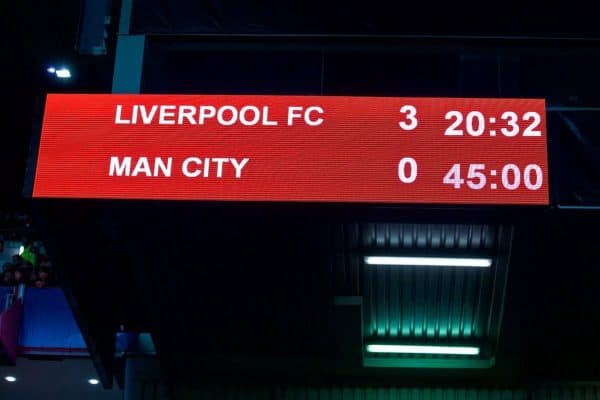 Writing for Football365, Daniel Storey brilliantly summarised:
At Anfield on Wednesday, we saw a special team in front a special atmosphere win with a special performance.
Writing for Goal.com, Neil Jones assessed it as a night that made the whole of Europe sit up and take notice:
Now do you understand what this Liverpool team is becoming? Now do you understand what Anfield is all about, what the Champions League does to red shirts, red minds and red hearts?

[…]

Everyone in Europe does now, surely?
The Liverpool Echo's James Pearce labelled it "the most complete performance" of Klopp's tenure to date:
This was arguably the most complete performance of the German's reign.
The Mail's Martin Samuel went even further, labelling it "the performance of the season by any English club", and one that puts a marker down for the future:
Liverpool were magnificent, delivering arguably the performance of the season, by any English club.

[…]

This was a marker thrown down for this season, and the next, too – a result that says Liverpool are the real deal.
Journalists were in awe of the collective performance and numerous individual displays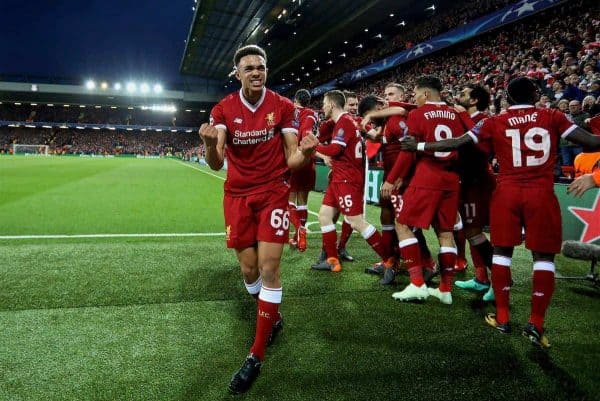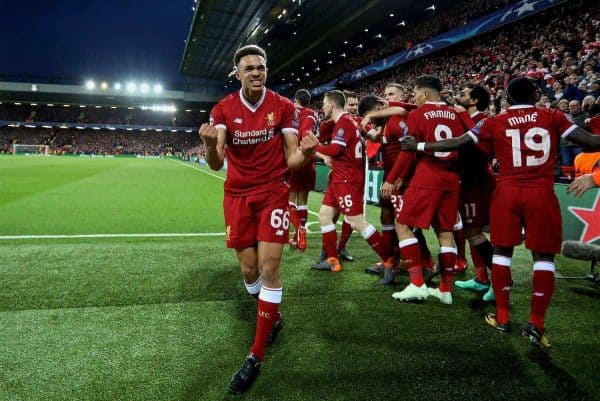 The Independent's Miguel Delaney felt Liverpool's speed was simply too much for City:
The real key, though, was that Liverpool successfully set a pace that City couldn't match even when Klopp's team began to naturally subside.
Storey thought the second-half defensive display was equally as impressive as the blistering attacking performance and noted how this highlighted the progress Klopp has overseen:
For all the brilliance of Liverpool's attacking, their second-half performance was just as impressive.

[…]

Time and again, we have been told that Klopp cannot organise a defence. The job is only half-completed, but the manager, his tactics and his team answered so very many questions on Wednesday.
Samuel was impressed by Liverpool's midfield, and labelled the central trio as "the stars" of the performance:
Liverpool's midfield were the stars. James Milner, Jordan Henderson, Alex Oxlade-Chamberlain — as names on a team-sheet they appeared dwarfed by City's stellar equivalent, yet this was their night. They protected the defensive line, they hassled City's creators to the point of madness.
The Mirror's Alex Richards focused on Mohamed Salah's role, and believes the Egyptian has now carved out his own unique position as a predatory winger:
Rather, as Salah has grown in a red shirt, making this HIS team, has carved out his own niche, playing from the right side but spending an increasing amount of time in the penalty area and between centre-half and full-back. And, quite simply, he is thriving.
ESPN's Dave Usher gave Trent Alexander-Arnold 10/10 in his player ratings after the right-back's "flawless performance":
A maximum grade is a very rare thing indeed, and perhaps a 9 would have been appropriate under normal circumstances. In this case though, context is king.

[…]

He responded with a virtually flawless performance. It was a remarkable display considering his inexperience and the magnitude of the occasion. Take a bow, young man.
The power of Anfield was discussed, with reporters in awe of how the support inspired the Reds and overwhelmed City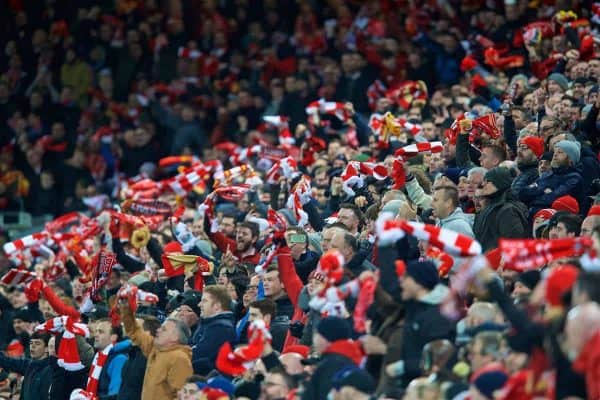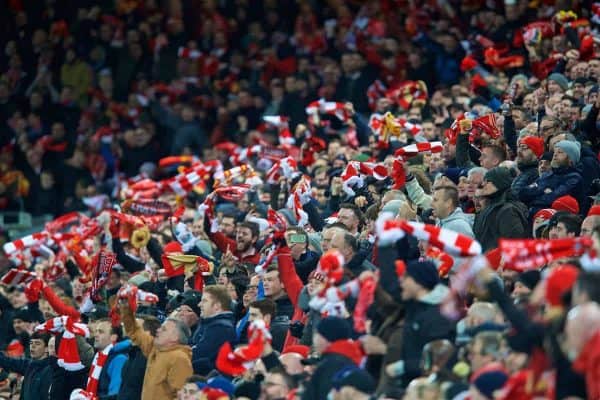 Pearce wrote a great line:
City owner Sheikh Mansour can afford most things but he can't buy passion like this.
ESPN's Mark Ogden thought City were foolish to underestimate the impact of the Anfield atmosphere after becoming the latest team to fall victim to it:
Those of a Manchester City persuasion might think again the next time that they dismiss the Anfield experience as nothing more than a media invention having being overrun in a 3-0 mauling in this Champions League quarterfinal, first leg.

[…]

The Anfield atmosphere has contributed to famous European wins against Saint-Etienne, Chelsea, Borussia Dortmund and many others down the years and City simply became the latest victim.
Samuel was among several reporters to note how the Anfield atmosphere is a game-changer in the way it lifts the team to another level:
No team will approach a fixture at Anfield without a degree of trepidation after this.

Not just the reception en route because any player of significance will have seen inhospitable crowds before – and not the noise because there is plenty of that around Europe on Champions League nights, too. Liverpool's strength is that the passion in the ground finds its echo on the pitch.
Meanwhile, the Independent's Mark Critchley thought the Reds benefitted from having the first leg at home, as it put the onus on Klopp's side to push for a victory for the second leg:
Playing in front of their own supporters first was considered a disadvantage by some, but it put the onus on Klopp's side to win and win handsomely.

There could be no barrier to their cavalier attacking style. There was no subconscious sense that a draw would do.
Klopp's work in turning this Reds' team into a force was praised, as was his bravery in sticking to his principles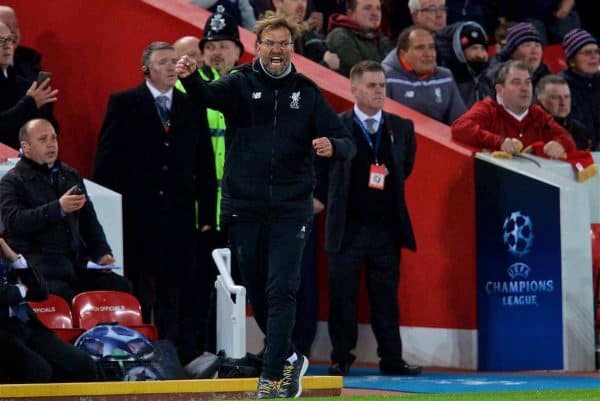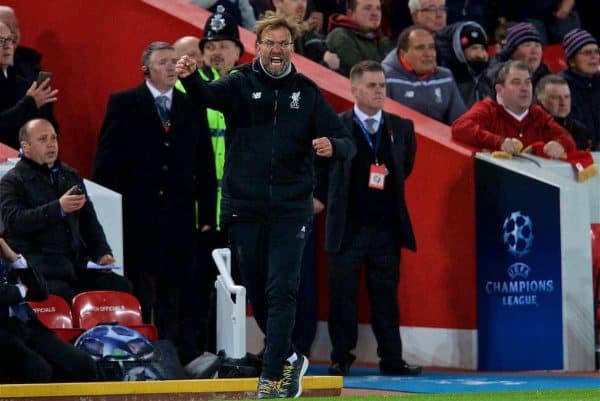 Storey explained how Klopp continues to impress by making "the collective far greater than the sum of its parts":
Yet Klopp is threatening to take Liverpool forward in giant leaps.

[…]

This is a coach who believes in improving players (both those he inherits and buys) to create a team ethic that makes the collective far greater than the sum of its parts.
The Independent's Jonathan Liew focused on the belief Klopp has instilled in the team and how this inspired the Reds on the night:
Jurgen Klopp is a man of faith, in more senses than one, and somehow he manages to produce more of these moments than anyone else.

[…]

The point is that Liverpool believed, unflinchingly, unquestionably and with the zeal of the self-appointed chosen.
The Guardian's Andy Hunter praised Klopp's and his player's bravery to take the game to City, and felt this was "fundamental" to the first-half blitz:
Only Jürgen Klopp held firm with his tactics and approach.

[…]

The bravery Klopp had requested was fundamental to the first-half onslaught and displayed by every player wearing red.
Reporters debated whether the tie is over and looked ahead to the second leg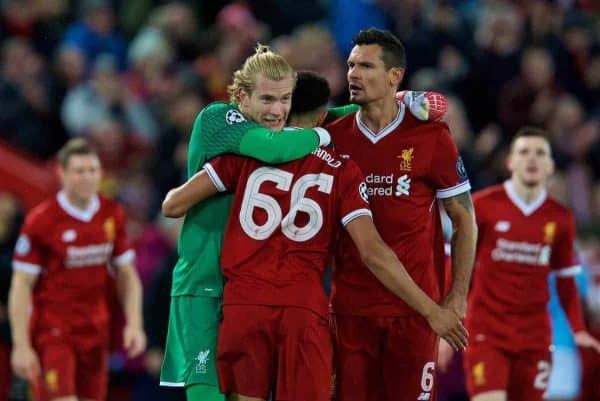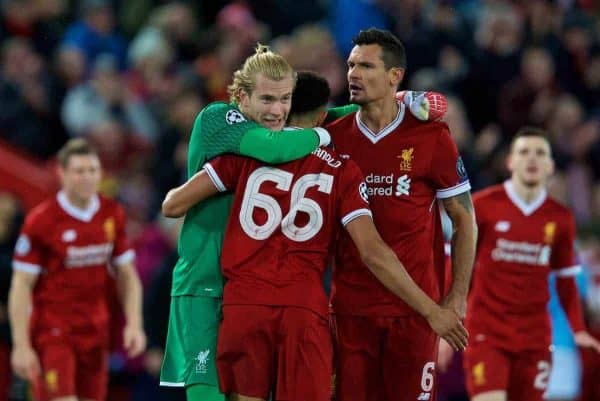 Storey thinks Liverpool now have the skillset at both ends of the pitch to come through at the Eithad Stadium:
From the evidence of the first half, Liverpool will score. From the evidence of the second, five goals is a big ask. There is more steel to Liverpool's defending than we have seen at any point since Rafael Benitez left.
The BBC's Phil McNulty thinks Klopp's side have the attacking tools to be able to pick City off and score a vital away goal which would all but seal victory:
And, significantly, Liverpool have just the sort of attack to punish a team pushing for goals, as City will need to do next Tuesday.
Jones thinks Liverpool will believe they can go all the way if they can come through the second leg:
They have wedged open the door, now they have to walk through it. And if they do, then they'll feel they can take anybody.
The Telegraph's Chris Bascombe believes success could yet hinge on Salah's recovery, given how the Reds were a different team after the Egyptian was forced off:
Klopp and Liverpool know their ambitions may yet depend on Salah's medical bulletin over the next few days.

Without him they lacked the counter-attacking potency that had given them such an advantage. It felt like they were reduced to ten men such was the immediate swing in momentum.
Critchley assessed how the Reds' improved game-management will be crucial to seeing the tie out:
The worry for City and the neutral, however, will be that this Liverpool team is gradually becoming more confident in its own skin and improving at that intangible thing called 'game management'.
And finally, Delaney thinks it will take Guardiola to produce his best ever managerial performance to turn the tie around:
The Catalan will maybe have to produce his greatest feat of management yet, or something at least as wondrous as Jurgen Klopp conjured here for this coruscating 3-0 victory that itself will match anything this great old ground has seen in Europe.

That's the scale of the task for City in the second-leg, that's how magnificent Liverpool were.