Liverpool's 3-0 hammering of Manchester City evoked memories of the very best nights at Anfield for Jeff Goulding.
Urchins atop of gate posts, reds perched on roof tops, streets bathed in flare light and smoke filling a golden sky; it may have seemed like Dante's Inferno to the City team bus as it weaved its way past the Arkles and onto Anfield Road, but to Liverpool supporters this was paradise—and it was still more than an hour to kick-off.
They sang Allez, Allez, Allez, a new anthem born in the pubs around Liverpool and transported onto the Kop and away grounds alike.
Soon all four corners of the old stadium on Walton Breck Road would reverberate to its tune, as even Reds in the posh seats belted out its chorus.
This was Anfield—gut-churning, blood-curdling, heart-pounding, spine-tingling, voice-shredding, fist-pumping Anfield, in all of its wonderful glory.
Away supporters may say it's a library.
To be fair when they rock up with their moronic chants about unemployment, flicking their way through their '101 soccer chants and banter' catalogues, it sometimes is.
Not on nights like this though, not when the stakes are so high, and never in Europe under the floodlights.
City's supporters and some of their players made a huge miscalculation when they tried to play it down.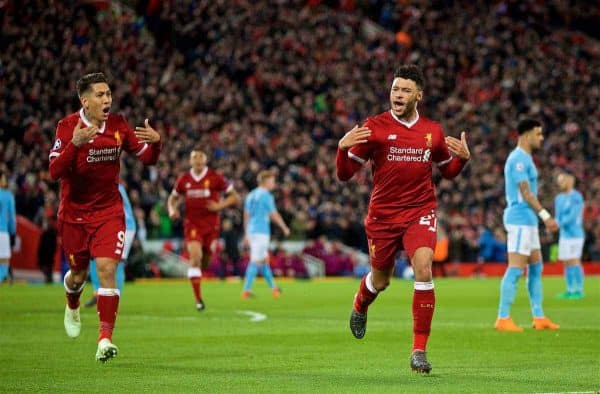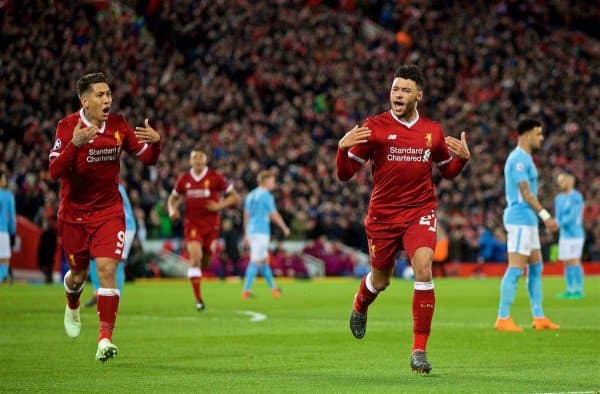 To be fair to them, others have made the same mistake and suffered in the same way. Remember the Madrid press declaring in their banner headline: 'This is Anfield, So What?'—just before their gladiators were mauled 4-0?
It's as if City's fate was sealed the moment Sane shrugged off playing in such noise. His comments only served to stoke the fire burning beneath the tie.
Sadly though, in the aftermath of this titanic struggle, there will be those who choose to focus on the actions of a few, maybe mindless or drunk individuals, who took things too far on Anfield Road in an attempt to overshadow what was an unrivalled spectacle in world football.
I can almost hear the tap-tap of keyboards down the M62 and on social media, as column inches are prepared on the illegality of the mob. Let them.
We know, even Pep knows, these fools don't represent the overwhelming majority of Liverpool supporters.
Reflecting on the incident, Guardiola stated clearly that "Liverpool's history is bigger than the four or five, or ten guys who did this."
He's right, out of a crowd of 54,000 people, just a handful went over the top. To focus on them is absurd.
The Spaniard is a class act though, a proper football man. He knows, and so do we, that football is nothing without us.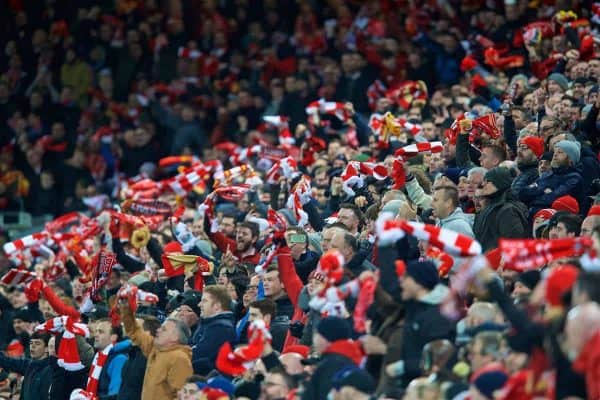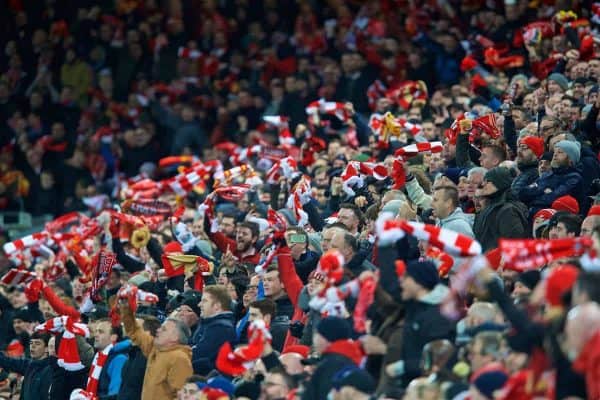 It's just a game played on a field, until tens of thousands of screaming, swaying, mad bastards pitch up and transform it into an event.
Those who want to sanitise the game with pre-match handshakes and kids waving sheets in centre circles, while plastic flags waft in the stands and hot dogs are delivered to supporters in their seats, are often the first to complain about football stadiums becoming libraries.
Supporters placing in-game bets on their mobile phones, oblivious to the action on the pitch, actually sing about libraries.
Not Liverpool supporters though.
They are always original, always authentic and still as powerful as ever when it matters.
The Reds have proved time and again that we still remember why we're there, and it's not simply to fill the coffers and make up the numbers. Our presence counts.
So yes, a few took it too far outside the Arkles and on Anfield Road.
The club has apologised, even the Mayor of Liverpool has waded in. On social media and in the pubs, a form of self-policing has already kicked in, with many Reds branding the behaviour wool and worse.
In time these actions will fade from view and all that will be left in the memory are glorious scenes in the streets, on the concourses and in the stands.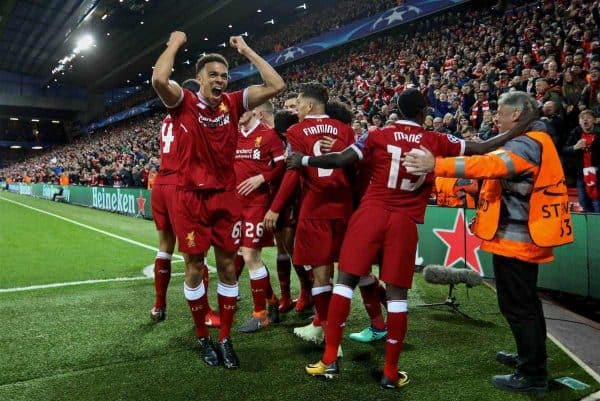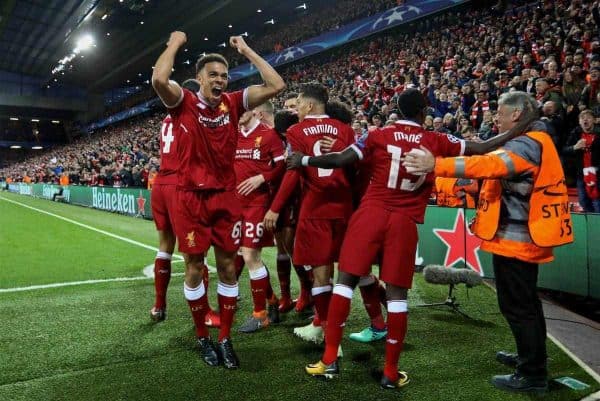 Just as they did after St. Etienne, Chelsea and Dortmund, auld arses like me will wax lyrical for years to come about the night City came to Anfield, and we left them feeling blue.
I'll recount endlessly about how their players tried to talk the atmosphere down, branding it as hype and myth.
We'll all laugh as we remember the Main Stand rocking and red smoke billowing from the Kop when Salah grabbed the first.
Tears will fill our eyes when we recall the colour and the noise, how the earth beneath our feet shook when Oxlade-Chamberlain smashed his shot into the roof of the net, and how we danced when Mane headed home the third.
I will never forget the Kop throng leaving the ground, screaming at the top of their lungs, their vocal chords already in tatters, and merging with the crowd leaving the King Kenny Stand and spontaneously bursting into a rendition of Allez, Allez, Allez.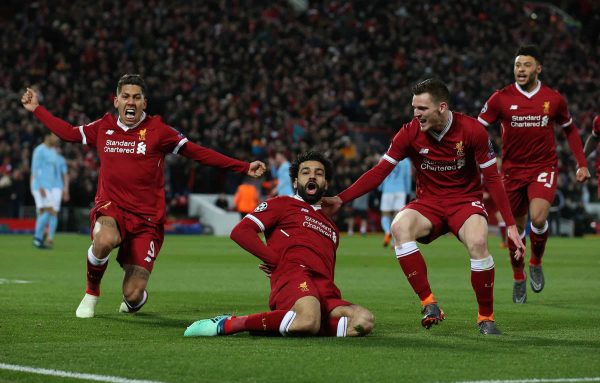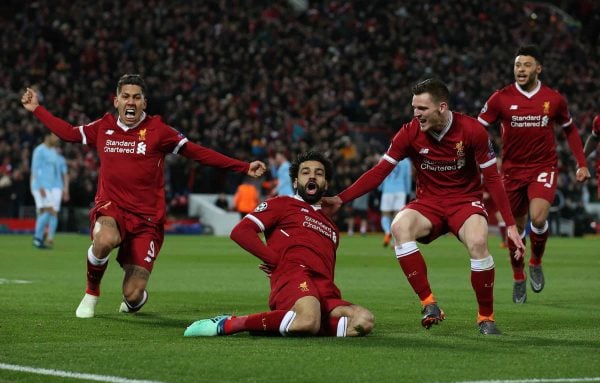 I can still smell the cordite in the air and I love it.
Let's not forget though, that the war is not yet won, sweet though this victory is. There is another footballing battle to be waged, down the M62 next Tuesday.
It will be far from easy and City are a great side, more than capable of mounting a fightback.
We all know the travelling Kop will give it their all though; we've come to expect no less from them.
In recent times, Jurgen's men have shown we can rely on them too. There is a growing synergy between the stands and the dugout, and it's a beautiful thing.
So drink it in, Red Men and Ladies, for these are glorious times. Liverpool are at the top table once again.
Whatever lies ahead, we can be proud that the name of Anfield is on the lips of the footballing world once more, for its power, majesty and passion.
Should we finish the job in Manchester next week, rest assured nobody will want to draw Liverpool—or their supporters—in the semi-final.