Liverpool and Man City face-off in the Champions League quarter-final first leg on Wednesday, but how confident are the visitors of getting a result at Anfield?
It is almost time for one of the most eagerly anticipated matches of the season, as the Reds entertain the Premier League's runaway leaders in Europe.
Jurgen Klopp's side won 4-3 at home to City back in January, and a similarly impressive performance must be produced on Wednesday evening.
The visitors are the understandable favourites to progress over the two legs, given their domestic dominance, but Liverpool are capable of special things in Europe, as we have seen so often down the years.
Ahead of a potentially epic clash, we spoke to City fan and writer Ste Tudor (@SteTudor123) to get his thoughts on the size of the game, the Anfield atmosphere, key battles and much more.
Wednesday's game is obviously huge, but where does it rank for City fans, in terms of their biggest matches since their era of success began? Nervous?
It's a game of the most enormous magnitude because this Man City side deserves a legacy equivalent to the greatest post-war sides in British football, and to reside in that pantheon they need European success.
We're five games and three opponents away from that actually happening, and playing a standard of football that can only be equalled in future seasons, not bettered. So the time is now.
Am I nervous? I would describe my present emotional state as being terrifyingly excited!
Have you started embracing the Champions League these days, after seemingly struggling to warm to it at first?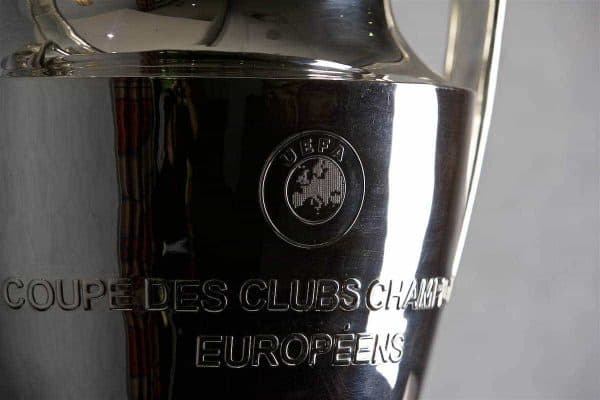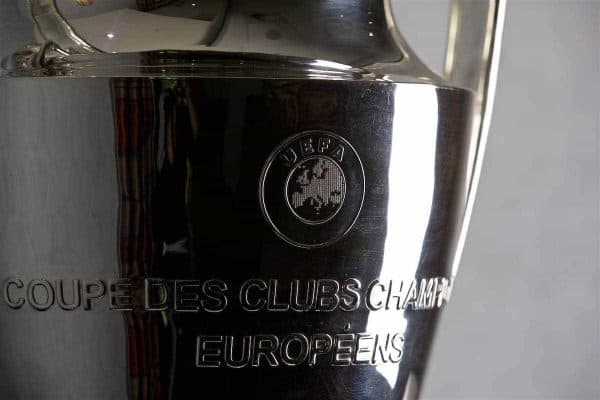 I think it is more accurate to say that most City fans are re-embracing themselves with the tournament.
We went into it full of giddy naivety and idealism, then realised to our collective horror that it is a corrupt edifice with corrupt officials.
I'm sure there are people reading this now scoffing at those words and I don't blame them because, after all, I'm suggesting that a whiter-than-white organisation full of morally upright individuals whose only consideration is fair play, might be guilty of pulling up the drawbridge to protect the interests of their long-standing alliances.
A ludicrous notion.
Much has been made of the Anfield atmosphere of late, from both sides. Do you think it will affect your players, or is it something of a myth?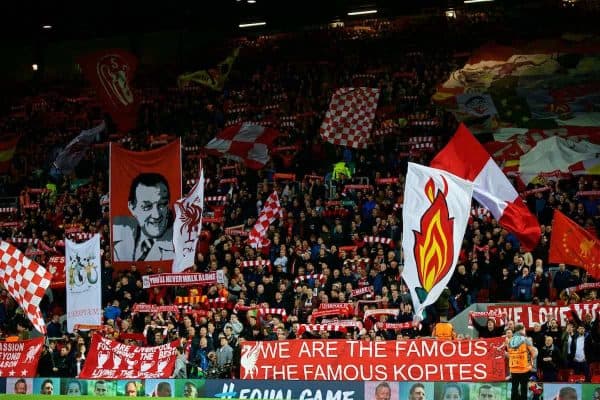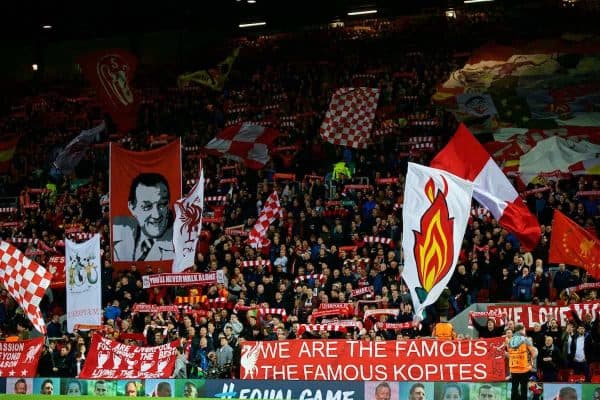 Personally, I think the truth lies at both ends of the spectrum.
European nights at Anfield are just incredible, and I've seen tweets from Blues trying to demean them as a solitary rendition of You'll Never Walk Alone and thought 'Oh come on, why deny the undeniable?'.
They are something else.
Equally though, the idea that noise will affect World Cup winners and players raised in South America is a stretch at best.
Do you see Liverpool as City's biggest threat moving forward, even though Man United are second, and Tottenham and Chelsea are also strong?
I absolutely see Liverpool as being City's main contenders for silverware in the seasons to come.
Tottenham have a glass ceiling, while Man United and Arsenal are soap operas. Chelsea have surprisingly imploded under Antonio Conte.
Put Naby Keita into the side, as well as a couple of shrewd additions this summer, and Liverpool will be fearsome.
Right then, time to try and be as neutral as possible: Mo Salah or Kevin De Bruyne for Player of the Year, and why?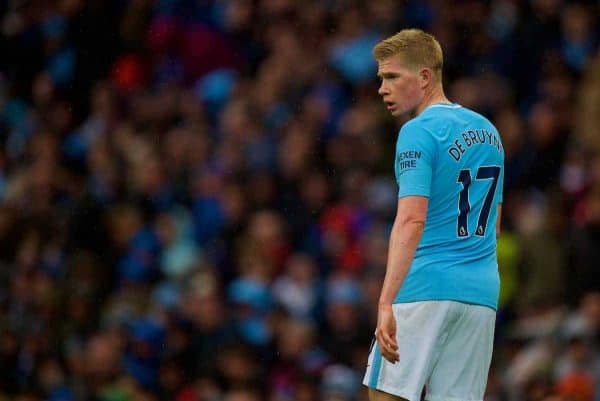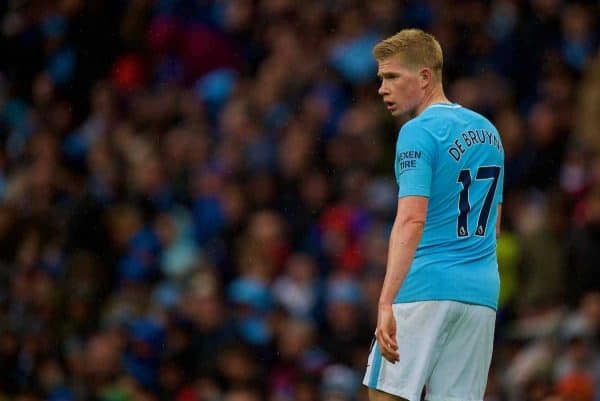 There is no bias in saying Kevin De Bruyne. If I was a Liverpool supporter I'd say De Bruyne. If I was Mohamed Salah's brother I'd say De Bruyne.
Salah has been explosive and his strike-rate has been phenomenal, but the Belgian has been everything good about the most fantastical team that England has seen for many a year.
It's not even close between the pair, just like it's not even close for whoever people believe should be third to your truly brilliant Egyptian.
There are key battles all over the pitch on Wednesday, but if you could pick out two match-ups that may define the match, what would they be?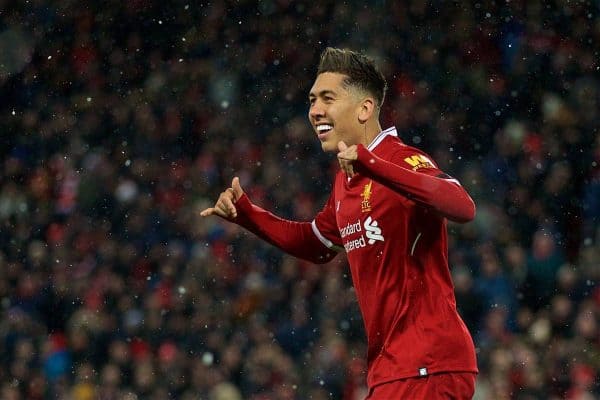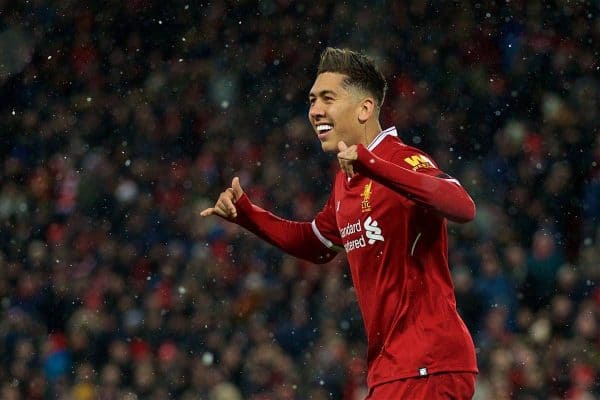 Vincent Kompany and Roberto Firmino are going to have a right old ding-dong. A Belgian and Brazilian as traditionally English as they come for 90 minutes – I can't wait for that one.
Elsewhere, it will be interesting to see how Raheem Sterling fares should he start.
Andrew Robertson fed off the crowd last January and got the better of him, but right now Sterling is flying after a great international break, so round two should be properly enthralling.
I am really chuffed to see Robertson do so well by the way. He is a fantastic talent and a decent lad. Just hope he has a 'mare this Wednesday!
Finally, hit me with your prediction…
I'm going 3-1 to Liverpool, with the third coming late on, and then 3-1 to City at the Etihad. It will eventually go to penalties.
This genuinely could be a classic for the ages.