Liverpool and Everton shared the spoils in a low-key and uneventful goalless draw in the 231st Merseyside derby battle on Saturday afternoon.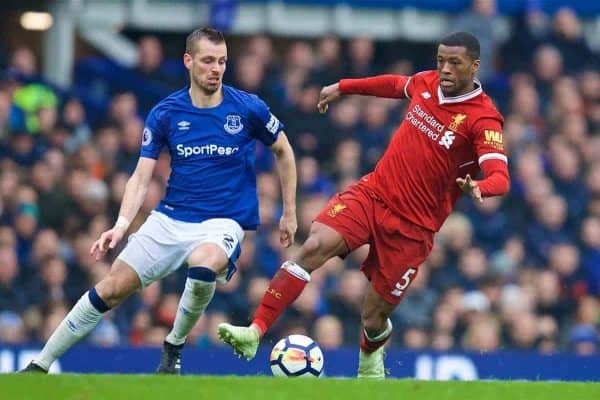 Everton 0-0 Liverpool
Premier League, Goodison Park
April 7, 2018
---
Jurgen Klopp's makeshift and heavily depleted Reds showed impressive spirit and resilience to battle to a point at Goodison Park.
It was one of the most low-key derby games in living memory, with little goalmouth action at either end, and the atmosphere more reminiscent of a first round League Cup fixture.
This certainly suited Liverpool, with what is to come on Tuesday night, and the point is a useful one given the circumstances.
Here's how supporters reacted to a subdued derby-day showdown across social media and on our forums.
Supporters felt it was a positive result and praised the Reds' efforts…
Point gained rather than 3 lost. Onwards and upwards

— FootyElnino (@Footyelnino) April 7, 2018
https://twitter.com/smtm_LFC/status/982609058527170560
17 games without a win in the Derby for Everton. Ouch.

— Empire of the Kop (@empireofthekop) April 7, 2018
"I'll take it. away draw playing a large number of squad players without injury or suspension."

– Semmy on the forums.
Liverpool Reserves 0 – 0 Everton.

— Dan Shepherd (@TheCarteI) April 7, 2018
0-0 is a good result all things considered. No injuries from the game and we pick up a point to continue momentum. All focus rightly on the City game.

— Leanne Prescott (@_lfcleanne) April 7, 2018
Get a point with a scratch team and no new injuries. I'm taking that!

— Dan Kennett (@DanKennett) April 7, 2018
Thanks for the training session, @Everton. Good luck with the relegation battle.

— Dharma Bhagalia (@Kloppholic) April 7, 2018
Good point in crappy circumstances I'll take it

— Indigo ? (@IndigoLFC) April 7, 2018
Take that. Get them all in an ice bath followed by an oxygen chamber.

Bring on Tuesday ? #LFC

— Jay (@Jay82_LFC) April 7, 2018
But some were unimpressed with certain incoming Reds and discussed a lack of depth…
I suppose that's a decent result playing with 9 men.

— Joseph Cousins (@JCuzzy1) April 7, 2018
Only real positive was Gini getting minutes in the 6 position

Negative was Ings & Solanke fluffing their chance. Dire against a terrible Everton side.

— Jay (@Jay82_LFC) April 7, 2018
"My only conclusion is thank goodness we have Mo Salah. We would be pretty toothless without him."

– Rambler on the forums.
Personally think we need a stronger forward option as backup to Firmino for next season. Really like the lads we have in reserve, but they lack quality. Neither have scored this season. It's not rocket science.

— Empire of the Kop (@empireofthekop) April 7, 2018
Well done to Clyne ?

— Indigo ? (@IndigoLFC) April 7, 2018
We'll need better squad options if we want to get to the next level (being in CL while still chasing the title and FA cup at this stage of the season).

On to Tuesday.

— Joseph Cousins (@JCuzzy1) April 7, 2018
"Had our front 3 played, we could have murdered them. This goes to show that our squad needs depth and decent quality to see out weaker teams."

– IndianScouser on the forums.
Anyway, Solanke has a lot of improving to do if he is to be a PL striker, let alone a Liverpool one. Ings needs a year of playing regularly. So I would definitely be looking to bring on another striker next season.

— Paul Grech (@paul_grech) April 7, 2018
Attentions swiftly turned to Tuesday's far more important fixture…
We can all think about Tuesday now ? #AllezAllezAllez

— The Redmen TV (@TheRedmenTV) April 7, 2018
Up the don't lose four nil on Tuesday reds!!

— Green Scouser (@Green_Scouser) April 7, 2018
That's sound. Play half the B team, no injuries (hopefully) and they still can't beat us. Onto Tuesday.

— Ste Hoare (@stehoare) April 7, 2018
"Roll on Tuesday. That is all."

– [email protected] on the forums
Was always going to be a scrappy affair – take the point and move on to Tuesday.

— Ben Webb (@BenWebbLFC) April 7, 2018
Thee can't even beat us when we are knackered ?? Up the Reds, on to Tuesday now

— Rome to Istanbul (@tedthered77) April 7, 2018
That will do – a point, a clean sheet and no injuries. Now, on to Tuesday to qualify for the European Cup semi finals! Up the Reds! #LFC ???

— Carl Clemente (@clemente_carl) April 7, 2018