Bournemouth supporters aren't ruling out getting something at Anfield this weekend, despite the odds being stacked against them.
Liverpool welcome the Cherries to Merseyside on Saturday evening for a Premier League clash, following their qualification for the Champions League semi-finals.
The Reds have one foot in the top four, with Chelsea 10 points adrift, and victory against Eddie Howe's team would be another step in the right direction.
Howe has guided Bournemouth clear of relegation once again, leading them to 11th currently, as the English manager's stock continues to rise.
With the game fast approaching, we had a chat with Bournemouth fan Peter Bell, writer for Cherry Chimes (@CherryChimes), to get his thoughts on his side's season, Liverpool's progress, Saturday's game and much more.
Bournemouth are 11th in the Premier League and should be just about safe from relegation. How happy are you with their season?
It has been a good season, without question, but it has also been challenging with so many teams jostling for places in the bottom half of the table.
The Cherries have spent a few weeks in the bottom three, but by Christmas time the results started to come and the team has become increasingly good at making comebacks.
To finish mid-table would be a consolidation of what Bournemouth did last season, and we had a good run in the League Cup.
Are you still pleased with the job Eddie Howe is doing, or are there signs of things growing stagnant at all?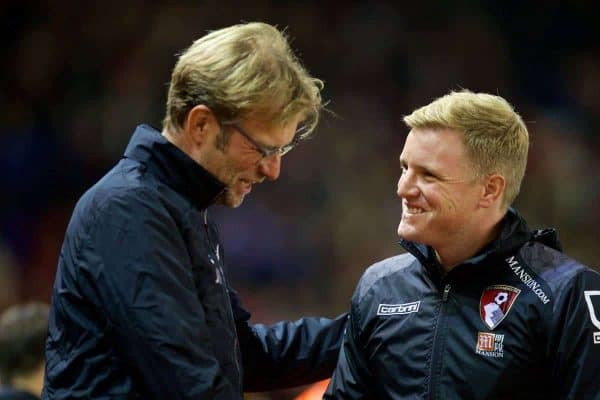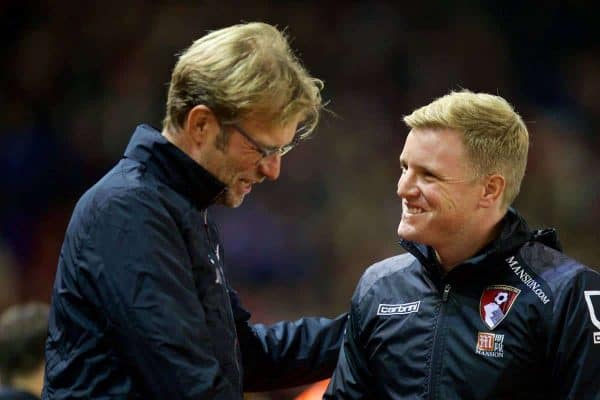 It is only pundits like Martin Keown who don't understand the fantastic job that Eddie Howe continues to do at the club. He wanted Howe sacked in November—madness!
With Eddie it's not just about his ability to get results when the team needs them. He is developing players and has the vision and direction of the club uppermost in his mind.
As fans, we adore him. We could be playing in League Two again and I would still want Howe as our manager.
The way he asks his team to play is so adventurous and entertaining that we very rarely have a dull game at Dean Court.
If finishing 11th is stagnant, we'll have a few more seasons of that with Eddie Howe in charge.
Who have been the Cherries' three best players this season, and why? To refresh your memory, back in December you went with Nathan Ake, Asmir Begovic and Lewis Cook.
I am trying hard to think if any other player might have come into contention since last December.
Someone who has improved has been Jordon Ibe, who may have only scored a couple of goals but has started to be a solid team member.
I think it has finally clicked with him the way Howe wants him to play, and he has started to come in off the wings and looked to find a finish.
It is still difficult to beat the three players that I named previously, though, as Nathan Ake has been the most consistent player, Asmir Begovic has saved the team numerous times and Lewis Cook has gone on to break into the England squad.
What have you made of Liverpool's season as a whole?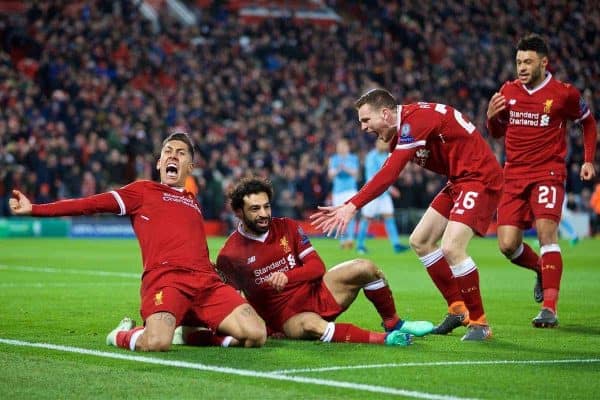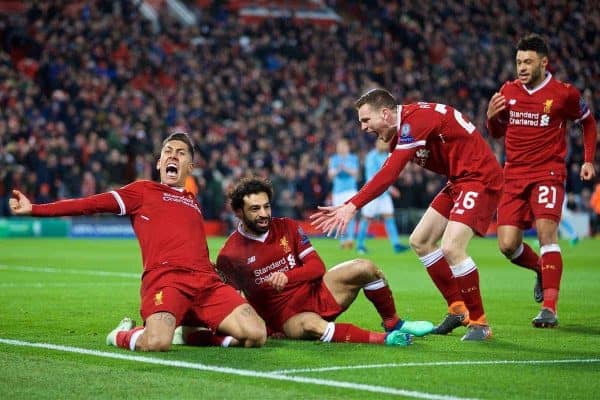 It has been fairly impressive this time around. I am pleased that Jurgen Klopp has finally looked at his defence with Loris Karius and Virgil van Dijk, but I have also been very impressed with Andrew Robertson.
There is a lot said about the forward players but Liverpool have also become a little more organised at the back, and by playing a more consistent side Klopp is starting to reap the rewards.
Yes, Mohamed Salah, Sadio Mane and Roberto Firmino have been flying, but the most amazing thing is that Philippe Coutinho hasn't been missed that greatly.
If Liverpool go and win the Champions League as well, it will have been a superb job by Klopp and the team come May, and I think most fans in the country who don't support the Manchester clubs (and apart from a few Bluenoses) will be pleased for the German.
If you could pick one Reds player who you think would improve Bournemouth the most, who would it be?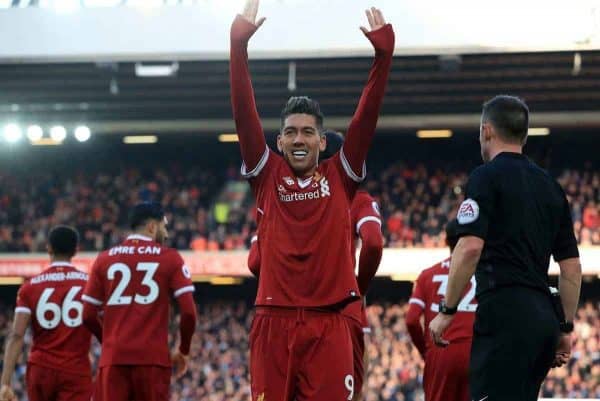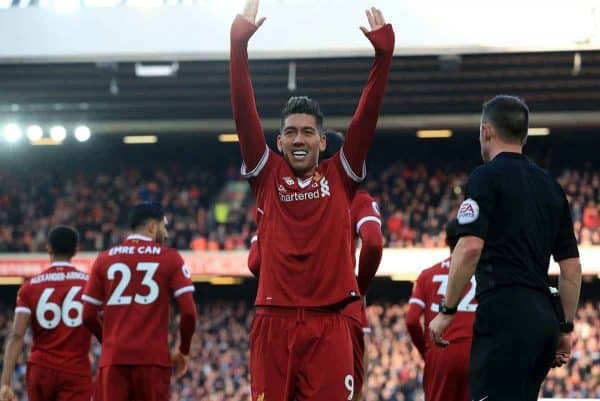 It is too easy to pick Mo Salah, so I'm going to look more at who could bring out more in other players as well.
I would have to go for Roberto Firmino, who does a lot of unselfish running and does not always receive the credit he deserves for some of his finishes.
How have Jordon Ibe and Brad Smith done since leaving Anfield?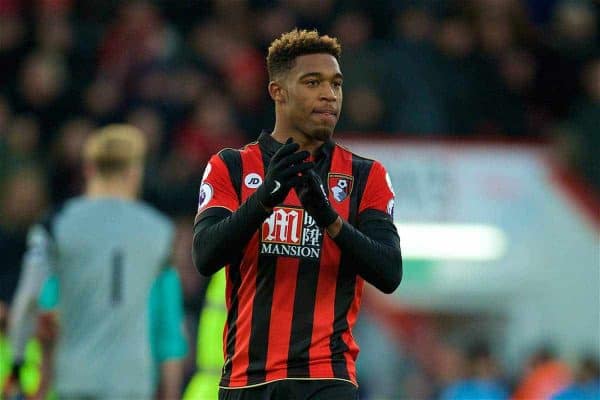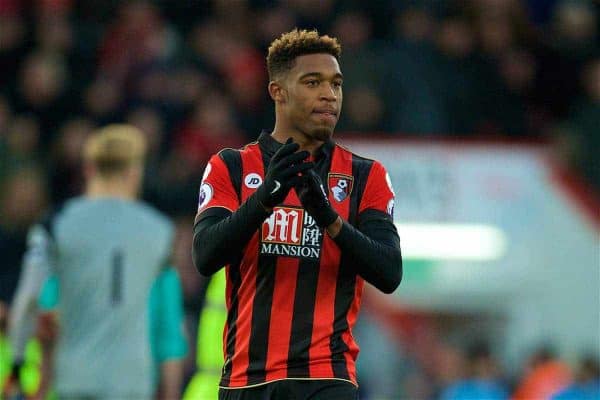 As mentioned, Ibe is making good progress now.
I can see him becoming one of the players that Howe builds the next team around, and the fans have started to really take to him.
In his first season he didn't really get going, but he has been given games now and is starting to look like a £15 million player.
Sadly, Brad Smith has only recently recovered from an injury he picked up on international duty with Australia.
We have not really seen him in the two seasons he has been with us, and he is still quite a way behind Charlie Daniels as a left-back choice.
Next season he may get a few more games as Daniels has been poor at times and has made some mistakes, but Smith has to want to be better than Daniels and prove he should be first-pick.
I am not sure he has it in him.
Looking ahead to Saturday's game, where will the key battles take place?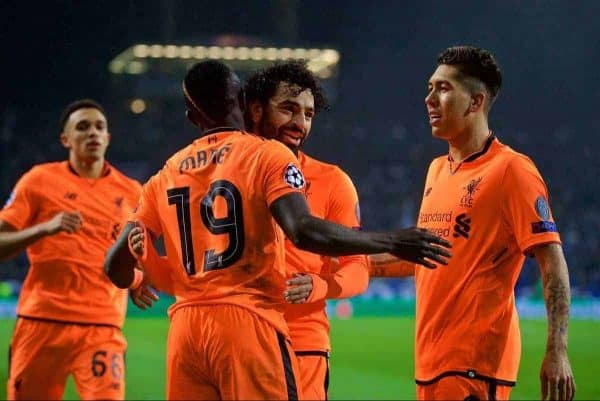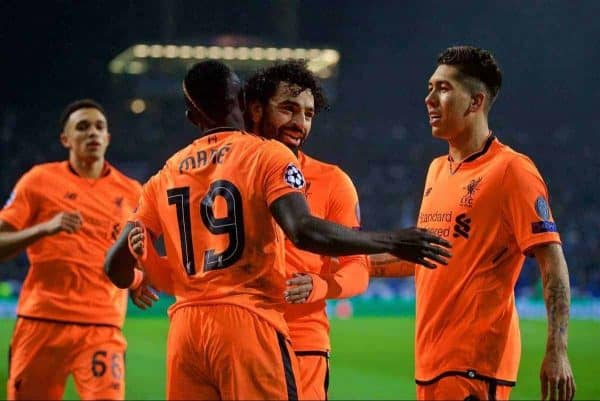 If Liverpool's front-three are flying then the battles will be at the back as far as Bournemouth are concerned, with Simon Francis, Steve Cook, Nathan Ake and Daniels having to withstand the runs of Salah, Mane and Firmino.
Many Cherries fans would hope that Adam Lallana and Danny Ings play instead of the usual starters for Liverpool, assuming there are a few sore limbs after the Champions League game against Man City.
No doubt Liverpool will be taking a close look at Cook in midfield, and Gareth Southgate might also be keen to see if he can get the better of Jordan Henderson.
Finally, hit me with your score prediction, and how you expect the match to pan out…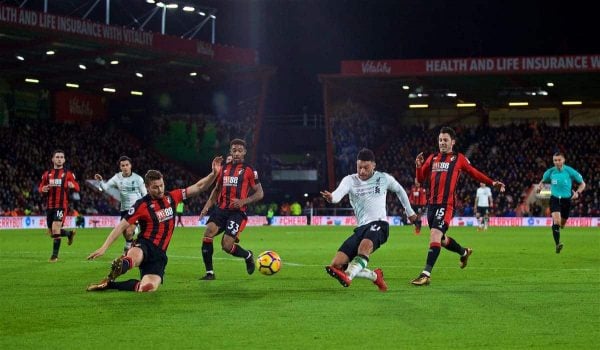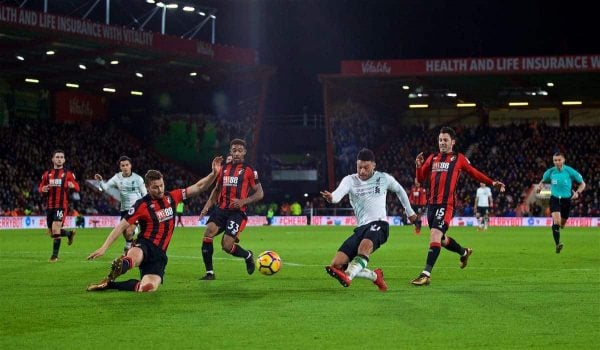 Well, Bournemouth have not been beaten in their last three games, and we have scored in all of our last 14 Premier League matches since losing 4-0 away to City.
I would like to hope there is a bit of fatigue for Liverpool after their midweek excursions, and that could give us the opportunity to get an early lead for once.
The Reds' quality will be a problem for our lads, though, and we have been conceding goals.
I would expect Liverpool to be 2-1 up with 10 minutes remaining—then perhaps Ibe can shock Anfield by getting a last-minute equaliser.
That would be special.