Liverpool's weekend win put them within touching distance of sealing a top-four finish for the season; here we debate the biggest talking points of the match.
Jurgen Klopp's front three were in lethal form once more, as a goal apiece for Sadio Mane, Mohamed Salah and Roberto Firmino produced a 3-0 win.
After the weekend's action the Reds sit third, with a 10-point buffer down to fifth and trailing Man United by one point—albeit having played a game more than all their rivals.
It will mean a big decision for Klopp in the next league game, which comes three days before the Champions League semi-final first leg against AS Roma.
This Is Anfield's Karl Matchett (@karlmatchett) spoke to Shaun Gaddu (@shaungaddu) and Mat Twells (@twellsym) about the key issues arising from the win over Bournemouth, with one eye on the future.
The good…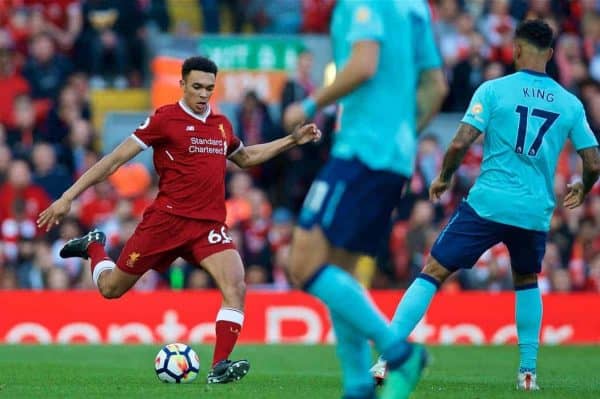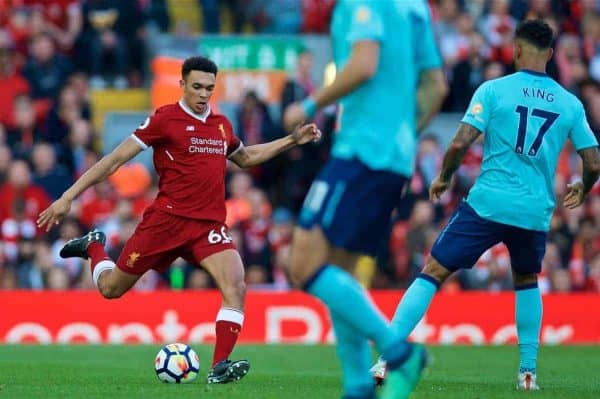 KARL: Trent Alexander-Arnold's performance was, once again, magnificent.
And it's nice to see him showcase his 'usual' traits again, being on the offensive and having great technical ability, after a big step up defensively.
Worth noting, perhaps, that he was also inch-perfect with his tracking and tackles against Bournemouth too, though.
Other than that it was good to see Alex Oxlade-Chamberlain in dominant form and Loris Karius make a couple of important interventions, determined to keep another clean sheet.
SHAUN: The best moment was when Mohamed Salah thrusts him arm out, when Trent is out wide and then Trent then puts it on a plate for Mo to score his brilliant goal.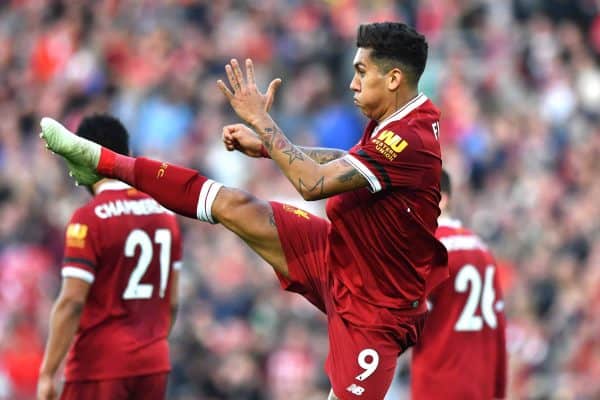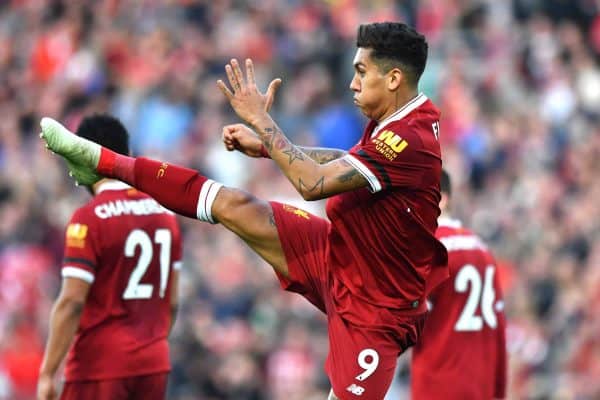 Have to also highlight Roberto Firmino, he was great again.
Our high defensive line was precise and Bournemouth couldn't escape, especially in the first half.
Great work rate and timing in the press.
MAT: The best factor from the game is the continuation of collecting points.
Others dropped points this weekend—Arsenal lost, Man United lost, Spurs lost—and us taking advantage is a big improvement.
The bad…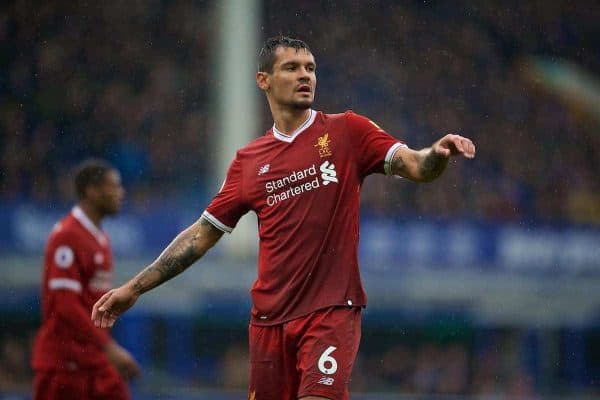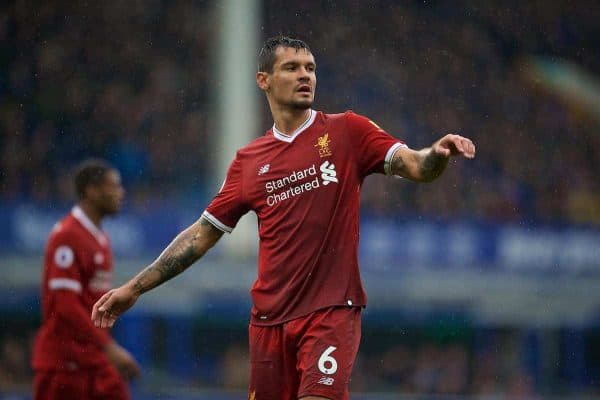 KARL: It should have been four or five by half time, so there was always the slight possibility that a slip-up would let Bournemouth back into it.
It's difficult to criticise the forwards given what they've achieved this season but certainly the Reds could have scored more on the day.
No real other worries, this was as comfortable as it gets in the Premier League.
SHAUN: The fact we only scored three!
Other than that, just Dejan Lovren seeming to pick up another injury just as he's starting to find some form.
With Joe Gomez still out and Joel Matip done for the season, we're short in a key area again.
MAT: The only bad thing about the game is something that can't be changed.
We've played more league games than our rivals around the top four and that adds pressure to keep going hard.
A slip anywhere now and the pressure mounts even more.
…and who should be rested against West Brom?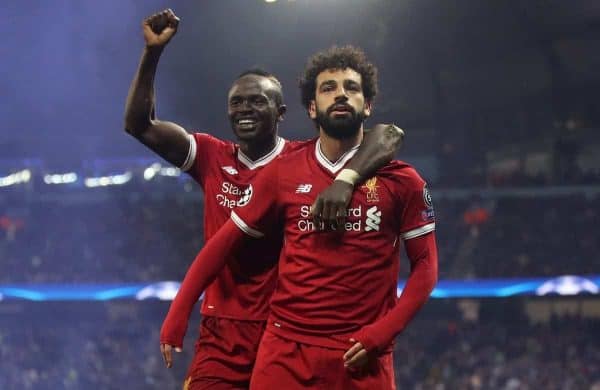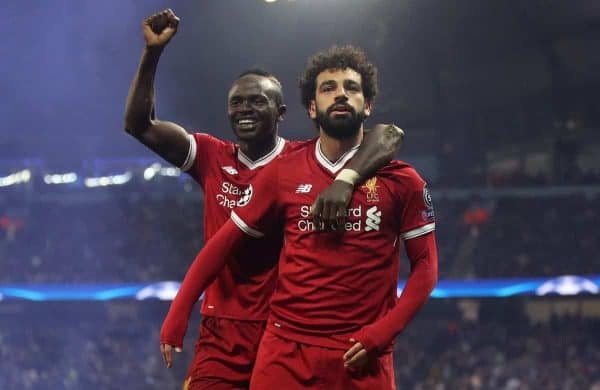 KARL: Sadio Mane, Trent Alexander-Arnold and one of the central midfield starters against Roma.
I don't think this is a game Klopp can make wholesale changes for, because otherwise there's a big risk of upsetting the rhythm of some players.
If the likes of Salah are rested entirely, it'll be 10 days between matches and that could be as damaging as tiredness.
Be sensible, rotate a few and don't ask the key men to play a full 90 at a high intensity.
Bringing on Mane for Salah around the 60-70 mark keeps them both sharp without suffering too much in terms of workload, and Ings/Solanke can do the same for Firmino.
Clyne gets minutes at right-back, and a couple of changes during the match in midfield won't go amiss either.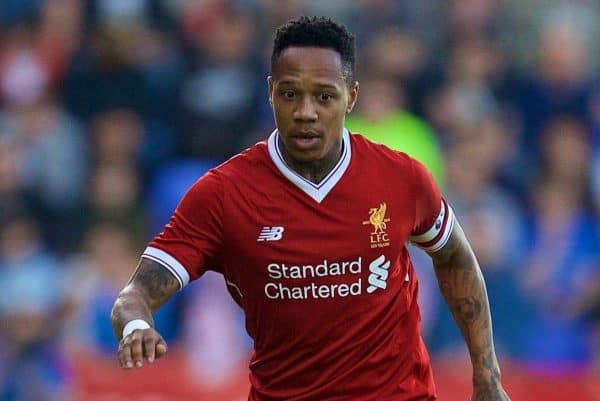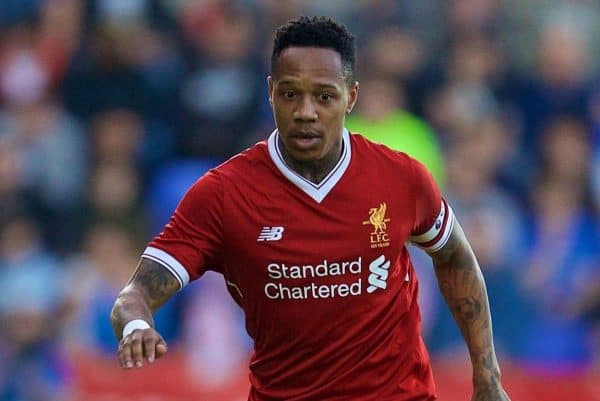 SHAUN: I would be resting the front three, giving Woodburn, Ings and Solanke some much-needed minutes.
A goal for either of them would be a huge confidence boost; despite their clean sheet yesterday against United, West Brom look like the perfect team for either forward to get their first goals of the season.
Long term we need better options, but for this run-in they may need to be called upon and I wouldn't want to throw them in cold should we need a goal in Rome…or anywhere else…
I'd also be resting the full-backs with Clyne and Moreno available, given how important they are to Klopp's team.
MAT: On paper we should beat West Brom easily…but they've just beat Man United at Old Trafford, it's so unpredictable.
I would, however, rest Salah and maybe a couple of others including Trent and/or Andy Robertson, possibly even Virgil van Dijk.
I just can't stomach losing any of them for the semi-final against Roma, that's got to be the priority.