Jurgen Klopp has explained the improvements that were made in the second half at Man City, as Liverpool reached the Champions League semi-finals.
The Reds made it to the last four of Europe's biggest club competition on Tuesday, after a 2-1 win at the Etihad sealed an incredible 5-1 aggregate triumph.
Despite leading 3-0 going into the second leg, nerves were in the air ahead of the game, given City's attacking brilliance this season.
When Gabriel Jesus fired them into the lead with barely a minute on the clock, Liverpool were rocking, but they somehow managed to not concede for the remainder of the half.
Klopp got his players back into the changing room at the interval, and highlighted exactly where things were going wrong on the pitch.
Speaking to Gary Lineker in the BT Sport studio after the match, with Steven Gerrard also present, the German gave an honest assessment of how his players managed to turn things around:
"I was not overly happy at half-time. I thought we had to be much more compact, there were too many second balls going to City.

"Giving them those second balls meant they were already in the right spaces, where they usually have to play three or four passes [which is easier to defend].

"I have no problem with conceding an early goal, but if it happens you have to react. The reaction was good at first, then it was not OK.

"We were still moaning, we wanted free-kicks when it wasn't a free-kick—that's not the attitude you should play with in a game like this.

"Gini Wijnaldum was challenging for headers instead of one of our centre-halves, so we were then missing someone in midfield fighting for second balls.

"There were plenty of things we could have done better.

"Then we started playing football, and we needed to stay in that football-playing mood. We had to want the ball and not hope somebody finds Mo or Sadio [with a long ball].

"We needed to start new and that's what the boys did.

"We all know that if you don't score the second or the third goal, there's a moment when it's not that easy anymore, and we used the momentum to benefit us.

"We knew that if we scored one goal the atmosphere would be pretty different—the boys were then really solid and really concentrated.

"We are in the semis, we deserve it. I'm fine with that."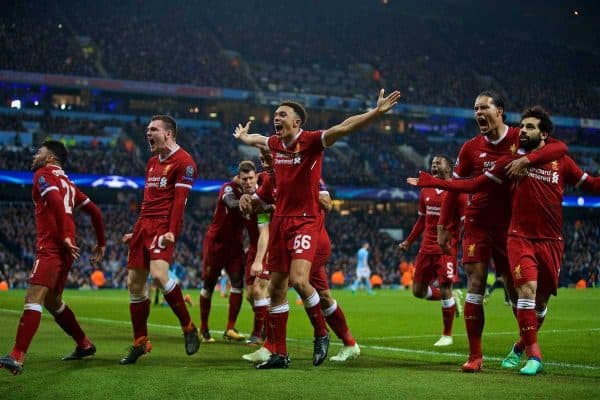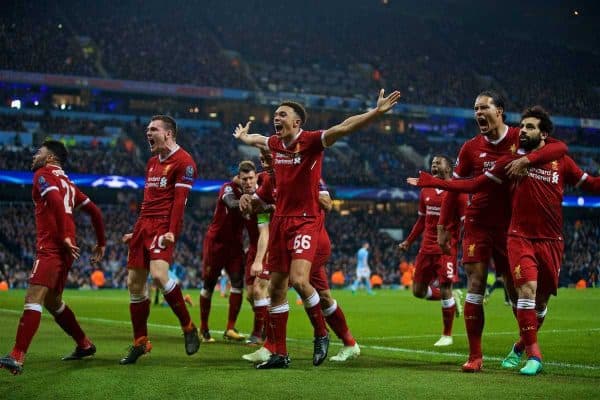 Pep Guardiola fielded an extremely attacking formation on the night, with Kevin De Bruyne, David Silva, Bernardo Silva, Leroy Sane, Raheem Sterling and Jesus all named in the starting lineup.
Klopp admits it was tricky knowing exactly what shape the tactically astute Guardiola would go with, but praised his players for adjusting to it over time.
"It was not 100 percent clear how they would line up with these players, but we knew if we won the ball we would have an opportunity [to counter-attack].

"We didn't use these opportunities in the first half because we lost the ball too early, but that's how we scored the two goals.

"The Champions League is not about perfection, it's about result, the character, the mentality and the attitude.

"We created this kind of mood for us again, really fighting for the result, and I love that. It was not our best game, but I thought it was deserved in the end.

"I'm really happy."
It was a great night to be a Liverpool supporter, and to reach a Champions League semi-final has exceeded expectations that existed back in August.
Just returning to the competition was a major achievement in itself, but the Reds are now just three matches away from winning a sixth European Cup.
It is more than possible now.