Player ratings always cause debate, and we've calculated the averages from this season in order to rank the Reds' form in the 2017/18 season.
It may have been a gutting end to the season, but it was still a campaign filled with positives.
The football played by Jurgen Klopp's side was the best we have seen at Anfield in three decades, and to reach the Champions League final was a great achievement in itself.
Throughout the season we have published our player ratings – a highly subjective and often contentious opinion of each player's individual performance in that match. We've calculated the average for each player across all competitions, so consistency comes out on top here.
Here are the results ranked from best to worst.
1st – Andy Robertson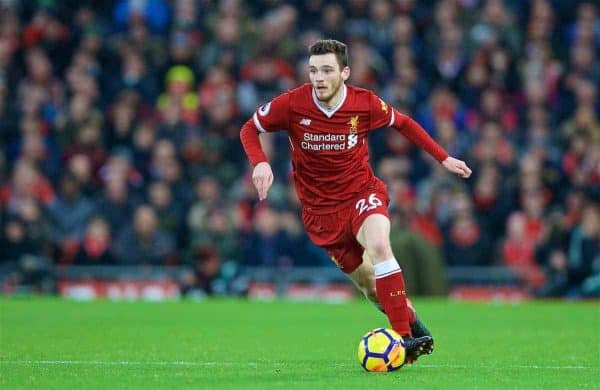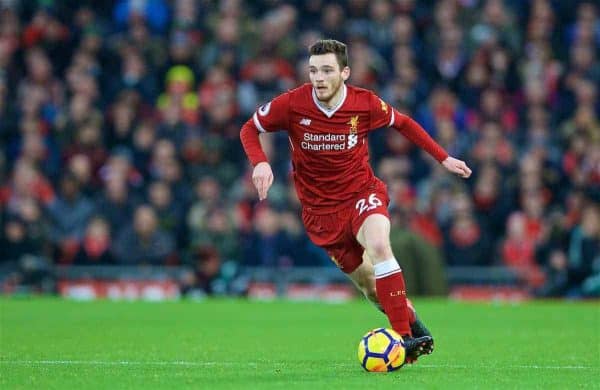 Appearances: 30
Average Rating: 7.35
Well, who would've thought it?
Liverpool have had issues at left-back for years, but Andy Robertson has come in and been an incredible signing.
The 24-year-old has been a model of consistency since entering the team in December, with just two performances – West Brom at home and Chelsea away – gaining worse than a 6/10.
To have a higher average rating than any other player speaks volumes.
2nd – Mohamed Salah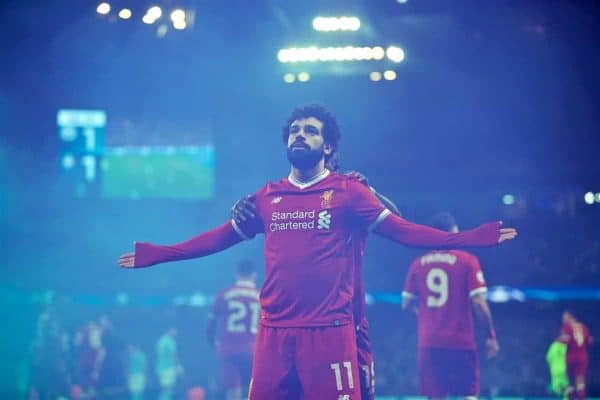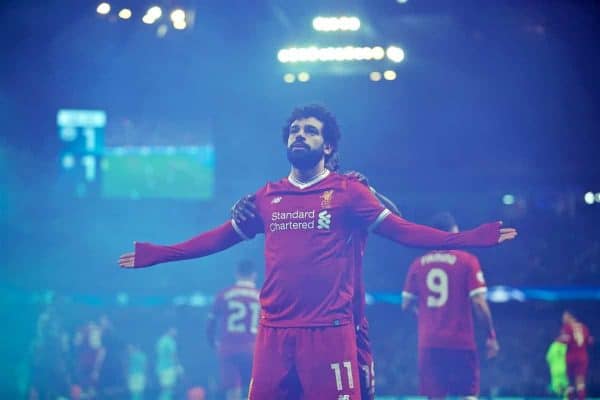 Appearances: 52
Average Rating: 7.31
Surprisingly, Mohamed Salah has to settle for the runner-up spot, despite one of the all-time great individual seasons by a Liverpool player.
The 'Egyptian King' did make 52 appearances, though, which makes it harder to achieve a high rating, and we all know he was the Reds' star man overall.
Salah's four goals against Watford earned him a 10/10, in a display that rivalled Luis Suarez's against Norwich City back in 2013/14. He also gained full marks in the 5-2 thrashing of former club Roma.
3rd – Virgil van Dijk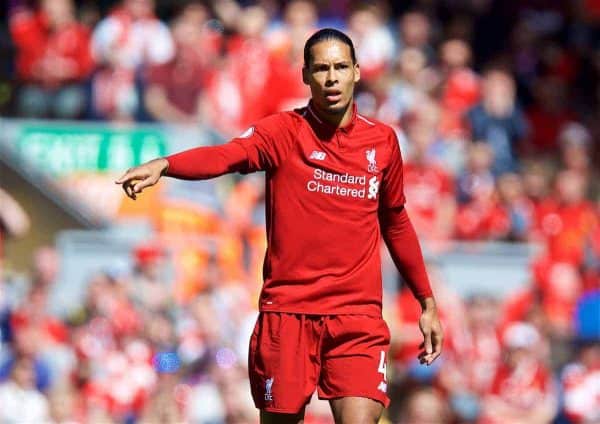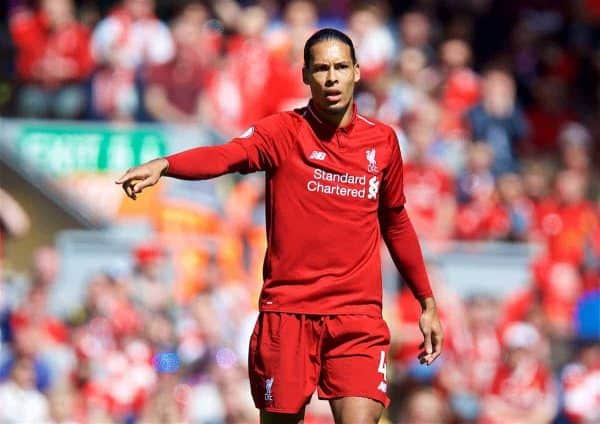 Appearances: 22
Average Rating: 7.18
Another signing that Klopp has absolutely nailed, Virgil van Dijk is every bit a £75 million centre-back.
After an understandably rusty start, which included iffy outings against Swansea and West Brom, Van Dijk was key to Liverpool finishing fourth and reaching the Champions League final.
A particularly imperious showing in Rome (8.5/10) stands out.
=4th – Roberto Firmino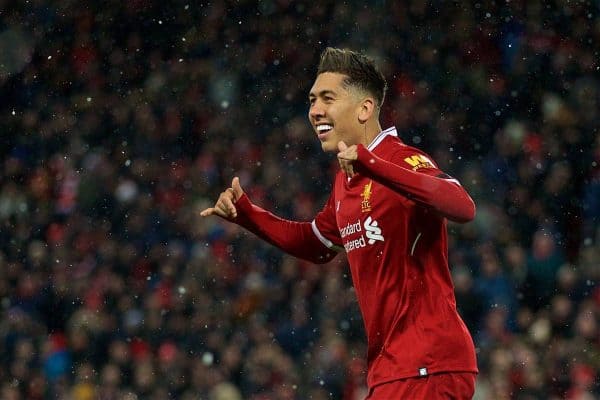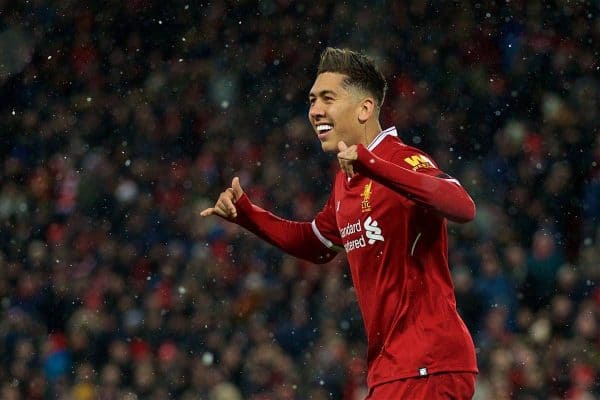 Appearances: 54
Average Rating: 7.02
One of Europe's most underrated footballers, Roberto Firmino has enjoyed a stellar season that saw 27 goals scored and so much eye-catching all-round play on show.
On an impressive seven occasions, he got a 9/10 rating, and his 9.5/10 performance against Roma at Anfield showcased his subtle genius to the max.
=4th – Sadio Mane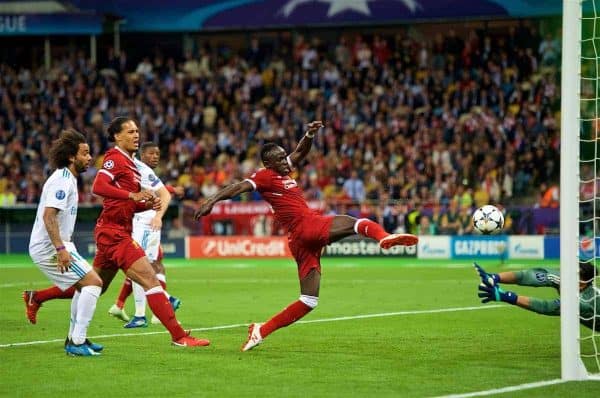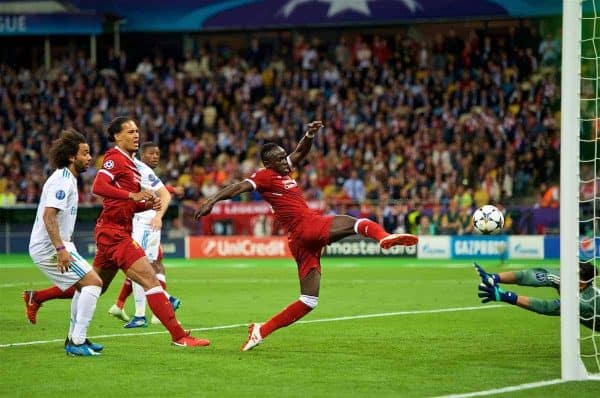 Appearances: 44
Average Rating: 7.02
Sadio Mane didn't start the season at his best, but he turned things around superbly after Christmas, proving to be one of the Reds' best players between January and May.
Man City, Bournemouth and Roma – all 8.5/10 – were three of Mane's best days at the office, and it was a huge shame that his Champions League final goal proved meaningless, in an excellent solo display (8/10).
6th – Alex Oxlade-Chamberlain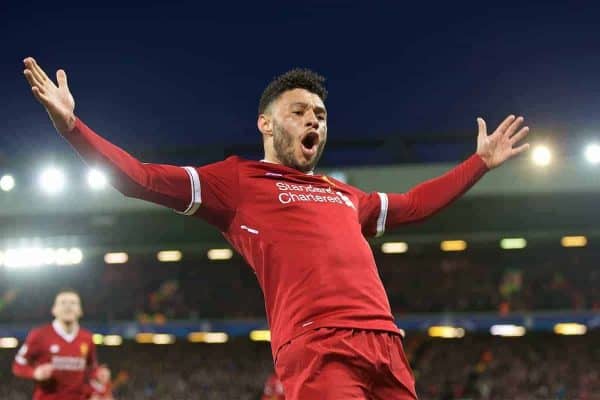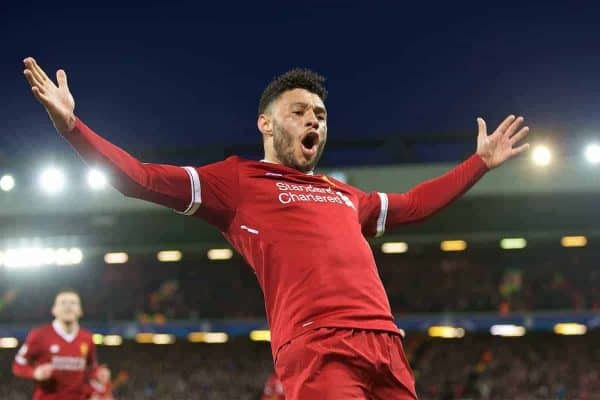 Appearances: 42
Average Rating: 6.82
What an up and down season it was for Alex Oxlade-Chamberlain, who started poorly, found the best form of his career, before cruelly seeing his season ended prematurely.
The 24-year-old became increasingly key during the business end of the season, and goalscoring 9/10 performances against City, both in the Premier League and Champions League, were high points.
7th – Trent Alexander-Arnold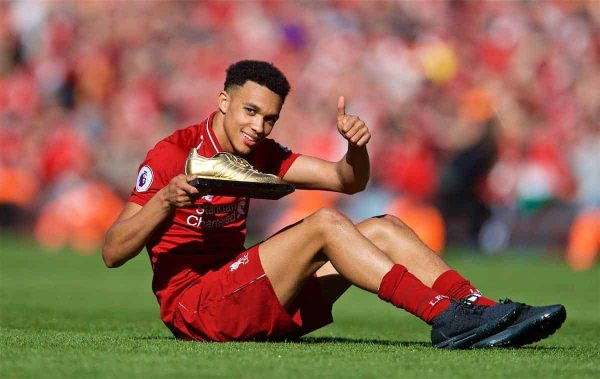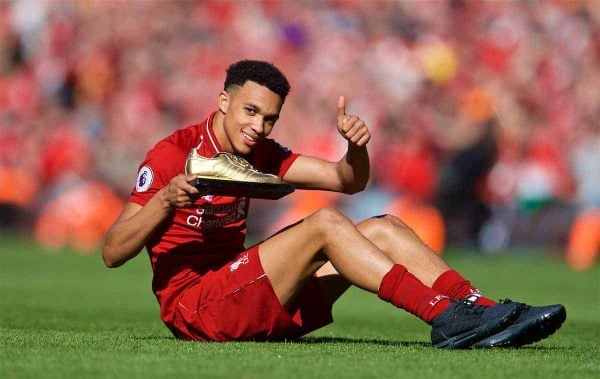 Appearances: 33
Average Rating: 6.79
It has been an incredible rise to stardom for Trent Alexander-Arnold, who is now rightly considered a vital part of Klopp's plans.
The teenager had so many days and nights to cherish, but his marshalling of Leroy Sane and all-round display against City (9.5/10), in the Champions League quarter-final first leg, was really special.
8th – James Milner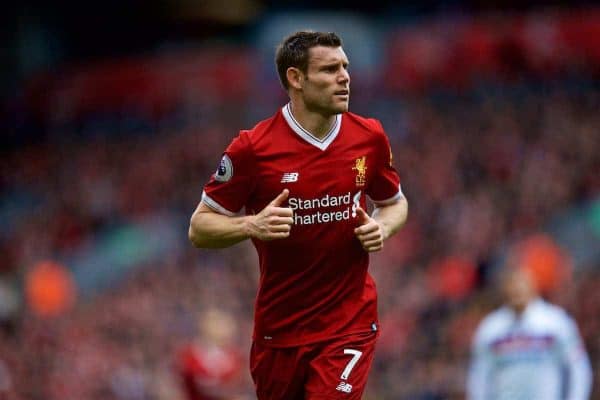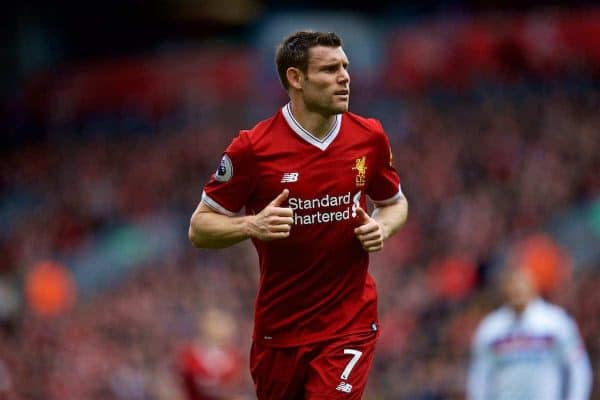 Appearances: 47
Average Rating: 6.57
Many felt James Milner would be a squad player at best, only for the veteran to flourish greatly as the months passed, racking up the most-ever assists (9) in a Champions League season.
The good performances comfortably outweighed the bad, and the way he played at former club City (9/10) in the Champions League illustrated his big-game pedigree, experience and intelligence.
9th – Loris Karius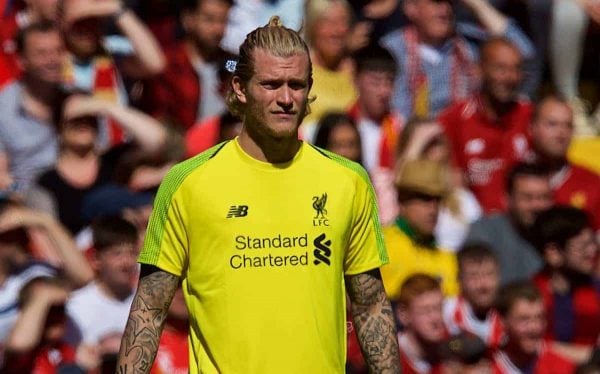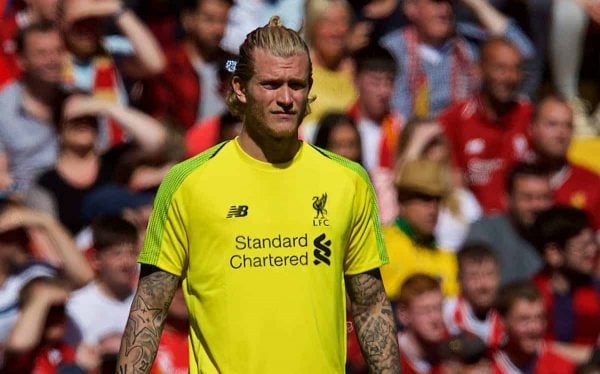 Appearances: 33
Average Rating: 6.54
Loris Karius' season may have ended in devastating fashion on Saturday, but it should never be forgotten what a positive campaign it was on the whole.
After recovering from a terrible start at Liverpool to eventually usurp Simon Mignolet for good, the German looked a different player in general.
A wonderful save in the Merseyside derby away to Everton (8/10) was a memorable moment.
10th – Emre Can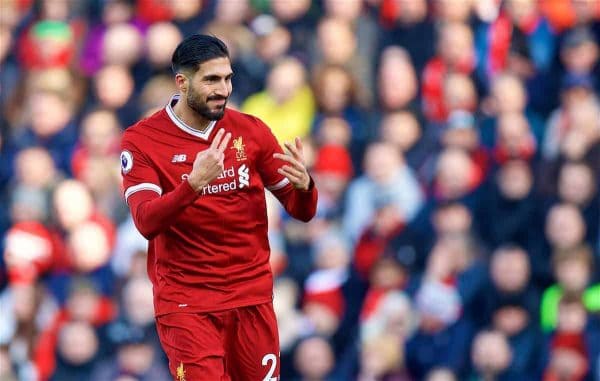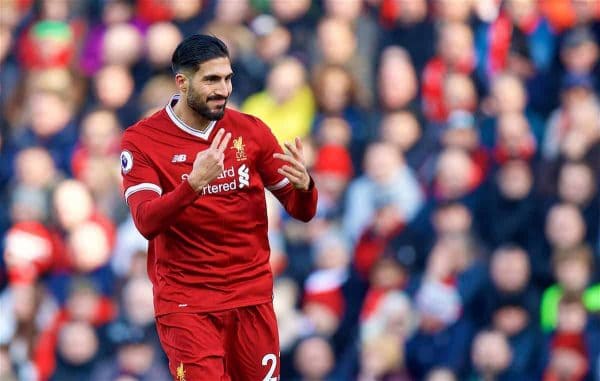 Appearances: 38
Average Rating: 6.51
Emre Can has played his last match for Liverpool, and he leaves the club following a decent season on the whole.
Injury disrupted his campaign badly from April onwards, but there were some typically influential outings early on, especially against Hoffenheim (9/10) and Arsenal (9/10) in August.
11th – Joe Gomez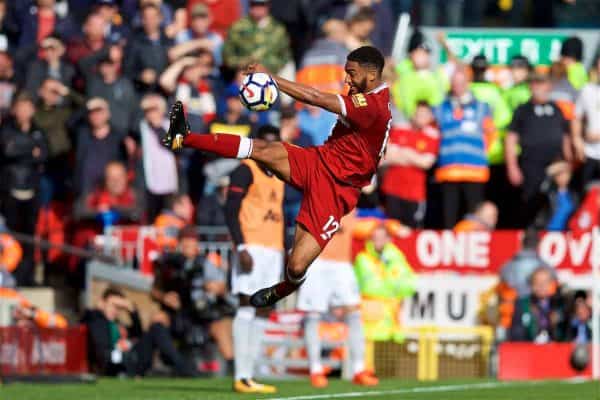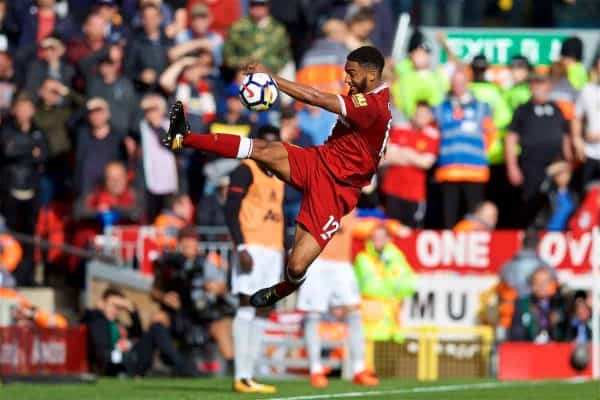 Appearances: 31
Average Rating: 6.44
It wasn't all plain sailing for Joe Gomez, who produced a mix of excellent, good, average and bad in 2017/18.
Consistency was an issue, as were individual errors, but there were also times when he showed what great potential he has.
The best performance: Arsenal (9/10) at home.
12th – Dominic Solanke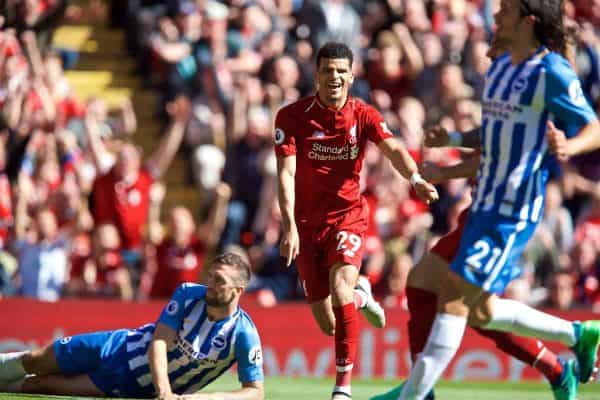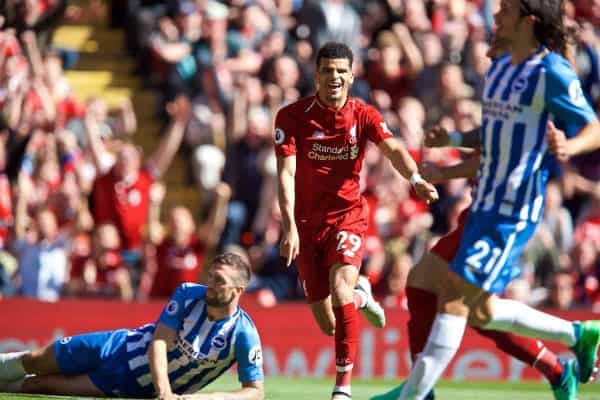 Appearances: 27
Average Rating: 6.40
It took until the final day of the Premier League season for Dominic Solanke to score his first Reds goal, in what was a slightly disappointing campaign.
He rarely disgraced himself, however, hence a respectable average rating, and he shone away to Stoke City (8/10) back in November.
Age probably earned him some higher ratings than he merited.
13th – Dejan Lovren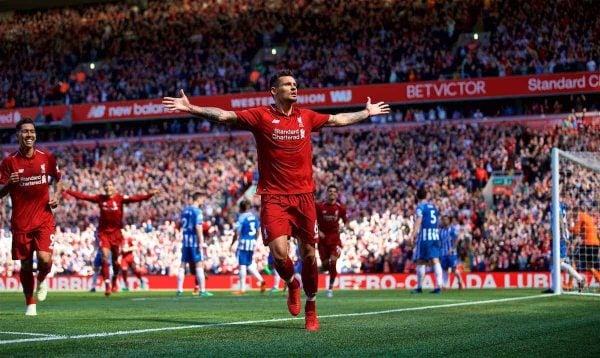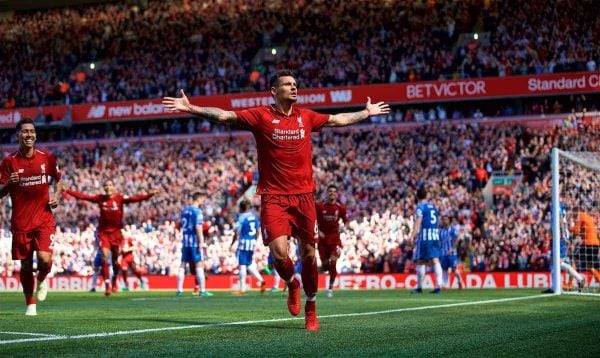 Appearances: 43
Average Rating: 6.30
Liverpool's most maligned figure encountered a season of two halves.
His Reds career looked doomed after a wretched performance at Tottenham – an unprecedented 0/10 – but he was excellent in a number of the big Champions League matches.
Lovren was impeccable home (8.5/10) and away (9/10) against City, and was arguably his team's best player in the final (8/10).
14th – Alberto Moreno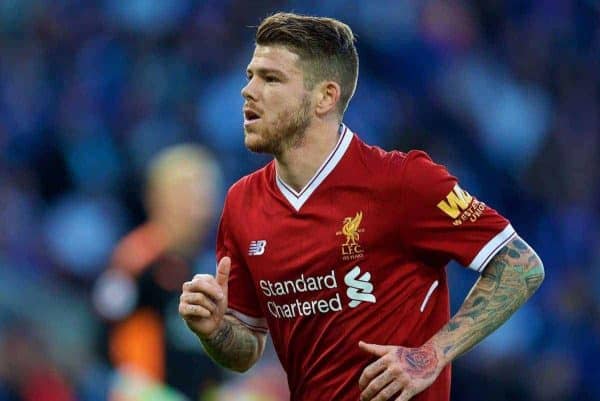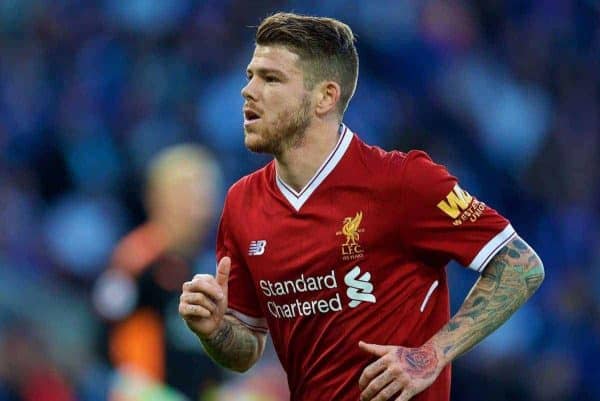 Appearances: 27
Average Rating: 6.25
Alberto Moreno was playing well before injury allowed Robertson to take his place, with displays at home to Arsenal, Southampton and Chelsea all 8/10.
A shocking night at former club Sevilla (3/10) was a low point, as was the FA Cup defeat to West Brom (3/10) at Anfield.
15th – Ragnar Klavan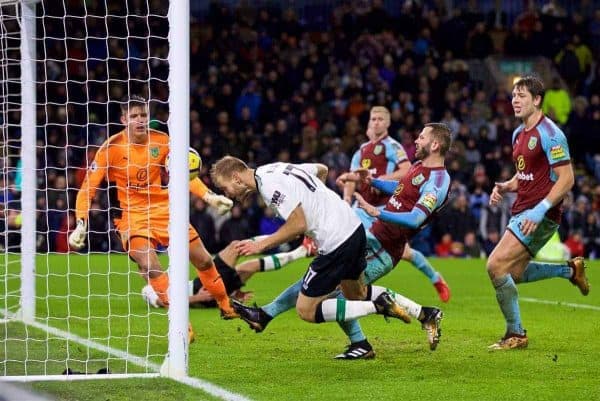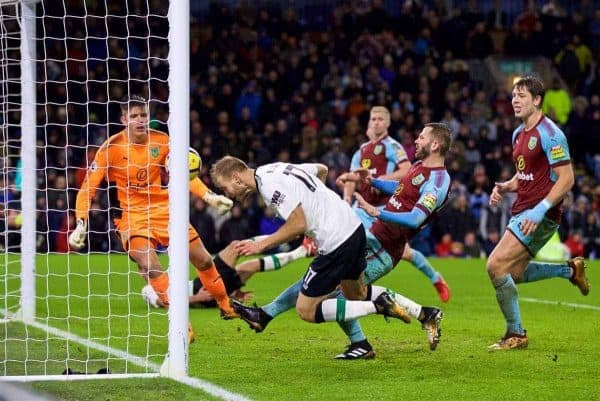 Appearances: 28
Average Rating: 6.23
Liverpool's newest cult hero was a solid if unspectacular performer, with many ratings in and around the 6/10 mark.
He had a disaster in the 5-0 loss at City (3/10) but scored a dramatic late winner at Burnley (7.5/10) on New Year's Day.
16th – Gini Wijnaldum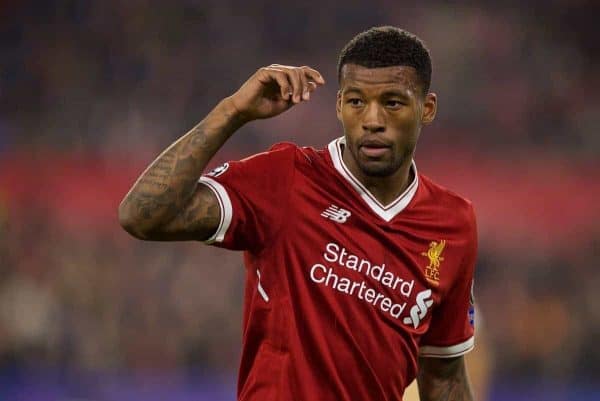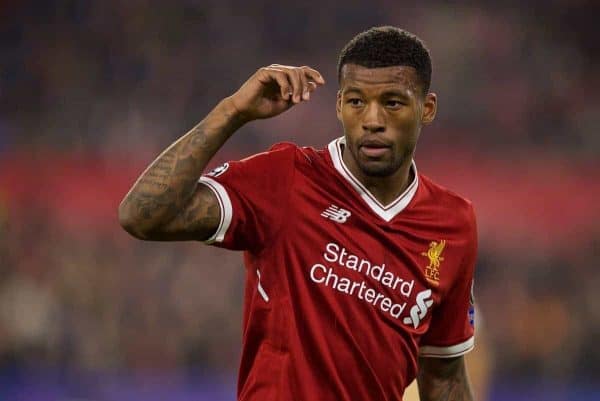 Appearances: 50
Average Rating: 6.21
Gini Wijnaldum divides opinion, and some poor early-season displays have seen him lower down the list than his current form deserves.
Back-to-back 3/10s against Swansea and West Brom in January were bleak, but the midfielder was exceptional in the 5-0 mauling of Porto (9/10).
=17th – Jordan Henderson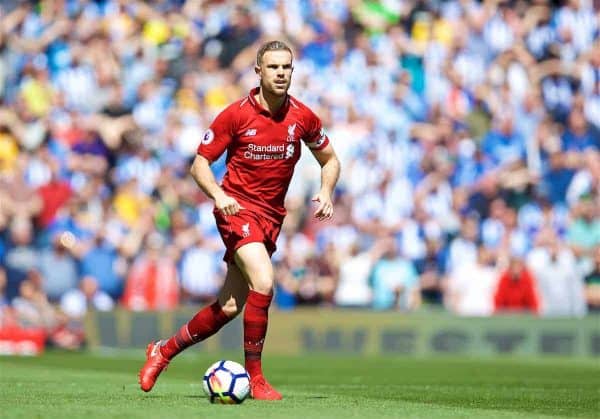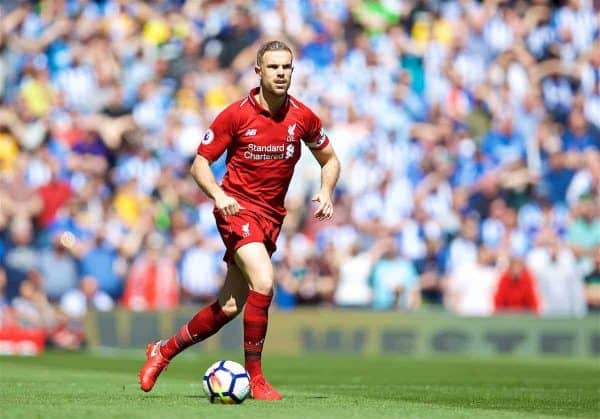 Appearances: 41
Average Rating: 6.11
Much like Wijnaldum, patchy form back in the late summer and autumn have led to Jordan Henderson gaining a fairly mediocre average.
The skipper grew in stature as the campaign went on, shining at home to Roma (9/10), but three 5/10s in a row in August – Watford, Hoffenheim and Crystal Palace – highlighted his early struggles.
=17th – Daniel Sturridge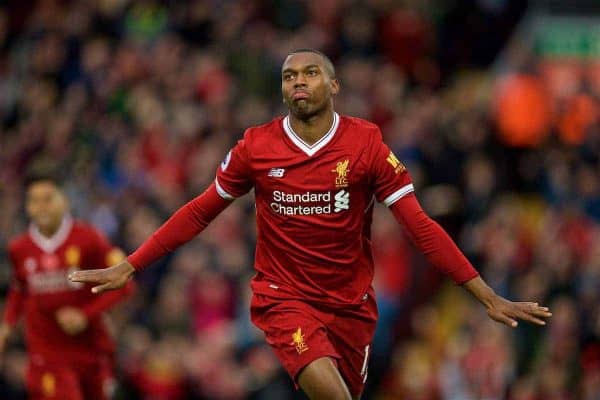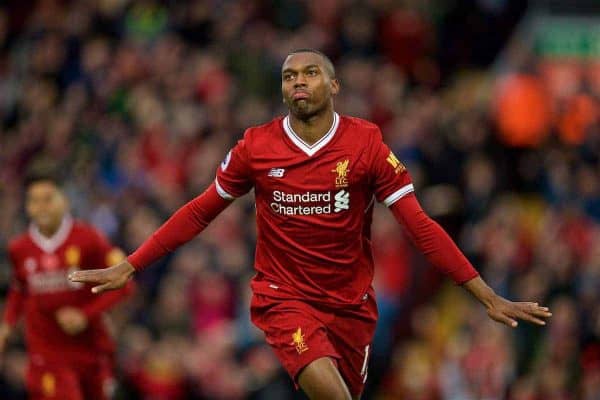 Appearances: 14
Average Rating: 6.11
Daniel Sturridge's time at Liverpool is up, with just 14 appearances to his name this season before being shipped out to West Brom on loan.
He struggled badly against Spartak Moscow and Newcastle United (both 4/10), missing big chances, but did well when Maribor and Huddersfield Town came to Anfield (both 7.5/10).
19th – Joel Matip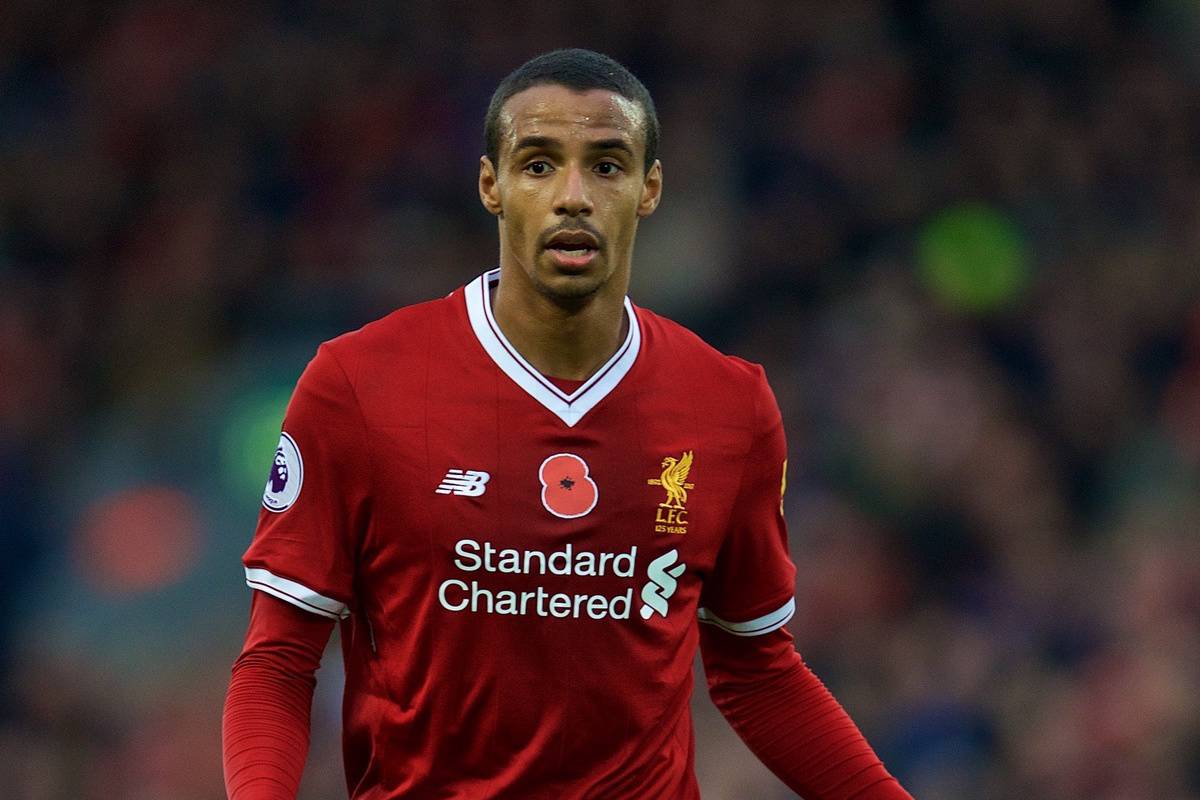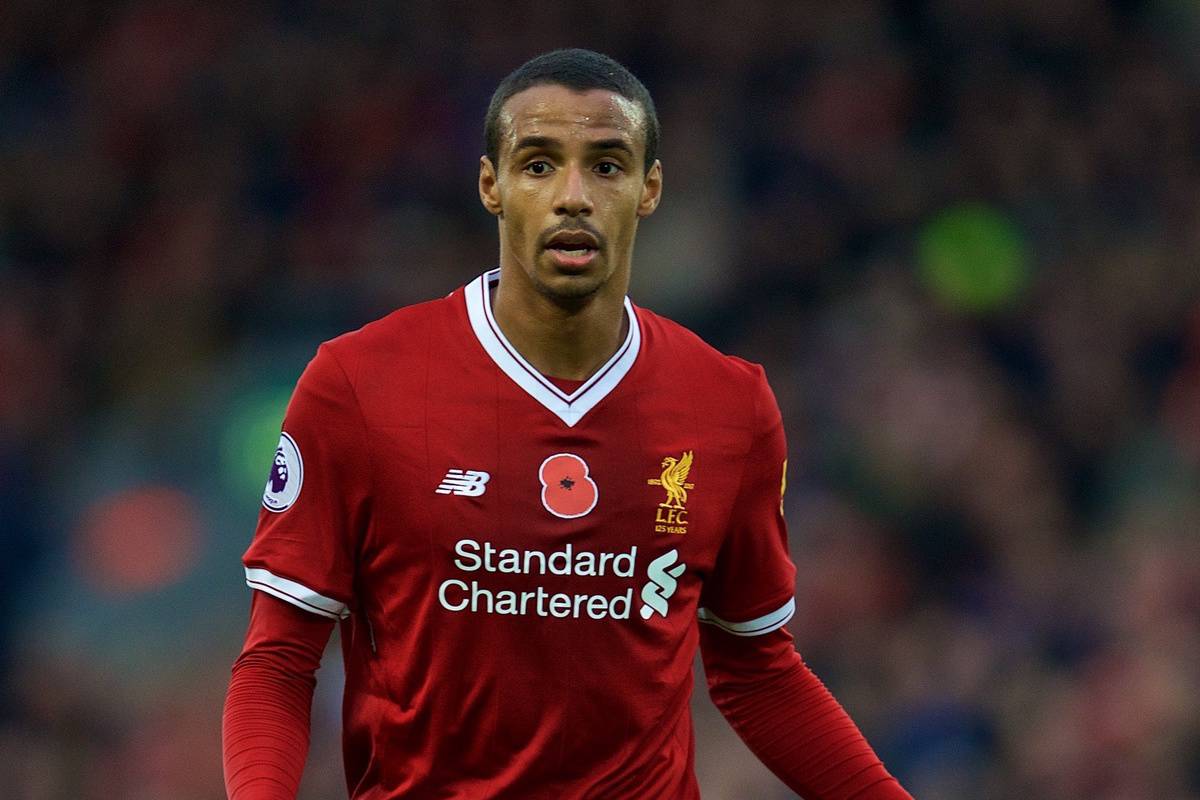 Appearances: 35
Average Rating: 6.04
Joel Matip went backwards in 2017/18, with far too many sloppy showings from the laid-back defender.
The Cameroonian was woeful against Man City (4/10) and Newcastle (3/10), and only Lovren's aforementioned 0/10 at Spurs saved his centre-back partner from more criticism at Wembley (3/10).
Matip's only 8/10 of the season came at home to City in the league – that was his highest rating.
20th – Simon Mignolet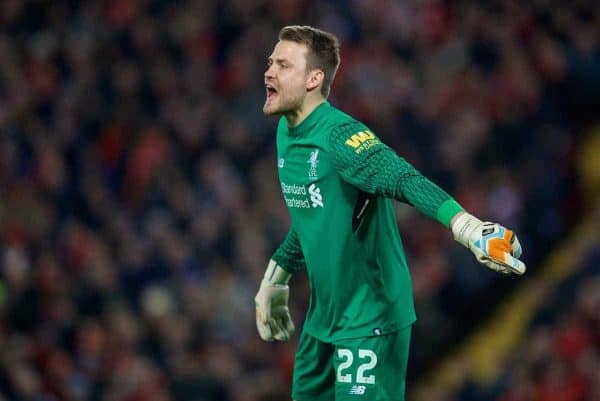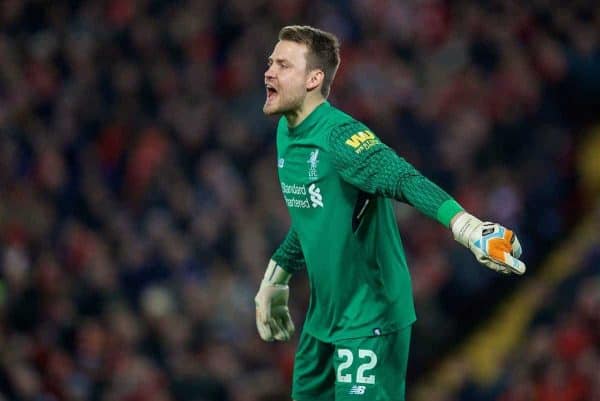 Appearances: 22
Average Rating: 5.93
Another whose time on Merseyside is up, Simon Mignolet showed his limitations as a goalkeeper time and time again.
He was equally dreadful in both trips to north London pair Spurs and Arsenal – both 3/10 – and his final appearance for the club, in the cup defeat to West Brom (4/10), was fittingly bad.
Got an 8/10 in Hoffenheim thanks to a crucial penalty save, in fairness.
21st – Danny Ings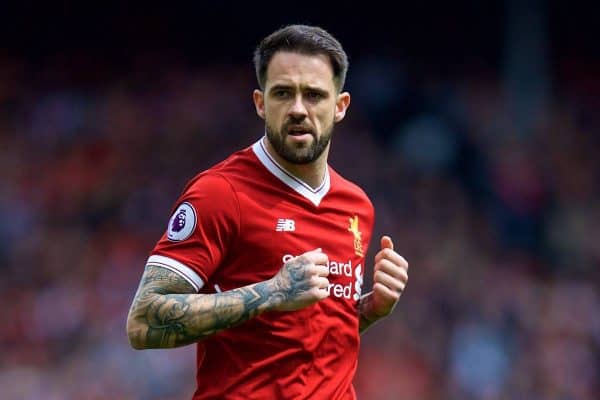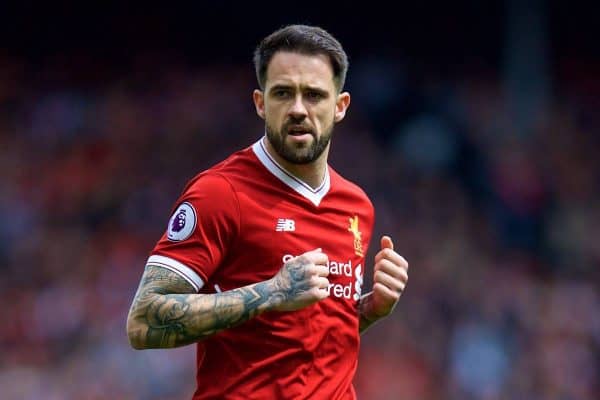 Appearances: 14
Average Rating: 5.83
Danny Ings is very likeable, but too often he showed that he is not good enough for Liverpool.
Only once did he get higher than a 6.5/10 – the goalless draw at Goodison Park (7/10).
22nd – Adam Lallana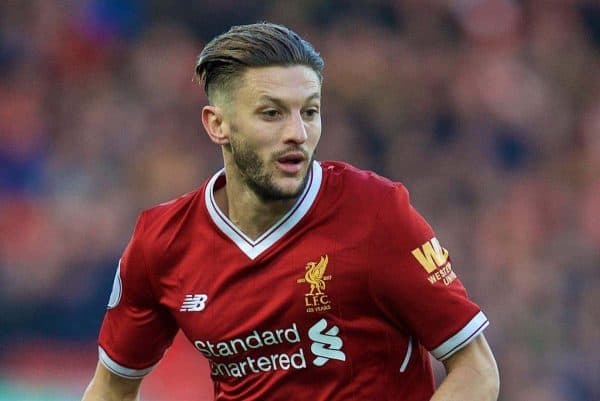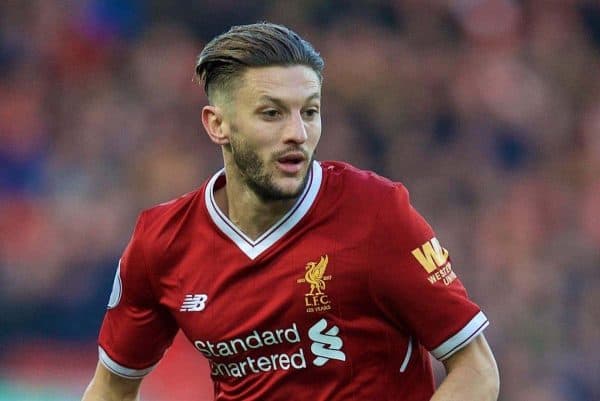 Appearances: 15
Average Rating: 5.65
Adam Lallana's season was ruined by injuries, and he was both rarely fit or on form.
A 7/10 at home to Swansea was as good as it got.
(Note: players must have at least 10 appearances in all competitions. Players sold (Coutinho) not included).