Liverpool players have been airing their thoughts on making it through to the Champions League final, with positivity everywhere from the Reds.
It was yet another incredible European night on Wednesday, as Liverpool made it to the final against Real Madrid on May 26, despite losing 4-2 to Roma.
Jurgen Klopp's side blew a 2-1 half-time lead, with Radja Nainggolan's late double making for a horribly nervous final few seconds.
They clung on, though, and deservedly reached the final 7-6 on aggregate, as their stunning European campaign continues.
Unsurprisingly, the players have been buzzing ever since the match came to an end, with many taking to social media to show their happiness.
Some have also been on traditional media duties, however, speaking about how it feels to reach club football's greatest match.
Sadio Mane was particularly joyous about the achievement:
"It sounds great! Honestly I think the dream came true and [we're] very happy – the players, fans, you guys.

"I think we deserved to win and to play this final."
Mane, who opened the scoring with his 19th goal of the season at Stadio Olimpico, also admitted what a tricky evening it was:
"Before the game I always in my head think we can do it because we have the quality to do it. We also try to work as a team and we are Liverpool and we are strong, so that's why we always believe.

"Dealing with pressure is part of football. They have a big stadium with all of their fans behind them, and also we have a great team with great quality in it.

"We tried to believe and we scored the first goal and in the end I think it was the key tonight.

"After that it was not easy honestly and when they got the penalty to score four, but you have to respect Roma it's a big team and everyone knows what they did against Barcelona."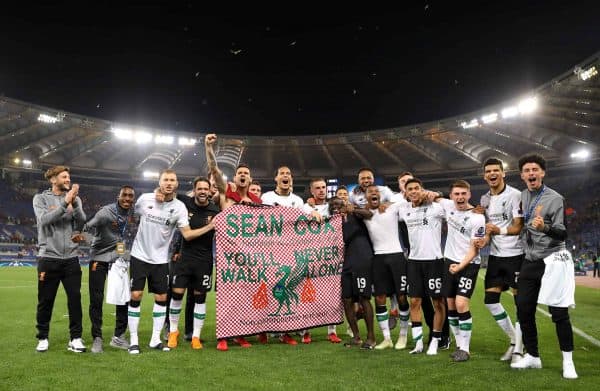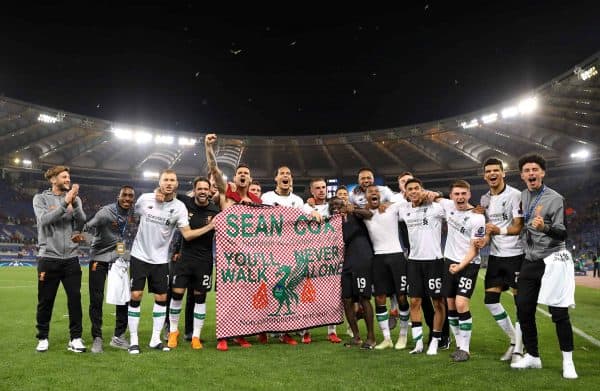 Andrew Robertson has been one of the signings of 2017/18, and the Scot focused on the giant steps he has made since representing Queen's Park five years ago:
"It's been an unbelievable journey from the start to now.

"When I signed here, I dreamed of these nights and I took my time to find my feet but I'm here now – what a night tonight and the first leg was unbelievable.

"We've got a few big games coming up but now we've got to look forward to Kiev and hopefully I can play a big part in it."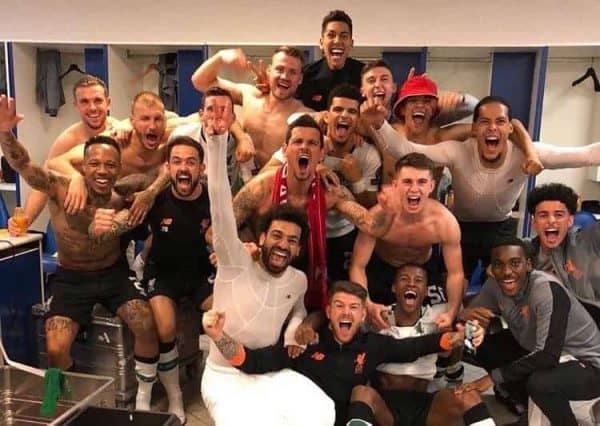 Speaking on the pitch after the final whistle, the brilliant James Milner couldn't hide his delight:
"I don't know what to say after that, we know how to make it interesting don't we!

"That's something we need to do better, we know that, see out games better. The penalty was harsh I thought and the first goal was a bit ridiculous as well obviously.

"All in all I thought we played well, a few breakaways we had shots too early, could have made an extra pass.

"To make the Champions League final…no-one said it was easy and we've beat some very good teams along the way."
When asked about having a glass of Italian wine to celebrate, Milner again showed his eye for comedy:
"Maybe for a few of the boys, me I might stretch myself out to some Ribena or something!"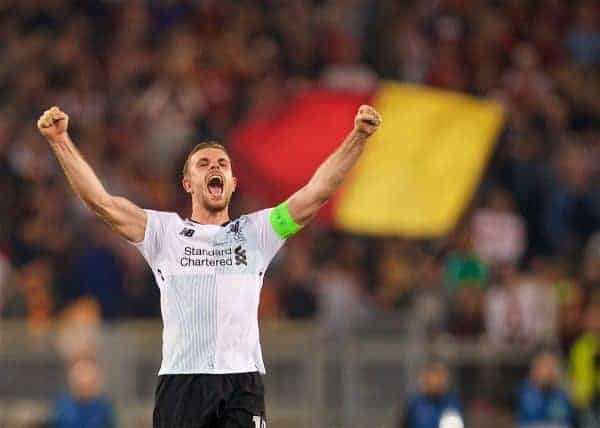 Jordan Henderson is in a really good moment, both in terms of form and the captaincy, and he chatted to BT Sport about Liverpool's penchant for drama:
"We never do it the easy way unfortunately.

"It was an amazing effort. In the first half we did well and scored some good goals. Overall we handled the situation well apart from the last 10 minutes.

"We need to stop that but I'm delighted we're in the final."
Virgil van Dijk, magnificent all night, brilliantly shrugged off a question from BT relating to Liverpool getting key decisions in Rome:
"Who cares?

"We still would be through. We had a couple of decisions we didn't get too. That's football."
This man pic.twitter.com/njQJHZ91a3

— Lauren (@lfclauren) May 2, 2018