Jurgen Klopp has outlined how his Borussia Dortmund side got the better of Real Madrid five years ago, but also praised on their winning mentality.
The two sides met in the Champions League semi-finals in 2013, with Jose Mourinho's Madrid team favourites to reach the final.
A stunning performance in the first leg at Westfalenstadion saw Dortmund rip their opponents apart, however, with Robert Lewandowski scoring every one of his side's goals in a 4-1 win.
Despite losing the second leg 2-0, the Bundesliga outfit made it through to the final at Wembley, where they were eventually beaten 2-1 by rivals Bayern Munich.
In an interview serialised by the Mirror, Liverpool legend Robbie Fowler sat down with Klopp in Marbella to discuss various topics.
This included how Klopp got the better of Madrid on that night five years ago, with the ex-Reds striker proffering that he aimed to "overload them on the right-hand side" then switch to catch the attack-minded Marcelo out.
Clearly comfortable in Fowler's company, the 50-year-old suggested it was better to nullify Real's strengths.
"There is no weakness where you can say, obviously, 'yes'. Football is not that easy that you say 'Marcelo stays up front and Salah stays there and plays against Ramos'," he explained.
"[In the 4-1 win] we played man-marking against [Xabi] Alonso. Everybody knew it before, Alonso gets the ball, turns, Ronaldo's on his bike already.
"We played Mario Gotze man-marking against Alonso in the 4-1 at home and it worked pretty well."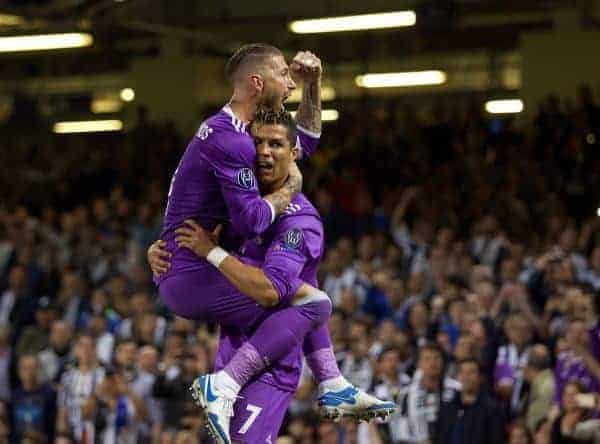 The German was quick to praise Madrid, admitting their ability to stay cool in pressurised situations is second to none:
"It's not that easy making these things against Real Madrid. They are cool as ice.

"You have a chance against them and they are not bothered. It doesn't affect them. Have you seen them even one time, panicking because someone had a chance against them? Ice.

"They think, 'opponents have chances, it happens. We have a chance, we score'.

"Pep said once, the big teams really have a cup of coffee and then bang, they go. So you have a chance against them, you'd better take it."
Madrid's ability to be ruthless and remain unruffled in big matches is arguably the main thing standing between Liverpool and glory in Saturday's Champions League final.
They have built up a frightening winning mentality in the competition, as they go in search of a fourth European crown in five years.
It will be interesting to see if Klopp adopts any of his Dortmund tactics this weekend, although Madrid are a very different proposition these days.