Jurgen Klopp has explained how he enjoys watching Liverpool supporters' videos online, saying he'd be among them if he wasn't the Reds' boss!
The charismatic German is known for his sometimes wild celebrations, especially during his time at Dortmund. He's often said how much he loves the game of football and the connection with fans is one that he has sought to improve at Anfield.
In an interview this week he explained how he watches fan videos online:
"Everyone who knows me knows that I don't read the English press, but I really watch these videos of the supporters because I was never really involved in something like this in my life."
Indeed, at the recent LFC players awards night, Klopp told RedmenTV presenter Paul Machin that he watches their content online!
The song that has become Liverpool fans' anthem this season has been 'Allez, allez, allez' and Klopp was keen to find out if it was a new song.
"'Allez, allez, allez' is new? I thought it's an old song, but that's because I've heard it so often now this year. That's really cool. It's a really, really cool song," he said.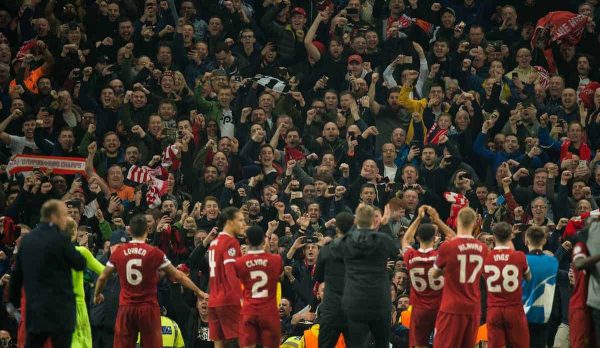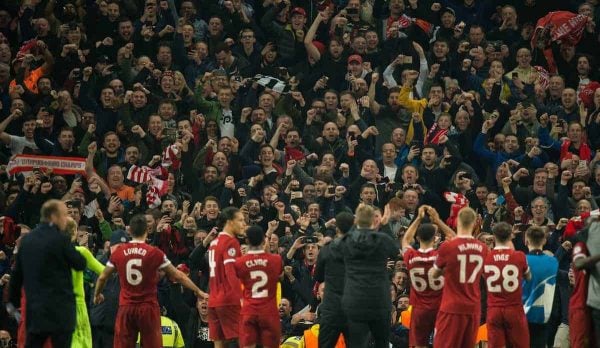 "All of them, they are so creative; unbelievable. The Mo Salah song is obviously a fantastic one.
Klopp though rightly pointed to a lack of a proper song for Roberto Firmino; demanding one for the Brazilian!
"Do we already have a Bobby Firmino song? Yes? And we have one for Sadio? Two? Whoever is doing it, I order a song for Bobby!"
Klopp loves football and clearly gets what it means for supporters, explaining how if he weren't a player or manager he'd be right among the fans.
"If I would not be a football manager or a professional player, I would have been in the middle of that. 100 per cent. I miss that a little bit from time to time, especially when my family is telling me what happened with the singing around the stadium and all these things – so I love it and I watch it on the internet and I really like it.
"I like the emotions a lot and when you see them in their living room going completely nuts, it's really cool."
The boss spoke similarly in his pre-match press conference on Monday, saying that how fans have changed in recent months, and started to 'like' the team and players more.
There's clearly a growing connection between the supporters and players this season and that's something Klopp has massively been keen to foster.
Klopp and Liverpool couldn't be more perfect for each other, and it is a joy to have a manager who 'gets' every aspect of the club.