The media lauded Liverpool's achievements in reaching the Champions League final, praising the work of Jurgen Klopp and his players.
It was yet another historic night in Rome as the Reds triumphed 7-6 in what became the highest scoring semi-final in Champions League history.
A 4-2 defeat on the night still wasn't enough to stop Jurgen Klopp's side reaching the final, with a 7-6 aggregate win ensuring the Reds will battle Real Madrid in Kiev on May 26.
It was nervy night but firmly job done for Liverpool, and the celebratory scenes after the final whistle will live long in the memory.
But there is still one more stop on this unforgettable European journey—and potentially the most glorious of all with European Cup No.6 now firmly in sight.
Here's how the media reflected on the semi-final triumph.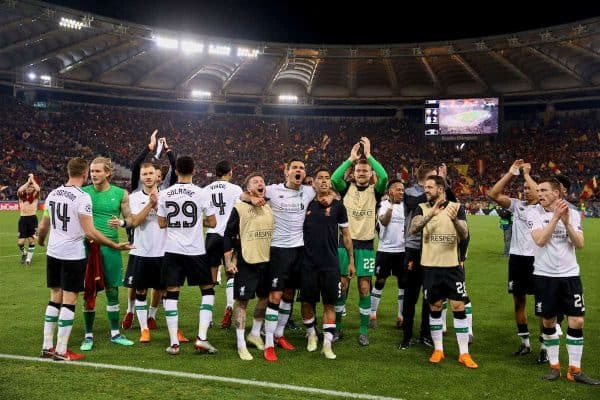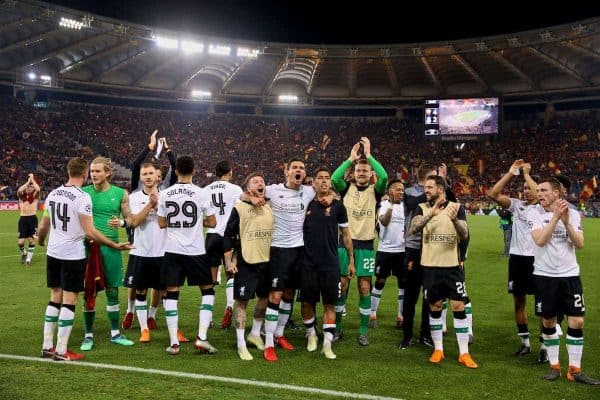 The media assessed Liverpool worthy winners but felt it was typical of the Reds to make it harder than needed
Our own Karl Matchett felt the Reds were worthy of winning by a more handsome score-line:
Over the two legs, Liverpool were far better than Roma, certainly more than a single goal better, which is how it finished after an absurd late penalty.
The Liverpool Echo's Ian Doyle labelled Klopp's team the most thrilling Liverpool side ever:
Because this is Liverpool in 2018, a team as thrilling – for good reasons and for bad – to have ever pulled on the famous red jersey.
However, the Guardian's Daniel Taylor assessed it as the night Klopp's players came of age:
Despite the defeat, it felt like we were witnessing a group of players who had come of age.

[…]

That, however, was probably the most impressive part of Liverpool's performance: their fearlessness.
Klopp was lauded for his work inspiring a sensational European campaign and leading the Reds to Kiev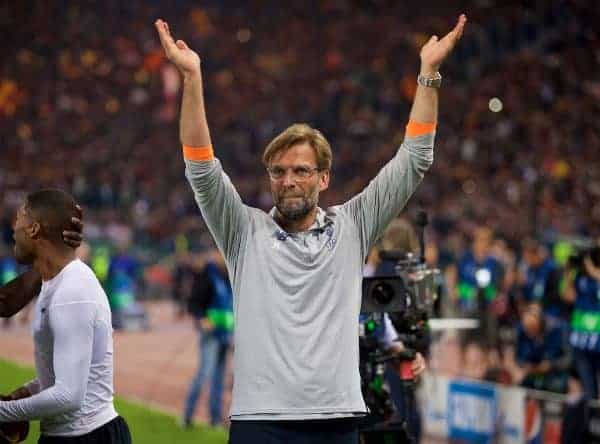 Matchett praised Klopp for inspiring Liverpool's rapid progression to European contenders this season:
It speaks volumes of the work that Jurgen Klopp and his coaches have done that the Reds were nowhere near this level even a year ago, yet now they have a chance of being crowned the continent's finest once more.
For Football365, Daniel Storey praised Klopp for inspiring the Reds to produce such brave but devastating football on the biggest occasions:
This is where Liverpool have improved most under Klopp. They were capable of breathtaking attacking play under Brendan Rodgers, but in too many games (including some big ones) were passive, particularly after falling behind.
The Mirror's John Cross commended Klopp for his bravery in sticking to his attacking principles:
Few managers would be brave or foolhardy enough to go to Rome and play three strikers but that is Klopp's philosophy. And that is what has got them to the final.
And writing for Goal.com, Neil Jones felt it was another night that illustrated why Klopp is the perfect manager for Liverpool:
What a job the German has done, what a wonderful fit he is for this club. A manager who understands passion, excitement, emotion and entertainment. Boy does he 'get it'.
Numerous Reds were praised for brave performances on the night and contributions during the journey to the final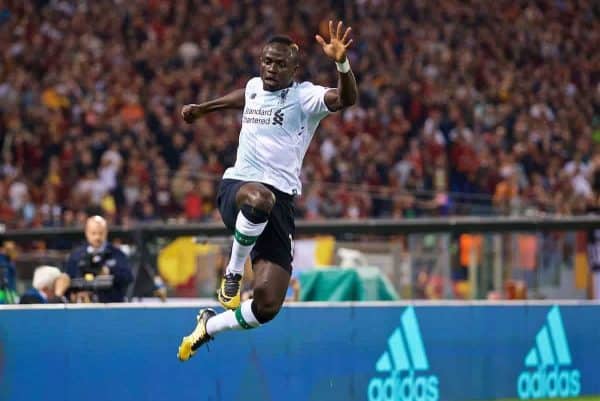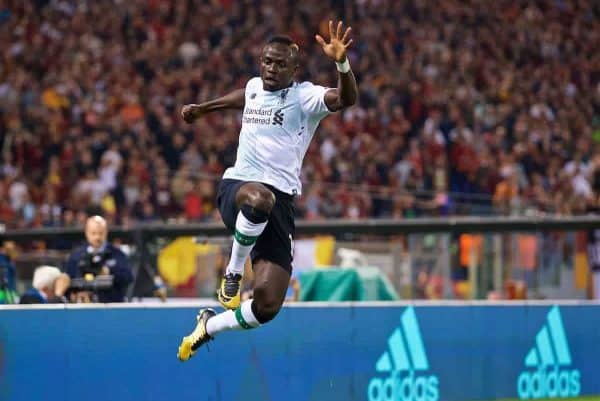 The BBC's Neil Johnston lauded Sadio Mane's performance, labelling the Senegalese the "driving force" behind the Reds' run to the final:
After a hat-trick away to Porto and two against Spartak Moscow, the Senegal forward has been a driving force in Liverpool's charge to the final.
Doyle praised Gini Wijnaldum for not only his crucially timed first away goal, but for coming to the fore in the crucial recent games with some unsung performances:
Wijnaldum wasn't alone in excelling in midfield – Jordan Henderson and James Milner were both superb – but he has come to the fore in the latter stages of this Champions League run, filling in as defensive midfielder at Manchester City, helping change the game when coming on against Roma in the first leg and again impressive here.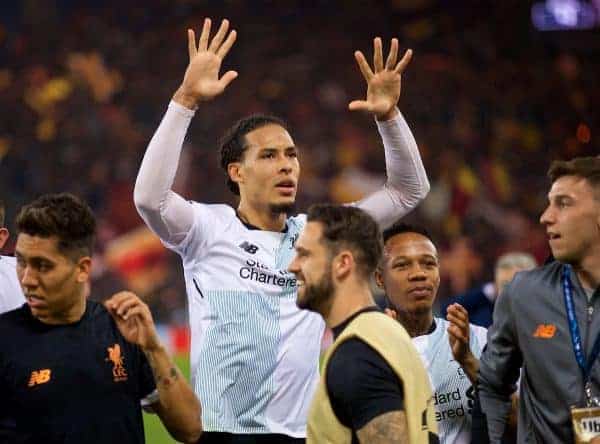 Robert Redmond, writing for JOE.co.uk, was impressed by Virgil van Dijk, labelling the Dutchman an "invaluable presence":
Excellent performance, particularly in the opening few minutes when Liverpool were under pressure. Van Dijk was a calm, commanding presence, winning headers, making clearances and generally frustrating Roma's attack by mopping up play.

The Dutch defender led from the back and was an invaluable presence on the night. A tricky night in Rome might have turned into a collapse if it wasn't for Van Dijk.
ESPN's Mark Ogden felt Loris Karius boosted his case to be long-term No.1 by outperforming the man rumoured to be his possible replacement – Roma's Allison – over the two-legs:
On the evidence of the two legs of this semifinal, though, Karius is improving rapidly and growing in confidence.

[…]

Alisson, meanwhile, did little to stem the Liverpool tide and did not cover himself in glory at Anfield or in this game. The Brazilian does not command his area as a keeper of his stature should and he commits himself too early, which may have been a factor in Mane's opener in this game.
Reporters felt one negative came with the Reds' defending but also praised the efforts to battle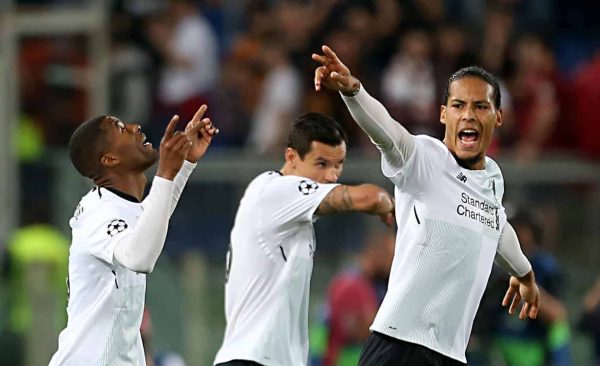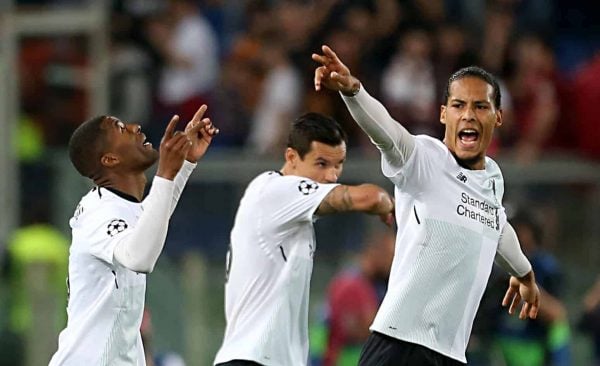 The Telegraph's Jason Burt noted how another opponent targeted the right side of defence, and feels this is a key area for Klopp to sort ahead of the final:
After the celebrations Klopp will have to dwell on his team's sloppy defending and not least how Roma – through Stephan El Shaarawy – mercilessly attacked 19-year-old Alexander-Arnold.
ESPN's Steven Kelly thought Liverpool should have managed the game better:
Once again defence and game management emerged as the Reds' only real weaknesses.

It's almost as though retaining possession is just too boring for them and a Roma side not on their level were allowed to come back into it.
However, the Liverpool Echo's James Pearce praised the Reds for showing the fighting spirit Klopp has installed to battle it out:
This was all about guts and resilience when their backs were against the wall. The mentality Klopp has instilled came to the fore as Liverpool refused to crumble.
Meanwhile the Independent's Mark Critchley accepted that while the Reds still have defensive flaws, this is undoubtedly the system that best suits:
Instead, it is flawed but unflinching, sometimes imprecise and sometimes incisive, always a spectacle.

[…]

There should be no doubt now that this system, with all its inherent flaws and all those moments it looks vulnerable to collapse, is a success.
Reporters looked ahead to the final and feel there is nothing for Liverpool to fear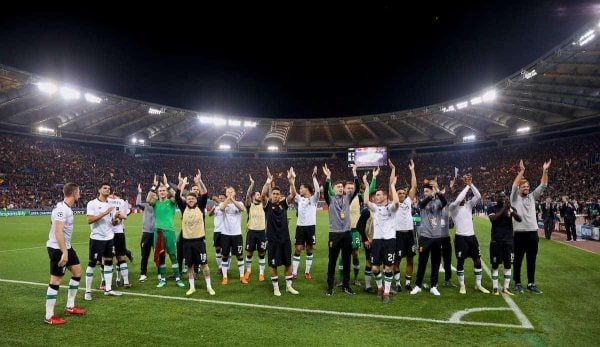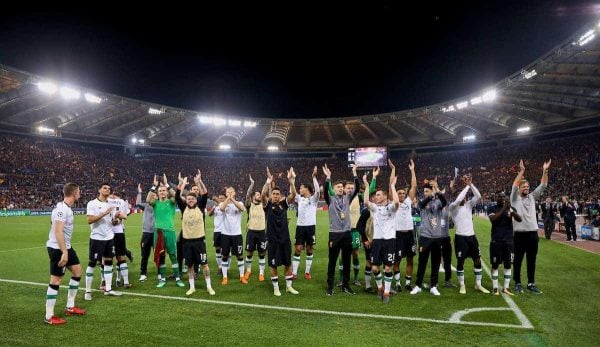 In fact the Mirror's David Maddock believes Liverpool will go into the final as favourites:
But make no mistake, Klopp's men deserve to be there – and their form in this competition surely makes them favourites against an unconvincing Real Madrid team, despite their opponents' knowledge and experience in finals.
Critchley thinks the Reds can give Real Madrid the toughest final they've had in recent years of dominating the competition:
That kind of display had admittedly come in the frenetic first leg, although here Jurgen Klopp's side did at times show exactly why it is they are in the final – and why their very distinctive and very fast style of attacking may give Real Madrid more problems than they've had to deal with than at any point in their half-decade domination of this competition.
Storey thinks Liverpool's freshness and momentum could carry the Reds to success in Kyiv:
If Real Madrid have the know-how, Liverpool have the freshness and vitality.

[…]

Momentum is such a powerful, unquantifiable force in sport, and Klopp has created a mentality that makes his squad feel untouchable when they stream forward.
Matchett challenged Klopp's side to show no fear and simply play the stunning, attacking football that has taken them all the way to the final:
In Kiev, the Reds will march out, watched by the whole world, and put on a show of their own brand of football which thrills, entertains…and wins matches.

That will be the key, the be-all and end-all which can determine if the season is a successful step forward, or one which will live on in supporters' memories for all eternity.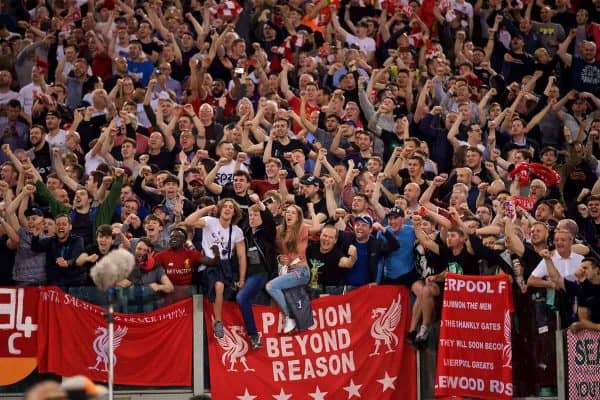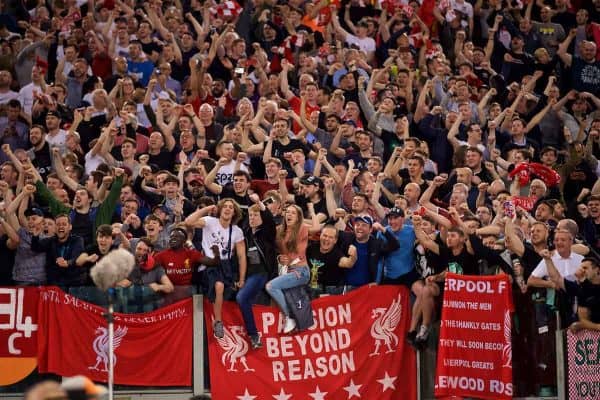 Pearce challenged the Reds to write their names into Anfield history and believes Liverpool have every reason to belief in victory:
Now the Reds stand on the brink of greatness. Finish the job off in the Ukrainian capital and this crop of players will be remembered as legends forever.

[…]

Kopites will travel with genuine belief that after the near misses of recent years this run will have a happy ending.
Harry Latham-Coyle, for the Independent, thinks Real Madrid's experience in being able to win despite playing badly on the biggest occasions could prove the difference:
They showed in that battling performance why they are back-to-back defending champions: an ability to win when playing badly.

[…]

Liverpool do not possess the experienced continental campaigners of their opponents, and it could be a defining factor in the final.
Finally, Jones perhaps best summed up most of our feelings after a roller-coaster ride to the final:
Lord knows what will happen in the final.

[…]

And judging by what we've seen from Liverpool and from Real Madrid this season, what a game it will be. Don't bother trying to pick a winner. With these two teams, it could be anything.