Liverpool Ladies finished the season in sixth place in the Women's Super League 1 and defender Satara Murray admits there is "room for improvement."
The Reds' season was tarnished with injuries and inconsistencies, and in truth, they never really got going.
There were, though, still plenty of positives to take from the campaign. A 1-0 victory over Man City towards the end of the season showed what Liverpool's inexperienced squad is capable of producing.
However, they let slip a 2-0 lead against champions Chelsea on the final day – highlighting areas of improvement.
American defender Murray believes injuries have thwarted the team's progression this year but she remains "pleased overall."
"Considering the injuries we've had, finishing where we have has been pretty decent but obviously there's room for improvement," Murray told This Is Anfield.
"Next season when everyone is healthy and ready to go, it will hopefully be much better. You have to take it for what it is. There's not much we could do about the injuries so I'm pleased overall.
"You're asking a lot from the small numbers that we had. Sometimes we have had three games in nine days and you're asking the same players to put in work across the 90 minutes.
"There has obviously been inconsistencies because of the injuries but that's out of our control. We just had to go out there and give it our all but if we had bigger numbers it would have changed results. They were just unfortunate events."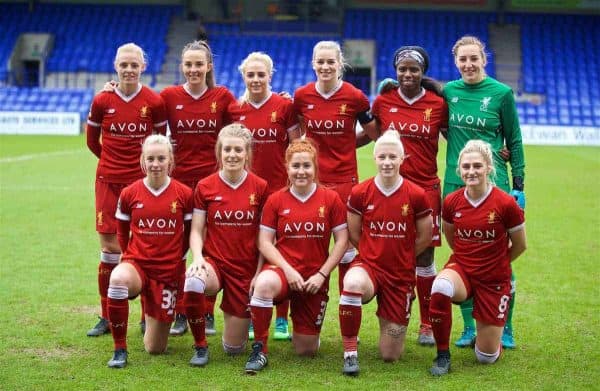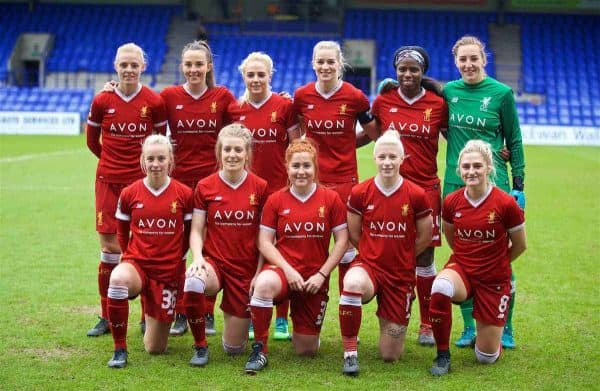 Liverpool endured a tough run-in to the end of the season – facing each of the top four, as well as Merseyside rivals Everton, in their final five games.
And though they were able to pick up a win against Champions League semi-finalists City and a draw with Everton, disappointing defeats against Reading and Chelsea followed.
"We did great things against Manchester City but that result against Reading didn't go our way," said Murray.
"I had hoped momentum had shifted for the final three games but it wasn't to be. We can't make excuses but small numbers were tough. The Reading result wasn't what we wanted.
"We were really excited after the Man City game and we wanted to take that result forward."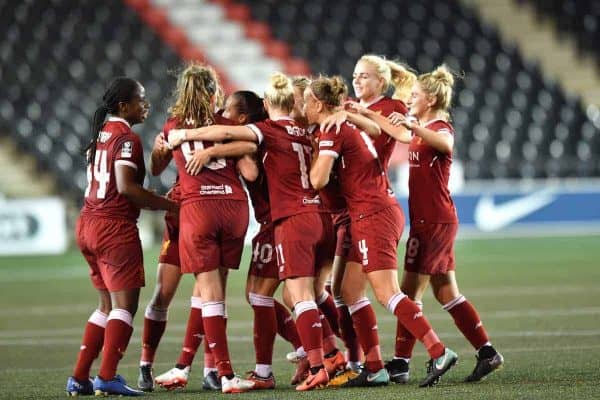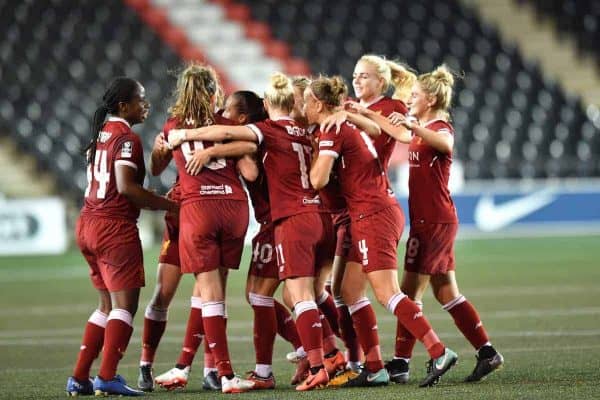 It was a memorable season for the Reds as many players competed in their first Merseyside derbies following Everton's promotion to WSL 1.
The season kick-started with a showdown between the two clubs in Widnes and Liverpool took home the bragging rights.
Murray says that those were the games the players "lived for" and admitted the derbies were a highlight of the season.
"There is nothing like a Merseyside derby," said Murray. "They are always really exciting and we get a good turnout in support.
"Everton was the first game of the season and that was so exciting."
As well as the derbies, Casey Stoney's final game of her football career was also one of the most memorable moments of the year.
Stoney, a former England captain with over 100 caps, ended her career with a 3-1 victory over Sunderland in February before joining up with Phil Neville as part of his coaching staff.
"Casey Stoney is fantastic," Murray reflected. "I only got to play with her a few times because I missed the Spring Series last season and then suffered from injuries.
"She is phenomenal and is obviously missed greatly by the team. She is a big leader in the women's game and having her as a part of this team improved a lot of things. It improved our mentality and how we looked at things."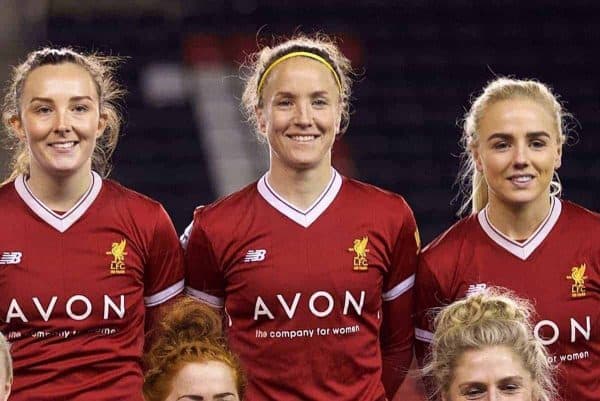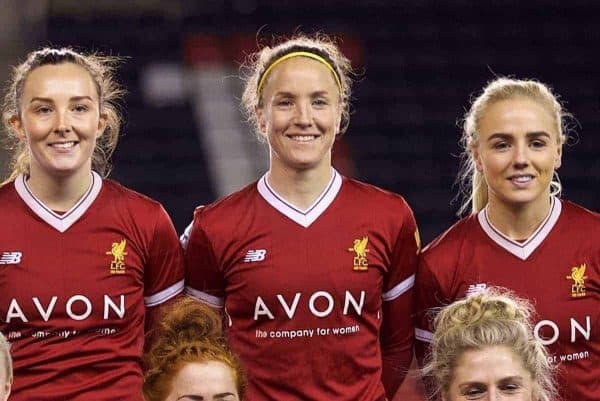 Despite Stoney's departure, the team still has a number of experienced leaders, and Gemma Bonner and Sophie Ingle were rewarded for their individual seasons with the Player of the Year and Players Player of the Year awards at the recent end of season celebrations.
"Bonner and Soph are two of the biggest leaders in the team," praised Murray. "Obviously when Gemma was out with her injury, Sophie took over as captain and she did a tremendous job leading and just doing her thing.
"She is one of the most consistent and calm players I have played with in my whole career. I'm excited to see what's to come from her career.
"For me playing with both of them, it massively helps. When things aren't going your way they are two players that can calm things down and get us back to our usual ways."
But Murray was also delighted at the impact of on-loan striker Beth England, who finishes the season as the club's top goalscorer after capping off a great season with the winner against Man City.
"Having Beth here was fabulous. It was wonderful because she is definitely a goal-scorer and that was something we needed when Natasha Harding left," said Murray.
"Beth stepped up to the plate and has been great for us. That goal she scored against Man City a few weeks ago just summed her up as a player.
"I wouldn't be surprised if she steps up to the senior England team soon because she has proven to a lot of people that she can do the job under immense pressure. Having her as an addition has been fantastic."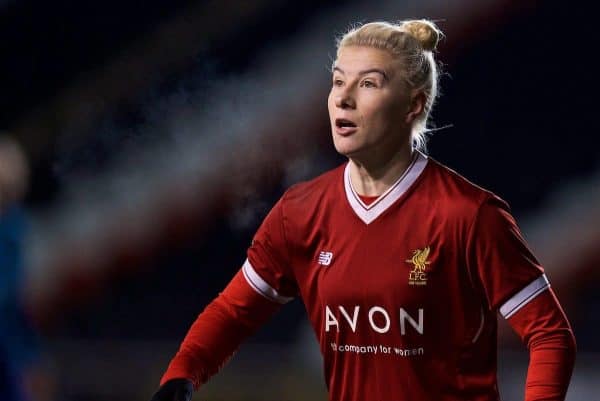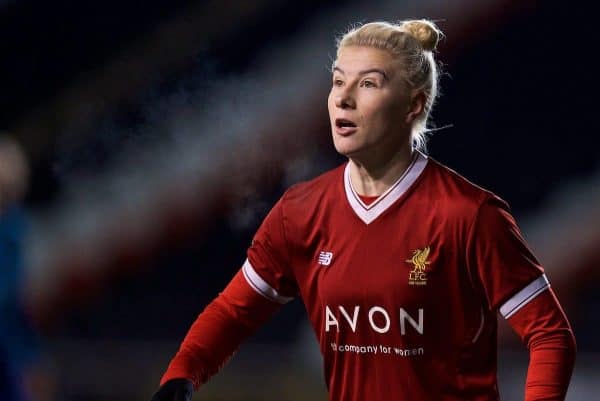 Despite failing to challenge for the domestic cups and missing out on qualification for the Champions League, Murray is optimistic for next season and has already set her sights on personal development.
"There has been a few games where I've not been at my best and others where I have been but I dealt with some injuries and in these last four or five games I've been feeling more like myself," she told This Is Anfield.
"Hopefully I can take that into next season and build on it. I just want to continue to get better individually so I can help the team.
"We need some silverware. I've been here for a while now and haven't really won anything so that is the main goal. But we just need to remain healthy and we want to try and secure a Champions League spot.
"That would be fantastic. But we just need to see where things take us and keep working hard."