Liverpool are back in the Champions League final after beating AS Roma 7-6 on aggregate on a topsy-turvy night in Italy.
AS Roma 4-2 Liverpool (Aggregate 6-7)
Stadio Olimpico
May 2, 2018
Goals: Milner OG 15′, Dzeko 52′, Nainggolan 85′ pen 90′; Mane 9′, Wijnaldum 25′.
The difference in Mane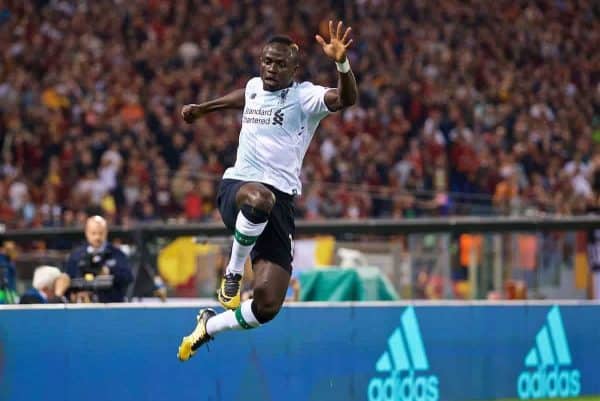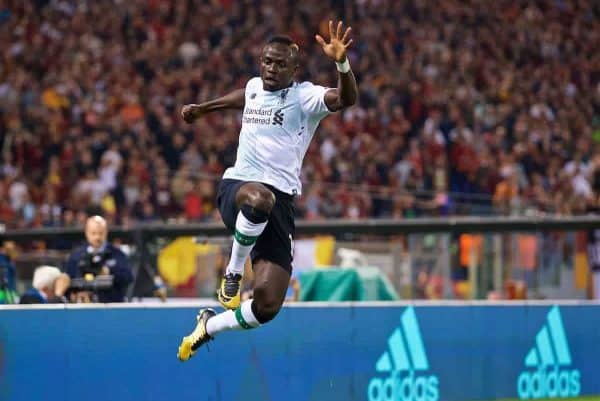 The man of the match on the night, Sadio Mane was exceptional for the Reds all night long.
He was an outlet on the counter, a big threat heading toward the penalty box and scored the all-important first goal to settle any early nerves.
Mane's strike was his ninth in the Champions League this season, equalling a competition record for the most goals by a player in his first 10 games.
An incredible performance—and it showcases how Mane's form can swing wildly at times all based on how he fares with his first big chance of the game.
If he misses, he can lose his head a little, feeling the pressure to perform perhaps or being overly desperate to make up for fluffing his lines. He's a real confidence player in that regard and it can lead to poor decisions at times.
But not tonight, not in Rome.
Mane had one chance, finished it beautifully and was the best player on the park in white for the remainder of the match.
Never an easy ride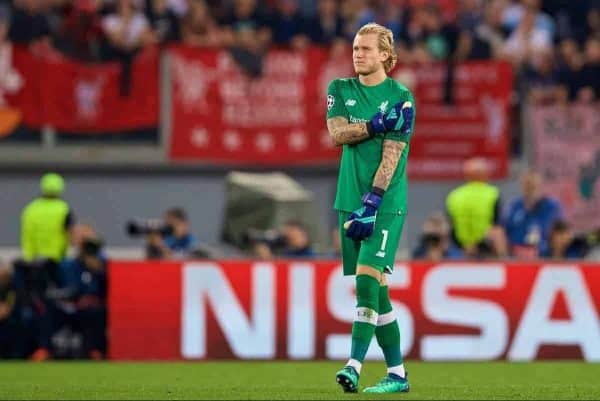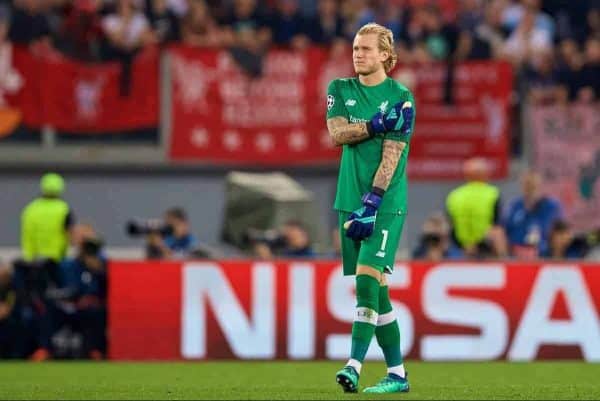 It shouldn't be the case that, when leading 7-3, Liverpool fans still feel like the job isn't quite done.
Yet it was undeniably the case at the break that more people were talking about how one more goal would finally kill off the match, rather than accepting the Reds' superiority meant they'd be going through.
Over the two legs, Liverpool were far better than Roma, certainly more than a single goal better, which is how it finished after an absurd late penalty.
There came a period a month or two back when Liverpool looked far better at seeing out games, far more composed at shutting down teams.
Perhaps it's just the occasion, or the stadium, but that still gives Klopp something to work on.
The Reds never make it completely easy on themselves, but perhaps it didn't need to be quite this nerve-wracking in the end!
Squad depth concerns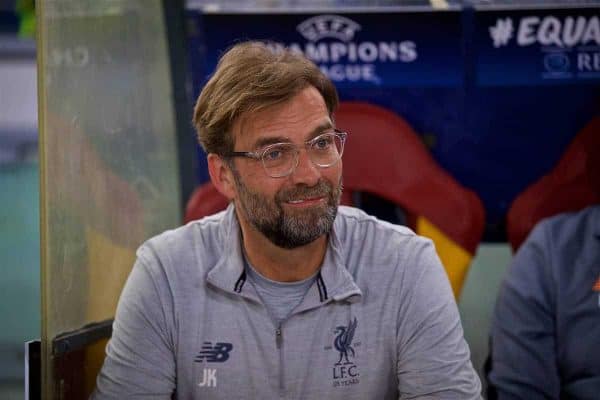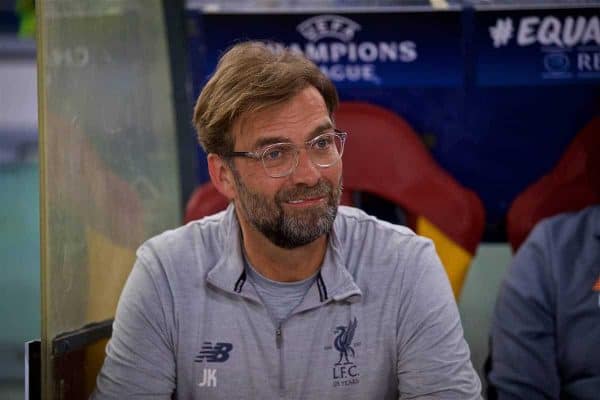 Injuries have hit hard in the run-in and it's beginning to tell: a little tiredness in some players and an inability to change the team around.
Look at the bench in Rome and it was clear Klopp didn't have much to turn to: backups and youth, no real rotation options.
Perhaps Adam Lallana coming back might aid that slightly, but it's not too likely that Klopp will be able to shift his team around hugely.
That shouldn't be too much of an issue for the final, given it's three-and-a-half weeks away, but the Reds have a big job on at the weekend first as they visit Chelsea.
These same players have to find a way to produce another big performance, find another telling result, and ensure they have no worries or concerns heading into the last week of the Premier League season.
A game of oddities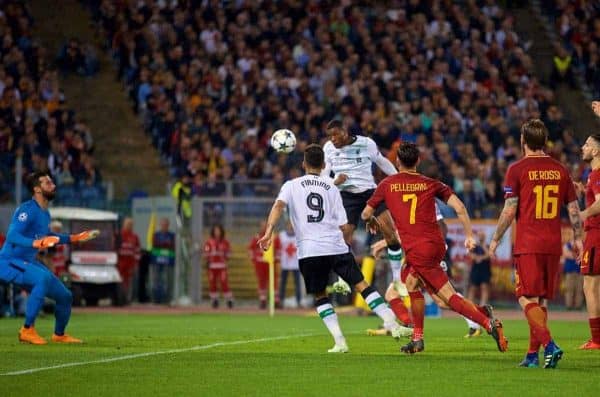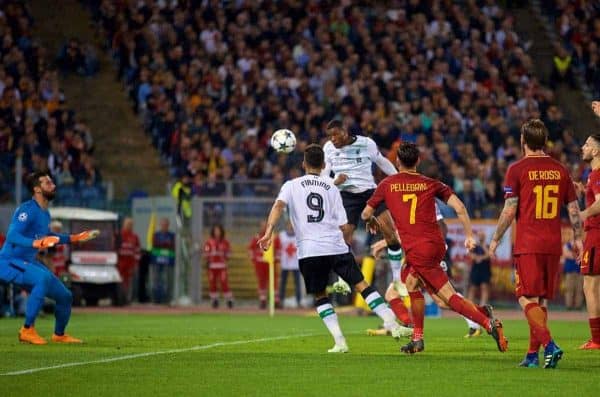 Truly, this was a match when so many individual talking points arose that it would be remiss to not mention them at least in passing.
First, there was Gini Wijnaldum's header—his first away goal in English football in any competition, his first away goal in around three years. What a time and place to get it.
Secondly, the fact that a quite ludicrous 13 goals were scored across the two legs; no Champions League knockout tie in the history of the competition had ever seen as many.
Not just semi-finals, no knock-out tie at all.
Again, there's officiating calls to raise eyebrows at: a shove by Kostas Manolas not given as a Liverpool penalty, a handball by Trent Alexander-Arnold not given as one for Roma.
Then there were at least three awful offside calls given which stopped scoring opportunities—and another penalty—before the injury time insult was to give handball against Ragnar Klavan, with the ball chipped at him from about a metre away.
It wasn't a tie to miss, that's for sure.
Liverpool FC: Champions League finalists!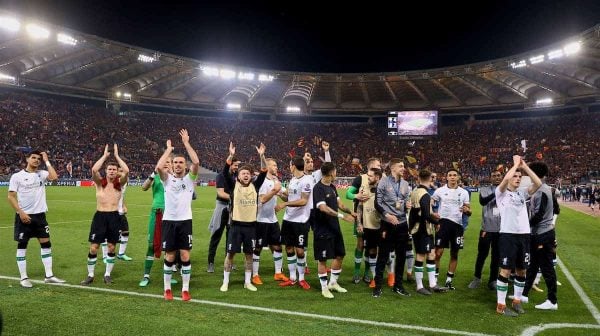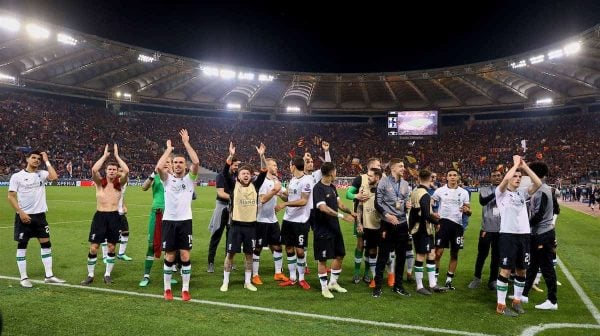 Forget everything else, this is all that matters!
After more than a decade away, Liverpool will be back in the Champions League final, against Real Madrid—a truly historic fixture of European royalty.
It speaks volumes of the work that Jurgen Klopp and his coaches have done that the Reds were nowhere near this level even a year ago, yet now they have a chance of being crowned the continent's finest once more.
In Kiev, the Reds will march out, watched by the whole world, and put on a show of their own brand of football which thrills, entertains…and wins matches.
That will be the key, the be-all and end-all which can determine if the season is a successful step forward, or one which will live on in supporters' memories for all eternity.
Take the songs and noise, the flags and banners, the dreams and memories…and bring back No. 6.