Liverpool's Champions League journey effectively started a year ago and it has been one of the most thrilling European runs in the club's history.
Those first 45 minutes at home to Middlesbrough last May were fairly torturous, with the Reds requiring a win to seal a top-four finish.
With the score still 0-0 heading into first-half stoppage time, Gini Wijnaldum's emphatic opener felt huge, with Philippe Coutinho and Adam Lallana wrapping things up after the break.
Simply qualifying for the Champions League last season felt like a big deal, and not in our wildest dreams did we expect Jurgen Klopp's side to be in the final 12 months later.
It has been a phenomenal journey since beating 'Boro.
Tense, Thrilling Qualifier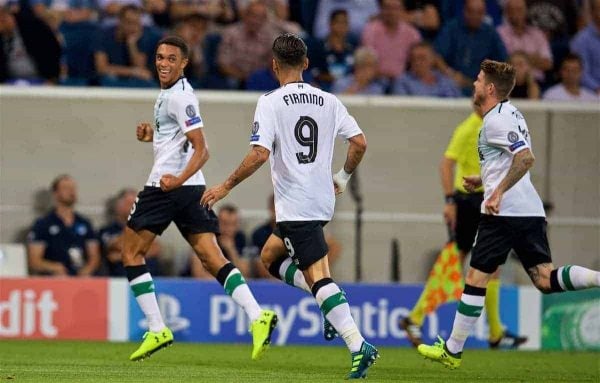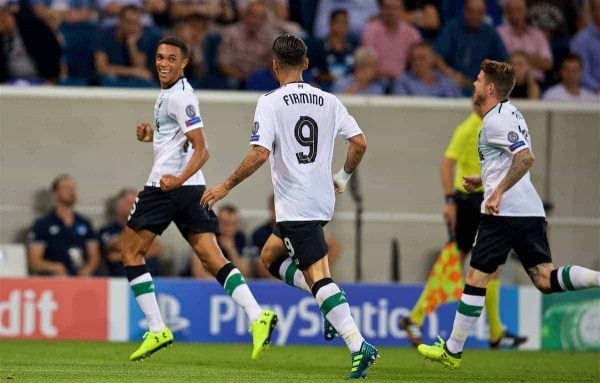 Of all the teams Liverpool could have faced in the play-off to reach the group stages back in August, Hoffenheim were about the worst.
Managed by highly rated young upstart Julian Nagelsmann, the Bundesliga outfit would be a tough proposition over the two matches.
The first leg started shakily, as a Dejan Lovren foul gave Andrej Kramaric the chance to open the scoring from the penalty spot.
Simon Mignolet proved to be the hero, saving his spot-kick, before Trent Alexander-Arnold's brilliant free-kick capped off a memorable European debut for the teenager.
Havard Nordtveit's own goal doubled the Reds' lead, but Mark Uth gave Hoffenheim hope before the two teams reconvened at Anfield eight days later.
That night on Merseyside epitomised what a force Liverpool have been in the Champions League under Klopp, with some stunning football played in an eventual 4-2 triumph.
Emre Can's beautifully crafted team goal remains a strong contender for the club's Goal of the Season, with Gini Wijnaldum, Sadio Mane and Roberto Firmino all heavily involved.
The scoreline was kind on Nagelsmann's beleaguered players in the end.
Getting knocked out at the first hurdle would have been a bitter pill to swallow, but Klopp's men overcame a tricky test impressively.
Unbeaten But Frustrating Group Stage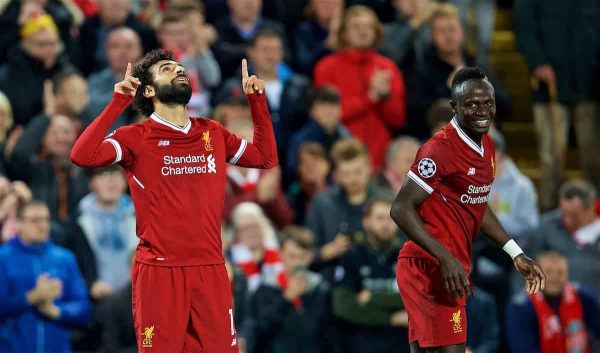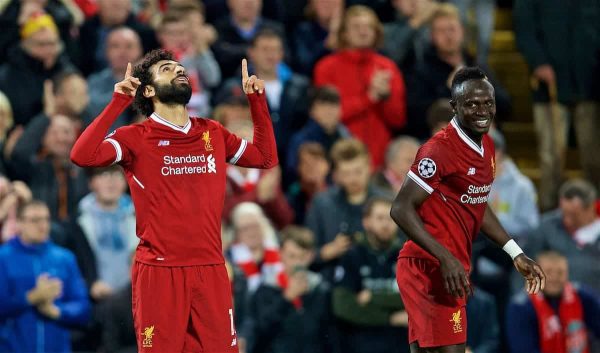 Having reached the group stage for the first time since 2014/15, Liverpool found themselves pitted against Sevilla, Spartak Moscow and Maribor.
The Reds were favourites to top Group E, but they didn't always make light work of their opponents.
Despite a dominant performance at home to Sevilla to start things off—Liverpool had 24 shots and the Spanish side managed just two on target?Klopp's men only walked away with a 2-2 draw, with Firmino's missed penalty vital at 2-1.
A similarly one-sided but frustrating night in Moscow followed, with the 1-1 draw completely undeserved on Spartak's behalf, and Daniel Sturridge particularly culpable when it came to missing big chances to win it.
The pressure was suddenly on, but consecutive 7-0 and 3-0 hammerings of an extremely limited Maribor side steadied the ship and kept Liverpool top of the group, one point clear of Sevilla.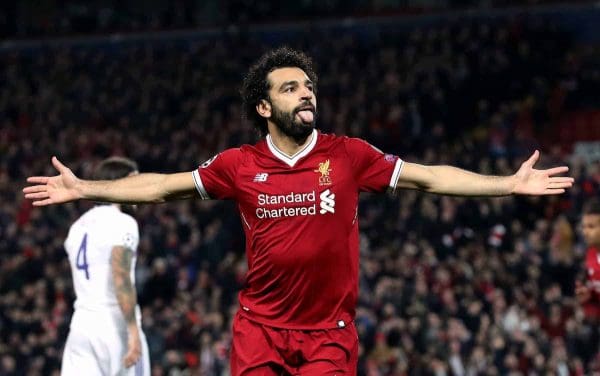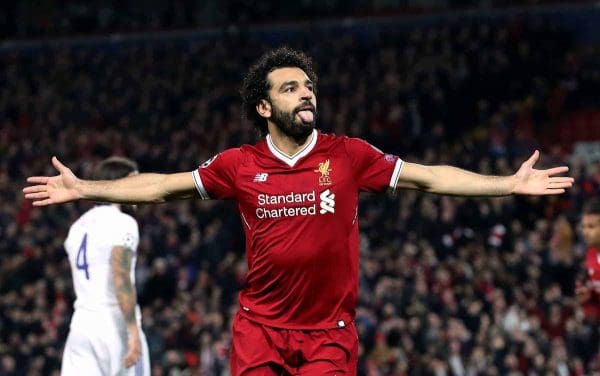 The 7-0 victory in Maribor was the biggest ever away win by an English side in the Champions League.
Liverpool then made the trip to Ramon Sanchez Pizjuan in late November, as their defensive shortcomings were alarmingly exposed.
Granted, a wonderful first-half display saw the Merseysiders strolling towards the last-16, only for an all-too-unfamiliar capitulation to occur.
A reverse Istanbul painfully took place before our very eyes, and Guido Pizarro's last-gasp equaliser felt like a winner.
Fortunately, a win would still be enough to top the pile on the sixth and final matchday, and Spartak could do little to prevent Liverpool strutting their way to their second 7-0 triumph of the campaign.
Coutinho—remember him?—got a hat-trick during a one-sided 90 minutes, in which devilish front-three of Mohamed Salah, Mane and Firmino all scored, too.
The second round beckoned.
Porto Taken To The Sword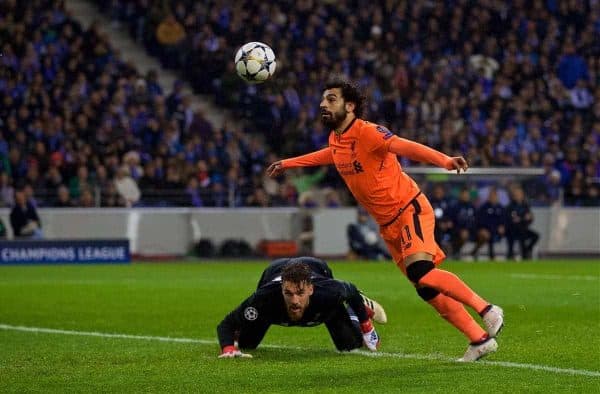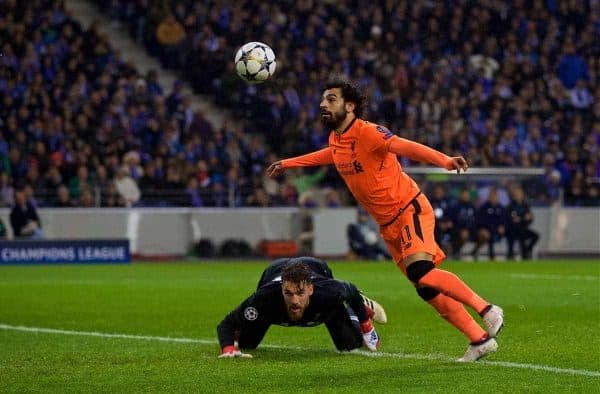 Liverpool managed to avoid heavyweights Real Madrid and Bayern Munich in the last 16 draw, but Porto were seen as a dangerous threat to their chances of making it to the quarter-finals.
In true Reds style, we started treating the Portuguese giants like some sort of all-conquering force, and by the time the first leg at Estadio do Dragao rolled around on Valentine's Day, tension was in the air.
We need not have worried, as Liverpool were yet again scintillating in the final third, making their highly rated opponents wilt on their own turf.
Mane benefited from a horrible goalkeeping error by Jose Sa to register his first of the night, and when Salah majestically converted James Milner's post-struck shot, the travelling fans were in dreamland.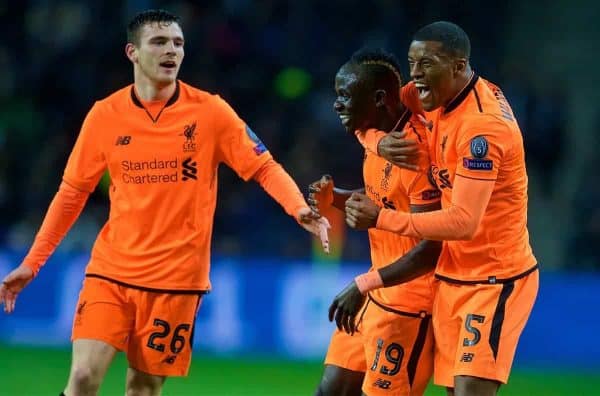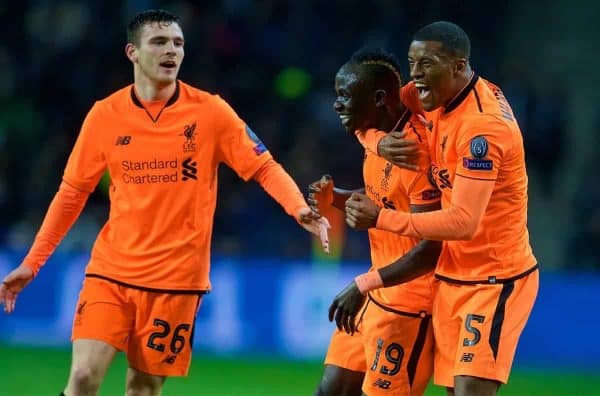 Firmino, phenomenal all evening, played a pivotal role in Mane's second, before the Brazilian deservedly got on the scoresheet himself.
It was left to Mane to cap-off the perfect away European performance, with the Senegalese rifling home late in the day to make it 5-0.
The second leg at Anfield was a complete non-event, with both sides fully aware of who was going through. The eventual stalemate will not live long in the memory.
Liverpool were in their first Champions League quarter-final since 2009, and there was one team that the majority wanted to avoid.
Anfield & Salah Down The Champions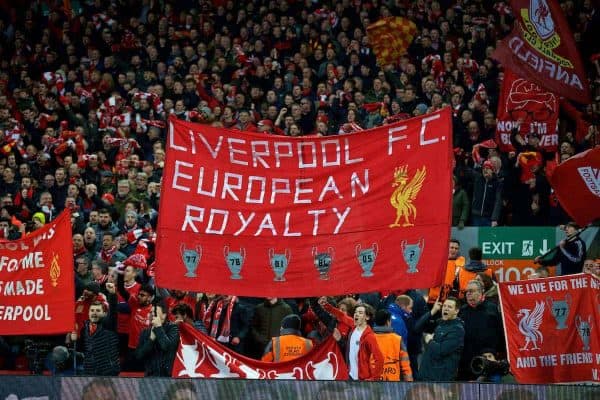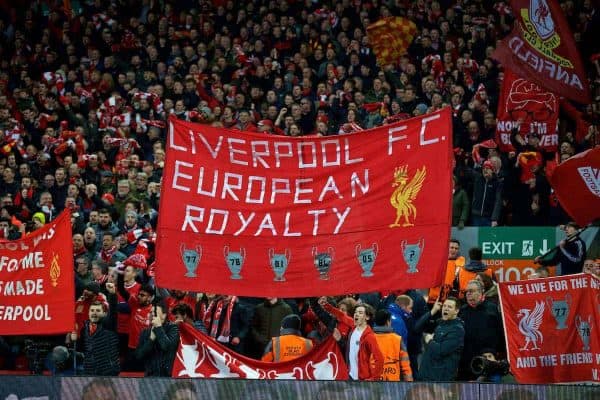 There was a collective groan when the Reds were drawn against Man City, not only because Pep Guardiola had turned them into Europe's most imposing side, but also because it deprived supporters of a proper European away day.
Very few were jumping for joy, and it was clear who the bookies felt would progress, with a star-studded City heavily odds-on.
Plenty was made about the Anfield atmosphere not proving key in the first leg, mainly from City's naive supporters, but the influence that Liverpool's great ground has on the Reds and the opposition should never be questioned.
The impressive array of City players, some of whom have won Champions League titles, World Cups and European Championships, didn't know what had hit them.
After a good start, they fell to pieces and were incapable of handling the passion of the crowd and Liverpool's outstanding attacking football.
Salah's opener was added to by invigorated Alex Oxlade-Chamberlain's stunner and Mane's header, all in quick succession.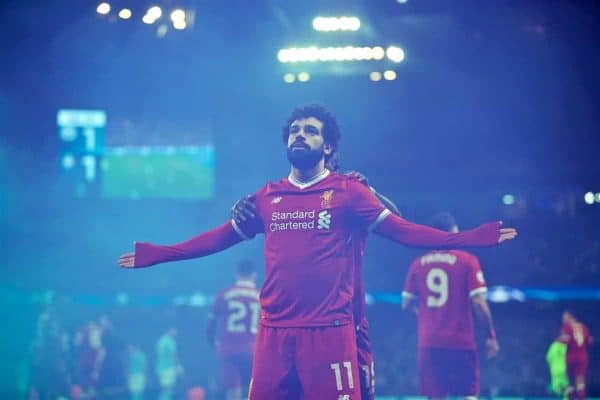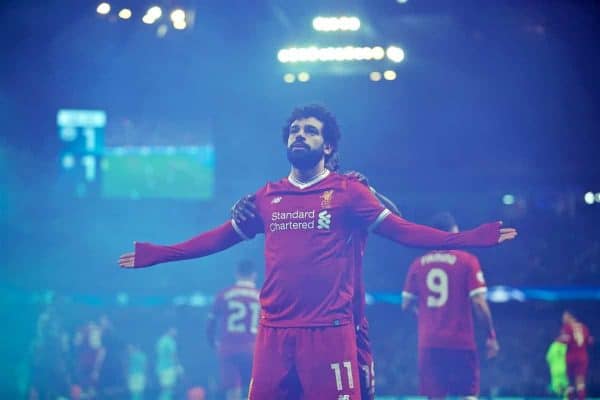 The Reds then produced one of their most professional 45-minute spells of the season, denying City a single shot on target and holding onto their 3-0 advantage after the interval.
The return fixture started horrendously, with Gabriel Jesus scoring almost straight after kick off, and all of a sudden, the comeback looked on.
Liverpool rode their luck in the first-half, but once City legs tired and the visitors composed themselves, the task became more straightforward.
Salah's delightful dink led to bedlam in the away end, and Firmino's cute finish completed the most unlikely of 5-1 aggregate wins.
The size of that achievement should never be downplayed, particularly when you consider City's Premier League dominance in 17/18 on their way to 100 points.
The Ideal Semi Provides Yet More Drama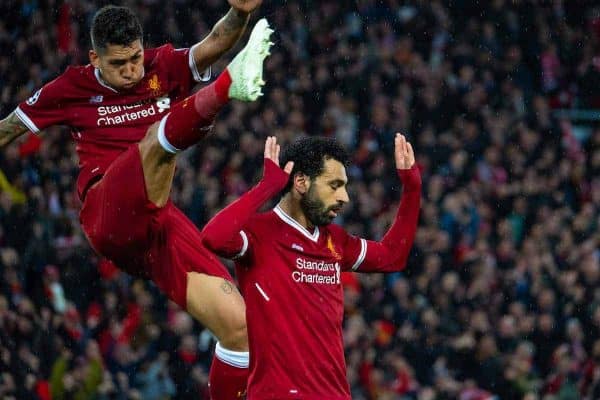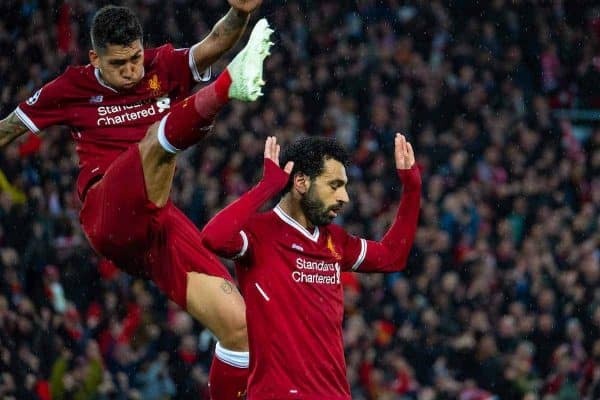 It was either Madrid, Bayern or Roma who Liverpool would have to conquer in order to reach the final, and there was no debate over who the ideal opponent was.
When Roma came out of the hat, belief grew that Kyiv was more than a distinct possibility.
Unlike the City tie, the Reds were favourites this time—but a shaky start at Anfield made us think again, especially when Oxlade-Chamberlain suffered a season-ending injury.
Roared on by an electrifying home crowd, Liverpool settled, and the unplayable Salah scored two very different but equally outrageous efforts.
The Egyptian King was breathtaking against his former club, and there were genuine claims being made about him sitting alongside Lionel Messi and Cristiano Ronaldo as the best footballers on the planet in 2018.
Not content with scoring a brace, Salah also created goals for Mane and Firmino, and the latter's additional header looked to have ended the tie before the second leg had even got underway.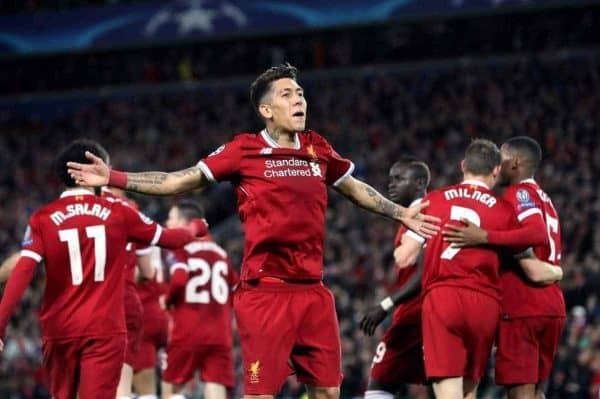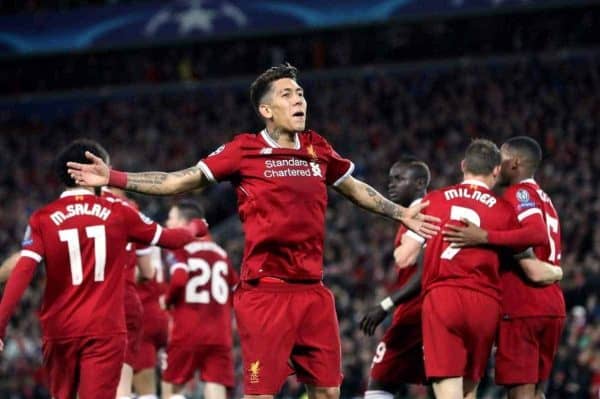 Liverpool can never do it the easy way, however, and goals from Edin Dzeko and Diego Perotti gave Roma a glimmer of hope late in the day.
Still, the Reds couldn't possibly blow such a great opportunity to qualify for an eighth European Cup final, could they?
Fortunately not.
Mane's strike on the counter-attack was cancelled out by an unfortunate James Milner own goal.
As a side note, Milner's current assist tally of nine is the most by any player ever in a Champions League season, with the final yet ahead.
Then, in Rome, Gini Wijnaldum's first away goal for Liverpool made it 7-3 on aggregate.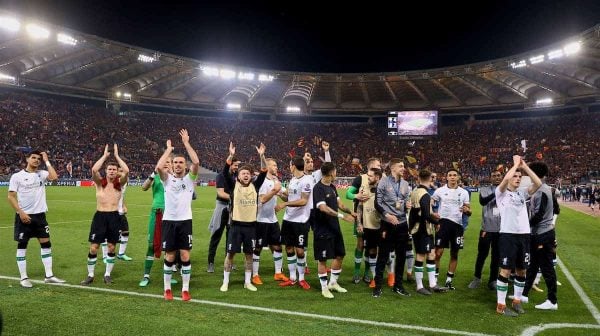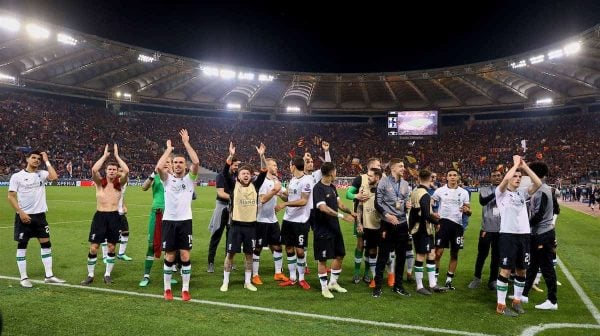 Roma didn't lie down, with Dzeko netting and Radja Nainggolan scoring both from 30 yards and from the spot, but the penalty was the last piece of action in a memorable tie.
Liverpool were into the final, and some joyous scenes occurred inside Stadio Olimpico, with the players saluting the Reds faithful and drinking in every second of their achievement.
Whatever happens next, this has been one hell of a ride, by perhaps the most entertaining, likeable, bonkers Liverpool team in history.
One more win, lads. Make yourselves legends.
The Road to Kyiv:
Qualifier
• First leg: Hoffenheim 1-2 LFC (Alexander-Arnold, Nordtveit o.g.)
• Second leg: LFC 4-2 Hoffenheim (Can 2, Salah, Firmino)
Group stage
• LFC 2-2 Sevilla (Firmino, Salah)
• Spartak 1-1 LFC (Coutinho)
• Maribor 0-7 LFC (Firmino 2, Coutinho, Salah 2, Oxlade-Chamberlain, Alexander-Arnold)
• LFC 3-0 Maribor (Salah, Can, Sturridge)
• Sevilla 3-3 LFC (Firmino 2, Mane)
• LFC 7-0 Spartak (Coutinho 3, Firmino, Mane 2, Salah)
Round of 16
• First leg: Porto 0-5 LFC (Mane 3, Salah, Firmino)
• Second leg: LFC 0-0 Porto
Quarter-final
• First leg: LFC 3-0 Man City (Salah, Oxlade-Chamberlain, Mane)
• Second leg: Man City 1-2 LFC (Salah, Firmino)
Semi-final
• First leg: LFC 5-2 Roma (Salah 2, Mane, Firmino 2)
• Second leg: Roma 4-2 LFC (Mane, Wijnaldum)