The pressure was on Jordan Henderson to perform for England on Monday night, but the Liverpool man excelled as the Three Lions beat Tunisia 2-1.
Much of the talk in the leadup to England's World Cup opener surrounded Gareth Southgate's selection dilemma of whether to go with Henderson or Eric Dier in defensive midfield.
Despite the Spurs man looking favourite to occupy the role at one point, Liverpool's skipper was eventually preferred as England kicked off their campaign.
Harry Kane's double, including a dramatic stoppage-time winner, earned Southgate's men a crucial victory, and Henderson more than played his part with an influential showing.
His range of passing caught the eye all evening and he was authoritative throughout, looking every bit a player who recently captained his club side to the Champions League final.
The 28-year-old does not always receive widespread acclaim, but dominant voices within the game lauded his performance, including ITV pundits Gary Neville and Martin O'Neill:
An impressive nights work for @JHenderson in an @England shirt

World Cup highlights LIVE on @ITV now pic.twitter.com/gZfzNNzdwi

— ITV Football (@itvfootball) June 18, 2018
Neville described Henderson as a "manager's dream," highlighting how he had endeavoured to alter his approach in recent seasons, and suggested he had warranted selection over Dier:
"His game's changed so much. Think about four years ago when Liverpool nearly won the league under Brendan Rodgers…he was a box-to-box midfield player and Steven Gerrard was sitting in there.

"Now he has evolved his game, he's matured. He's able to do what Martin's just showed us in terms of sitting back. He wouldn't have been able to do that a few years ago.

"He wants to learn all the time, he works hard, he's conscientious, he's a manager's dream.

"And tonight—when he was under pressure to win the spot, he looks like he's cemented [it]."
Frank Lampard, working for the BBC this summer, was also full of praise for his former international team-mate:
"With Jordan Henderson I wasn't properly sure what kind of midfielder he was a couple of years ago, he was a bit of an all-rounder.

"But he's certainly a leader, he's matured on and off the pitch and he's used real intelligence to take that role.

"He's got great drive in him. The one question you mentioned is can he get a pass a bit earlier and we saw that he can tonight.

"You need a passer and you need the movement between the lines and we had that both, particularly in the first half."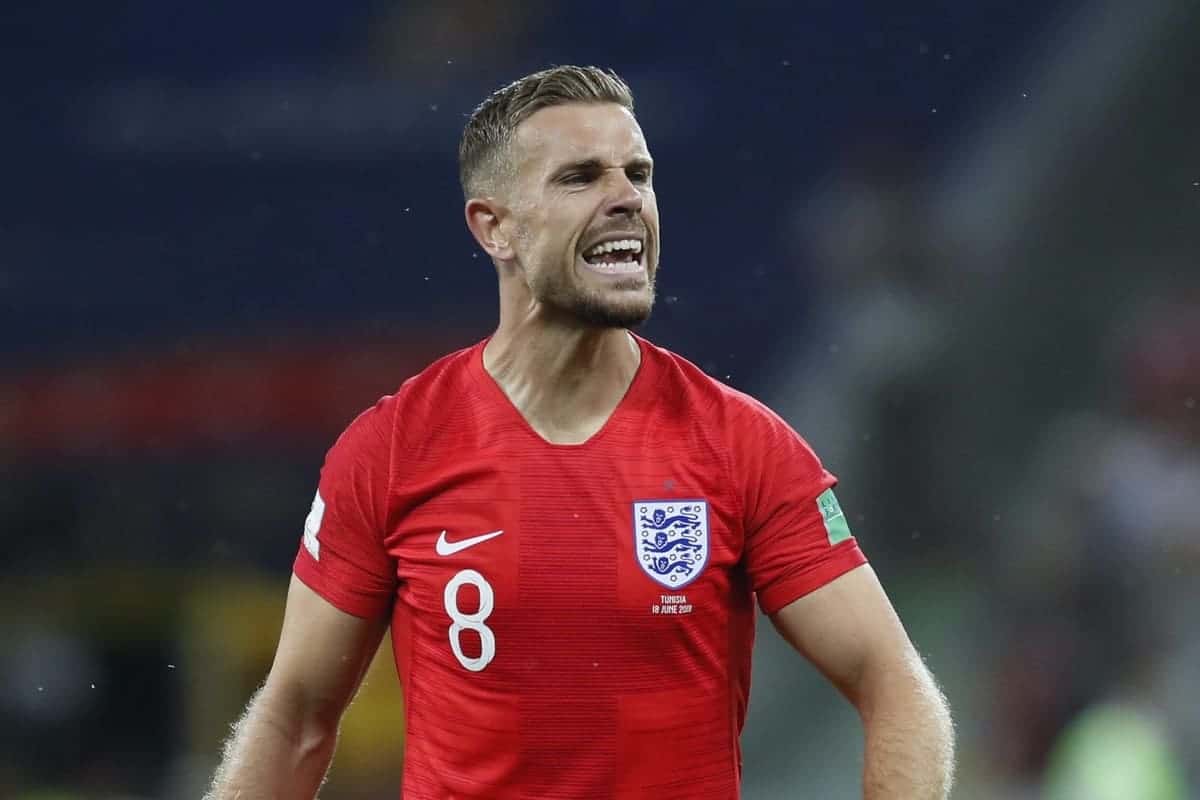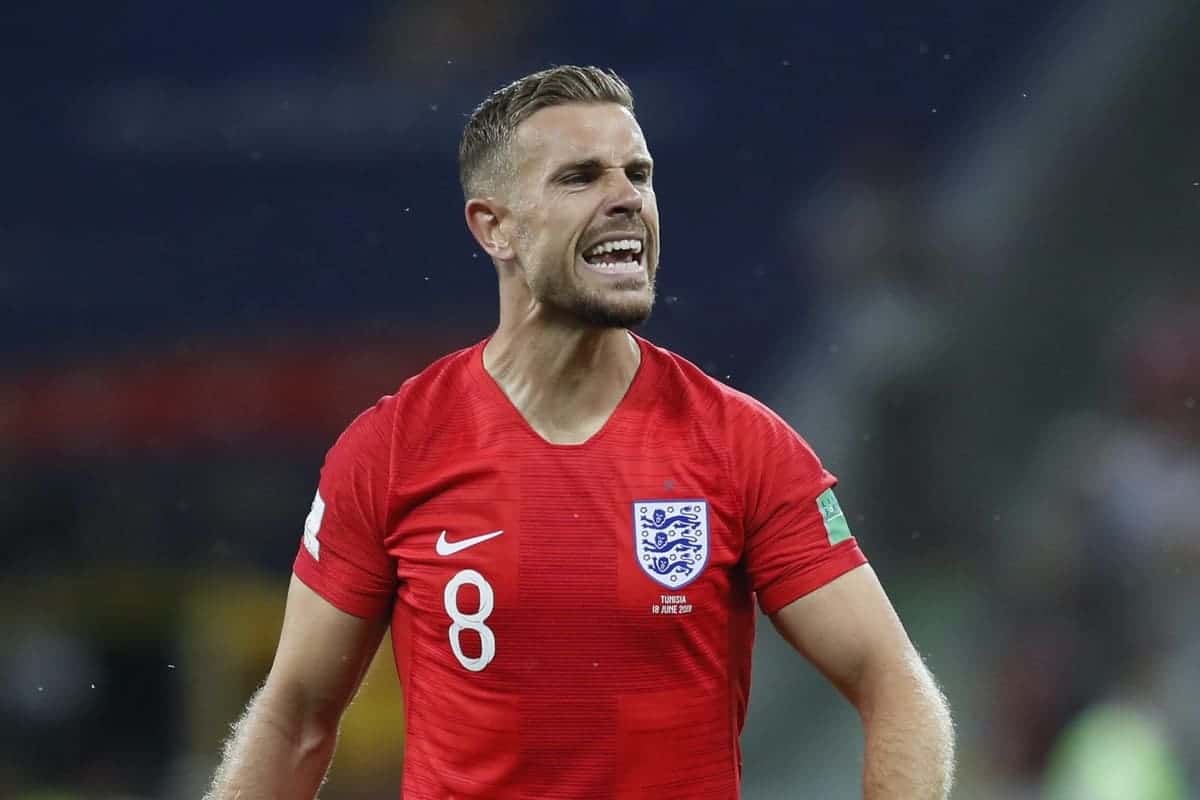 On social media, many showered Henderson with praise…
Be proud @JHenderson ??brilliant performance mate!! Happy for you ??

— John Arne Riise (@JARiiseOfficial) June 18, 2018
Jordan Henderson was really good for England tonight. Little help from Alli and Lingard in midfield, he gets a lot of stick, but he was one of the best players on the pitch this evening.
??????? vs ??

— Joe Musker (@JosephMusker) June 18, 2018
Might have been Jordan Henderson's best game for England. Replicated his Liverpool form: won the ball back, kept shape, retained possession and then pinged four or five really incisive passes. Terrific performance.

— Simon Clancy (@SiClancy) June 18, 2018
Jordan Henderson has been one of the best players for England tonight and should've had an assist early on until Sterling fluffed his chance. Been our best passer and our vocal player for England. Doesn't deserve the hate on him in the England side and also for us.

— Samue (@SamueILFC) June 18, 2018
I know I bang on about Henderson & I'm sure it bores many of you to tears, but I'm delighted he played so well on a big stage last night.

The praise he is receiving from pundits is fully justified, and his lazy detractors are very quiet.

Am pleased for a really decent man.

— Henry Jackson (@HenryJackson87) June 19, 2018
JORDAN HENDERSON WHAT HAS HAPPENED TO YOU!

GO ON LAD!!!

— Footy Accumulators (@FootyAccums) June 18, 2018
It's June 2018 and the rest of the footballing world are finally starting to realise Jordan Henderson is a top footballer. Took long enough but we've known it for ages. pic.twitter.com/UcLkBTLDOk

— The Anfield Talk (@TheAnfieldTalk) June 18, 2018
https://twitter.com/LFCStanleyHouse/status/1008791436287004672
Harry Kane and Kieran Trippier outstanding for England tonight. All set for the usual stuff after this – but also thought Jordan Henderson did really well too.

— Phil McNulty (@philmcnulty) June 18, 2018
If Toni Kroos v Mexico put in the performance Jordan Henderson did last night
1: twitter fans would have drowned in a sea of their own skuzz
2: Germany wouldn't have lost

— SimonBrundish (@SimonBrundish) June 19, 2018
There were, of course, the usual dissenting voices…
Jordan Henderson's distribution is flipping rubbish! ???????v?? #worldcup2018

— Fi (@eawoman) June 18, 2018
Can anybody tell me what Jordan Henderson actually does to merit a starting place in England's line up, let alone captain Liverpool. He is rubbish.

— Ryan (@Ryan_Beauchamp) June 18, 2018
What is Jordan Henderson?

— Watched Toffee (@WatchedToffee) June 18, 2018
https://twitter.com/AndrewStraits/status/1008792721870422016
England are next in action against Panama on Sunday afternoon, and after Henderson's comfortable display in Volgograd he could keep his place over Dier in midfield.
However, with Belgium to come next Thursday he could be preserved—as Southgate's first-choice defensive midfielder.