The arrival of Alisson at Liverpool provides Jurgen Klopp with a goalkeeper comparable to the likes of David de Gea or Hugo Lloris.
The Reds have captured the Brazil No. 1 for what is a world record fee for a goalkeeper, of around £66 million.
Undoubtedly a position in need of an upgrade, Alisson is hailed as a player who will bring exactly what the Reds need by most.
Here, we compare his output from the 2017/18 season with that of Ederson, De Gea, Lloris and Thibaut Courtois, with per-90 statistics from their basic goalkeeping contributions.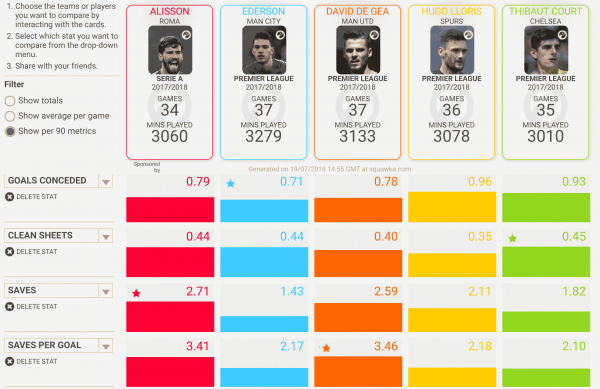 (Statistics via Squawka's Comparison Matrix.)
---
In those four basic metrics, Alisson ranks out third, second, first and second. Not a bad start.
It's even more impressive when paired up in context: he conceded very slightly more per 90 than compatriot Ederson, but had to make far more saves to remain around the same number of goals conceded.
For several seasons, Premier League fans of all clubs have suggested that Man United might be worse off were it not for De Gea's heroics; well, Alisson essentially matched him save-for-save last term, per goal conceded and base total.
Once he gets to know those in front of him and the playing style to expect from Jurgen Klopp's team on and off the ball, there's every reason to expect another upsurge in performance from the team.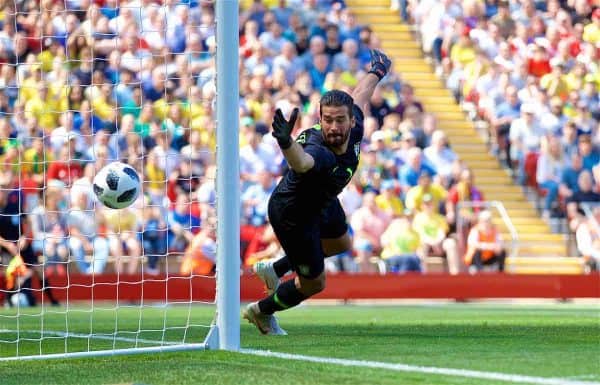 It all makes good reading for his basic handling skills, but there's far more to being a top goalkeeper than that—and far more to Alisson's game than clean sheets.
Fans have also questioned his aerial ability, his consistency and his ability on the ball, which are all vital to the way Jurgen Klopp wants to play.
Bearing in mind Alisson's nightmare Anfield appearance last season, it's worthwhile digging a little deeper to look at more detailed goalkeeping statistics.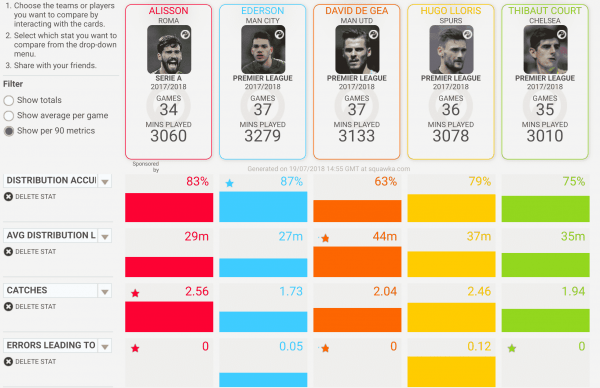 (Statistics via Squawka's Comparison Matrix.)
---
As a necessity, the Reds needed to upgrade the ability of their No. 1 in possession; too often over the last few years, needless passes from the back have gone astray, inviting pressure.
Alisson is a clear stand-out here, especially when considering the amount of possessional dominance Man City usually have—thus the goalkeeper having more time and choices in his distribution.
It's not all about going short and safe, either, as Alisson has shown his capacity to play passes between the lines and initiate attacks from deep.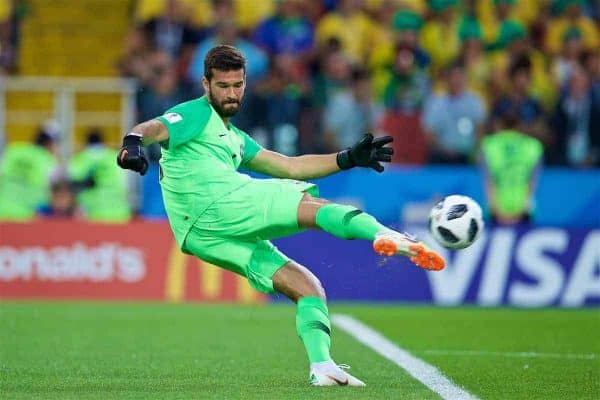 Corners, crosses, lofted balls into the box? Expect that catch rate per 90 to be largely clean takes from the Brazilian.
And, on the mistakes, while none leading to goals is a great starting point, as the recent World Cup has shown: all great goalkeepers will make one sooner or later.
Each of the three Europeans were starters in Russia, and each made at least one blunder.
Of course, stats can be interpreted in different ways, and a bobbling shot along the ground which is easy to scoop up still counts as a save.
But here, Alisson's xGA (expected goals against) data also stands up to scrutiny.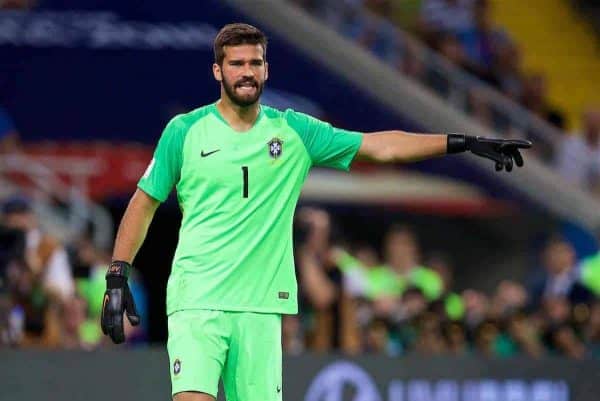 Opta reported that he had the highest saves-conceded differential of any goalkeeper in Italy's top flight last season; the xGA data of the shots he faced suggested the average goalkeeper would have conceded 36 times.
The Brazilian, in fact, allowed just 28 non-own goals against him.
8 – Alisson conceded 28 league goals last season (excl. OGs), but based on Opta xG data for the shots on target he's faced, the average goalkeeper would've been expected to concede 36 goals. This was the biggest differential by a Serie A goalkeeper in 2017-18 (8). Coveted. pic.twitter.com/g8MW47pNLZ

— OptaJoe (@OptaJoe) July 17, 2018
Mark Taylor of InfoGol published Alisson's xG timeline, indicating that the stopper had few occasions when he failed to deal with routine chances and did as well as could be expected across the entire season's worth of shots.
.#Alisson #ASRoma #LFC here's his #xG 2 timeline from last season. Most of the big chances he faced went in, but he was almost flawless when dealing with chances with an xG2 of 0.2 or below. Just a 2.5% chance an average keeper concedes fewer NP goals than he did. @InfoGolApp pic.twitter.com/zg0kbflnH0

— mark taylor (@MarkTaylor0) July 17, 2018
Compared to other elite goalkeepers across Europe, Alisson's xGA differential still stands up impressively:
https://twitter.com/Kloppholic/status/1019842939835617280
Finally, a Roma fansite's own investigations into Alisson's xGA outperformance suggests he saved his team around 10 or 11 points across the entire 2017/18 season.
The report, with viewable table including a match-by-match breakdown, is available here.
By any metric, by any expectancy, Alisson enjoyed a phenomenal campaign last year, whether standing up to those in his own league… or those he'll soon be up against.
Liverpool, finally, have a goalkeeper worthy of competing against the other top stoppers in the Premier League.