Jurgen Klopp has criticised Sergio Ramos' Champions League final antics, calling the Spaniard, "ruthless and brutal".
It is just over two months since Liverpool were defeated by Real Madrid in Kyiv, following a memorable run to the final.
Ramos played a key role in the events that unfolded at the Olympic Stadium, single-handedly taking Mohamed Salah out of the game with a cynical tackle and elbowing Loris Karius, who suffered concussion because of it.
Klopp has stayed silent on the matter since the game, but speaking in America before Saturday's pre-season clash with Man United, the German launched into a fairly scathing attack on Ramos:
"If you watch it back and you are not with Real Madrid – then you think it is ruthless and brutal.

"I'm not sure it is an experience we will have again – go there and put an elbow to the goalkeeper, put their goalscorer down like a wrestler in midfield and then you win the game. That was the story of the game.

"Ramos said a lot of things afterwards that I didn't like. As a person I didn't like the reactions of him. He was like: 'Whatever, what do they want? It's normal.' No, it is not normal.

"If you put all of the situations of Ramos together then you will see a lot of situations with Ramos. The year before against Juve he was responsible for the red card for [Juan] Cuadrado. Nobody talks about that afterwards."
Klopp also spoke about the fair manner in which he prefers to approach matches, but says that he has moved on from the match and is not a sore loser: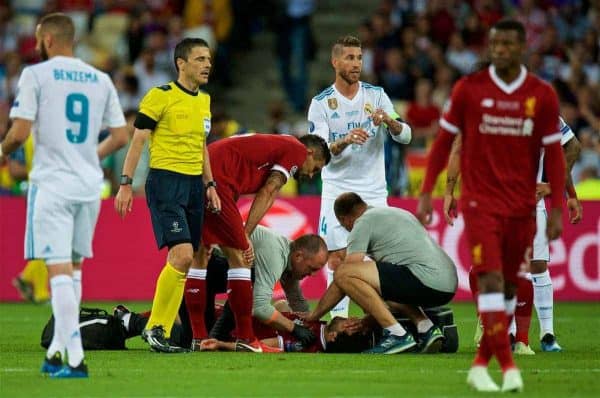 "It is like we, the world out there, accepts that you use each weapon to win the game. People probably expect that I am the same. I am not.
"We are aggressive but I always use the word 'legal as well'. Usually if you try something you will get punished. Someone will see it and ban you for four or five weeks. But in this example, no one.
"This ref should have had the courage to decide that game. In this situation we didn't get it and, if you write this, people will say I am weak or a bad loser or a whiner. I am not. I accept it. It's not like I wake up in the morning and think: 'Ramos!'
"In a final you need to have a bit of luck and we didn't have it. They had luck in different situations and we didn't."
As usual, rivals supporters and certain pundits are sure to jump on the bandwagon and say that it is sour grapes, but so be it.
Klopp was the one asked about it, at the end of the day – "we are opening that bottle again?" – rather than bringing it up himself.
He is correct in everything that he says and unfortunately Ramos once again got away with underhand tactics and Madrid prevailed.
Without those two incidents taking place, the story may well have been very different – it is the Reds' job to seal European Cup number six in 2018/19 and consign Kyiv to history.