Liverpool's historic ties to gifted and potent attackers looks set to continue with pre-season showings thus far hinting at another torturous season for opposition defenders.
Liverpool's unrelenting attack beat opposition clubs from pillar to post both domestically and across Europe last season, with 132 goals hitting the back of the net from 18 different players.
Roberto Firmino, Mohamed Salah and Sadio Mane took the headlines for their relentless and blistering displays in front of goal – and while the trio are expected to pick up from where they left off – there was always an acknowledgement that reinforcements were required to keep the scoreboard ticking over.
A fresh face in the shape of Xherdan Shaqiri, and Daniel Sturridge's pre-season glimpses of the potency and goal awareness which made him an Anfield hit in his early years at the club has shed light on the improved options Jurgen Klopp will have at his disposal for the start of the new season.
The flexibility will add another dimension to Liverpool's attack, and if the early signs throughout pre-season are anything to go by it's going to be yet another thrilling season in front of goal.
Mohamed Salah and Sadio Mane are Picking Up from Where They Left Off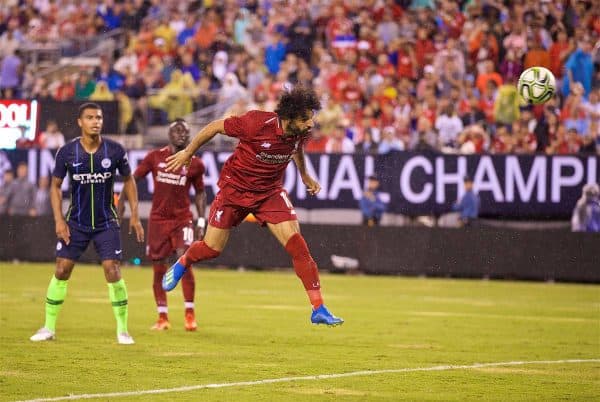 Salah and Mane – two of Liverpool's top three goal scorers from last season – have returned to the fold without missing a beat, combining in perfect synchronisation as though they are the only two players on the pitch – despite having played just a total of 90 minutes so far this summer.
One would have forgiven the duo for needing to find their feet coming off the back of a condensed summer break following their World Cup participation, but they have returned in fine form and look as lethal and sleek as ever.
The pair instantly elevate Liverpool's capabilities in the final third, utilising pace, strength, and tactical nous to both evade and punish the opposition for any slight misjudgement – two spot kicks being awarded in their favour during the US tour proved as much.
While a pre-season campaign often lacks the intensity of the season proper, the early signs are that the duo are primed for another campaign at the top of the goalscoring charts having played a role in all three of the Reds' goals against both Man United and City while on the field of play.
Yet, the new season ahead poses varying challenges for both players, with Salah expected to be subjected to increased expectations from those outside the club following his stunning debut campaign at Anfield, while Mane could find himself with the added responsibility of the No. 10 role on a more regular basis.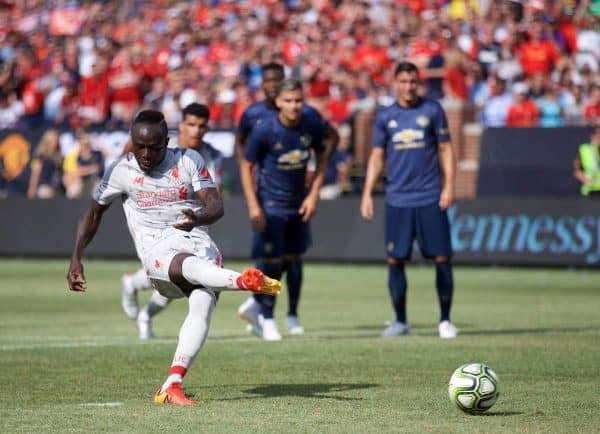 With 44 goals and 14 assists to his name last term, Salah is unlikely to expect anything less than calls from the media and various opposition sides to prove he is anything but a one season wonder.
However, he is unlikely to wilt under that pressure. The Egpytian has proven to be the man for the big occasion and he naturally moves himself into a prime position to launch an effort on goal, making him a deadly proposition at the best of times, let alone when you consider the prospect of Naby Keita feeding him the ball through the middle of the park.
Mane, on the other hand, was largely underrated last season due to the eye-catching performances of both Salah and Firmino, despite his career-best goal return since making the switch to the Premier League.
However, like Salah, Mane is expected to continue his rich vein of form without a second of hesitation, with his link-up play already leaving the opposition bamboozled.
With Firmino's arrival soon to make the duo a trio, there is no reason why their level of connection and interchangeability cannot see their total of 91 goals from last term surpassed this season.
Ready-made Options off the Bench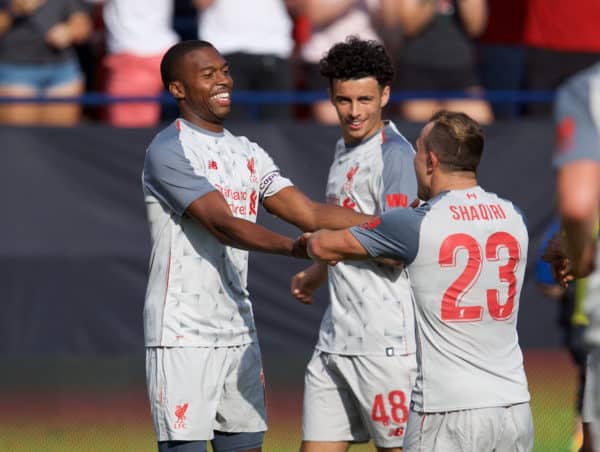 For years Liverpool have looked thin on quality attacking options from the bench, with the showpiece in Kiev a prime example of the lack of alternatives to Klopp's first choice front three.
The inability to call on experienced and proven goal scorers or game changers in the final third left the Liverpool boss with the option of an inexperienced Dominic Solanke – who had notched just one goal throughout the season – and Adam Lallana who was only just returning from a string of injury setbacks.
Compare that proposition to that of calling upon both Shaqiri and Sturridge from the bench – as was available to Klopp against Man United – and it is night and day.
While their debut in tandem was as part of a pre-season friendly, their presence alone indicated a change in the tide at Anfield and how the days of an inability to alter our fortunes up front could be coming to an end.

The duo are a cut above their younger counterparts, and when the Reds are being held by an opposition with little sight of a breakthrough, Klopp can now find the answer on his bench comfortable in the knowledge that they know their way around the goalmouth.
Question marks will undoubtedly remain around Sturridge's injury record, but after displaying his connection with both Keita and the Switzerland international, he has proven he still has a role to play as a natural creator and goal scorer, should fitness permit.
Shaqiri, meanwhile, failed to look out of place in his debut in Michigan after setting up a goal and scoring a stunning effort of his own, where he showcased his ability to slot seamlessly into the side after just four days training with the team.
The wealth of options will ultimately force any level of opposition to consider varying formations and personnel during their preparations, a conundrum which the Reds have previously struggled to pose to their rivals on a regular basis.
Where to Next for Liverpool's Attack?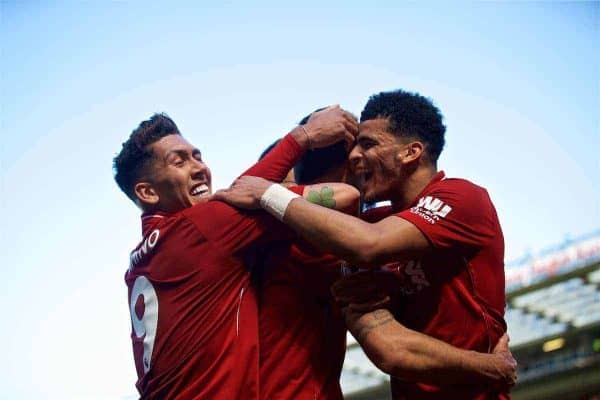 The challenge now for Liverpool's attack is to take the game away from the opposition during their period of dominance on a more consistent basis, a feature of their game which was lacking last term after dropping 14 points in the league from winning positions.
While Liverpool were capable of dispatching the likes of Maribor, Spartak Moscow, Porto, Bournemouth and Swansea, their inability to land a fatal blow ultimately came to their downfall in a number of games across all competitions.
The Reds will expect to dominate possession for the majority of their games next season, and after showing what they are capable of when afforded space it is pivotal that they discover a clinical edge as it could prove vital in determining where the Reds finish at the end of the campaign, and whether it will include a piece of long-awaited silverware.