Roberto Firmino came off the substitutes' bench to help seal Brazil's 2-0 win over Mexico on Monday, enhancing his claims for a World Cup starting role.
Firmino is yet to start for Tite's Selecao in Russia, with Man City striker Gabriel Jesus preferred in every group game and for the last-16 meeting with Mexico.
After a phenomenal season with Liverpool that saw him establish himself as one of the finest all-round centre-forwards in Europe, the 26-year-old's omission has been questionable.
Stepping off the bench to net the second goal for Brazil at the Samara Arena, albeit with a tap-in, Firmino should have strengthened his claim to take over from Jesus in the quarter-finals.
Along with his remarkable industry, movement and creativity, Firmino has now registered a goal in just 37 minutes at the World Cup, with Jesus yet to score in 349 minutes.
Former Celtic and Barcelona striker Henrik Larsson, serving as a pundit for ITV, believes he should take over from his City counterpart against Belgium on Friday:
"This is a tap in but he's there at least. You have to think a little bit now, four games Jesus hasn't scored in.

"[Firmino] comes on and scores with his first touch more or less. You have to start thinking about it.

"I also think that with Firmino in the team, there is a little bit better holdup play and also combination play with him when he's playing compared with when Jesus is playing."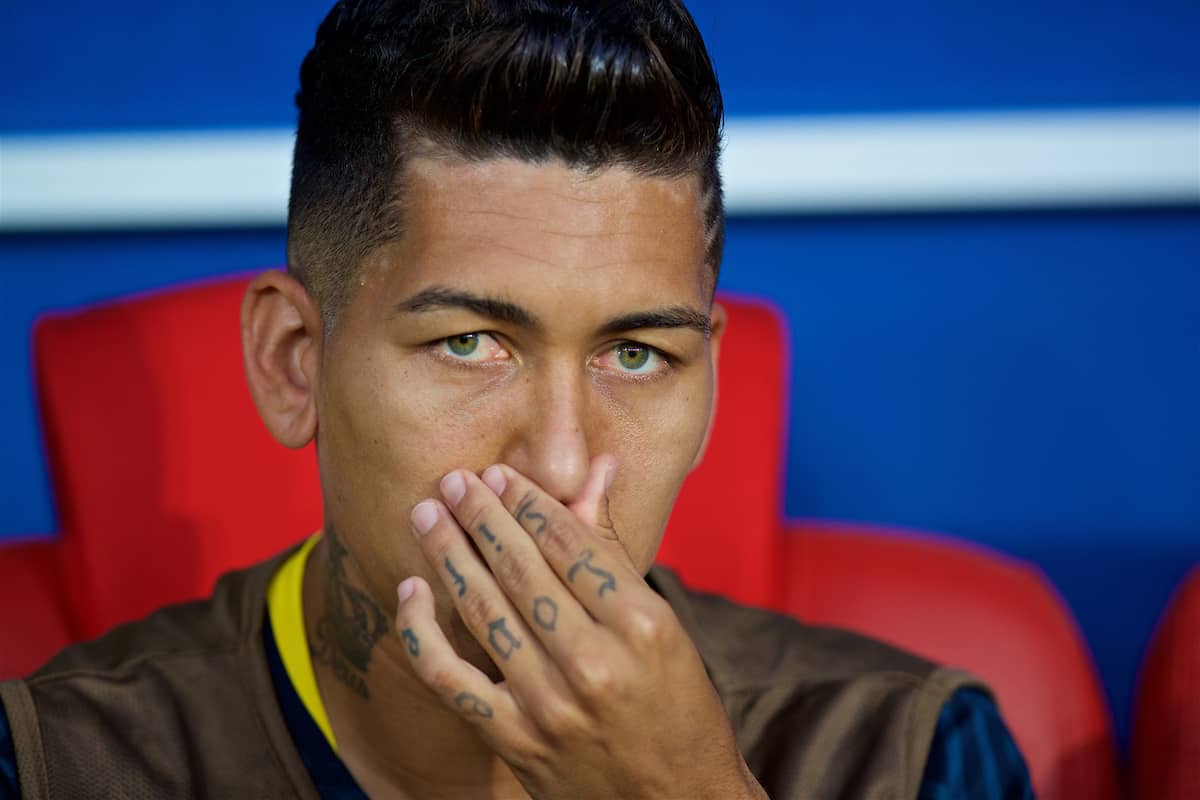 This is an opinion shared by Liverpool fans…
Wonder if Firmino has done enough to play his way into #BRA team for quarter-final? Made an impression in each substitute appearance I've seen. Jesus a very good player, but not been in great form. Firmino sure looks like he is.

— Neil Jones (@neiljonesgoal) July 2, 2018
Firmino has a goal and assist in less than 45 minutes but somehow Jesus will still start ahead of him.

— Liam Grimshaw ? (@LFCLiamGrimshaw) July 3, 2018
Firmino is better than Jesus.

Both of them.

— Joey Burns (@MexicanPenguin) July 2, 2018
"If Brazil want to progress they need to drop that kid Jesus, who's not performing, and start Bobby."

– Andrew McAndrew on Facebook.
Firmino has done more in 90 seconds than Jesus has done in 4 games. Baffled why Jesus is their no. 9

— JP Roberts (@JP_Roberts) July 2, 2018

https://twitter.com/ThatRexGuy/status/1013813372574420997

FIRMINO HAS DONE MORE IN 3 MINS THAN GABRIEL JESUS IN THE WHOLE TOURNAMENT VAMOSSSSS

— Samue (@SamueILFC) July 2, 2018
"If Brazil really wants to win easily and not slogging it off like this, they should start Firmino or at least play him earlier. So far out of the 4 matches, 3 of them he had made an impact on them getting that second goal."

– lfc.eddie on the forums.
https://twitter.com/Robish13/status/1013811335329611779
https://twitter.com/Kloppholic/status/1013831783975129094
And supporters of other clubs alike…
Come on, I'm a City fan and I truly believe that for the benefit of Brazil in the WC, Firmino should start ahead of Jesus. As evident in the last 4 games, Jesus has not been up to the standards of Bobby's . I gotta say, Bobby to start the next game.

— Ruben (@Rubendran27) July 2, 2018
Trying to work out why Bobby Firmino doesn't start ahead of Gabriel Jesus for this Brazil side.#WorldCup #BRA #MEX #BRAMEX pic.twitter.com/3U0ZLIZNnc

— Football Tweet (@Football__Tweet) July 2, 2018
Tite's pre-tournament logic was that Jesus' Brazil goals record was too good to leave him out, despite Firmino's better club form,which is a fair reason.

But there comes a time where you have to be flexible & realise a change needs to be made bc a player is in such average form.

— Premier League Panel (@PremLeaguePanel) July 2, 2018
Who in their right mind looks at gabriel Jesus and thinks he should start? Firmino is the better striker for Brazil and in general. He brings the entire team into play and provides you with much more than just goals. Reminds me of Benzema! Play firmino! #LFC

— Mansa Barhoom ?? (@Iabdussabur) July 3, 2018
Time for Firmino to start. Like Gabriel Jesus but he's been poor in every game.

— Jordan Clarke (@FourFourJordan) July 2, 2018

https://twitter.com/shaneoc1/status/1014058032853118976
https://twitter.com/WelBeast/status/1013810877898862592

Firmino should be Brazil's number 9 not Gabriel Jesus

— Danny Rai (@R9Rai) July 2, 2018
If Tite continues to persist with playing with Gabriel Jesus over Firmino, then can Zenit or Spartak Moscow offer their medical facilities to get the Brazilian manager checked. Focus on ensuring there's no parasites lurking in the cranium area.

— Futbol Writer (@Futbol_Writer) July 3, 2018
Brazil take on Roberto Martinez's Belgium in Kazan on Friday night, and with a place in the semi-finals at stake it remains to be seen whether Tite will be willing to change his selection.
But on the basis of Firmino's performances at the World Cup so far, and Jesus' lack of productivity as the Selecao struggle to fire, it would be wise decision.