Liverpool summer signing Alisson arrived at Anfield for a then world-record price for a goalkeeper but he has already begun justifying the £65 million price tag.
The Brazil international is only the fourth Liverpool goalkeeper in 51 years to keep clean sheets in the first three league matches of a season after Bruce Grobbelaar, Jose Reina and Simon Mignolet, who achieved the feat twice.
A late stop from substitute Pascal Gross ensured Mohamed Salah's 23rd-minute goal secured a 1-0 victory and a third successive win as Jurgen Klopp's went side top of the table for the first time since November 2016.
However, it is other aspects of the Brazilian's game which have got people talking.
Klopp has already referenced Alisson's aptitude with the ball at his feet, but it is something which is still taking some getting used to by fans who have grown accustomed to a nervousness bordering on panic watching previous goalkeepers deal with back-passes.
But their new summer signing is as laid back as they come and regularly takes on—and beats—onrushing forwards.
In the first half he came charging out to meet a through-ball, barely connected and was fortunate to see Solly March's miscontrol knock it out of play, while later on he was almost caught in possession as Liverpool played it across the penalty area.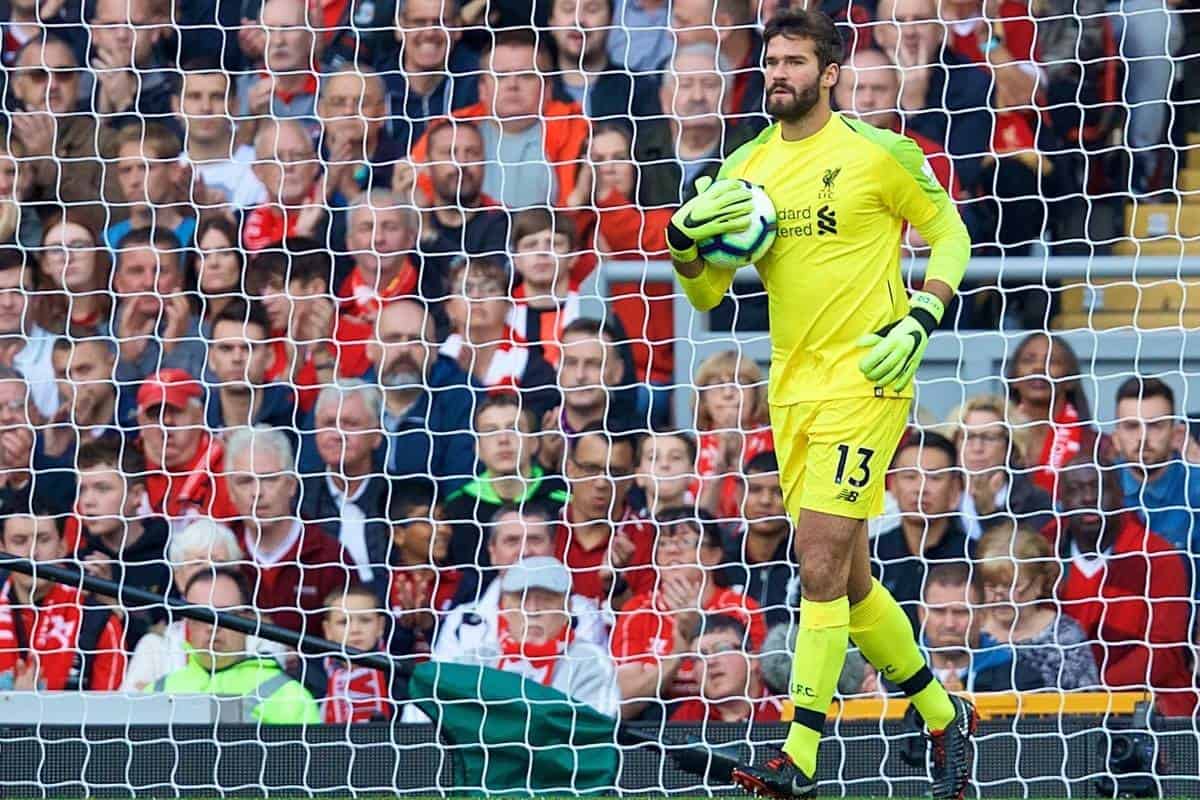 But the piece de resistance came late in the second half when Virgil van Dijk, previously Liverpool's coolest character on the ball, left his back-pass a fraction short and Anthony Knockaert sensed his chance.
But Alisson waited until the last possible moment before chipping the ball over his opponent's outstretched leg, bringing it under control and returning it to Van Dijk.
It brought gasps of astonishment and roars of approval but even Klopp admits it gave him a nervous moment:
"That's not too cool for a manager. If it works then it's cool.

"I had a few centre-halves who were able to do things a centre-half should not do, like Mats Hummels constantly doing things which made no sense but he was really good in there.

"Alisson is obviously a goalkeeper who can play football, which is good. He's confident enough to do it.

"He didn't do it for showing off, he did it to sort the situation.

"He has a nice level of confidence, so he uses that. I like the save from the header more than the chip, but the chip was the right thing to do in that situation."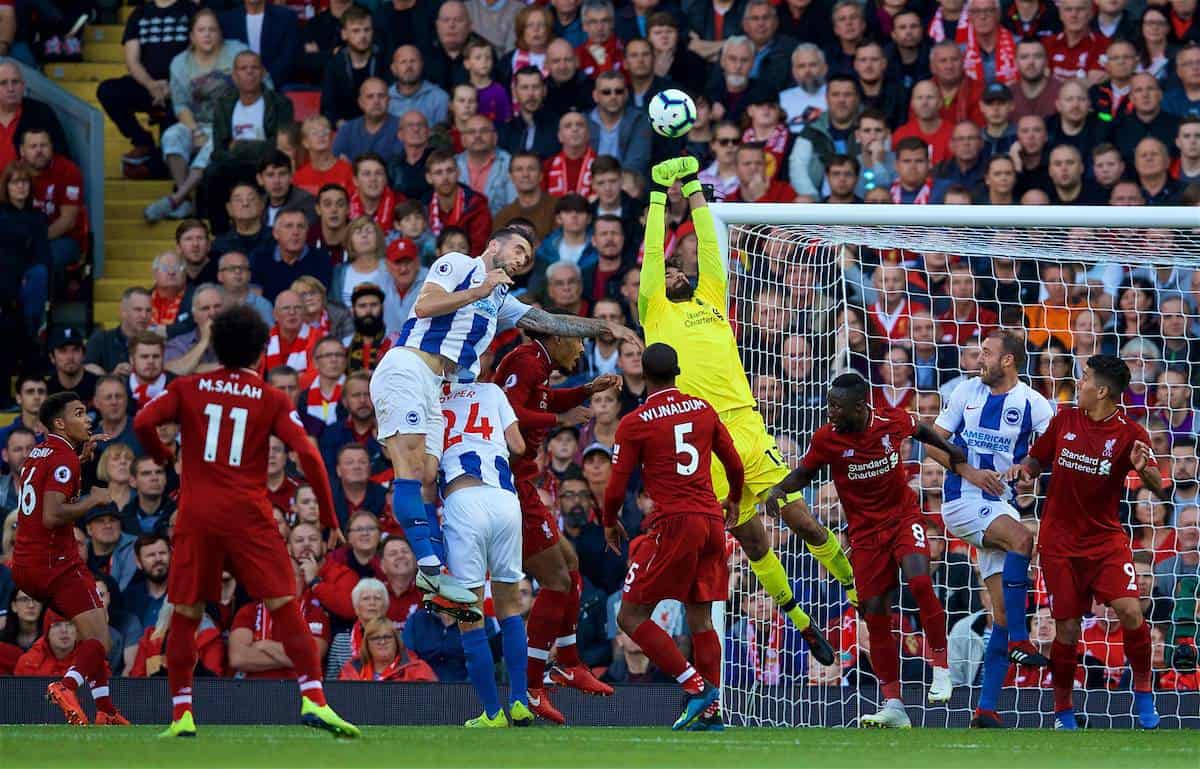 Klopp has had to defend his massive outlay on a 25-year-old goalkeeper who had only one, albeit impressive, season at Roma but he has gone past that now.
"Was there criticism in England? I thought in England you got [a pat on the back] for spending big,' Klopp said.
"I couldn't be less interested in that by the way. We did it because we were convinced.
"We didn't make the price. we only wanted a good player and the owners gave us the opportunity to do so."
Klopp may find himself speaking as regularly about Alisson as he did last season about Salah, who has picked up where he left off with second goals in three matches.
Salah took his tally to 29 in as many matches at Anfield with a low finish off the inside of the far post in a rare moment of precision in an otherwise disjointed game.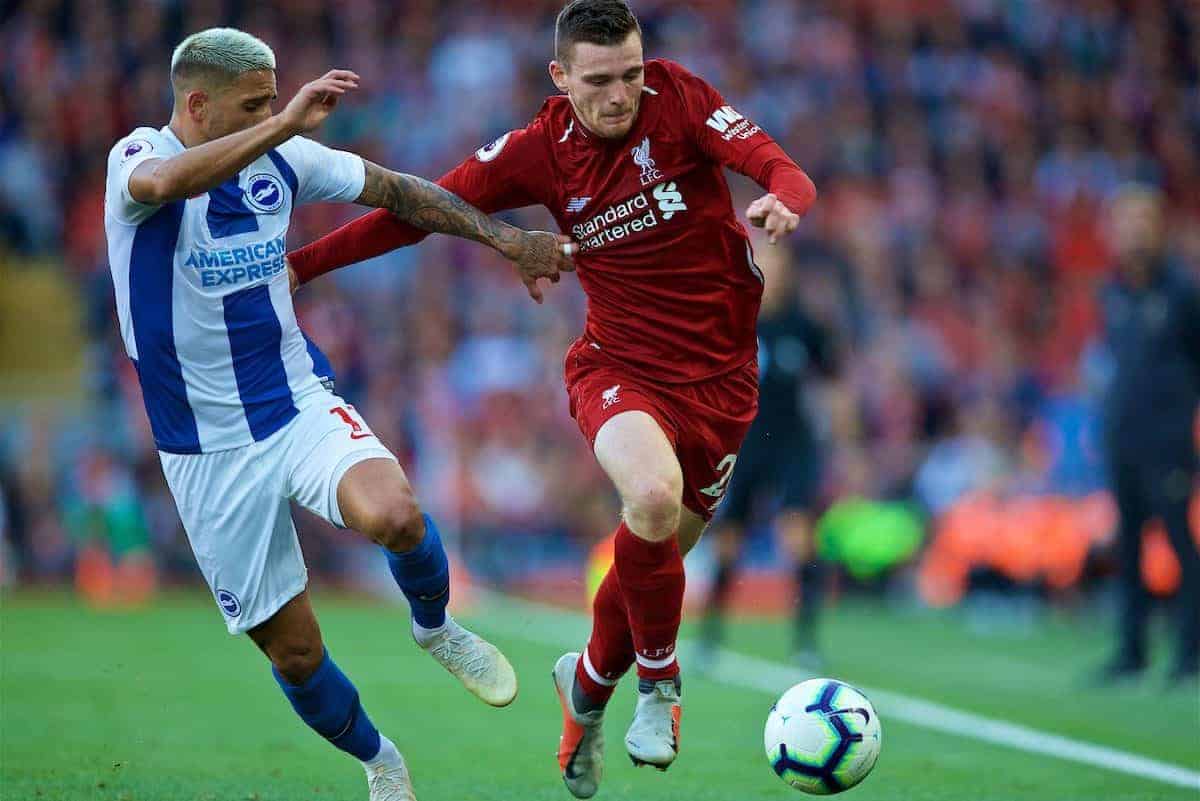 Despite a second defeat of the season, Brighton manager Chris Hughton has been happy with their displays.
"We need to make sure we have the same level of performance in the games we can realistically get points from," he said.
"If we get that level of performance throughout the season, then we'll be fine."