An extraordinary story broke on Thursday evening that Liverpool had been targeted for a record £2 billion buyout early in 2018.
Liverpool owners FSG have stated that they are not interested in selling the club and are in it for the long haul, releasing a statement to that effect following a report in the Daily Mail.
The report claims that talks with Abu Dhabi-based Sheik Khaled Bin Zayed Al Nehayan, a cousin of Man City owner Sheik Mansour, took place with the Reds' owners across late 2017 and early 2018, before making a £2 billion takeover for 100 per cent ownership.
It is suggested that there was a minority partner from China involved in the bid, which would have been the most expensive buyout of all time for a football club.
Liverpool told the Mail that the deal "never reached the stage where major shareholders John W Henry or Michael Gordon met the Abu Dhabi investors."
Chairman Tom Werner did, though, meet with the managing director of the investment company in New York.
It is said that no agreement for a sale was ever reached, despite emails suggesting proof of funds was repeatedly requested but never received.
A club statement read:
"FSG have been clear and consistent: the club is not for sale.

"But what the ownership has said, again clearly and consistently, is that under the right terms and conditions we would consider taking on a minority investor, if such a partnership was to further our commercial interests in specific market places and in line with the continued development and growth of the club and the team."
As the club states, that FSG are open to investment in the club is nothing new. In 2015, then-managing director Ian Ayre said as much, and Werner said similarly in 2016 after speculation about takeover bids from Chinese investment groups.
It was previously claimed that a minority investment could be part of a potential naming rights deal for the new Main Stand – a story which has since gone cold. It could be that a partner is found to name the new training complex, as Man United did in a wide-ranging deal with their 'Aon Training Complex'.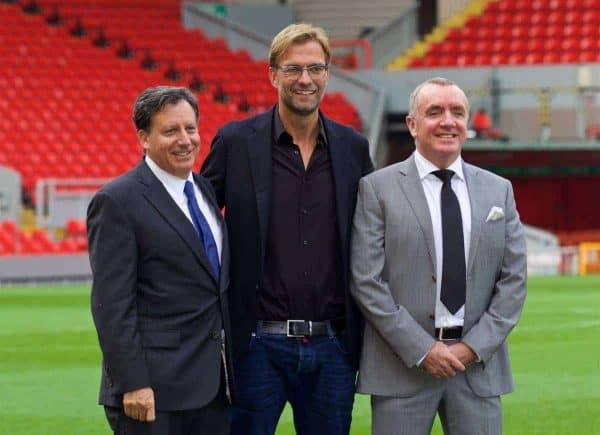 While some have expressed scepticism over the sincerity of FSG's long-term commitment to the club, the fact that they've invested heavily in the playing staff over the past year has quietened those noises.
Add in the infrastructure improvements including the Main Stand redevelopment and the imminent training complex restructure at Kirkby, and it's clear the club is forward thinking, committed to growth and looking to be successful.
That comes at a price, however, and sourcing outside investment has always been on the agenda.
An outright sale is another matter, and one FSG have again insisted they aren't interested in – with their words seemingly being backed by their actions.
Perhaps what this does prove more than anything is how attractive a proposition Liverpool FC are again.