Liverpool no longer have a striker wearing No. 5 and we've never had a goalkeeper in the 11 shirt, but some wish for the squad numbers to be altered.
Back in the day, shirt numbers were one to 11, handed out weekly and largely denoted the position a player would feature in.
The opening day of the 2018/19 Premier League season was half a throwback to that: James Milner, Naby Keita, Roberto Firmino, Sadio Mane and Mo Salah all started for the Reds against West Ham.
Seven through to 11, all in order, making up the majority of the Reds' midfield and attack lines.
Of course there were alterations, even pre-squad numbers; Sir Kenny Daglish made the No. 7 shirt iconic playing in attack, though it's elsewhere seen as a winger's number. A second striker might have worn No. 10, but John Barnes wore it left wing.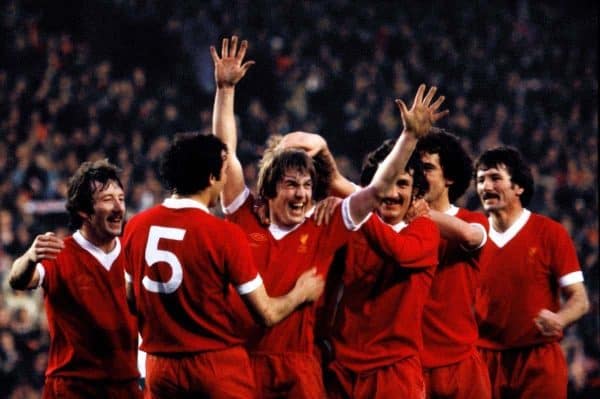 But bar the odd change, two-to-five played defence, six, seven, eight and 11 were midfield, nine and 10 up front. Standard.
Indeed, matchday programmes at Anfield would feature a page of the entire Liverpool squad crosschecked against shirts one to 14, including the three subs spots, and whichever number they wore each game would be blocked.
Pre-Opta, smartphones and WhoScored, that was your way of seeing who had had a good run in the team, been an ever-present or was the squad's Mr. Versatile.
Jurgen Klopp has a much larger squad though, and the numbers for the seniors range from 1 to 66—and could even go as high as 73 if Kamil Grabara makes the matchday squad this term.
So let's tidy it up: who would rightfully have a first-11 shirt number, who would keep the same jersey?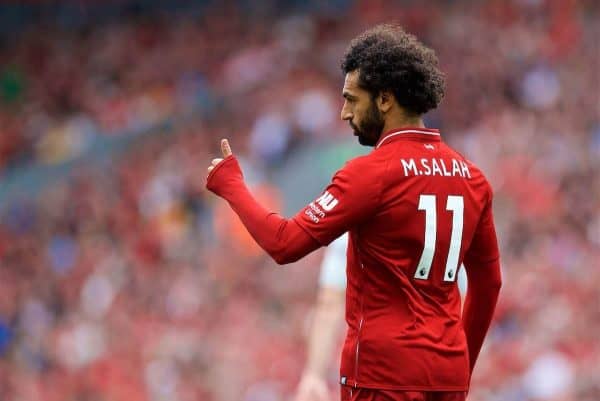 Seniority has to play a part to a point, but we're looking here more at Klopp's regular lineup and positional frequency.
In goal, it was a surprise to some that Alisson didn't take the No. 1 shirt—but as he's first choice, we're swapping him here with Loris Karius. It's an easy decision.
Nathaniel Clyne wears No. 2, but Trent Alexander-Arnold—despite not having had much game time—went straight back into the lineup. On the opposite side, Andy Robertson should clearly wear 3, rather than new signing midfield Fabinho.
Virgil van Dijk, the leader of the back line, looks perfectly at home as No. 4.
There's a case to be made to switch Gini Wijnaldum and Dejan Lovren, but leaving them at 5 and 6 respectively is a throwback to title-winners of the past: Alan Hansen bore six in defence, while Ronnie Whelan often carried five in midfield.
For No. 7, we will make a switch: captain for vice-captain. There's an element of division among the fanbase over who plays when everyone is fit, but as Jordan Henderson remains captain, he gets the nod.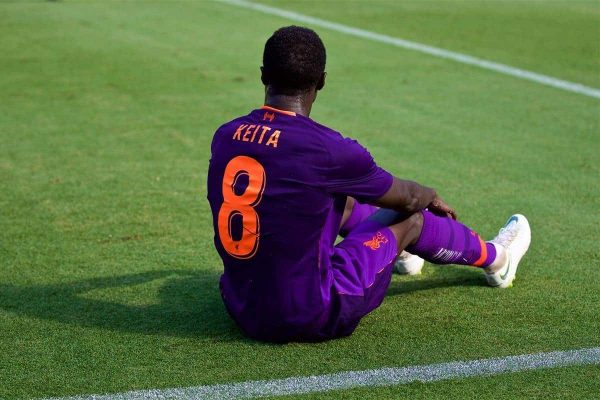 Keita, Firmino, Mane and Salah all retain 8, 9, 10 and 11 shirts respectively.
In a perfect world, we'd then move on to the first backup for each line: defender for 12, goalkeeper No. 13, midfielder for 14 and forward at 15.
It's neatly done: Joe Gomez has earned his stripes and already wears 12, while Karius we've already mentioned is swapped with Alisson. The Henderson-James Milner swap leaves the vice-captain as our midfield deputy with 14, while Sturridge retains 15.
No. 16 is wide open, but there's logic behind giving Marko Grujic's current number over to Fabinho.
Formerly worn by another defensive midfielder in Didi Hamann, Reds fans are used to seeing that shirt controlling the midfield—and it's a potential shirt switch with Wijnaldum if the Brazilian wins a spot in the regular XI as the season goes on.
For it's attacking connotations with the latter number, 17 should be exclusively reserved for a player with wing and striking tendencies. Step forward, Xherdan Shaqiri.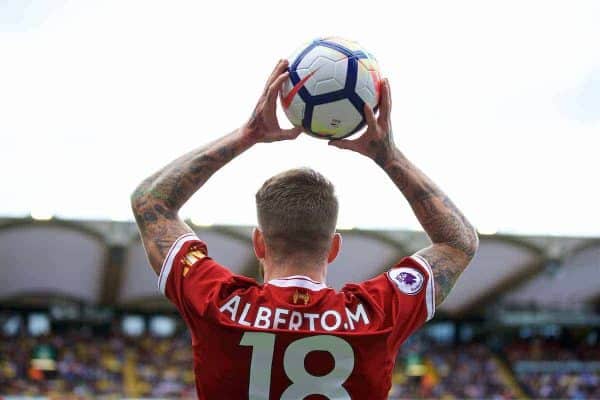 Alberto Moreno is fine for 18, and we'll make fellow backup right-back Nathaniel Clyne 22—the second No. 2, as it were.
In between, 19 should be a striker's deputy, so Dom Solanke this term assuming Divock Origi departs. 20 and 21 are retained by the current occupants.
There's no great fuss over the remainder of the squad players, though we'd love to see the promising youngsters get far lower numbers, perhaps 30 and upward when they're around the first-team squad.
Youth players, promoted for one-off occasions, can stick to 50 and above until they've earned their spurs.
Only one key decision remains: which name and number do you get on the back of your shirt now?!
• 1. A. Becker
• 2. Alexander-Arnold
• 3. Robertson
• 4. Virgil
• 5. Wijnaldum
• 6. Lovren
• 7. Henderson
• 8. Keita
• 9. Firmino
• 10. Mane
• 11. M. Salah
• 12. Gomez
• 13. Karius
• 14. Milner
• 15. Sturridge
• 16. Fabinho
• 17. Shaqiri
• 18. Alberto M.
• 19. Solanke
• 20. Lallana
• 21. Oxlade-Chamberlain
• 22. Clyne
• 23. Matip
• 24. Brewster
• 25. Grujic
• 26. Klavan
• 27. Origi
• 28. Mignolet
• 30. Phillips
• 31. Jones
• 32. Camacho
• 33. Ojo
• 51. Kelleher
• 52. Grabara