The media praised Liverpool for winning ugly at Leicester City but were less impressed with the team performance and Alisson in the 2-1 win.
It was another slog but the Reds again dug in to grind out a fourth straight victory and maintain their 100 percent winning start.
Sadio Mane's toe poke and Roberto Firmino's header gave Jurgen Klopp's side a comfortable half-time lead, before Rachid Ghezzal set up a nervy final half-hour.
But the Reds showed the resolve that has defined the opening to the season to claim another vital win which made for Liverpool's best-ever start to a Premier League campaign.
It was a big three points, crucially ensuring momentum is maintained going into the international break, and here's how the media assessed events at the King Power Stadium.
Reporters felt this was the ugliest win so far and credited the Reds for grinding it out again…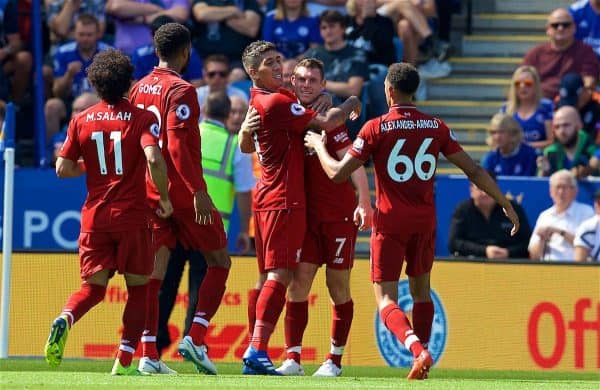 BBC Sport's Phil McNulty pointed out how the Reds are developing the winning habit of champions:
"Liverpool can call on an old saying to bolster their confidence even further after making it four wins from four at the start of the Premier League season – namely that it is a sign of champions that you can still win when well short of your best."
The Liverpool Echo's Ian Doyle believes the true value of this three points will only be known at the end of the season:
"Come May, this will either be regarded as the day Jurgen Klopp's side underlined their Premier League title credentials, or the afternoon that demonstrated why they were always destined to fall short."
McNulty rightly assessed that this was one of numerous games Liverpool will face where the result, rather than performance, was the most important aspect:
"There will be days throughout Liverpool's season when the result will over-ride the performance – and this was undoubtedly one of them."
Writing for Goal, Neil Jones nicely summed up the general feeling post-match:
"Top of the league and not at their best. Imagine what could happen when Liverpool hit their stride…"
However, numerous journalists were less enthused by another below-par display…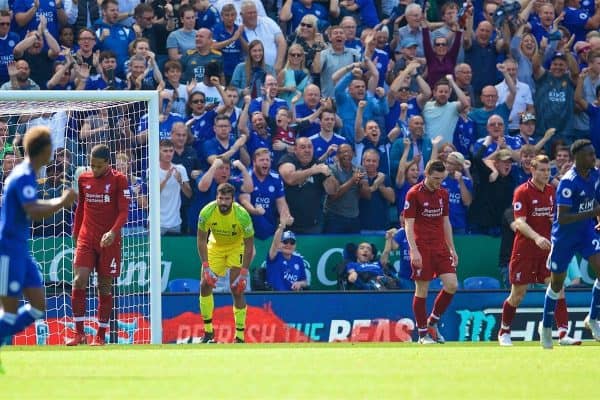 ESPN's Steven Kelly wants to see Liverpool start finding better form ahead of some big games:
"They'll need to find their form sooner rather than later, as a tough September and October could find them out if they keep playing this way."
Jones highlighted areas to improve ahead of the first heavyweight clash of the season against Tottenham:
"Liverpool cannot be so lax in possession at Wembley, nor as ponderous in the final third. Alisson, one would hope, will learn fast after his hesitation here."
The Liverpool Echo's James Pearce remained upbeat, insisting that the Reds' potential is "mouth-watering" and noting how wins have still arrived despite the front three not firing:
"It's certainly a mouthwatering prospect what this team will be capable of when they finally click. The fact is that Liverpool have won four on the bounce with the potent trio of Mohamed Salah, Mane and Firmino only sporadically coming to life."
With mixed views offered on the performance, reporters discussed various positives and negatives…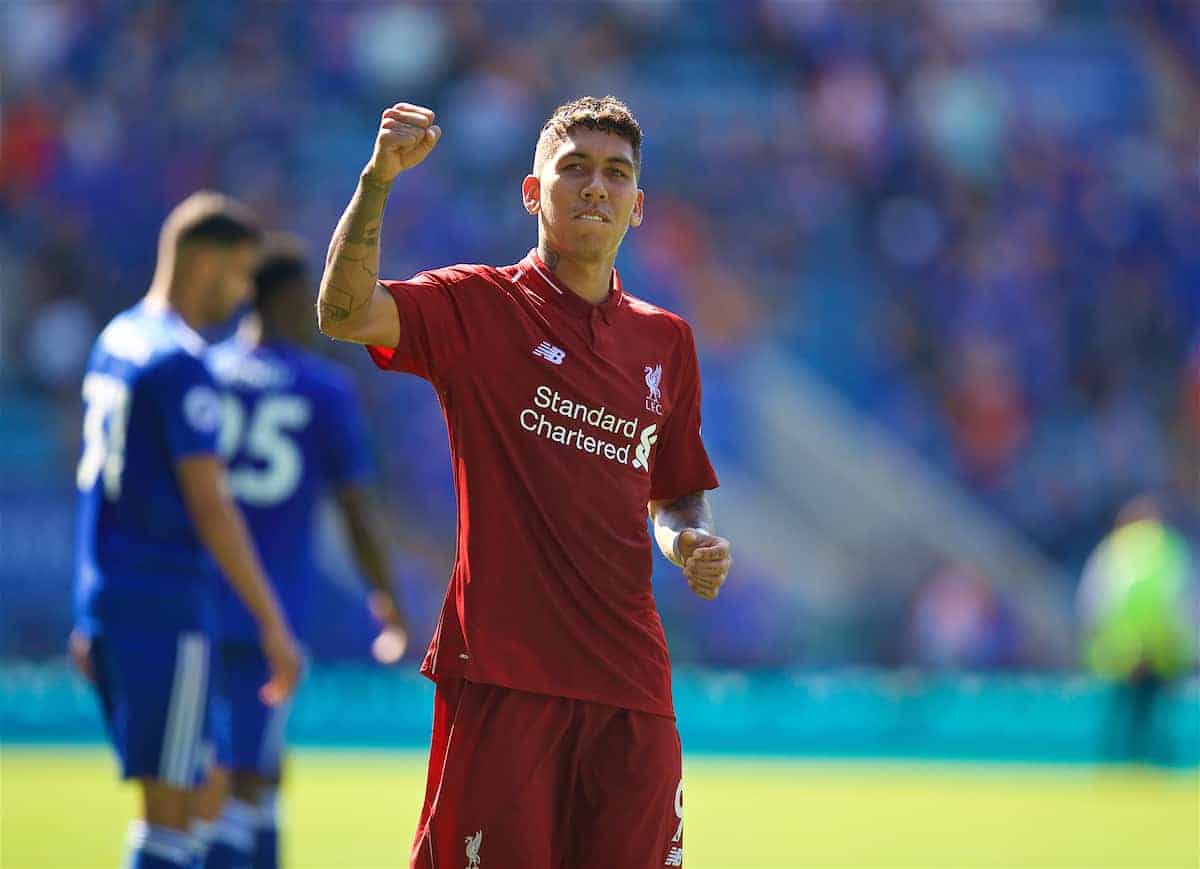 Kelly took a positive from Liverpool winning undeservedly:
"Four wins from four is their best start in years and the last few games have shown they can dig out those extra points even when they're hardly deserved."
For the Evening Standard, David Lynch made an interesting point on the Reds' developing habit of scoring just before half-time and explained why it is a welcome trait:
"For the third time in their four games this season, Liverpool grabbed a decisive goal right on the stroke of half-time.

[…]

"Goals such as these aren't just valuable in terms of the scoreline, they also deal a psychological blow to the opposition. That was evident as Leicester struggled to show they truly believed they could get back into the game once play resumed."
Jones assessed big plus-points in the "efficient" first half and clinical finishing:
"He can, though, reflect on an efficient first-half display which set his side on the road to three points. Mo Salah's uncharacteristic miss aside – and the Egyptian was as guilty as anyone of wastefulness on the day – Liverpool took their chances as Mane scored to settle them."

The Mail's Oliver Holt was impressed by the way Liverpool responded to Alisson's error, noting how the Reds regrouped well and "didn't crumble":
"Liverpool fans saddled with the dual uncertainties of Karius and Simon Mignolet in past seasons have had more than enough of those problems but they will take solace, as Klopp did, in Liverpool's response to Alisson's mistake. They did not crumble. They held on."
Certain journalists felt Liverpool struggled in midfield in particular, including the Guardian's Paul Doyle who thought Klopp's decision to switch Jordan Henderson and Naby Keita backfired:
"Klopp is well aware that if Liverpool are to fulfil their quest for the Premier League title, they must offer more than devastating offensive storms. They must also show stability.

"Keita is no flake but Klopp suggested Henderson was fresher for this duel. The change, however, deprived Liverpool of the midfield thrust Keïta has added since his keenly anticipated arrival in the summer."
For Football Whispers, Sam McGuire elaborated on those struggles, explaining why Keita was missed and how the drop in performance shows the Guinean is already a key player:
"It's the first time this season that Liverpool have started a Premier League match without Keita in their midfield and the drop off in the performance from those in the middle third was impossible to ignore.

[…]

"The Reds found it difficult to build anything through their midfield and there was nobody to carry the ball forward and break the defensive lines from central areas."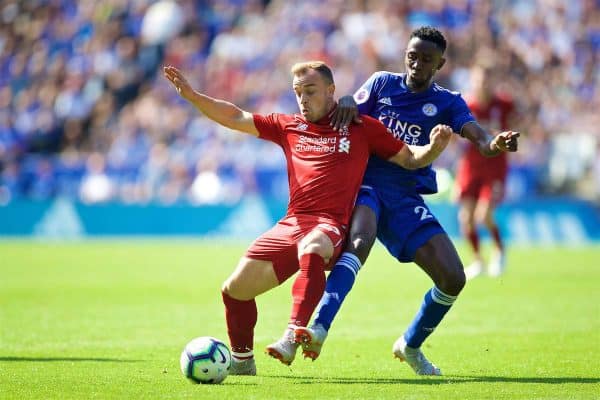 Meanwhile, Pearce reserved praise for Klopp, assessing that the boss got his substitutions "spot on":
"Their decision making at times was atrocious but Klopp got his substitutions spot on as the introduction of Xherdan Shaqiri and Naby Keita helped to steady the ship."
Lynch felt the introduction of Xherdan Shaqiri was key as the summer signing made a difference as Liverpool saw the game out:
"The introduction of Xherdan Shaqiri late in the game may not have resulted in Liverpool extending their lead, but it did at least give Leicester something extra to think about after a period of utter dominance.

"The Swiss forward's pace and ability to keep hold of the ball in tight areas proved a huge filip for the Reds, who had struggled to get up the pitch for large periods in the second half."
Looking at individual performances, the Mail's Laurie Whitwell thought Joe Gomez demonstrated why centre-back is his best, and long-term, position:
"In front of him Van Dijk was again superb, but Gomez stood out.

[…]

"His 29 appearances for Liverpool before this campaign came in the full-back roles but injury to Dejan Lovren has freed up the central position and he has shown why it is the best place for him."
There was lots of discussion on Alisson's error…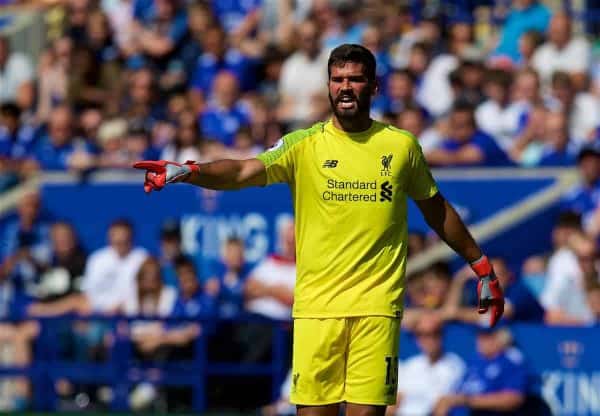 The Independent's Jack Watson criticised the 'keeper's "sheer arrogance" and thinks such a mistake is why Liverpool aren't up there with the elite sides:
"That sheer arrogance is likely to have Klopp fuming with his new No. 1 and is the kind of mistake that separates Liverpool from the very best."
Kelly called on Klopp to "lay the law down" to the Brazilian to ensure no further big errors are made:
"Jurgen Klopp needs to lay the law down to his goalkeeper more forcefully or incidents like this will happen more often."
McNulty believes Alisson must improve his decision-making on when to play and when to clear his lines:
"There is, however, a time and a place – and the time he chose at the King Power Stadium was definitely not it.

[…]

"For all the modern thinking, this was an occasion when the big boot should have been applied – as manager Klopp's emphatic gesture on the touchline subsequently suggested."
McGuire took a contrasting view, explaining why Alisson's style needs to be accepted and encouraged as it is key to Liverpool's overall play:
"Goalkeepers who play in such a style are always likely to gift a soft goal every now and then. You have to take it on the chin and accept it. He's been a key part of Liverpool's buildup play this season and it's because of his use of the ball. Change his style after one mistake and he loses part of his charm and the Reds lose part of their attack."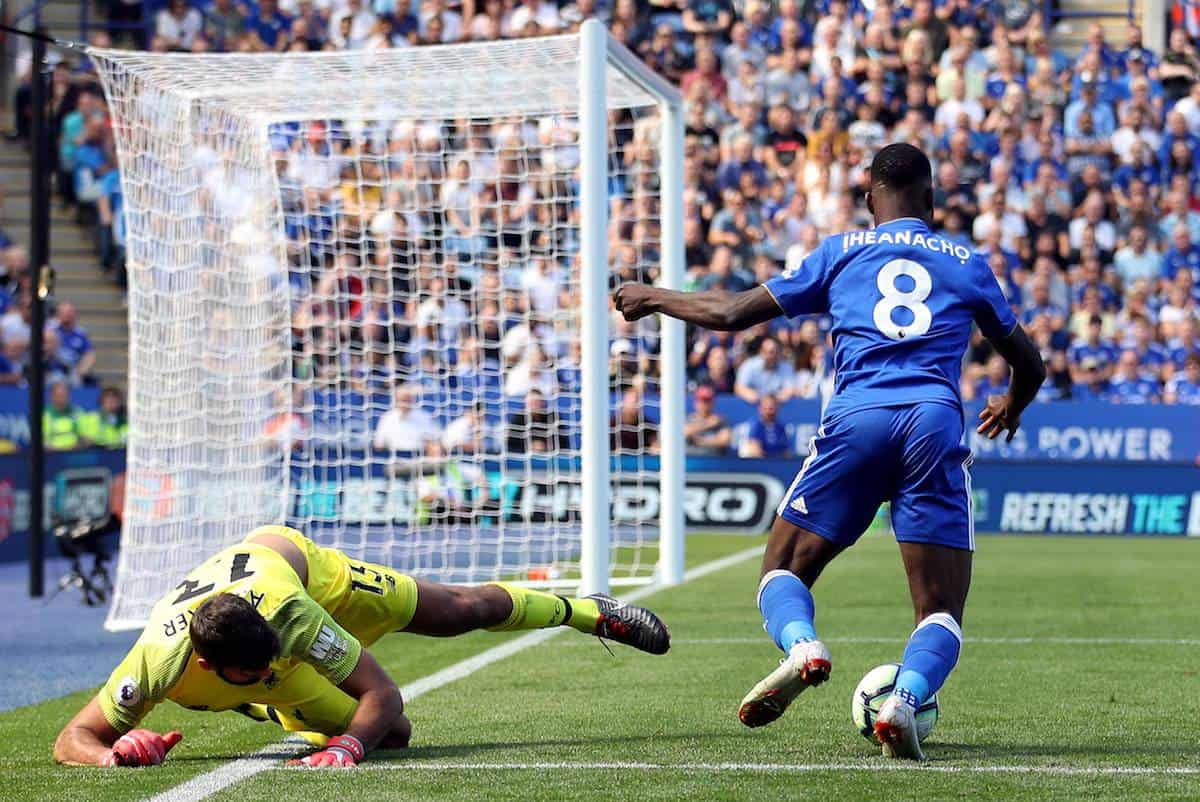 The Echo's Doyle was impressed by the way Brazil's No. 1 responded to the error and praised the 'keeper's mentality:
"And the way in which he got through until the end of the game without further errors suggests mentality isn't a problem to the Brazilian. The same cannot be said for all recent Liverpool goalkeepers."
And while the Telegraph's Sam Wallace criticised the error, he also noted how Alisson impressed in all other aspects of his game:
"In all other departments, Alisson looked commanding, especially when the tide turned against Liverpool after a blistering start to the game."
Certain reporters reflected on the start to the season and looked ahead to what arrives after the international break…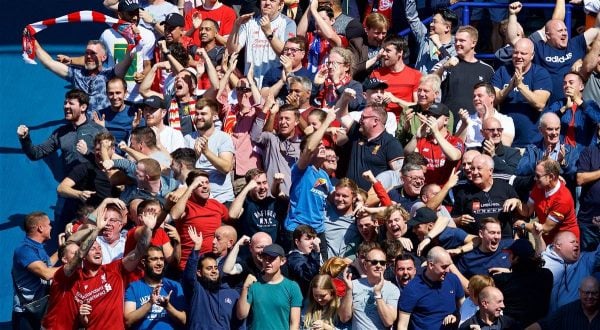 Pearce thinks Liverpool's title credentials will become clearer after the restart, with the quality of the squad to be properly tested for the first time:
"On their return we will learn a lot more about the credentials of this Liverpool side. The room for improvement is vast and they will need to raise the bar significantly with Tottenham next up at Wembley on September 15.

[…]

"The much-lauded depth of this squad will be tested."
And our own Karl Matchett thinks those upcoming fixtures could dictate Liverpool's potential aspirations for the season ahead:
"The rest of September is a monster month of fixtures: Spurs, PSG, Southampton, Chelsea, Chelsea, then Napoli and Man City at the start of October.

"Early in the season it might be, but that's an absolutely critical run which could well dictate just where Liverpool's aims lie across the whole season."