Liverpool had to work hard to grind out a result, but came away from Leicester with a 2-1 win to keep up their perfect start to the season.
Leicester City 1-2 Liverpool
Goals: Mane 10′, Firmino 45′; Ghezzal 63′
Premier League, KP Stadium
September 1, 2018
---
Midfield misalignment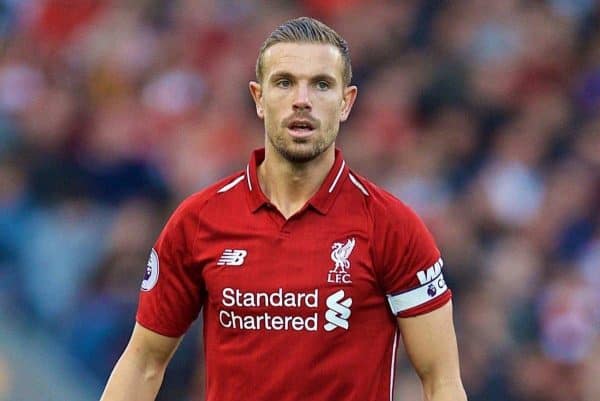 After three games with the same trio in the middle, Jurgen Klopp opted to bring Jordan Henderson into the lineup at the expense of Naby Keita.
This wasn't just a one-for-one switch, though, as it also pushed Gini Wijnaldum into the No. 8 role on the right and James Milner moved left. In effect, all three positions were altered.
And it showed.
This was a disjointed and disappointing outing for those in the middle of the park, with poor passing throughout—both into them and from the three themselves onward—meaning the Reds rarely had control for long spells.
Henderson has looked bright and aggressive coming on as sub in previous games, but he was entirely bypassed here, offering absolutely nothing defensively or in possession.
Wijnaldum, in turn, reverted to last season's away-day mystery man, rather than the forceful and impressive performer of the last few weeks.
Naby Keita's late entrance helped, while it might have been nice to introduce Fabinho this time too to help hold fort.
---
Near-perfect Joey Gomez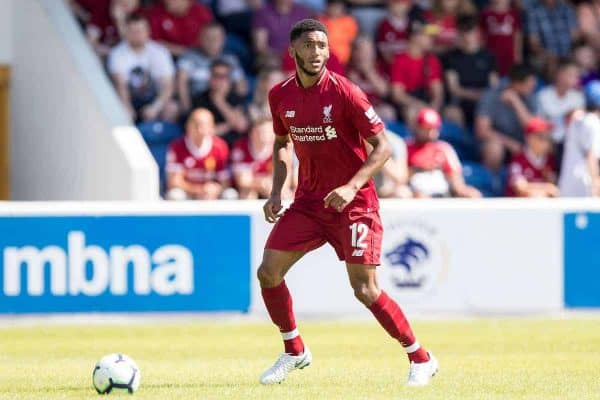 Liverpool have won plaudits over the last few months for the back line, but most of that has come aimed at the full-backs or the two expensive signings.
This season though, the top performer has arguably been 21-year-old centre-back Joe Gomez—and that was certainly the case at Leicester.
He did not, once again, put a foot wrong, and indeed was a key factor in the Reds seeing out the win.
A few first-half challenges stopped build-up play at important moments, his covering in behind was first class and one sliding block on a goalbound shot after the break was match-defining.
Gomez is doing everything possible to seize his chance at the heart of the back line and make himself a fixture in the team from here onward.
A stellar showing from him again.
---
Alisson caught out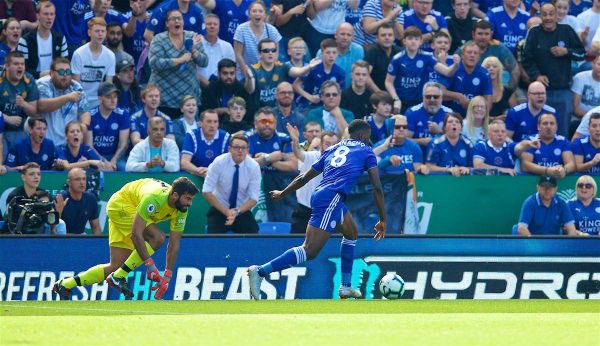 From this column, on Alisson a week ago:
A note on his footwork: a cool chip and clearance had the Kop delighted—Klopp less so after the match—but he cannot afford to make it a signature move.

The next forward can anticipate something like that and it only takes a slight touch or deflection to go horrendously wrong. We're not, of course, about to say 'we don't want confident footwork', but Alisson must merely remain unpredictable in how he tries to avoid a forward.
Fast forward to the game against Leicester and that's exactly what happened: Alisson didn't take the opportunity to make an early, simple clearance, and those Foxes forwards would definitely have been told to close him down and anticipate an extra touch.
Disaster struck, and this time it must serve as a fast learning curve for the Brazilian.
On the positive side, he was immaculate with everything else he had to do.
His handling from corners was good, one low save in the first half was impressive and after the mistake and goal he didn't implode, as has previously been the case with the man on the bench, Simon Mignolet.
---
Front line: missing a spark but still decisive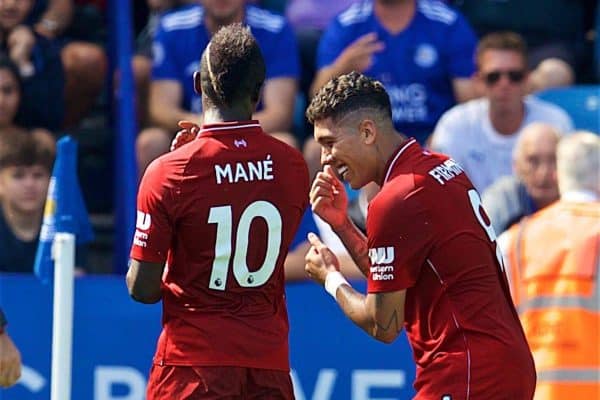 The front three aren't anywhere near top form just yet, but all three are off and running with goalscoring.
Sadio Mane continues to look the most in-form of the trio and his first-half performance was impressive all-round, but it was no surprise to see Mo Salah taken off.
He's getting into good positions still, but his decision-making is poor right now—not dissimilar to a spell Mane suffered last term.
Salah would have been expected to score in the first half, but in the second he should have passed instead of shooting which could have wrapped up the win a lot more easily.
Props to Bobby Firmino for another hard-working performance and what turned out to be a vital goal, but his link play is off-colour at present, a knock-on effect of the rest of the team looking below par.
There's a lot more to come from the front three, but they've still managed to fire the Reds to four wins so far.
---
Good time for a break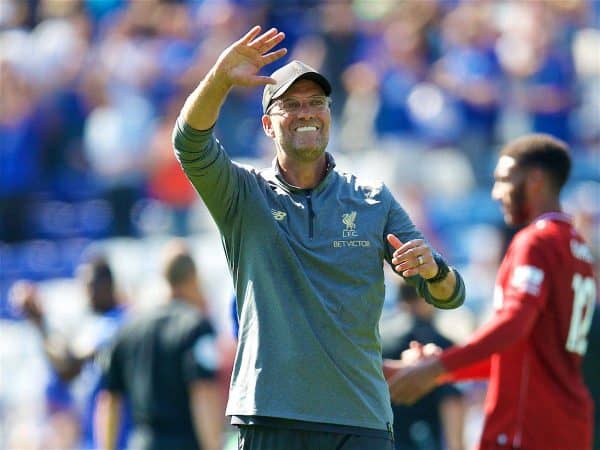 Four games, four wins, just one conceded.
The Reds head into the international break top of the league and with plenty to work on, and it's arguably the best time for Klopp and his coaches to take stock and look at what they really need to improve going forward.
The rest of September is a monster month of fixtures: Spurs, PSG, Southampton, Chelsea, Chelsea, then Napoli and Man City at the start of October.
Early in the season it might be, but that's an absolutely critical run which could well dictate just where Liverpool's aims lie across the whole season.
A rest for some, international travel for others, but a crucial chance for the squad as a whole to take stock and assess where improved performances might come in the coming weeks, to ensure the results stay just as good.