Alex Oxlade-Chamberlain appeared on Sky Sports as a guest for their coverage of England's friendly against Spain on Saturday night, admitting the seriousness of his injury.
The 25-year-old midfielder suffered a multiple knee ligament injury in the early stages of the Champions League match against Roma in April and he is now set to miss all of the current season.
It's a devastating blow for a player who was really finding top form in a central role under Jurgen Klopp at Anfield.
The timing of the injury was particularly cruel, meaning the England international missed the Champions League final and the World Cup – where he'd have likely started in Gareth Southgate's midfield.
"I can't sit here and lie and say it was easy," admitted Oxlade-Chamberlain. "It was really difficult as I had a realistic chance of playing, but at the same time I went into England fan mode.
"It was amazing to see the boys do so well and it was really exciting back home, so it was hard but I was so happy that they managed to do so well."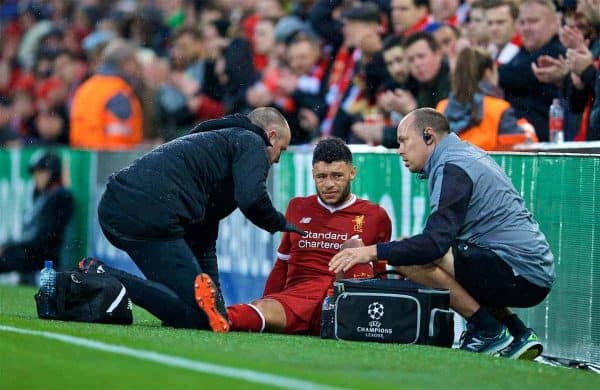 In July, Klopp explained that "this coming season will be about focusing on recovery and rehab" and that any return before the end of 2018/19 would be a "bonus".
"It is a very serious injury," Oxlade-Chamberlain told Sky Sports. "It can happen to any of us at any time so that's obviously something that is never easy to deal with and get over.
"I'm making progress and I'm trying to stay positive, that's the sort of character that I am and I'm feeling that is the best way to move things forward so I am in good spirits and I'm progressing for sure."
While it's good to hear that he is progressing well, the seriousness of the injury does leave supporters pondering whether he will ever be able to return to the same level.