Liverpool have made a great start to the Premier League season—now it's time to track how they perform against past campaigns and past champions.
There's no use beating around the bush: Liverpool fans want a title challenge and many of them believe there's a squad and manager in place to do exactly that.
It's an incredibly difficult task at the best of times, but this year brings an extra challenge: Manchester City as title-holders, having set a phenomenal points target last season.
There's no guarantee they hit the same heights over 38 games of course, but it's the barometer of success to aim for—and even if City drop, it's unlikely to be by a massive amount.
Going forward, we'll be plotting the progress of Jurgen Klopp and his team against Reds sides of previous seasons and against the last two title-winners, to measure just how close it looks like the current squad could go.
---
Liverpool vs…the Reds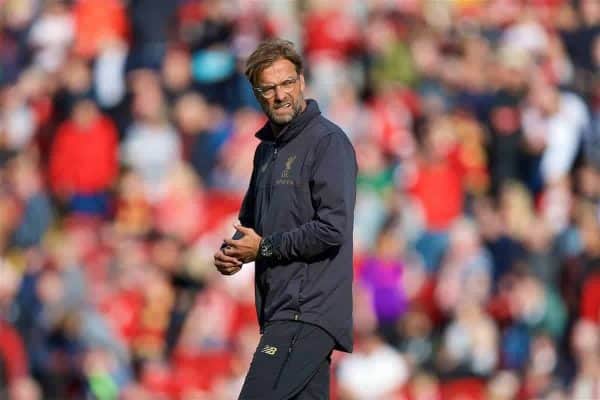 One pretty good starting point for every club is simply to try and improve, year-on-year.
It's not just about bettering what you managed last year, because at the same time every other club will be trying to do exactly the same—so it's about faster progression, smarter progression, getting more key decisions right.
Even so, the tangibles are there to answer the "are Liverpool improving?" questions which keep cropping up when a bid for silverware ends in glorious (Champions League) or not-so-glorious (FA Cup at home to West Brom) failure.
So the first consideration is whether Liverpool are doing the right things compared to their progress last year, and indeed Klopp's entire tenure.

With five wins from five so far it's obvious that he can't possibly have done any better, but how much scope does that give to err going forward? How much better is it than previous years?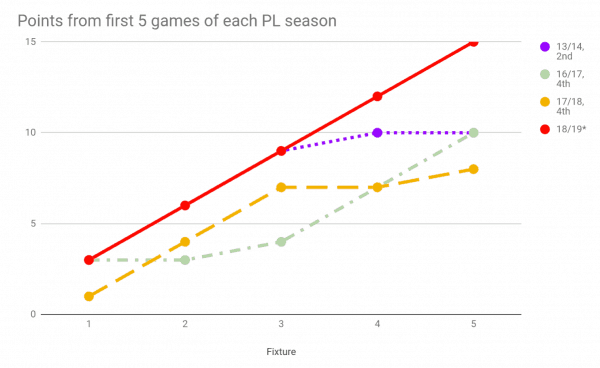 The chart showcases how this season's team (red line) compare to Brendan Rodgers' title challengers (purple), Klopp's first fourth-place finish (green) and last term (gold).
A decent start is a must, but dips and peaks can be expected throughout the season as a whole.
Below, the points amassed through the current campaign are extrapolated by trend; naturally, there won't be a 100 per cent win-rate across the whole season, so the extended red line will, in future, show what the team are 'on course' to achieve against previous campaigns.

Starting the season well is paramount for any team with title aspirations and that's precisely what has happened here.
It is, of course, exactly the same for Chelsea, who are now top above Liverpool on goal difference.
Consistency is key, and both sides have shown that—though the win away to Spurs is arguably 'worth' more in the bank than Chelsea's biggest win, which was home to Arsenal.
---
Liverpool vs…the same opposition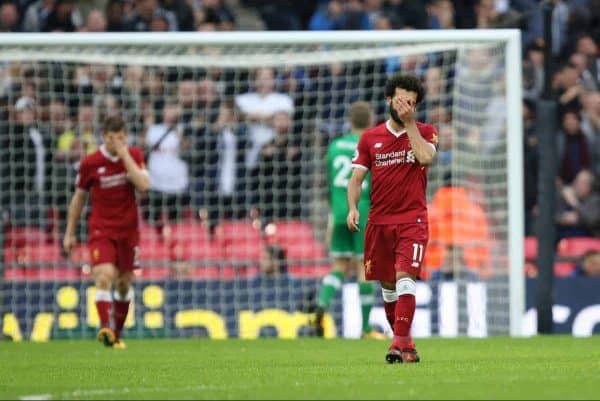 Of course, it's not as straight-forward as suggesting the Reds have improved immeasurably after five games, even due to a simple factor such as the fixture list.
Going forward, 10 and 20 games into the season, we'll be able to show not only if the Reds are on course for a points-per-calendar month improvement, but also if they're directly better off against the same opponents.
Beating Spurs, where the Reds lost last term, immediately gives a favourable three-point swing, for example.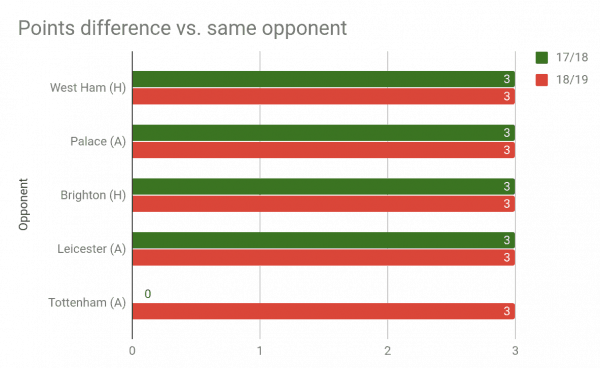 Five wins from five doesn't just indicate a great start, it shows that even more points are there to be won if the Reds even match the same levels as last season.
In the opening five of last year, for example, a home draw with Burnley was recorded, a reasonable result to expect improvement on this term. But we also lost at Man City—so anything taken there at all this season will yield a net improvement compared to last year (as well as taking points off a rival).
---
Liverpool vs…title winners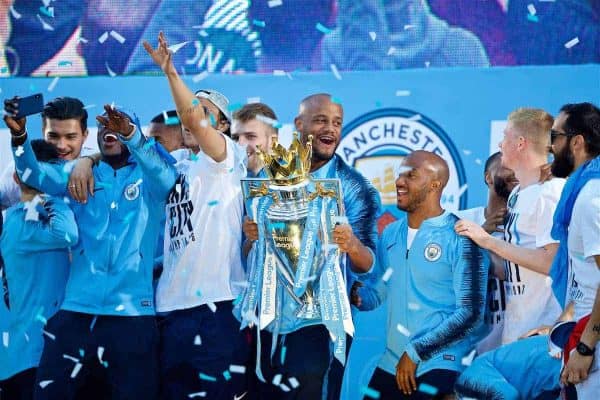 Finally, it's vital to chart the Reds' progress against title-winners.
While Leicester's triumph in 15/16 was an outlier, both in terms of the club and the points haul (81), the past two campaigns have shown the heights the Reds must scale.
Chelsea (93) in 16/17 and City (100) last term were way out in front both seasons, and both are likely to be champions this season if it isn't Liverpool themselves.
So marking how the Reds fare against their season-long progress in those two title-winning seasons will offer yet more meaningful evidence in whether we can really expect Klopp and Co. to go close this season.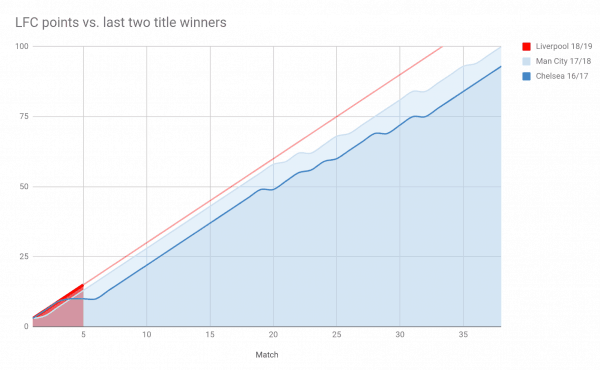 While Liverpool have been absolutely perfect thus far in winning matches, the above chart shows how little margin there is for error.
Man City, as shown by the dead-straight line just below the Reds' tally-and-trend line, went on an incredible 18-match win streak just into last season.
That shows the sort of level we're facing this term.
And, because football is at least as much about mentality as technique, there's simply no question that a bad start to the season can wreck title hopes just as much as a good start can ignite them.
So it's worth noting how well each of the previous few title-winners fared early on in the season, in relation to Liverpool's 100 per cent start after five matches:
None took a full five wins, so the Reds are ahead of the curve on that score, too.
With more big matches to come, rotation likely on the domestic scene because of European involvement and other teams working hard to claim the first scalp of the Reds, every match from here on will be even harder to win.
It's still a marathon, but we've taken the first corner with determination, belief and plenty of reason to look forward with optimism to the next difficult stretch of the race.