Alisson has already atoned for his mistake in Liverpool's 2-1 win over Leicester City on Saturday, insisting he was "not going to be stupid" and repeat it.
The Brazilian was subject to criticism following his failed attempt at a Cruyff turn, leading to Rachid Ghezzal's goal as the pressure mounted.
This came a week after Alisson's bold chip over Brighton's Anthony Knockaert, and his assertion that "fans with heart problems have to be careful!"
Speaking after the game, Klopp welcomed the situation in the context of Liverpool's win, explaining that "it needs to happen so it will not happen again."
And the 25-year-old seems to have already learned from his error, as he told ESPN Brasil in the mixed zone at the King Power.
"It was bad judgement. I made a mistake reading the play. I didn't get a very good pass," he insisted.
"We talked about that in the dressing room and I spoke to Virgil. It wasn't a good pass but I could have just kicked it long.
"I wanted to keep playing and keep the possession. Now everyone is going to analyse that.
"I'm not going to be stupid and make the same mistake. We have to learn from our mistakes."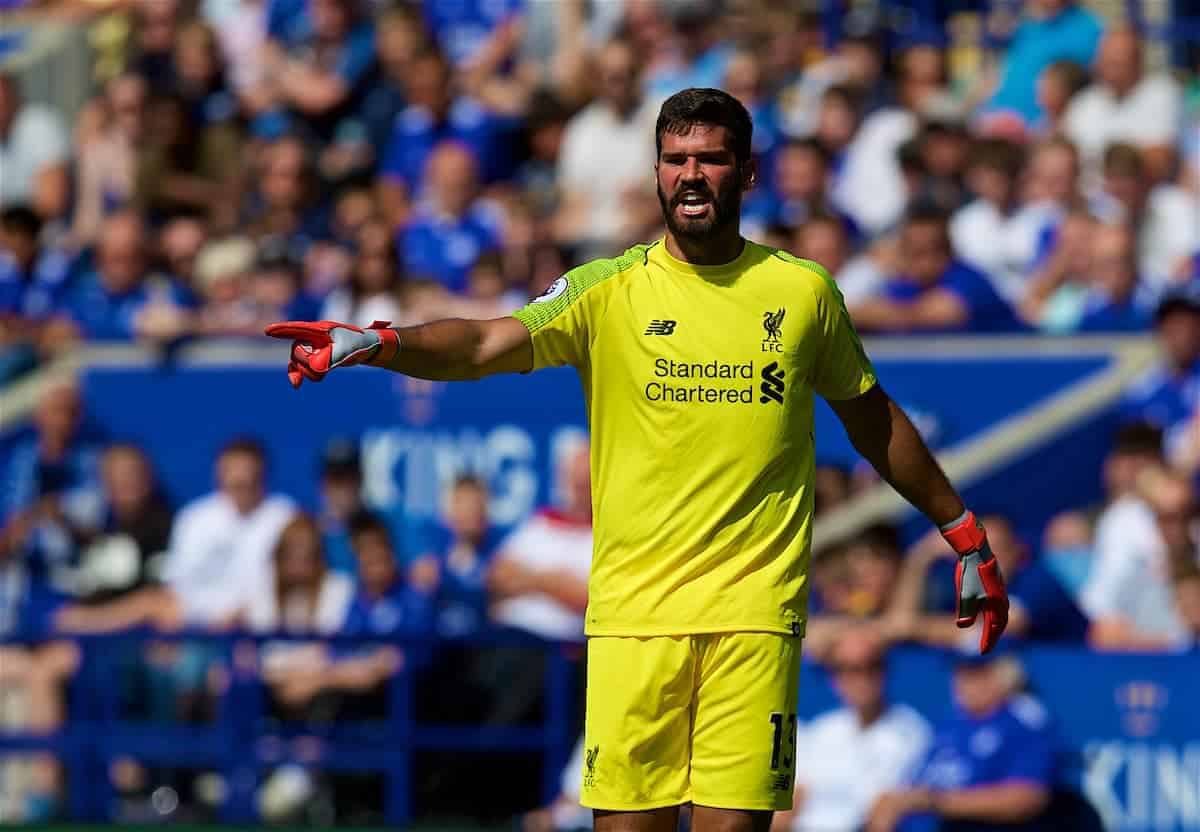 This is a sensible approach from Alisson, who is right to add that Virgil van Dijk's pass to him was not ideal—which Klopp also acknowledged in his post-match press conference.
Recognising that his attempts to "keep the possession" were at fault, and that he "could have just kicked it long," suggests he is already aware of how to improve.
He continued to describe dribbling as a "last resort" for goalkeepers, no doubt experiencing a hangover from his spell in Serie A, which is typically less intensive.
"It is part of my game but I am not going to be arrogant to stand here and say I'm going to keep doing it. We have to learn from our mistakes," he added.
"If it is necessary the dribble has to be the last resort. Unfortunately today it caused the goal.
"I actually think it was a foul but I don't want to blame it on that.
"In the Premier League it's not the kind of contact that results in a foul. It's part of the game. I just have to make sure that doesn't happen again."
Thankfully, Liverpool return to Merseyside with all three points, and Alisson now heads off on international duty with Brazil eager to return with a more well-rounded showing.