Jurgen Klopp admits Eden Hazard poses a major threat to Liverpool's chances this weekend, but was full of praise for other Chelsea players, too.
The Reds make the trip south to Stamford Bridge on Saturday evening in their biggest match so far this season.
Klopp's side are looking to make it seven wins on the bounce to open their Premier League account, keeping them top of the table in the process.
It is impossible to ignore the importance of Hazard this weekend, with the Belgian in the most impressive form of his career.
He outlined that with a stunning late winner at Anfield in the League Cup on Wednesday, and some pundits are lauding his world-class ability as up there with Lionel Messi and Cristiano Ronaldo.
Although Klopp admits Hazard is a "special" talent, the Liverpool manager is focussing on far more than Chelsea's star man, with Jorginho among those who will also be key.
"I know exactly how good he [Hazard] is. He's a special player and he enjoys these one-on-one situations. I didn't need that game to find out about that," said Klopp in Friday's press conference.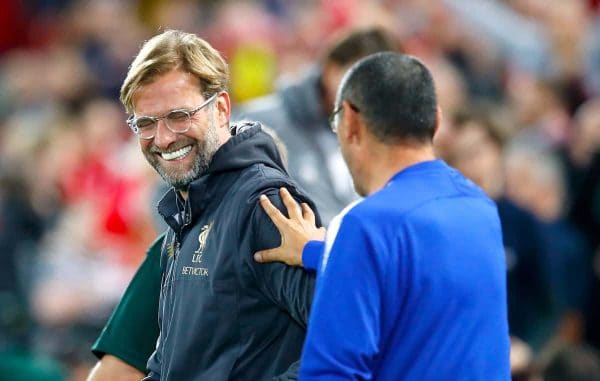 "Stop passes to him? Good idea. Being close? Good idea, but he likes players being close sometimes.
"We all know we could have stopped that goal (on Wednesday), but he used the situation. No player is not defendable.
"(Jorginho is) very important. How do we defend these two? Then Willian is there, then (Mateo) Kovacic is running like a Formula 1 car, and don't forget (N'Golo) Kante!
"They're all important, so let's try to be at 100 per cent."
Saturday's meeting is sure to be one that is decided by fine margins, with not too much between the two sides, as evidenced in midweek.
Last season, Liverpool's full backs, Trent Alexander-Arnold and Andy Robertson, met the challenge when up against some of Europe's top wide players in Europe, including Ronaldo.
This weekend will be another test of their ability and Liverpool's title aspirations.
Having overcome Crystal Palace, Leicester City and Tottenham on their travels so far this season, a fourth tricky away victory on the spin would feel huge.