It's been a remarkable start to a season that included a few potential banana skins and a couple of real testers. Alex Malone is full of praise for Jurgen Klopp's Reds.
Seven games, seven wins. 17 goals for; four against. There has been so much to admire in the performances to date. Here, I've tried to capture a selection of them:
Balance
Football is, in general, a simple concept; stick the ball in their net and keep it out of yours. The problem is that it is perennially difficult to master. A perfectly operating football team is akin to a perfectly operating piece of machinery; every single part has to be working at its optimum for maximum efficiency.
If any part is not finely tuned, in sub-par condition, or is a cheaper, less reliable part, then the whole machine runs less effectively and less efficiently. It produces less desirable results.
Jurgen Klopp has created the most well-balanced, well-oiled, highly efficient Liverpool 'machine' as I have seen in decades. Yes, it's early days this season, but Klopp has been constructing his machine for three years now, and the results are there to behold.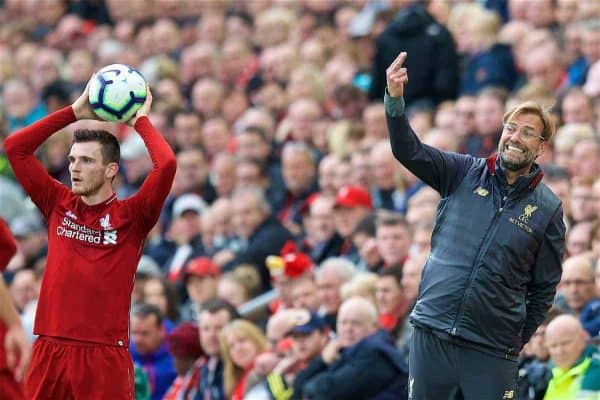 Emerging from a team previously flawed in numerous areas of the pitch, this is an exceptionally balanced, effective team unit. Slowly but surely, a combination of superb recruitment and fantastic coaching has seen the evolution of what is now a powerhouse Liverpool team.
The acquisitions of Van Dijk and Allison; the incredible rise of Trent and Andrew Robertson in the full-back positions, plus Joe Gomez, has – and it's not too grandiose a word to use – revolutionised our back five.
Two goals conceded in six league games; eight consecutive clean sheets at Anfield. The best defence in the Premier League with the least number of shots faced. It is a turnaround of epic proportions.
While many coaches seem more and more obsessed with 3-5-1-1 to attempt both defensive solidity and overlapping wing-backs, Klopp has achieved it with his preferred 4-3-3 formation, while not missing a beat defensively.
It's quite intriguing how the fullbacks are so solid defensively while offering so much to the attack.
For instance, how can a 19-year-old so comprehensively outplay the world's most expensive footballer, while also causing PSG all sorts of headaches as an attacking outlet? It defies established football logic, but it's happening routinely.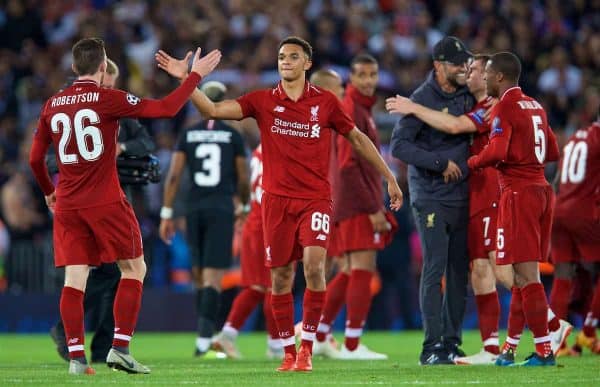 Similarly, Sturridge's goal was a result of Robertson's stunning cross while Cavani, Neymar and Mbappe looked on in bewilderment from the other side of the half way line.
There is a clear identity now to how this team performs; yet how to compete with it, no less stop it, remains a mystery to the opposition.
Klopp has evolved his squad into one with genuine top-class options all over the pitch – and the evolution is far from complete.
Fabinho and Keita are proven top-class midfielders, but both are learning the nuances of how to become a Klopp midfielder. Shaqiri – brilliant offensively – will need to continue to develop the defensive side to become an essential option in the middle/final third. Daniel Sturridge will never again have the luxury of being a mere target man; it seems he's chosen to embrace it.
It is a team balance that has been achieved concurrently with a kind of perpetual motion rarely, if ever, seen in the Premier League; the constant rotation, interchanging, overlapping, switching sides is bewildering to watch. Imagine what it must be like to defend.
It's almost becoming plug and play; so many players can now deputise and operate at elite levels knowing exactly what is expected of them in (virtually) all positions on the pitch.
With the ball, we can bamboozle any team with our movement; without it, every gap on the pitch is closed off. The opposition can't find a way through; in fact, they can barely find a player in space. On the rare occasions they do, there are one, two or even three Liverpool players snapping at their heels, while the others in Red shirts are closing down the passing lanes.
It's really quite brilliant.
Mental Strength
There's a resilience about this squad of players.
A year ago, we were falling apart at Wembley where an individual and team meltdown saw us humbled four goals to one by practically the same Spurs team we recently comprehensively outplayed.
There has been not a hint of such a meltdown so far this season. More to the point, it's hard to even imagine it happening now.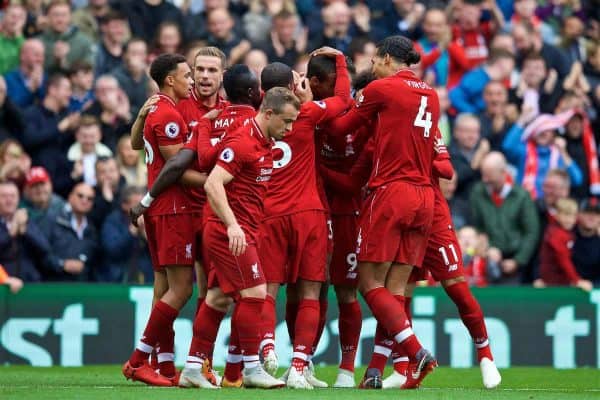 Jurgen famously said he wanted to change us from doubters into believers. At the time, I assumed his comments were aimed at us, the fans. Now I realise it was aimed at every one of us invested in our club – the fans, the backroom staff, the owners and – essentially – the players.
Each and every one of them now look like they believe they can overcome any obstacle. It's apparent in their play, their body language and, as a consequence, their results.
It's been a long time since 'Bastion Of Invincibility' was used around Anfield, but that's exactly what Jurgen Klopp is out to achieve, and I can give the current manager no greater compliment than that.
Fitness
Remember Klopp's first season? It seemed like every week we lost another player to a muscle injury. It was claimed, even by those in the medical profession, that the manager's intense 'heavy metal football' was unsustainable; that his methods were too intense; that he was pushing them too far, the stress on their bodies too much.
Where are all those muscle injuries today? Where are the "experts" now?
Initially, yes, it perhaps was too intense; but it was more likely that the players weren't in the optimum physical condition required to play at the intensity required than the manager was asking the impossible. Now they are.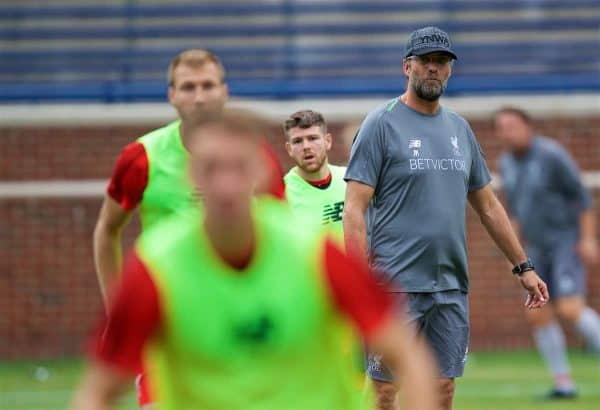 It is quite telling that while other teams are losing focus approaching the half-time whistle, Liverpool are banging in an extraordinary number of goals between minutes 40-45. We're also winning games (PSG) or consolidating wins (Palace) after the clock has ticked past the 90 minute mark.
Even with the least rotation seen in Klopp's tenure with the club, the players look fitter than they have ever been. They routinely outrun the opposition, but do so with purpose. Every run is meaningful and never the thankless 'chasing shadows' kind; that's that we impose on everyone else.
As an opposition team, home or away, if you aren't able to compete with Liverpools work rate, you are in serious trouble. It's a dilemma for opposition managers; Liverpool's players are quicker than yours; they interact and interchange better than yours; they harass you, they press you and smother you; they even run further than you… and to seal it all, they're fitter than you.
All of this, and yet injuries are becoming less frequent. With one or two exceptions, the squad looks fitter than it has ever been under Klopp. Even Daniel Sturridge, so prone to breakdowns, looks leaner, fitter and less vulnerable than he has for years, even though he's being asked to do more physically than ever before.
No More, Mr. Nice Guy
Being honest, there were times over his first two seasons when I thought Klopp was just a little too soft, with too many players seemingly getting away with sub-par performances too often.
As usual when it comes to Jurgen Klopp's management, I couldn't have been more wrong.
It's becoming clearer and clearer now how he operates. Unless you are simply not good enough (Benteke, Ibe etc.) or you really upset him (Sakho) Klopp publicly backs his players to the hilt.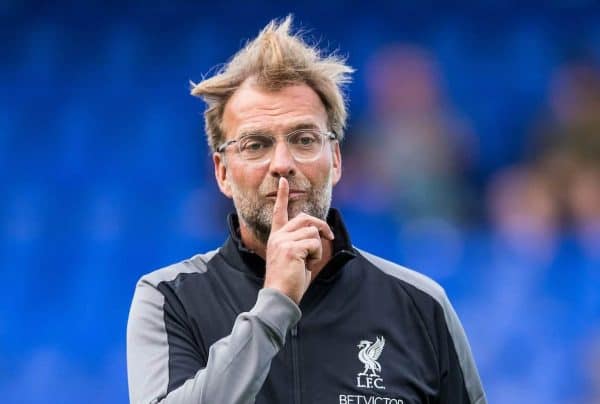 He knows that throwing players under the bus is anti-productive in every man-management way possible. It just doesn't work, and let's not forget, he had very few quality options in most positions when he first arrived at the club. What good would publicly humiliation of his players do, except possibly take them to 7th place in the table?
Let's take Karius as the most recent example. As expected, he was 100% backed in public by Klopp; "concussion was a major factor, he's an excellent goalkeeper" etc.
Then in the blink of an eye, Allison is signed for a world record fee, and Karius is off to Turkey. No public drama, no sensationalism; a difficult situation dealt with effectively, with dignity, and we all move on.
The weekend example was just as telling.
Shaqiri had had a dream first half debut. He was the main reason we held a three goal lead at half time yet he never appeared for the second half.
It was something that usually happens either when a player is struggling or the team performance is so poor that a tactical change is needed.
But it wasn't and Shaqiri hadn't; we were 3-0 up and it could have been six. Jurgen's decision ignored sentiment; it was based purely on the key element discussed right at the beginning of this article… balance.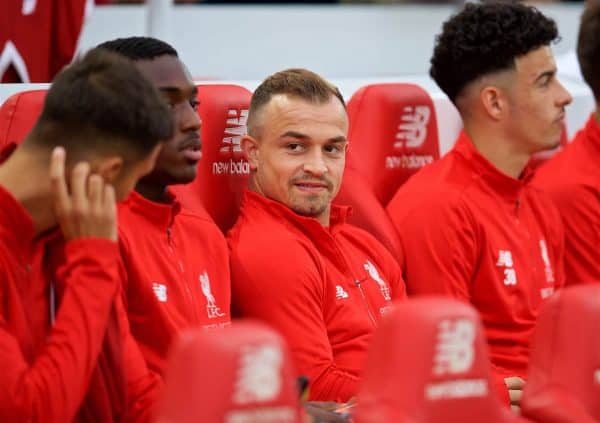 For all his excellent attacking play, Shaqiri's inclusion and natural inclination meant that the team balance was off.
His mindset and approach is still that of a Stoke City forward in a Liverpool shirt. That's in no way a criticism; just as with Keita and Fabinho, it will take time for him to learn the Liverpool way.
Without the midfield solidity offered by James Milner, Southampton – as poor as they were – actually had some joy through the midfield. After three years painstakingly perfecting it, Jurgen's team was a little off balance, so he took the necessary step to rectify it. It's what great managers do.
Liverpool's Fab 3 all track back, and they do it more than they are given credit for. It's an essential part of the Klopp equation. But Shaqiri didn't — not because he didn't want to, but because it's not yet in his DNA. Given time, it will be.
Klopp's decision, while looking extremely harsh did two things: 1. It restored perfect balance with the introduction of Milner, and 2. It made it clear to Shaqiri how he must evolve his game.
As with just about every single first team player Jurgen Klopp has placed his faith in, this will make him an even better, more complete player than he already is.
James Milner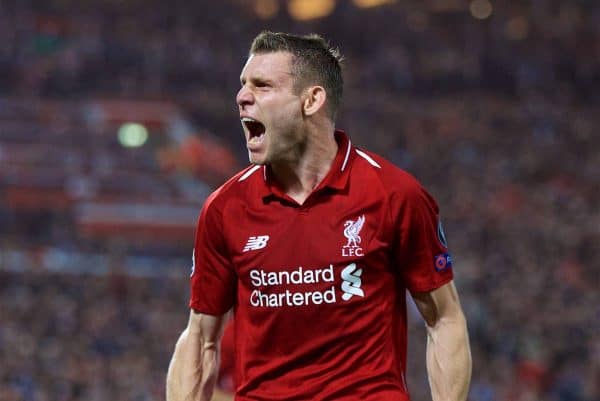 I could have picked any number of players for singular praise so far this season, but James Milner has been so magnificent I'm singling him out for special praise.
Along with Gary McAllister, these two players are arguably the greatest two free transfers in Liverpool's history
At 32, Milner has taken his game to a new level of excellence. His assist record is up there with the elite; his work rate and appetite shame many much younger players; his tackling is a welcome throwback to the Tommy Smith, Joey Jones, Jimmy Case, Graeme Souness and Steve McMahon days.
He embodies everything this Liverpool team is about; energy, passion, determination, skill, technique; a relentless desire to win.
Trent, Gomez, Robertson etc. could not have a better role model.
From an emergency left-back two seasons ago, to an occasional midfielder at the beginning of last season, to arguably Liverpool's most influential player so far this season.
So the last word goes to you, James Milner. Just like the team so far this season, you have been superb.