Liverpool are looking ever so subtlety like the real deal, writes Steven Scragg as he explains the difference between the Reds and Saturday's opponents at Wembley.
A late scare aside, that was as routine a win as you're likely to see any of the Premier League title-chasing protagonists obtain away to a perceived 'big six' rival.
Routinely dispossessing Tottenham Hotspur of the ball in midfield, on a less profligate day we'd have scored three, four, maybe even five.
In dangerous positions, Naby Keita, Sadio Mane and Mo Salah all had better-positioned team-mates available to them when they had various pops at goal, during a second half which suggested Spurs will again be out of the reckoning when the trophies are handed out this season.
85%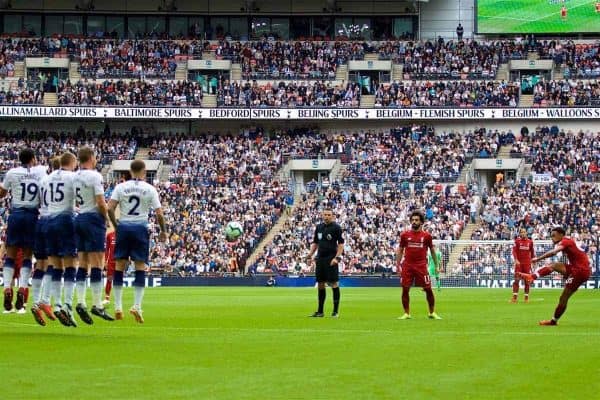 Wembley is a burden to Spurs. The new White Hart Lane was meant to be fully armed and operational for this one, but even then, I'm not so sure that it will cure them of their ills when it is finally ready. A bit like Arsenal when they chased the Emirates Stadium and its suggested path to national and global domination.
Spurs are an 85% sort of club, in a similar way to how we've been an 85% sort of club. Lots of great elements, fine players, brilliant outbursts of football, a compelling era in which they challenge, but ultimately fall 15% short of what is required to cross the winning line.
These are all boxes that Liverpool have ticked during our periodical rises to title-challenging prominence since 1990, be that under Roy Evans, Gerard Houllier, Rafa Benitez or Brendan Rodgers.
We have shared an uncomfortable common ground with Spurs of late, as they have almost followed our blueprint to the very letter. Spurs have been in danger of usurping us of our position as contemporary English football's great pretender.
More and more Liverpool no longer look like a great pretender. Whisper it if you're uncomfortable with it, but Liverpool are looking ever so subtlety like the real deal.
Blind belief in your capabilities, an unshakeable confidence in yourself and the concept of striking fear into your opponents. These are the ingredients which make up that final 15% shortfall in attaining true footballing greatness or not.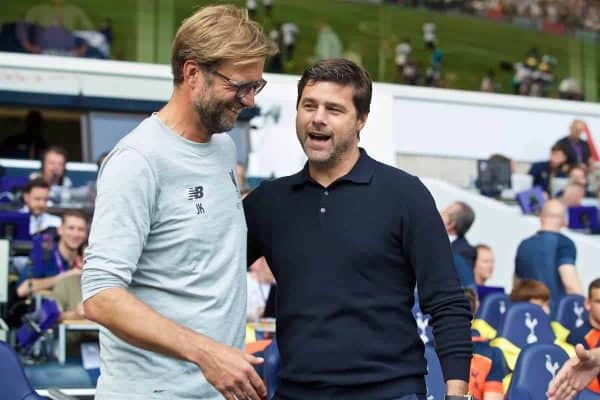 I get the feeling that Jurgen Klopp has instilled these required levels of confidence and belief in his Liverpool side. I get the feeling that Liverpool are striking fear in their opponents and rivals. I get the feeling that Klopp is on the verge of that alchemy moment. Klopp is closing in on the recipe for that all-important final 15%.
Rodgers came close to locating this final 15% in 2013/14, but the shortfall was in the other 85%. Whereas Evans, Houllier and Benitez unarguably had the greater depths of player talent in their bids to win the title than Rodgers had, Rodgers had the PT Barnum effect that Evans, Houllier and Benitez arguably lacked. That ability to make players feel immortal, that ability to make players feel unstoppable, that ability to make players feel 10-feet tall.
This Liverpool feels different. This Liverpool feels like it has a balance between the 85% and the final 15%. This Liverpool feels like it might just be able to build that bridge which can take it to the winning line.
Still to Click
All of that said, there are still elements which are waiting to click. Salah isn't out of form by any means, but he has yet to threaten the heights of last season so far.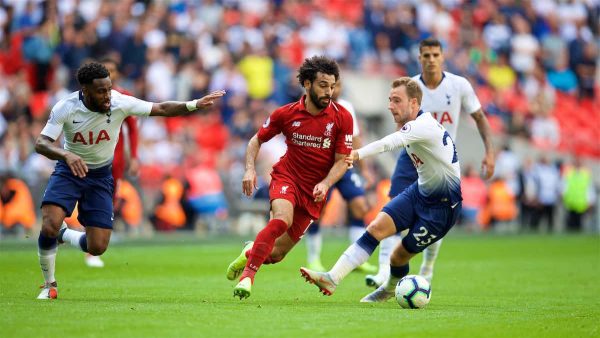 This is understandable, and it shouldn't be used to admonish him. A Champions League final which was cynically curtailed, a World Cup which was over before it had really begun for him and no-mark eBay shopkeepers trying to chase him down the road and besmirch his character. A massive amount of strength and character would be needed to brush these occurrences off lightly.
While Salah takes a deep breath and waits for the shoulders to ease again, his team-mates are stepping up to share the weight of the load. The Salah of last season has yet to arrive, but he will soon come to the party though.
After a year of waiting for him, Keita is still acclimatising to his new surroundings. He has done the basics right, yet we're still waiting for the fireworks. Just as with Salah, this will come.
This Liverpool is giving me pangs of 1987/88 in some ways. Long dormant sensations. For Keita's slow-burning start to life at Anfield, consult the reference books for information on Peter Beardsley.
Keita is blessed that he shares the midfield with James Milner and Gini Wijnaldum.
Milner's performances have been joyous, while Wijnaldum has risen to the challenge of competition.
Jordan Henderson has started only one of our opening five league games, while we still await the debut of Fabinho, who claimed a place on the bench at Wembley.
On the eve of the new season, I suggested that Wijnaldum would be Liverpool's 'Flop of the Year'. Thus far there are no such signs. It wasn't an opinion cast from doubts over his abilities, more from the weight of competition for places.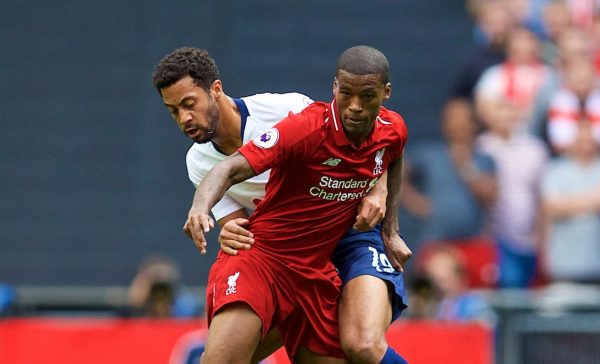 Keita, Milner, Henderson, Fabinho, the eventual return of Alex Oxlade-Chamberlain and Wijnaldum. Five – in time six – into three doesn't go and Wijnaldum's form would have to be very high to keep his place in the team. Wijnaldum is the footballing reincarnation of Nigel Spackman – this is a compliment kids – and that is ever so 1987/88 of him.
Fabinho remains an enigma, while Henderson has his work cut out to break back into the side.
Salah, Keita, Henderson and Fabinho. Each one will/can click into gear, to complement the fine start to the season others have made.
Concentrating on the League?
PSG is going to be interesting and the line-up that Klopp fields will act as a 'tell' as to where his priority for the autumn, or even the season itself lies.
Five wins in five in the Premier League, but only one change to the starting line-up during that span of games, when Henderson came in for Keita at Leicester City.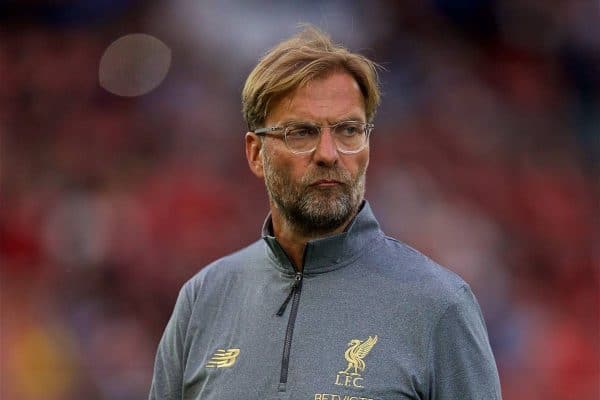 That constitutes a settled team in the league. If Klopp shuffles the deck for PSG and goes back to the settled league line-up against Southampton, can we then say that he has rested players against PSG in preparation of the visit of Southampton?
Henderson, maybe Fabinho could even play against PSG. Do we see a start for Xherdan Shaqiri or Daniel Sturridge? Joel Matip will be itching for more than his now-customary two-minute cameo.
If such changes were made, it would be a bold statement of intent to make to Chelsea and Manchester City, that we are 'concentrating on the league'.