Liverpool's win over Tottenham was another major step in the right direction and three prominent Reds figures have lauded the performance on the day.
Saturday's trip to Wembley was seen as a threat to Liverpool's perfect start to the season, with Mauricio Pochettino turning Spurs into one of the country's top sides.
From the moment the visitors had a first-minute goal ruled out for offside, however, they felt in complete command in north-west London.
After a frustrating lack of end product in the final third, Gini Wijnaldum's header squeezed over the line to make it 1-0 – the Dutchman's first away goal in the Premier League.
Liverpool's dominance continued into the second-half and Roberto Firmino's poached effort doubled the lead and all but sealed the win.
Erik Lamela's late consolation reduced the arrears, and while the Reds were fortunate not to concede a penalty in the dying seconds, they were far and away the better team.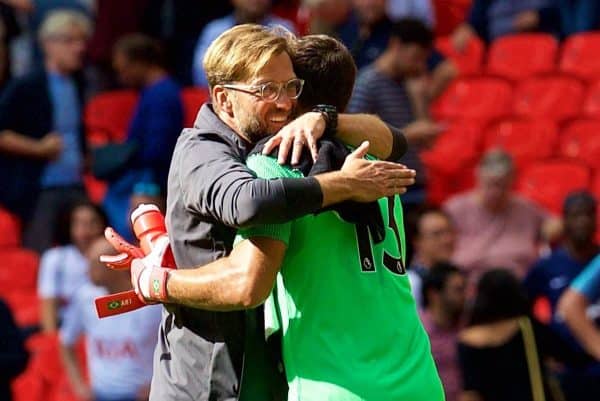 Speaking in his post-match press conference, Jurgen Klopp enthused that his side produced their best display of 2018/19 to date:
"Let me say, it was the best game of the season for us for sure.

"We had in all the games really good moments. Today, we had 85 brilliant minutes and then unfortunately we didn't finish the game off. That means Tottenham have the quality to strike back, that's what they did after a corner.

"But then nothing happened anymore. So I'm really happy about the performance and proud of the performance because the boys came back Wednesday and Thursday, we trained yesterday and then playing our football in that way, that's really nice for a manager."
Specifying exactly where the Reds shone most, the manager singled out the defensive side of things, most notably their pressing:
"I really thought defending against the ball, we were brilliant. We caused Tottenham a lot of problems in these situations.

"They are so good and so tuned and they do it so confidently to pass through the lines that you need to be outstandingly brave and ready to close these gaps.

"They are really big sometimes, so it's really difficult but we did it. With the ball, how we controlled the game, I was happy as well. We were confident, we played good football, we created moments, we prepared direction, we played passes in behind, played counter-pressing, so it was just good.

"I really think with five per cent less we would have lost. Our timing today was really good; our best performance there, so we got the three points."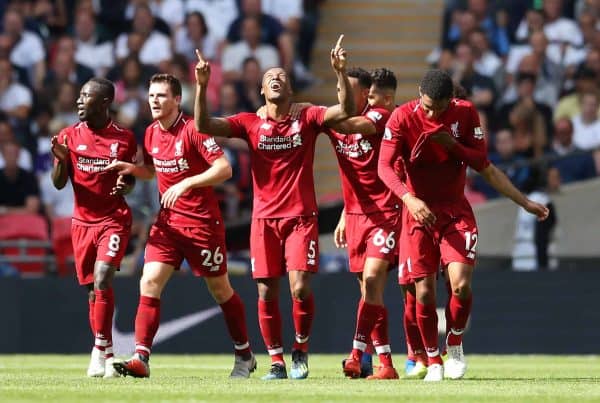 Wijnaldum, no doubt bouncing after ending that long wait for an away goal, was level-headed about it being a 'statement' victory for Liverpool:
"I don't really want to speak about statements because every game is different.

"Now is Tottenham, other teams will come. A game is a game, it's not really a statement. You can win today and lose another game.

"We just must make sure that we will not lose these games easily and that we have to do a lot of things to win these games. We have to be concentrated, give everything, and play good football. Then we can win these games.

"But we need to focus on those things and not 'giving statements'."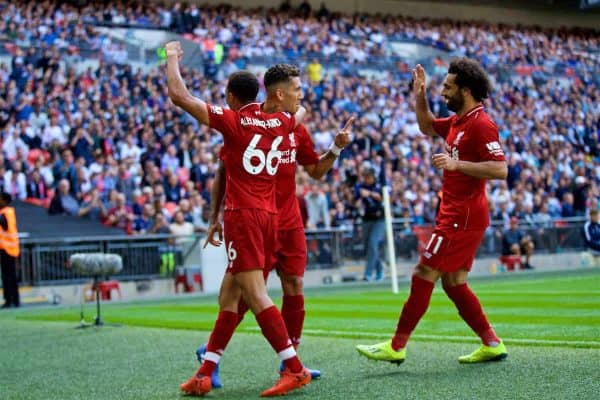 Trent Alexander-Arnold produced yet another assured display at right-back and he hailed his side's tactics against stern opposition, highlighting their new-found defensive solidity:
"We know that they had a threat and the players that they have are in good form as well, so it was always going to be a tough battle to come here and try to stop them defensively.

"We have come here with a game plan and I think the manager and the team got it spot on.

[…]

"They never had too many clear-cut chances, which is hard to do when you come to Wembley, with Tottenham playing here.

"We created a lot of chances and in all honesty it probably could have been more. But we'll look back on it and we have still got the three points. We are disappointed with the late goal, but at the end of the day we have got the three points."
It was such a professional performance by Liverpool, on a day that could so easily have proved to be sticky – especially being so soon after the international break.
To play with such dominance and authority, in a 12:30pm kick-off away to a top-four rival, straight after an international break, takes some doing.
Let's hope a similar display is on show on Tuesday night when the Reds welcome Paris Saint-Germain to Anfield for their opening Champions League Group C clash.