Liverpool produced another comfortable display as they sealed a 3-0 win over Southampton on Saturday, on an afternoon that saw Jurgen Klopp experiment.
The Reds headed out onto the Anfield pitch for the second time in five days as Mark Hughes' mid-table Saints arrived looking to end their perfect start to the season.
But after a hugely impressive showing in Tuesday night's 3-2 defeat of Paris Saint-Germain, the hosts were able to keep their momentum and secure a historic win.
Now six in six in the Premier League, and seven in seven in all competitions, Liverpool are officially enjoying their best-ever start to a season.
They capped it with another performance that was certainly far from their free-flowing best, but instead was one that showcased a new-found winning mentality and depth throughout the squad.
Klopp fielded a 4-2-3-1 formation from kickoff, with an own goal from Wesley Hoedt and efforts from Joel Matip and Mohamed Salah ensuring the three points.
Here, Liverpool writers Jack Sear (@JackSear), Dave Hendrick (@DaveHendrick_) and Jonathan Higgins (@JHiggins) discuss the good and bad of the Reds' 3-0 win, and whether the new system should stay.
The good…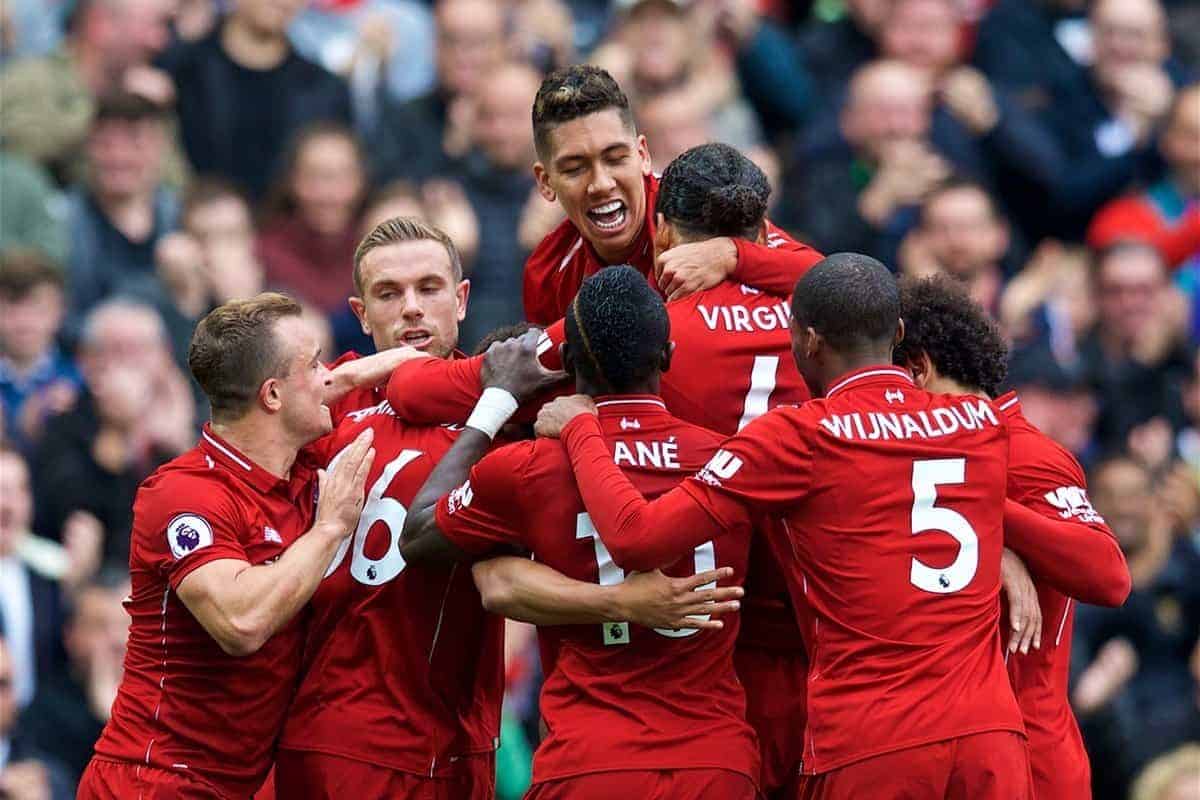 JACK: There were a few raised eyebrows when the lineup was released before the match.
I don't think many were expecting this to be the game that saw Matip come in at the expense of Gomez, and it was also interesting to see Klopp change the system and use Shaqiri behind the front three.
But the contributions of both Matip and Shaqiri prove just how good a squad of players we have at the moment. Shaqiri made two goals and Matip scored one.
It's great to have so many players of such a high quality competing for places.
Klopp said after the game that they changed back to the usual 4-3-3 at half-time because the 4-2-3-1 wasn't giving us too much protection at the back, but it's important to know that the players are able to adapt to different systems at different times.
It may not have gone 100 percent to plan, but ultimately we were 3-0 up going into the second half.
I thought Henderson ran the game in the middle and Van Dijk was a different class before he went off. Another important three points.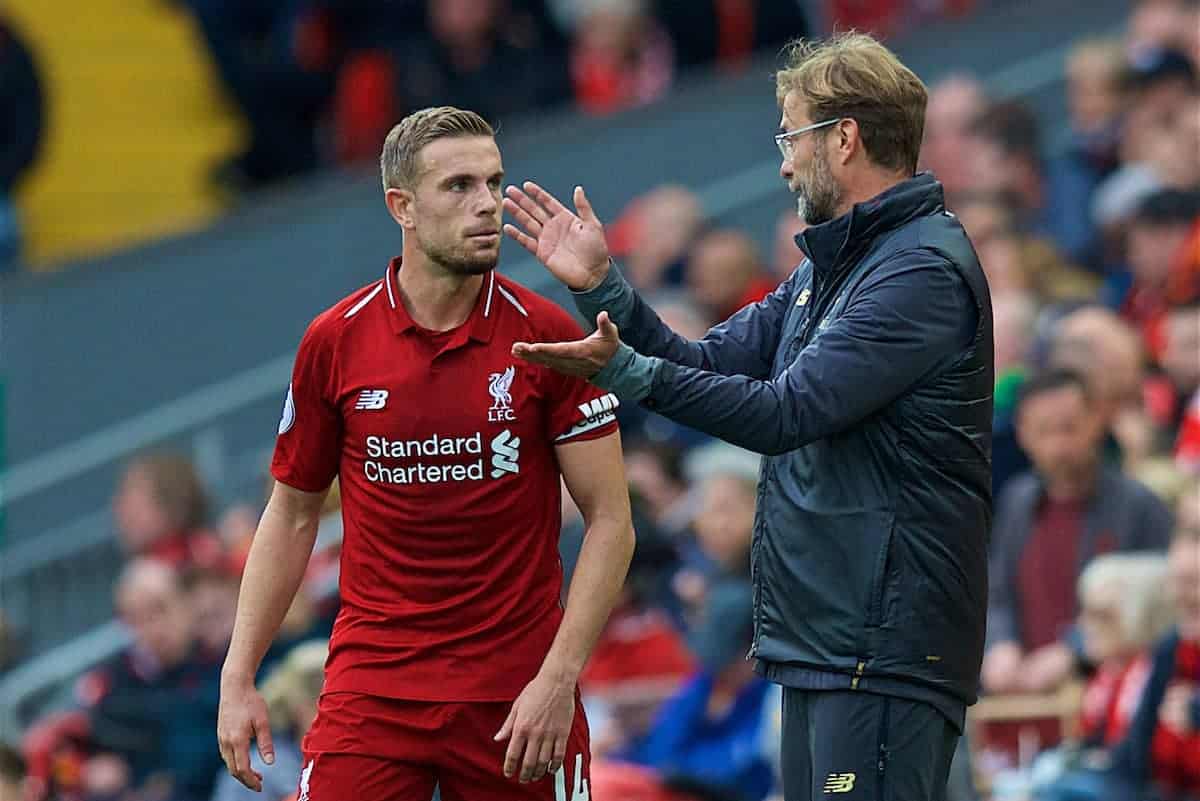 DAVE: The ease with which we won. It's a nice habit we've developed, winning without ever getting out of second gear.
It's similar to 2007-09 United when they had the Ferdinand-Vidic centre-back pairing and the Ronaldo-Berbatov-Tevez/Rooney front line. They were a machine who could turn up and win games without having to be at their very best, and we're becoming the same type of animal.
Our back line has been outstanding this season and we know what our front three are capable of.
Once the midfield settles down, and Keita and Fabinho settle in, we'll be a terrifying proposition for anyone to face. And there's depth now too.
We've got Sturridge and Shaqiri to come in up front if we want to rest an attacker—that's a huge change from what we had last season. There's depth in midfield and at the back now as well.
We beat Southampton without really having to do too much in this game. It was comfortable, we just played our football and the goals came. Then we shut the game down.
Another comfortable win, another clean sheet, and a goal for Mo after the bizarre claims about him from some quarters in recent weeks.
JONATHAN: Another three points as the red juggernaut marches on is obviously the most important positive to take from the yesterday's game.
What pleases me most is this is yet another sign of the evolution of this squad.
A difficult game like this on the back of a European night was exactly where we would have struggled in years gone by.
Instead, yesterday Klopp was able to make a number of changes to the squad and, no disrespect to Southampton, completely cruise a stress-free win.
Shaqiri's first start for us deserves special mention. Playing as No. 10 he offered something completely different in terms of creativity and magic from set-pieces.
He will consider himself very unfortunate to have been hooked at half-time but I expect to him to start the League Cup against Chelsea.
We need to take a moment as well to remind ourselves that we played £13.75 million for him—such a bargain in this crazy, inflated market!
The bad…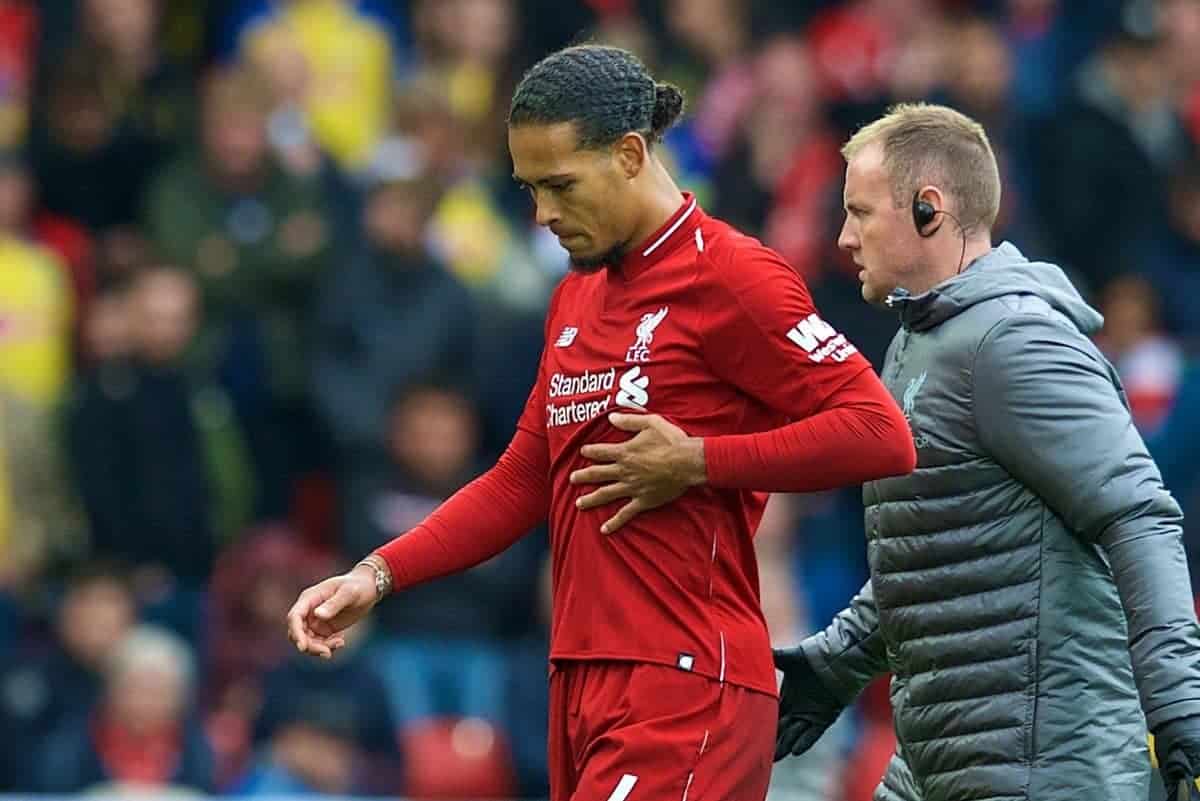 JACK: You can't have too many complaints, but at times, the front three again showed that they're not quite on the same wavelength at the moment.
There were moments when some of their combination play was excellent, but they can still play a lot better.
The final ball was lacking at times and Salah still looks a bit off the pace, but it will come.
We've won our first seven games of the season without them being anywhere near as good as they can be. I'm looking forward to watching us when it all clicks!
Aside from that, the Van Dijk substitution was obviously a bit of a scary moment. It seems it was more of a precaution than anything else, though.
I don't think he'd have started in midweek against Chelsea anyway, so he should have a full week to prepare for our league game at Stamford Bridge next Saturday.
DAVE: The injury to Virgil. He's our best player. He's our most important player.
It sounds like he's fine and that it's just bruised ribs rather than broken ribs, which is a massive relief.
The time between he went down and when he appeared back on the bench seemed like an eternity though.
Aside from that, there were no negatives.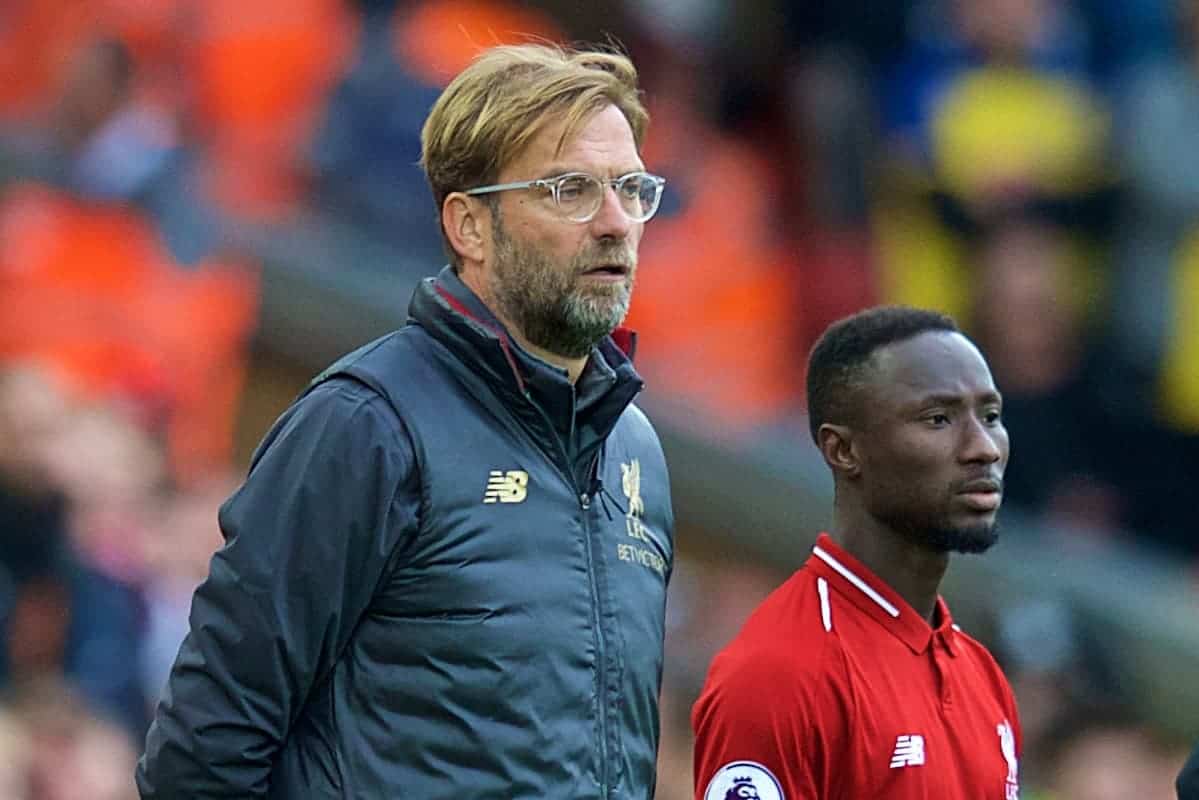 JONATHAN: Now, this is a very difficult question after another win. That's seven in a row, three points, a clean sheet and a stress-free Saturday afternoon.
Factoring in the couple of changes Klopp made as well, surely not even the most pessimistic person could find a negative twist in this!
Perhaps the injury to Van Dijk would have caused a few negative thoughts, but the initial reports are that is not a serious injury.
And what did you make of Klopp's 4-2-3-1?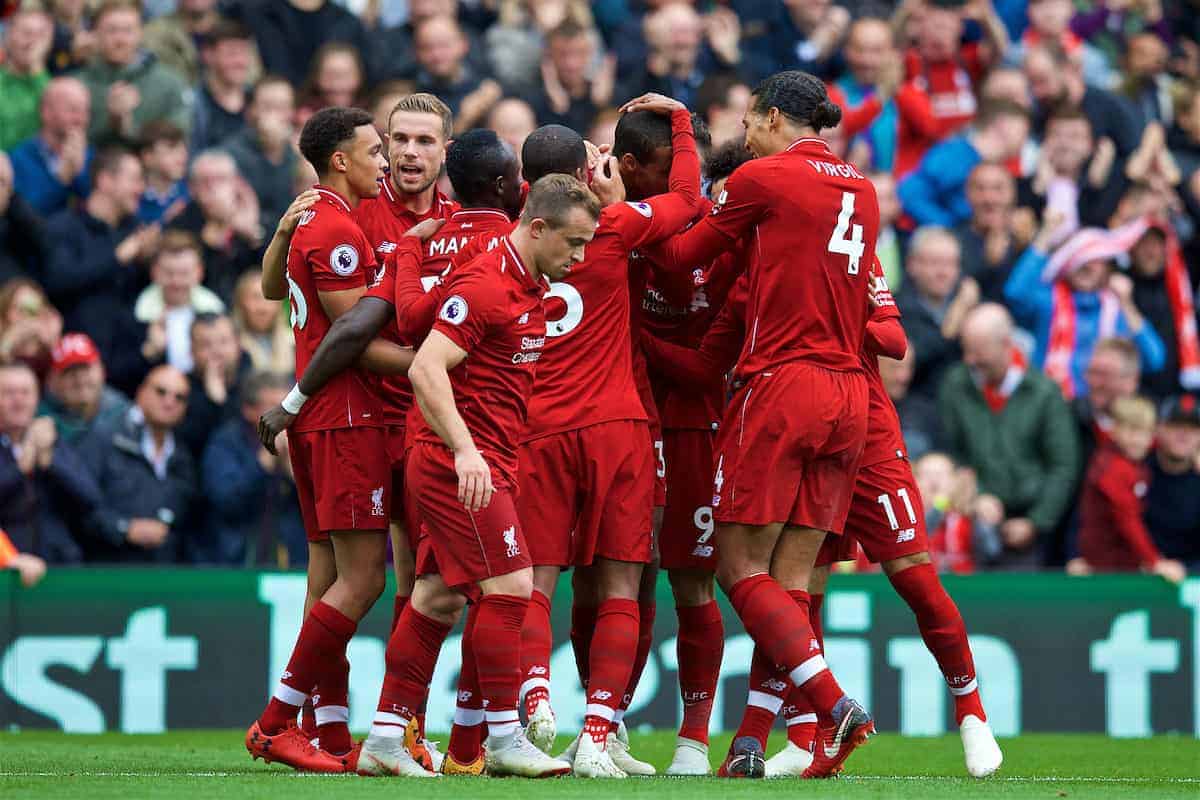 JACK: As previously mentioned, Klopp obviously felt that there were times when it left us a bit too open at the back, but it's still a very good option for us to be able to use Shaqiri in that role behind the front three.
It was interesting to see Firmino out on the left with Salah central. I suspect that was to try and trouble Southampton's tall and relatively immobile centre-backs with Salah's pace.
In time, I wonder whether Klopp will try and get Shaqiri playing as a No. 8, as part of a midfield three.
He mentioned in pre-season that he thought he might be able to play there and there was some talk of him being used there on Saturday.
He's a terrific option for us in a free role, though, and his quality from set-pieces is a massive asset too.
I think we could see more of this system against sides that come to Anfield to sit in and get bodies behind the ball, it may just need a bit more practice in the midfield and defensive areas before Klopp is comfortable enough to use it more regularly.
DAVE: It was interesting to see, Klopp hasn't really used it since the Europa League final.
We looked a little bit out of sorts in central midfield, especially Henderson who has never been good in a midfield two.
It wasn't much of an issue when we had the ball but out of possession he really struggled due to his poor positioning. Gini was fantastic though and carried the load.
Once we went back to a three in midfield we looked far more controlled.
I'd like to see the 4-2-3-1 this season with a Fabinho-Gini or Fabinho-Keita pairing, but unless it's one of those two pairings we don't have the midfielders to make it work properly.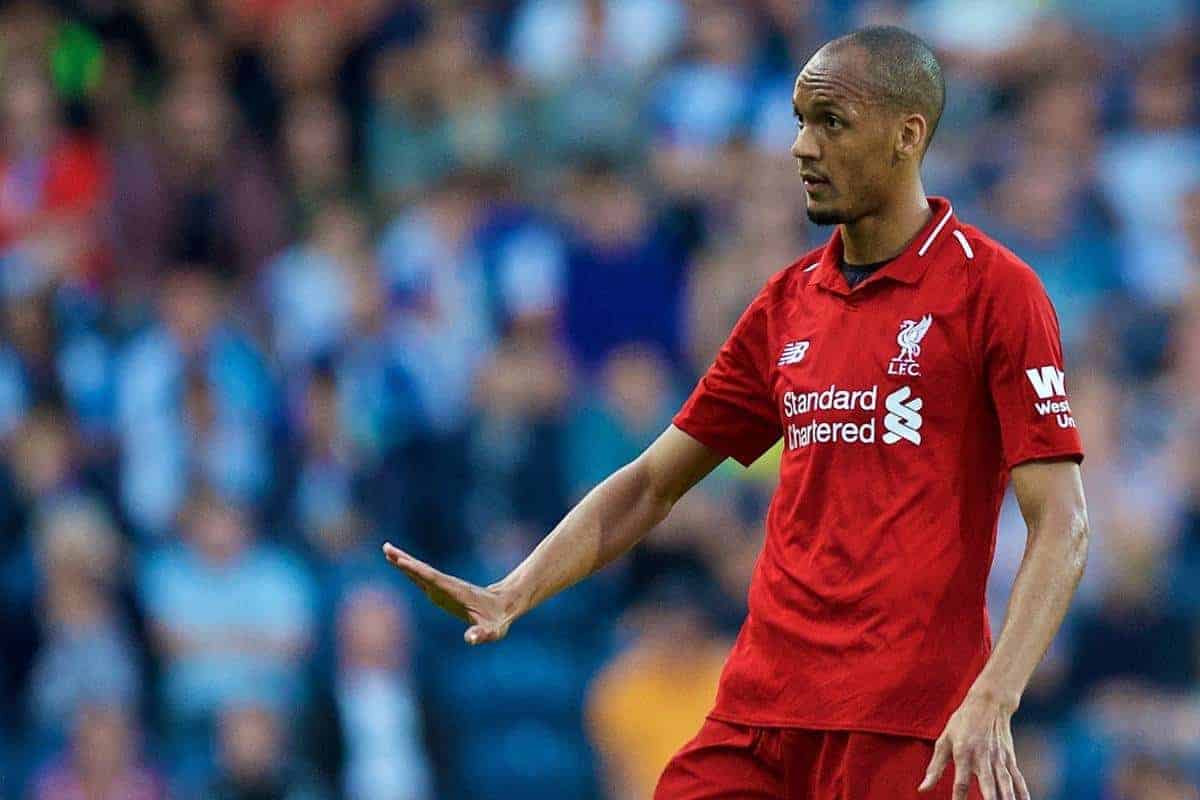 JONATHAN: While it definitely needs to be worked on longer in the training ground, I loved this tactical change.
We had far too many home draws last season. This was something Klopp clearly assessed and came trumps with a solution.
Klopp openly admitted from a defensive point of view he wasn't happy, hence a restoration to the tried-and-trusted 4-3-3 at half-time, but it certainly gives opposing teams something new to worry about when they come to Anfield.
It's almost 'a double pivot and let everyone else bomb forward' approach which will leave us fans licking our lips in anticipation—but does need a lot more time spent honing it on the training ground.
For me, it's a system that Fabinho would thrive under also.