After Liverpool's 2-1 defeat to Chelsea in the League Cup, our post-match debate looks at the positives, negatives, and team selection on Saturday at Stamford Bridge.
The Reds' winning start to the season is over, with a below-par showing at Anfield seeing Jurgen Klopp's men eliminated in the third round for a second successive season.
Daniel Sturridge's opener was cancelled out by Emerson's close-range finish, before substitute Eden Hazard proved his worth with a superb winner.
It was a disappointing night, but Liverpool remain top of the Premier League and focus now turns to Saturday's trip to Stamford Bridge.
After the match, Liverpool writers Henry Jackson (@HenryJackson87), James Nalton (@JDNalton) and Leanne Prescott (@_lfcleanne) discussed the good and bad of Liverpool's defeat, and look ahead to the weekend clash.
The good…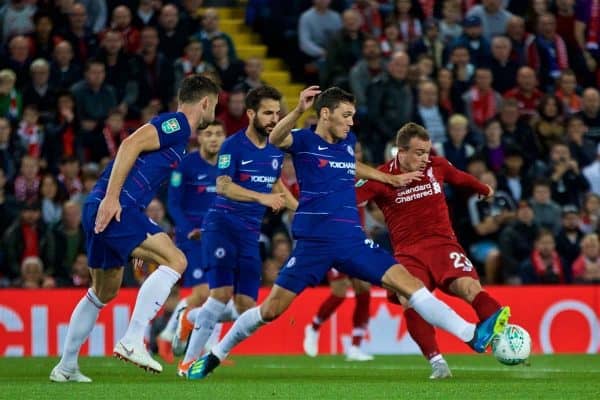 HENRY: It wasn't exactly an evening filled with positives, but Xherdan Shaqiri's performance definitely caught the eye.
He wasn't necessarily perfect – he tried his luck from distance too often and appeared to be berated by Jurgen Klopp after the final whistle – but he looked a constant threat and his left foot is beautiful.
Another goal for Daniel Sturridge was also great to see, and it was good to see him respond well to missing that sitter just minutes earlier.
He continues to look as fit as he has done in a long time and is averaging a goal every 61 minutes this season.
JAMES: Despite sending out a team containing five players who are yet to play this season (Fabinho's few seconds against PSG don't count), Liverpool created enough chances to win the game with ease. They had three "big chances", as defined by Opta, which fell to Sadio Mane (two) and Sturridge, but none of these were put away.
They should have put the game to bed long before Chelsea brought on game-changers N'Golo Kante and Eden Hazard, and it's encouraging that a team lacking match sharpness was able to create these opportunities in attack.
On top of this the first Chelsea goal should not have stood for a number of reasons, not least because Naby Keita's tackle on Victor Moses wasn't a foul, but especially because VAR was available but not used to overturn a clear offside when the cross came in.
Speaking of Keita, you can see what he and Fabinho will bring even if they aren't bringing it yet.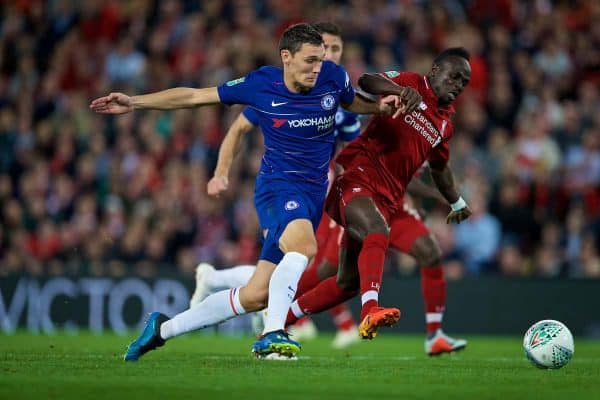 This wasn't the dormant defensive Chelsea of the past. This is a pro-active pressing Chelsea under a manager, Maurizio Sarri, who has a similar outlook on the game to the likes of Klopp and Pep Guardiola.
Liverpool haven't played a side like this yet this season, especially as Spurs don't seem to be offering up their usual game so far.
That a new signing, Fabinho, lacking both minutes and match fitness, was able to act as a single pivot against this type of press was encouraging. He will not get many bigger tests in that role, and although he wasn't brilliant his ability to escape trouble and play the right pass was impressive.
LEANNE: Shaqiri. He continued to show he possesses the quality to play in this Liverpool team, busting a gut to close down at every opportunity while providing a constant threat down Chelsea's left-hand side.
The movement and vision was there, albeit without the required final ball sometimes, but the former Stoke City man has bedded in well at Anfield and showed the increasing depth in quality Liverpool possess this season.
Likewise, it's always a great sight when Sturridge gets on the scoresheet. Seeing him pound the Liverbird in front of the Kop was a testament to his rejuvenation.
Frequently injured, he has rarely been available for selection, but this season he looks like a player finally enjoying his football again.
Yes, he should have scored more, but the signs are there that he can be a valued asset for the Reds.
The bad…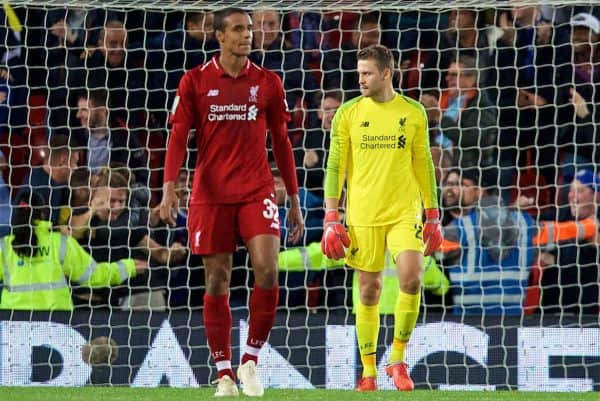 HENRY: Liverpool went out of a competition, which is obviously the biggest downside!
It may be the least important of the four competitions but it will still tough to lose in those circumstances, especially when you have grown so accustomed to the Reds winning.
This was an evening that made you appreciate Liverpool's first-choice back-line so much, with none of those coming in good enough to be regulars.
Simon Mignolet was fine, even though his kicking still drives me to distraction, but Nathaniel Clyne and Alberto Moreno are way off Trent Alexander-Arnold and Andy Robertson's level now.
Moreno showed yet again what a defensively erratic presence he is, while Clyne is horribly limited going forward.
Joel Matip and Dejan Lovren didn't do a huge amount wrong, but they looked nowhere near as imposing and reliable as Virgil van Dijk and Joe Gomez.
Fabinho and Keita are still feeling their way in, so any criticism of them seems harsh.
JAMES: It's difficult to criticise a group of players who are thrown together and expected to function in the same manner as the side which have begun perfectly in the league and Champions League.
It's easier for one or two new faces to come into a successful side, but when there are changes to five of the six most defensive players, then they form a different team rather than complementing an existing one.
The positives of Fabinho's game were mentioned above, but the negative side came in the form of his defensive positioning. This will come as he gets used to Klopp's system but Keita might not have the same excuse, having played in a similar system at Leipzig.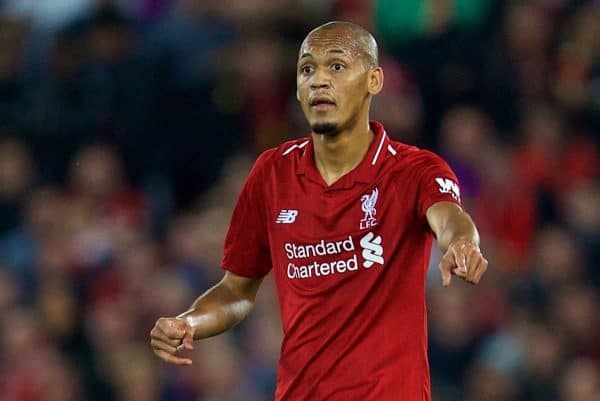 Neither were helped by poor performances from James Milner and Mane, who both looked like they could have done with sitting this game out.
The worst player on the pitch was Moreno who, at least in this game, did nothing to suggest that he is good enough to provide backup.
The best form Moreno has shown at Liverpool was at the beginning of last season when he was able to get a run of games. Given that Andy Robertson is the best left-back in the world, he's unlikely to get that now.
To be fair, Moreno wasn't helped by those around him, which is another negative, as he had little support from midfield or Lovren inside him. He would undoubtedly be better alongside Van Dijk.
LEANNE: The defending for Chelsea's second goal was what you expect to come across in a five-a-side kickabout at the park, not in a cup match from a team currently top of the Premier League.
In a much-changed back-four that resembled Liverpool's shaky foundations from two years ago, Matip and Lovren lacked the leadership and authority of Van Dijk.
It was the kind of match where you are increasingly grateful for Robertson and Alexander-Arnold. Both are so pivotal to the defensive improvements while posing a potent threat on the attack with menacing crosses into the six-yard box.
Moreno and Clyne were neither. The former looked dishevelled, displaying his unusual tackling style on more than one occasion to ill effect. Embarrassingly skinned for Hazard's winner, too.
Meanwhile, Clyne looked like he hadn't played football in years. A very rusty performance and stifled any attacking momentum down the flank on the odd occasion he did move forward.
And what would your starting XI be on Saturday?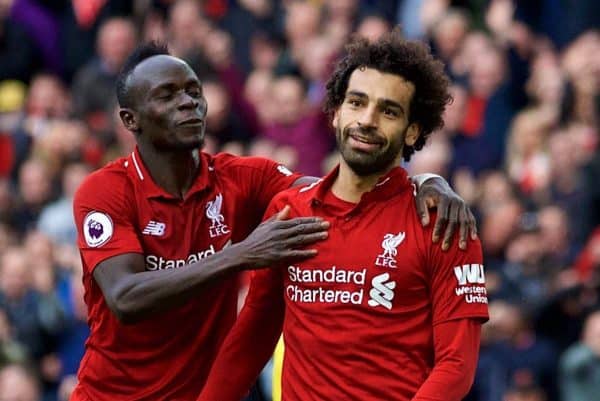 HENRY: I think the team almost picks itself, barring maybe one area of contention.
Alisson, Trent Alexander-Arnold, Gomez, Van Dijk and Andy Robertson should make up the defensive unit, relegating Wednesday's quintet to the bench and maybe even some out of the matchday squad entirely.
I think Gini Wijnaldum and Milner will almost certainly start, and Jordan Henderson would probably just get the nod over Keita for me.
We all know Keita is the superior footballer but he played 90 minutes on Wednesday and still looks a little way short of his very best.
Henderson, Gini Wijnaldum and Milner have proved to be an excellent midfield unit a number of times over the last 12 months, so there should be no worries about them all starting a big game together.
The front-three picks itself, as always.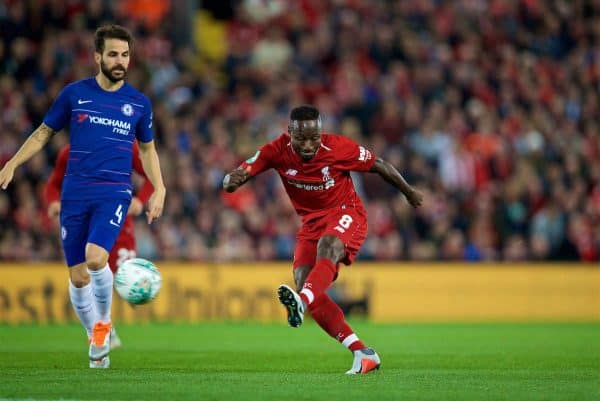 JAMES: If fit: Alisson; Trent, Gomez, Van Dijk, Robertson; Wijnaldum, Milner, Keita; Salah, Firmino, Mane.
LEANNE: Klopp made heavy changes for the cup, albeit fielding a strong starting eleven, so I expect plenty of the usual bunch to come back in.
Van Dijk, Gomez, Robertson and Alexander-Arnold will be welcome returnees alongside Wijnaldum.
Milner looked very rusty so I would probably opt for Henderson in a slightly more attack-minded midfield role alongside Keita.
Roberto Firmino, Mohamed Salah and Mane to make up the front-three, with Shaqiri and Sturridge dropping to the bench.
There are a few big games coming up in quick succession, but Klopp won't want to let the first loss of the season derail the league momentum. I expect him to go with his strongest eleven and get revenge for Wednesday's defeat.