Eight games into his Liverpool career and Alisson is already showcasing form that vindicates the club's decision to spend £65 million to sign him from Roma.
When Alisson made the switch from Serie A in July, Jurgen Klopp described the Brazilian as a "world-class goalkeeper," with it clear that even a world-record deal was too good to turn down.
The significant fee that saw Roma part ways with their No. 1 was soon eclipsed by the £71.6 million that Chelsea paid to sign Kepa Arrizabalaga.
This may have taken some of the pressure off Alisson, but regardless he has shown no sign of struggling, despite a confidence-threatening error against Leicester City.
On the contrary, he has excelled, and though he conceded an Eden Hazard goal on Saturday, his role in Liverpool's 1-1 draw with Chelsea was vital.
After that stalemate, responding to criticism of the 25-year-old, Twitter user @WC_LFC_Torres provided a telling summary of Alisson's statistical output so far.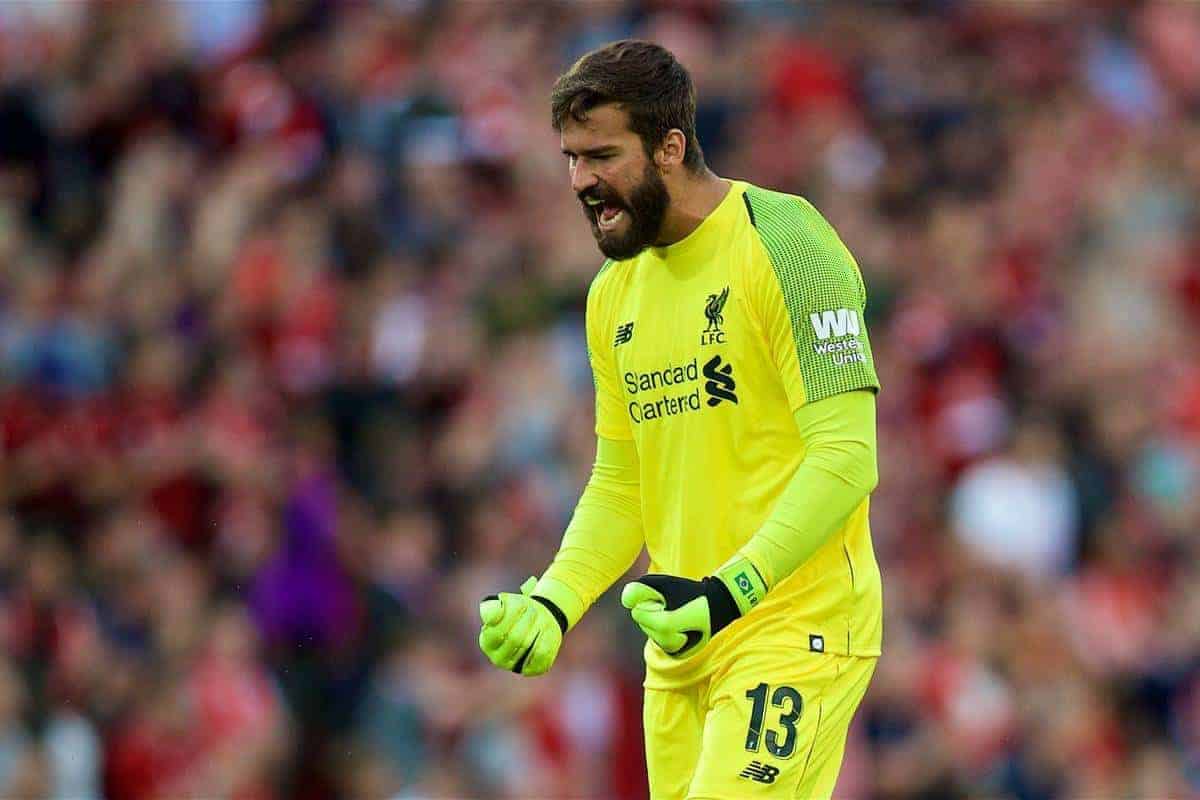 He tops the Premier League in terms of clean sheets, with four in seven games, along with a remarkable division-high save rate of 86 percent.
While there is a discrepancy in the data regarding his ranking in terms of long balls completed (39), with Kepa (43) making more, his the most impressive aspect comes in xGA.
Expected goals against, or xGA, examines how well a goalkeeper performs in terms of goals he is expected to concede.
Alisson is claimed to be outperforming his xGA by 1.83 goals, or the third best in the league, with the rate of goals conceded compared being 61 percent, making him the league's standout.
LFC Transfer Room's Alex Mansfield provided further context to Alisson's contribution with crucial, game-changing saves:
Alisson's first 8 games at Liverpool:

– Saved 19/24 (79%)
– 4.8 shots per goal
– 6 saves with the game tied
– 9 saves with a one-goal lead
– 2 saves with a one-goal deficit
– 2 saves with a 2+ goal lead
– 17 of 19 saves with the game in the balance

Massive pic.twitter.com/Yd0ne7074X

— Alex Mansfield (@el_mansfield) October 1, 2018
As with against Chelsea at Stamford Bridge, the No. 1 has kept Liverpool in games both when drawing and having gone behind.
He has also kept the Reds in front on a number of occasions, with 11 saves when his side have held a lead of one or more goals ensuring the dominance of a title challenger.
Alisson is guaranteed to keep his place for Wednesday night's clash with Napoli in the Champions League, and speaking to LiverpoolFC.com he recalled his statistics from a 4-2 win there with Roma:
"They had 24 attempts on goal, 13 on target. I made 11 saves and conceded two goals.

"It's always tough playing away against a great club. In Napoli, we'll definitely find really passionate fans, and a team that comes onto the pitch with a huge desire to win.

"The last and only time I played there, we happily got a win, but it was one of the games I had to work hardest in during the season.

"It was one of the toughest games of the season for us in Serie A, so it's definitely going to be a tough game. They've had the same basis of the team for three to four years.

"I hope we have a great game and achieve the victory, but it'll definitely be a big challenge for us."
This was Alisson's only appearance at the Stadio San Paolo, and therefore he has "just good memories."
But on his second outing in midweek, he can certainly be trusted to make more.