Few know Liverpool, or indeed football, as Jamie Carragher does—so when he sits down to discuss Jurgen Klopp and more, it's well worth listening.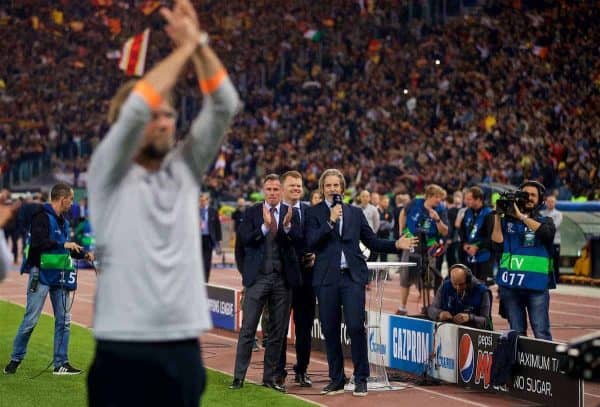 IN CONVERSATION WITH… JAMIE CARRAGHER, PART ONE
Jamie Carragher established himself as a club legend during a career in which trophies rained down on Anfield with joyous regularity.
Between 1997 and 2013 he racked up 713 appearances and won seven major honours, including a European Cup.
We caught up with the Bootle-born star in a restaurant close to where he was born, to talk about his career, life in Liverpool and his relationship with supporters.
First, though, we opened with his thoughts on the renaissance underway at Liverpool under the stewardship of Jurgen Klopp, who is now three years into his Anfield reign.
Klopp and Kyiv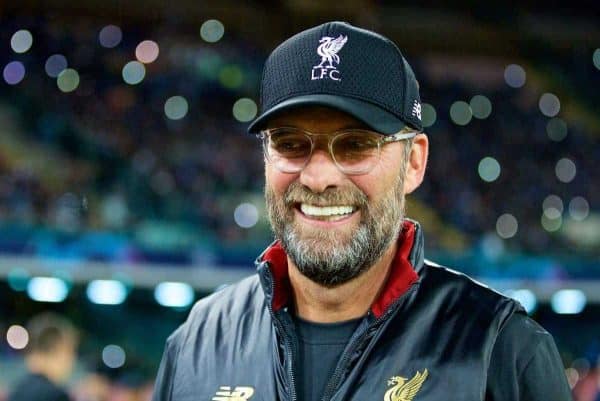 I start by reflecting on what a wild ride it has been, and I point out that the transformation on the pitch is mirrored in the stands.
Back in 2005, Liverpool's journey to Istanbul was accompanied by one song, Johnny Cash's 'Ring of Fire,' a chant that owed its origins to Jamie's Dad, who would get the song going on away days following Liverpool across Europe.
Klopp's Reds, however, were propelled to Kyiv on an anthemic wave that included several Kop songs, most notably the beautifully haunting Allez, Allez, Allez.
It seems the Kop choir has been recharged. They are believers now. Carragher agrees, stating that the loss to Real Madrid in Ukraine felt almost like an afterthought, in what was a glorious season packed with drama and magic.
"Don't get me wrong, I was devastated that we lost the final," says Carragher. "But I spoke to my son about the night we had and I said 'you won't get many of them you know' – everyone together and enjoying themselves. It doesn't come round all that often."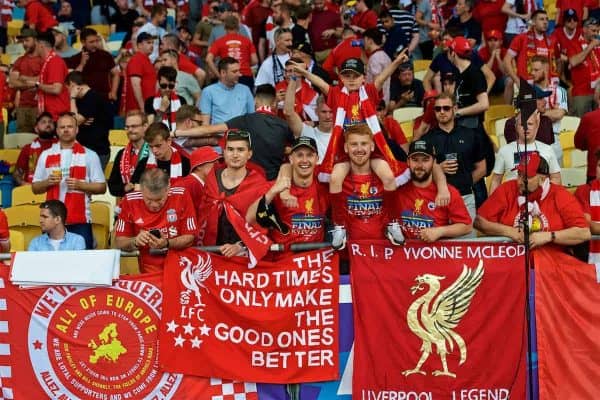 For Jamie, Kyiv is more about the journey than the destination and, despite a painful defeat made worse by the injury to Mo Salah, he identifies with supporters who saw spectacular highs, travelled the continent and created a whole new chapter in the club's history of European adventures.
I wonder if some of the euphoria among supporters stems from the fact that Kyiv never felt like the end of something, but more like a beginning.
That's in contrast to the way we felt after Basel in 2016. That was a low point, but the immediate feeling in the aftermath of the 2018 Champions League final was one of pride and this being the start of a new journey.
Jamie agrees and adds there's a bonus. The joy on the Kop, in spite of the defeat in Kiev, is upsetting some of our bitterest rivals:
"In some ways I think it's pissing a lot of people off that we're actually enjoying ourselves. Because they're all saying 'oh, you didn't win it.' But we're having the time of our lives going home and abroad and watching Liverpool.
"We're loving Klopp, loving the football we play. Okay, we haven't won the trophies yet, but we're having a great time, and I just think it needles people a little bit."
Comparisons and title-talk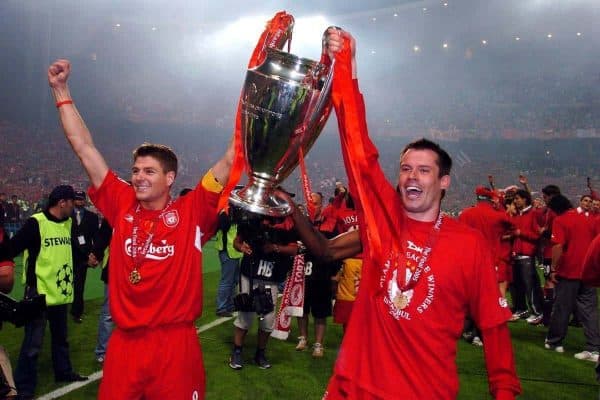 So, is our new found optimism justified? Where does this Liverpool side rank in terms of being challengers for top honours? Carragher has never been a man to mince his words, and nor does he dole out praise where it isn't merited. So, I'm a little taken aback by his assessment:
"I definitely think this team is the best we've had for over 30 years. I really do believe that.
"I think it'll prove that this season, with Van Dijk being there a full season and a top-class goalkeeper coming in. I still think we lack a little something more in midfield, but hopefully [Naby] Keita will fill that void.
"This is better than any team I played in. I mean the one we played in 2009 was a top side and I think they're certainly as good as that."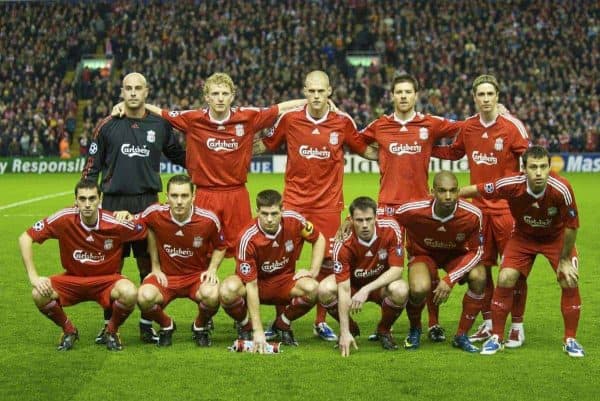 It's hard to overstate what a compliment this is to a Klopp team that is still largely in its embryonic phase.
After all, Carragher played in a Gerard Houllier team that won five trophies in five months and competed in two European Cup finals in three years with Rafa Benitez.
I ask him about his time under Rafa, and muse on the fact that, in my view, were it not for the turmoil behind the scenes, Benitez would surely have gone on to win a title at Liverpool.
The turbulence of the Hicks and Gillett era, coupled with the need to wheel and deal in the transfer market must have been a handicap, I suggest.
Carragher is not so sure. Instead, he prefers to focus on the parallels between Jurgen and Rafa, in terms of the challenges faced by both of them in attempting to overhaul much richer rivals.
"No, I don't think that stopped us winning the league (the politics behind the scenes)," he argues. "Look Rafa coined the term net spend, but if you look at Klopp's, it's not too bad actually.
"When I think of Rafa, I think of Torres, Mascherano, Robbie Keane, Alonso all coming in for decent money at the time. But then Klopp hasn't got Manchester City or Manchester United money at the moment.
"I always think that's why we've got a certain type of manager. Rafa came because he was successful managing Valencia against Real Madrid and Barcelona. Klopp came because he'd done the same with Dortmund against Bayern Munich.
"So, we look to those type of managers who can topple someone who's got more finance.
"I mean there's no doubt we've spent big in the last 12 months. But my argument to that is we had to sell our best player to spend big. Manchester United didn't have to sell anyone to buy Pogba, you know.
"City didn't have to sell anyone to buy Kyle Walker. We could only spend that much money because we sold Coutinho for an astronomical fee really.
"So, I don't expect Liverpool to be spending that type of money going forward, every single season, on two or three players."
So what was it that prevented Rafa's Liverpool from winning the title? And what will it take for Klopp to bring home the holy grail? Here Carragher sees more similarities and challenges.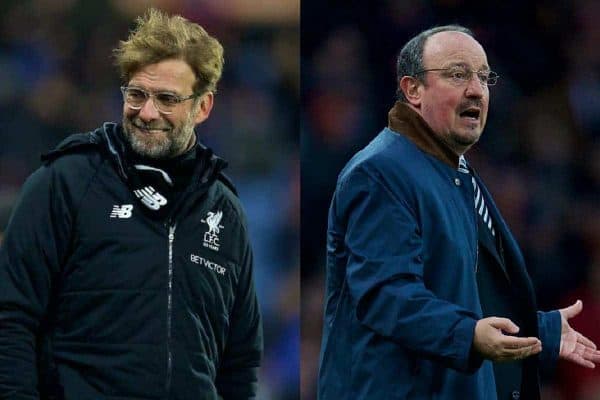 "At that time, when Rafa was the manager the Premier League was dominated by the best teams in Europe. I always say that the six best teams in Europe then were Liverpool, Chelsea, Manchester United, Arsenal, Barcelona and AC Milan.
"So, if you get to a semi-final of the European Cup you're going to be facing someone like Chelsea. Manchester United played Chelsea in a final. So, in that era, to win our league, you had to be the best team in Europe. It wasn't just about being the best team in the Premier League, really.
"So, it was a really tough period. Great to play at that time, in terms of the quality of managers we had. You look at Wenger, Ferguson, Mourinho and Benitez, and they were probably all at their peak as managers. Look at some of the great players we had.
"I think that was probably the best era of the Premier League, because of how much our teams dominated in Europe. Even if you'd have given Liverpool a lot more money, maybe, but it was tough then (to win the league).
"What I always think is, why we didn't win a league, we were up against Ferguson, Manchester United's best-ever manager and their best-ever team, Wenger, probably Arsenal's best-ever manager, with their best ever-team, 2001-2004.
"And Mourinho, who was Chelsea's best-ever manager and their best-ever team, 2005, 2006 and 2007. And that's a little bit of my fear for Klopp's Liverpool."
Jurgen's challenge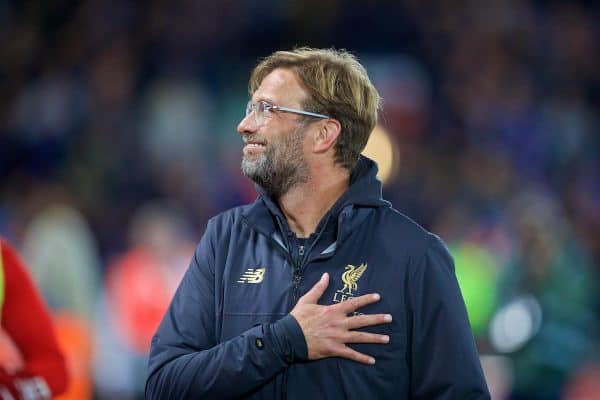 It's a sobering thought, that for Benitez to have won the league, he would have had to assemble the club's greatest-ever team, in a time when Liverpool couldn't compete financially with their rivals.
The challenge for Klopp is a similar one. Can he do it?
"I just wonder if it's come at the wrong time, with City and Guardiola. Because I think they're going to dominate. I think in the next four years, City could win three titles.
"But, they might have a year when they don't and I just think we've got to be that team.
"I think if Mancini or Pellegrini were managing Manchester City, we'd win the league (under Klopp). I really do. But, similar to Benitez in some ways, City have got something special, and a special manager, that could stop us.
"Even though we've got a special manager, it might just stop us getting over the line. That's my only worry for Klopp."
What if his fears are borne out? Would the club, in his view, hold their nerve and keep faith in their manager? Klopp, after all, is already one of the longest-serving managers in the Premier League, after just three years.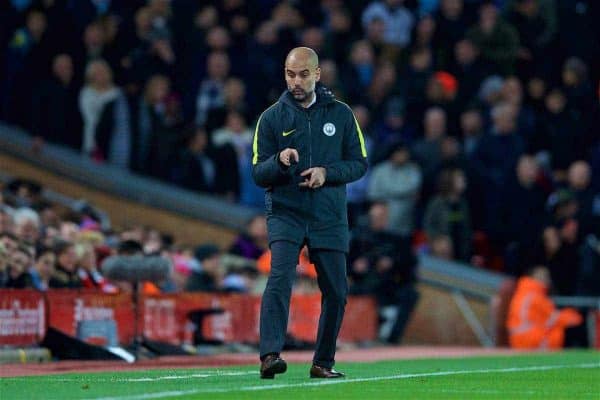 Jamie is adamant they should keep faith regardless.
"Even if Klopp doesn't win anything for another two or three years, I wouldn't get rid of him," he argues. "What I'm saying is Guardiola might only be there two to four years.
"He's very intense. So, ride it out. I'm not saying Pep is better than Jurgen. I just think he's something special."
When Klopp arrived there was a consensus among supporters and the football world that Liverpool had pulled off something of a coup. He was the very best available manager, and widely regarded as a perfect fit for the club.
For Carragher, this is all the more reason to stick with him, irrespective of whether he can deliver success in the coming season.
"I think the owners would realise, who are they going to get who's better than this man? Look at Arsenal and Chelsea. Are Emery and Sarri any better than the top four managers in England?
"I might be wrong, but I don't think they are. What I am saying is, if Liverpool got rid of Klopp, they wouldn't get anyone to match the top four managers in the Premier League. But, they've got someone to match them now."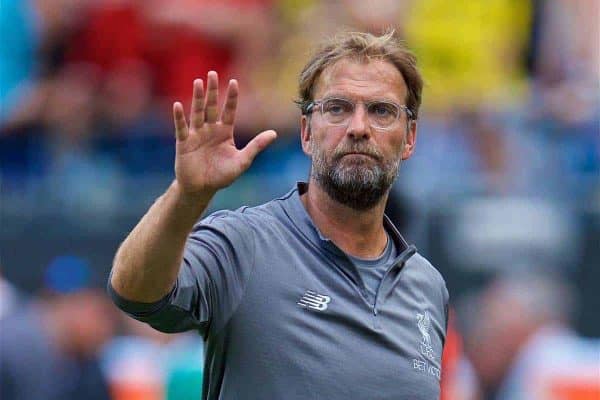 There are those, however, who would point to the financial imperative of a top-four finish. Failure to maintain a spot in those lucrative Champions League places would surely mean any manager at top club finds his position untenable.
Carragher laments the situation and would prefer clubs and their supporters to be more pragmatic.
"I think you've got to understand how it's so competitive in the top six," he explains. "Not winning something isn't a marker of someone's worth. If someone doesn't get in the top four, it's 'sack him.'
"But look at the competition. We can't all win. Someone has got to miss out by a point or a goal. If it was me, I'd keep him for a long time.
"I'd be looking at that City situation and thinking 'we'll run them as close as we can, we'll try to topple them, do whatever we can.' But, if it doesn't happen, we should just keep him. I'd give him another contract."
FSG have certainly shown faith in Klopp, extending his contract and backing him with funds in the transfer market.
However, I wonder whether, in the modern game, there is room for the kind of patience Carragher yearns for. Would the supporters be able to live without a trophy for another two or three seasons?
Carragher thinks there's plenty of good-will left in the tank when it comes to Jurgen.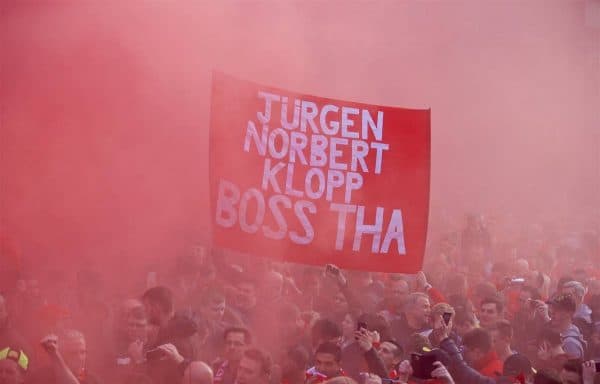 "I think Liverpool fans just love Klopp. I don't think it will go on forever. But, I think if we're constantly finishing in the top four, and playing exciting football, if we're just missing out, then I think the fans will wait.
"Obviously if it starts going the other way, then it's run its course. That happens in football, with managers. It happened with Houllier and Benitez. They were brilliant and then just sort of ran out of steam.
"But, if its still going well with Klopp and you can see we're still knocking on the door, I wouldn't change it. Because I don't think there are any managers out there who can compete with what the Premier League have got with managers."
So, is this squad missing anything in particular? Or are we finally looking at the complete jigsaw? Klopp seems to have solved the obvious problems, in terms of a keeper and a commanding centre-back. Do we need anyone else?
"We need a bit more quality in midfield, I think. That's all. Maybe he'll revisit that in January."
Carragher sees the injuries to Adam Lallana and Alex Oxlade-Chamberlain as leaving Liverpool a bit light in the middle.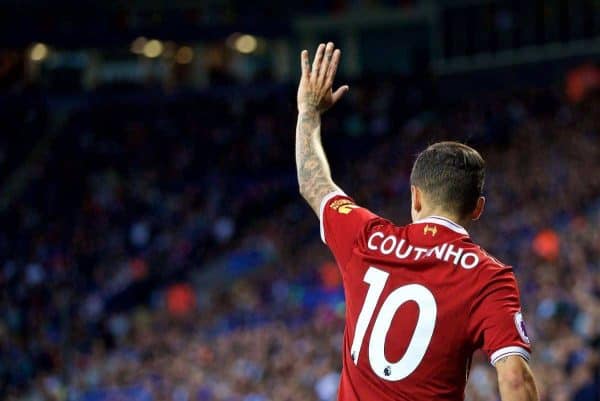 "I just look at that midfield and I think we're missing that Coutinho type of player. Obviously, we went in for Fekir, so we're obviously looking for someone like that.
"We're trying to compete with City, and I look and they've got De Bruyne and Silva in there. I don't think we've got that sort of player.
"We've got different types of players and we don't play the same as them. But, now and again at Anfield, you're going to need someone to open up teams and do something a little bit clever.
"That's my only worry with this squad, but besides that, I think this could be Liverpool's greatest squad for the last 30 years."
If Jamie is right, we're in for one wild ride as the season plays out.
Whatever happens though, there's a real sense that he believes that in Jurgen Klopp, Liverpool have the best man for the job.
Coming in Part Two: Life as a Scouser representing Liverpool and what makes Anfield so special.
* Previously 'in conversation' with John Barnes.