Liverpool midfielder Fabinho has spoken after making back-to-back starts for the Reds about the challenges he has faced so far.
A surprise signing at the start of the summer, fans were excited for the Brazilian to bring a natural defensive midfield shield to the team.
It took time for Jurgen Klopp to begin to incorporate the former Monaco man, however, as he kept faith with last season's midfield generals.
Injury and rotations of late have finally seen Fabinho called into the side though, with successive starts against Red Star Belgrade and Cardiff City allowing the No. 3 to showcase his abilities.
The Brazilian performed well in both fixtures and told ESPN Brasil that his adaptation period had been difficult, but that the Reds' coaches had kept his spirits up and he felt he was now showing his worth.

"I'm very happy to play my second match in a row as first-choice, played the full match. It is very good for me.

"This moment to adapt, it hasn't been easy; many times you are out, there were many times I wasn't [picked].

"But I tried to learn from all this, tried to give my best during practice. The coaches were very nice to me, they didn't let me get down. I worked to be well prepared.

"[I] got the opportunity last Wednesday, I believe I [had] a good match, and [against Cardiff] I believe I helped the team at the midfield.

"The moment is good, being called has helped too. So I'm very happy, I hope I can keep it. I know the rate here is very high, you have to always try to keep a good performance, and in our team we have a lot of options in the midfield.

"Of course it's not possible to be always called, but whenever the coach needs me I want to be ready for it."
While there are more technical tests ahead, it's fair to say that Fabinho's impact has been felt already as lesser sides try to get to impose themselves physically on the Reds.
Against Cardiff in particular, he was seen making a few crunching tackles—while a monstrous 24 duels contested against Red Star was an eye-catching statistic too.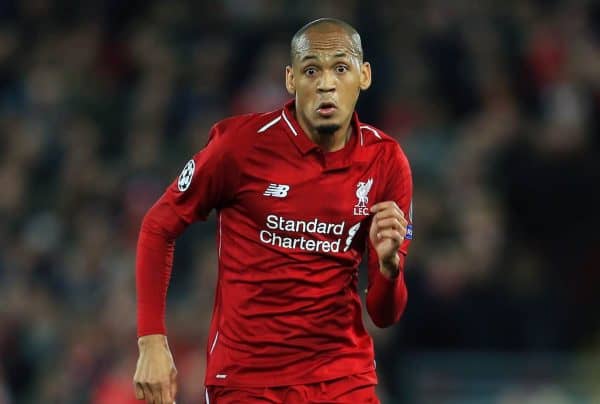 For Fabinho, the way the Premier League side approached the match was an insight into what he's up against after his transfer, and he's aware he's still learning.
"The match was rough. We scored one during [the] first half, which was important, but the match was very intense in the midfield.
"After we scored the second goal, we thought it would be easier but they scored after. Only at the last 10 minutes that we could get an easier game and scored the third and fourth goals.
"This is Premier League, I'm still learning day by day how rough the games can be. I'm happy we did it."
There may still be a way to go before he can lay claim to a first-team berth for the biggest of matches, but he certainly hasn't done his case any harm over the past week.
Klopp may well be looking to call upon his services once more against Arsenal, particularly as he worked well alongside Gini Wijnaldum, who has been the Reds' midfield star this season.
For Liverpool overall, it's simply important to have this tactical option available to them at last: a primarily ball-winning player who can help shield the newly impressive defence, another step toward Klopp fashioning a title-winning team.