Georginio Wijnaldum has joined the ranks of Liverpool players praising Daniel Sturridge's impact this season, highlighting his new-found fitness as paramount.
Sturridge spent the second half of 2017/18 on loan at West Brom, but struggled to make an impact at the Hawthorns as he occupied the treatment room.
A spell back in the Midlands seems to have revitalised the 29-year-old, however, and he has returned to score four goals in seven appearances so far this campaign.
He has hit the back of the net once every 46.5 minutes on average, as he largely fulfils a squad role, deputising for first-choice striker Roberto Firmino.
Sturridge's form has sparked calls for a place in the England squad this month, and Wijnaldum has reinforced this claim.
Speaking ahead of Liverpool's Champions League clash with Napoli, the Dutchman praised his team-mate, whose fitness has clearly taken many by surprise.
"I don't know what he did before pre-season, but when he came back he was really fit," he said.
"When I came back a few days later he did quite a lot, better than the years before.
"During the season he's showed that he's really important for us, not only because of his goals but the way he's playing.
"Against Paris Saint-Germain we saw Sturridge playing in a way we didn't see him before: defending, he switched positions with one of the front three and did their job.
"He's really, really good, in shape, fit and in form—he deserves to be in the England squad."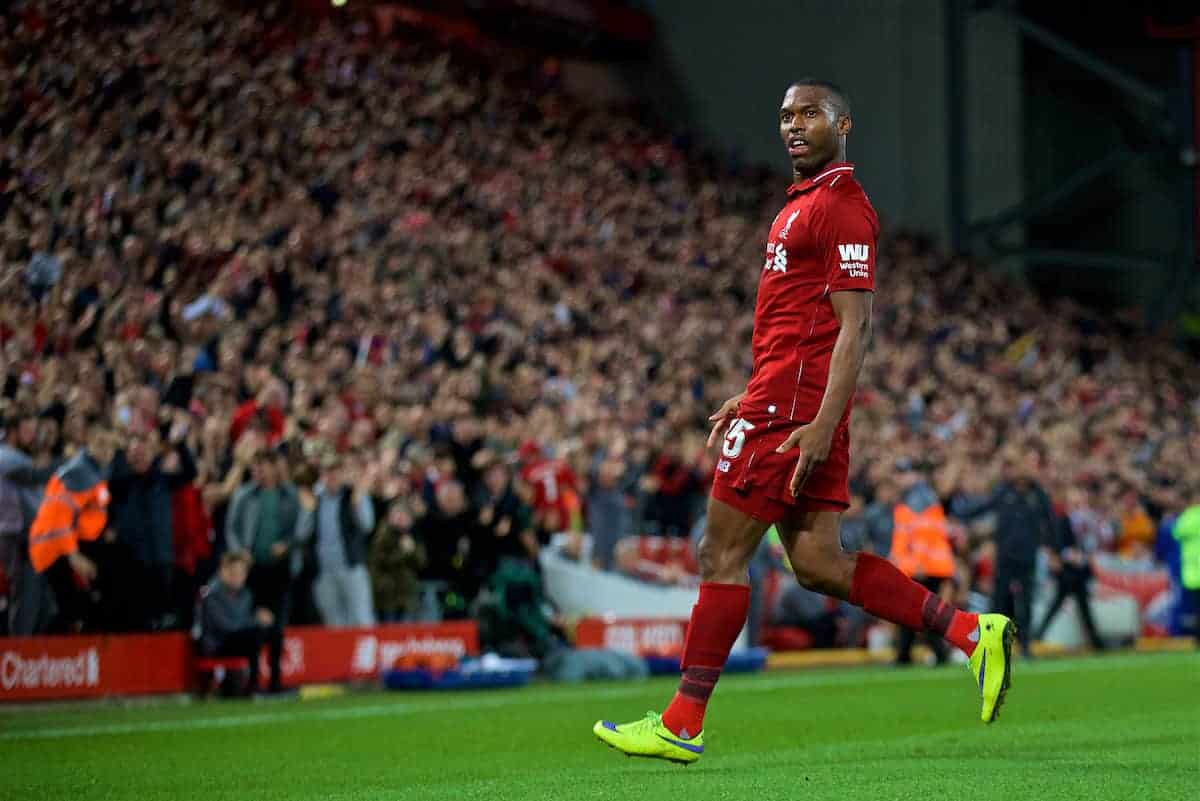 It is up for debate whether Sturridge should be tempted by a return to the fold for the Three Lions, given his availability for Liverpool could be affected by burnout.
The No. 15 has typically required a tailored training regime, and while he has been near ever-present at Melwood so far this season, Jurgen Klopp would be loathe to jeopardise this.
Virgil van Dijk has also stressed that Sturridge deserves a recall, though, telling reporters at the weekend that he is "one of the best strikers in the league."
"Before I arrived at Liverpool, I said he was one of the best strikers in the league and he shows it when he's fit," he explained.
"Of course he is good enough for England. There shouldn't be any doubt.
"I know what he's capable of, how good he can be and when he's at his best, by playing against him and seeing him in training with the hard work that he puts in and the positivity he brings.
"We have a great squad, world-class players, and he's one of them."
Sturridge could be set for a starting role against Napoli, with a high-profile clash with Man City to come at Anfield on Sunday, though Klopp has stressed he won't rotate heavily.