Liverpool manager Jurgen Klopp has dismissed what he claims are mind games by Napoli counterpart Carlo Ancelotti.
The Serie A side's coach, who has experience of facing Klopp at Borussia Dortmund when he was Bayern Munich boss, praised the work the German had done at Anfield and the progress he has made.
Ancelotti said Klopp was "a difficult adversary, a friend; his teams are very dynamic, aggressive, they stand up a lot, they always have an identity", and they had gone up a level since reaching the Champions League final in May.
However, Klopp laughed it off ahead of their League Group C encounter in Naples.
"I like Carlo Ancelotti, he is a fantastic guy. As we say in Germany 'He is obviously a smart fox'," said the Reds boss.
"He says all these positive things about us and all these nice things about me is nice but it is tactics, it starts already.
"Carlo is so long in the business and he wants to bring the nice fella out in me but I am ready a real battle.
"I don't care too much what people say about us in the moment. Yes we have performed on a consistent, OK, level in the last few weeks but tomorrow we need to make the next step up in our development.
"This is a fantastic manager, a fantastic football team and a very emotional crowd so that will be a challenge."
Liverpool return to the Stadio San Paolo for the first time since October 2010, when they earned a goalless draw.
The starting line-up reads like a blacklist of players from a period of the club's history fans would sooner forget.
It was midway through during Roy Hodgson's ill-fated six-month tenure, and just a couple of weeks after owners Fenway Sports Group had succeeded in their October takeover.
A team of Jose Reina, Martin Kelly, Martin Skrtel, Jamie Carragher, Paul Konchesky, Jay Spearing, Christian Poulsen, Jonjo Shelvey, Milan Jovanovic, David Ngog and Ryan Babel secured a goalless Europa League draw.
On the bench that night were Brad Jones, Fabio Aurelio, Sotirios Kyrgiakos, Danny Wilson, Joe Cole, Maxi Rodriguez and Nathan Eccleston.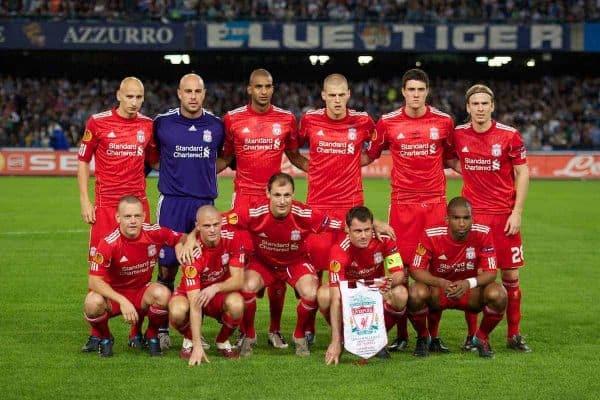 Of that 18-strong party only Reina and Carragher, and to a lesser degree Aurelio and Rodriguez, are looked back upon with any fondness.
Liverpool travelled without midfielder Adam Lallana, who has yet to recover from a groin strain but will have a bench tomorrow which will have the likes of Daniel Sturridge, Xherdan Shaqiri and Fabinho.
Klopp is also making his return to the stadium for the first time since he was sent off as Borussia Dortmund manager in 2013 for an angry outburst at the fourth official.
The German insists he has learned his lesson since.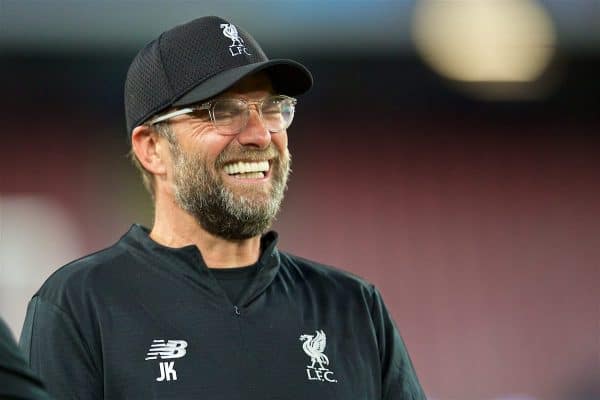 "It was not my best performance, personally," he added.
"I reacted in a way which was absolutely not OK. I still understand why I was not happy with the situation, only the reaction was too much.
"I tried to go in the stand and it was not nice, sitting there and getting all the comments from people around, so that is why I decided second half I had to do something about it and I was then with the groundsman in that little room with a big Maradona shirt on the wall.
"It was one of the better experiences I had to be honest, watching it with the groundsman. I hear he's still here – that would be nice.
"They gave me two games (ban). Since then nothing happened any more so it was my last time when I was a bit too excited. Now I know it will not happen again."