Jurgen Klopp wanted an attacking midfielder in the summer, and with Oxlade-Chamberlain and Lallana sidelined, the lack of creativity in the middle sometimes shows.
Throughout the early weeks of the campaign, Klopp's team showed performances characterised by being dominant rather than scintillating; doing the job and taking the win rather than blowing teams away.
Heading top of the table with a perfect win record, that was absolutely fine, but after three matches in a row without a win, it's difficult to see how the switch can be flicked to rediscover top form.
And the big issue with that, of course, is that the difficult matches keep right on coming, with the visit of Manchester City to Anfield on Sunday.
When Fekir was on the agenda…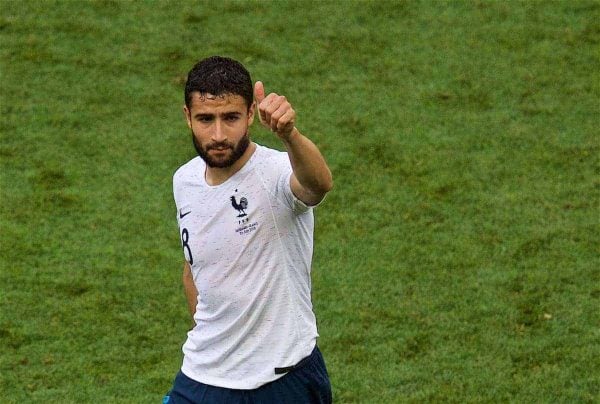 Rewind the clock to June. The World Cup was just around the corner, most of England was interested yet far from expectant, Fabinho had just been signed to general shock and flabbergastery.
And then images began to circle on the social grapevine: Nabil Fekir, dressed in red, LFCTV interviews done. We know (more or less) what happened next, of course, but the fact he was such a high priority signing is telling.
Liverpool wanted another attacking threat. Klopp wanted another attacking threat, one who was versatile in the way Mo Salah and Sadio Mane can be, but also whose role was primarily central.
The Reds were linked with forwards, proper strikers, but they never really seemed likely to arrive.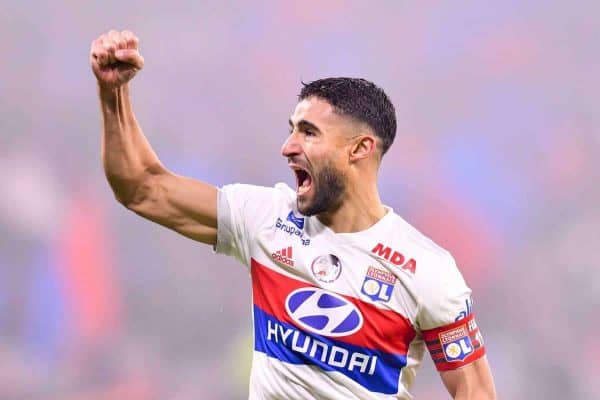 It was Fekir: a central roving, free-wheeling, creative, goalscoring, thrusting presence who was needed, identified, wanted.
That central link, that conduit between midfield and forward lines, is what has been missing this season at times.
It has been marginally missed in some games—such as Brighton earlier in the season when the Reds dominated but didn't quite have a cutting edge—and painfully absent in others, such as at Napoli.
This isn't about wistfully wishing Fekir had been signed, but about acknowledging where the Reds wanted to improve, and where one of the issues have been on show this term.
Solutions, concerns and Naby Keita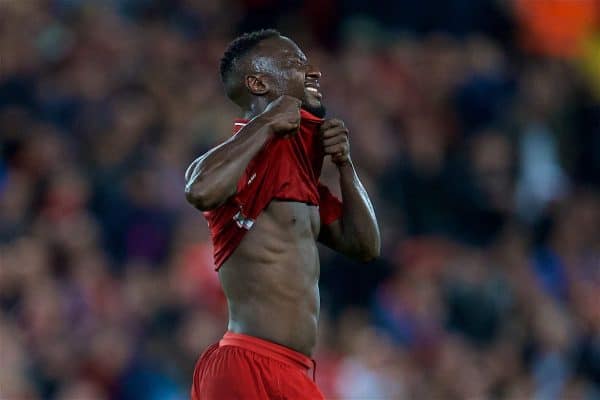 With no No. 10 as such, it falls to others to provide that link.
It can be surmised, from how the season has gone thus far, that Klopp had two men in particular in mind: Roberto Firmino and Naby Keita.
The central midfield thrust is of paramount importance for the Reds, for the style we're accustomed to seeing. The front three can cause havoc, this we know, but as a result defenders mark them that much tighter.
The spaces afforded in behind are less, the emphasis becomes on closing out opportunities for shooting—and as a result, midfielders and full-backs find avenues opening up for them instead.
Unfortunately, Klopp perhaps hasn't been able to use Keita quite as much, or quite as well, as he'd have wanted.
A pre-season injury hampered his start, and he hasn't quite looked full of self-confidence as he did at RB Leipzig. It will come, but in the meantime, his impact in that driving, forceful motion through the centre has been sporadic.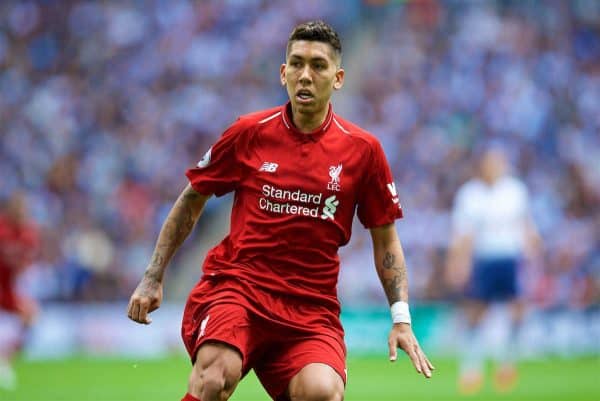 Gini Wijnaldum has done well in that role too, but his best form has been reserved for the deeper, No. 6 position.
As for Firmino, we've seen more and more often this term his dropping out of the forward line, into an attacking midfield zone.
The Brazilian has always done this, but it has been extreme this term, giving the Reds a diamond shape in approach play and letting the wide forwards play almost like a true two-pronged attack.
Missing piece of the puzzle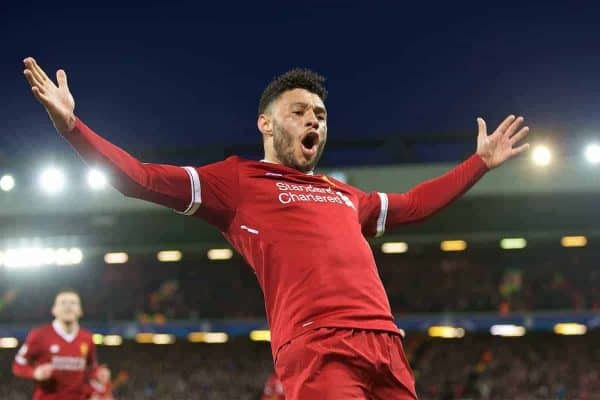 How fitting, in an annoyingly ironic way, that Liverpool should be suffering this lack of central threat heading into a match against Man City, the very side against who one player who initially solved that issue in spectacular fashion.
City were the opponents when Alex Oxlade-Chamberlain announced himself as a key component, both in league and Champions League play, and his absence is keenly felt.
His versatility and verticality were both critical for the Reds last season, and without his piercing runs and ball-carrying ability, Keita's burden of need is that much heavier.
No Oxlade-Chamberlain, no Fekir, sporadic (so far) Keita. No Adam Lallana, even.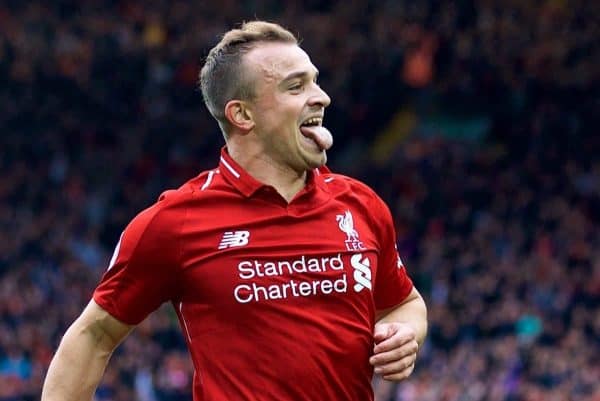 The one other potential piece of the puzzle: Xherdan Shaqiri. Other than the first half against Southampton, we've not seen much of him, but there's no question he could fill the void.
It will surely be the case after the forthcoming international break that players are rotated more frequently and some of those on the fringes, including Daniel Sturridge and Fabinho, become more involved after this long run of huge games.
Shaqiri has the on-the-ball quality to bring creativity, as we saw in that 3-0 first-half on his first and only league start to date. He also has the power and physicality to be the forceful runner the Reds have lacked, at least to a point.
Klopp is always about finding solutions. It's never about a player not being on top form, or the team needing more creativity, only about solutions to in-game problems.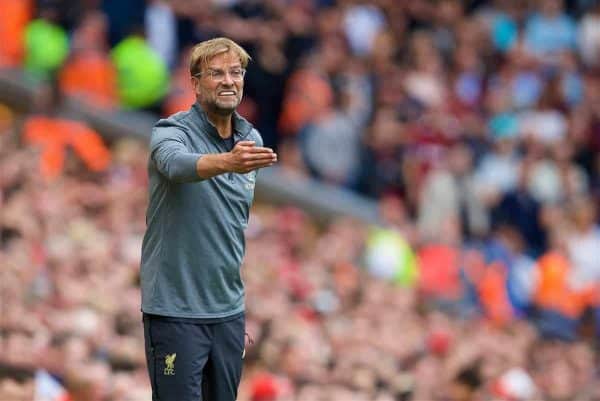 The issue facing the Reds right now is how to become a bigger threat in possession through the centre, thereby linking into the attack and enabling that triumvirate to rediscover top form.
Shaqiri could play a part in finding the solution, and Keita too sooner or later, but it's hard to shake off entirely the feeling that a new player would have made an awful lot of difference.
It could yet be Fekir—or Christian Pulisic, or someone entirely new—but it is clear that the Reds need to discover a way of making the link work again between midfield and attacking lines.